Welcome to the 35th Metamorphosis Monday!
Where in the world do you store all that china?

I get that question a lot. Since several folks have left comments or e-mailed recently asking about china storage, I'm pulling out an oldie but goodie post for this Met Monday. I'm also including a few more recent photos showing some of the changes I've made. And, I'm including a link to a post from December 2008 (HERE) showing more of the places I store allll that china.
Originally posted on April 6, 2009
(New photos have been added at the end of the original post)
Welcome to Metamorphosis Monday…where it's all about "Before and Afters." I decided this weekend to tackle a project I've been putting off…the redo of a 35″ x 24″ coat closet in my kitchen/breakfast room. The previous owner of my home had a shell niche installed in the foyer/entry, where others houses in my neighborhood frequently have a coat closet. Then they took a corner in the kitchen and installed the closet there. I've never used it for coats; instead it had become a storage area for all the cushions for my deck furniture. Here's a before pic…note the scuffed up walls from 25 years of wear and tear. This closet was just not working well for my needs.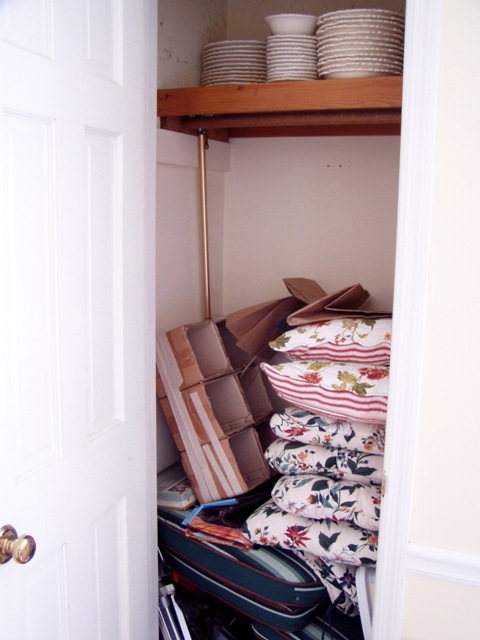 Yesterday I cleared everything out, drove over to Lowe's and purchased these huge wooden shelves that they cut down to the size I requested. I also purchased some lumber that they cut to the size we mutually decided I would need for the supports. I'm not sure how most closet shelving is done these days, but I just decided to copy the way the supports had been done in my other closets. I didn't want to use the wire shelving that is so readily available at Home Depot and Lowe's, because I wanted to take advantage of the full depth of the closet. The wire shelves at Lowe's and HD weren't very deep.
Here's the closet all cleaned out and ready for it's redo. Note the stained trim…at one time, all the doors and molding/trim in my kitchen was stained. I long ago had it all painted for a lighter, brighter look…all except for the closet…time to fix that.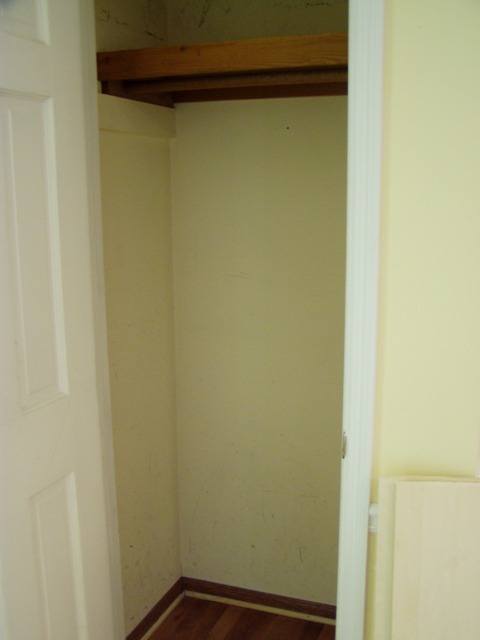 In this pic, I had just finished priming the existing wooden shelf and baseboard with a primer that covers stain and had finished "cutting in" with the yellow wall paint.
I considered using the hanging rod for tablecloths, a la Bunny William's pantry in An Affair with a House…but ultimately decided I didn't want to use the space that way.

Next, I painted the walls the same yellow as the kitchen walls…Duron Sugar Cookie. I painted the existing shelf and baseboard, white…to match the trim in the kitchen.

I wasn't able to use the supports Lowe's had cut for me because once I started tapping along the walls, I realized there were no studs anywhere except at the far corners. So all the supports were about an inch too short. 🙁
It was time to face the big, heavy, power saw that lives in my basement. Yikes! It is unbelievably loud and a little bit scary. Think of Kevin in the movie, Home Alone, when he goes downstairs to the basement and has to face their furnace…that's how I feel when I use that saw! (LOL)
I cut all new supports using a piece of lumber left over from the screened-in porch addition. Here they are, all ready to be installed.
I had originally planned on using my drill to install the supports, with these long screws the Lowe's guy recommended. But, because of the studs being just in the corners of the closet, I didn't think I could get the fat drill close enough up against the wall to use it. I probably could have angled them in, but I decided to just use good old nails….sure wish I had a nail gun! 🙂 After LOTS of measuring, mathematics, agonizing and more measuring…here are the supports which were installed and freshly painted just this morning.
Update: A few weeks later, when my handyman was by to give me an estimate for some work, I asked him to check for studs. He was able to find them and added some additional screws, although he kept telling me he thought the shelves were just fine without them. I felt better knowing there was some additional support.


I had primed and painted the shelving yesterday, so today I just did a little light sanding along the rough edges and placed them onto the supports.

After pressing down hard on the shelves to sort of test them out…it was with great fear and trepidation, I began putting china onto the shelves. I didn't hear any creaking or groaning, all went well.
Here's where the 8 cushions and 2 pillows ended up…stacked on the top shelf, all the way up to the ceiling.
And here are the 3 shelves I added…all loaded down with goodies. These china sets and serving pieces had been stored in hard to reach cabinets and in my food pantry…much better having it all together here and easily accessible.
I started the bottom shelf up high enough to fit two storage containers in…one holds birdseed and the other holds miscellaneous bird stuff like hummingbird feeders, suet holders and meal worm trays.
So, we went from this…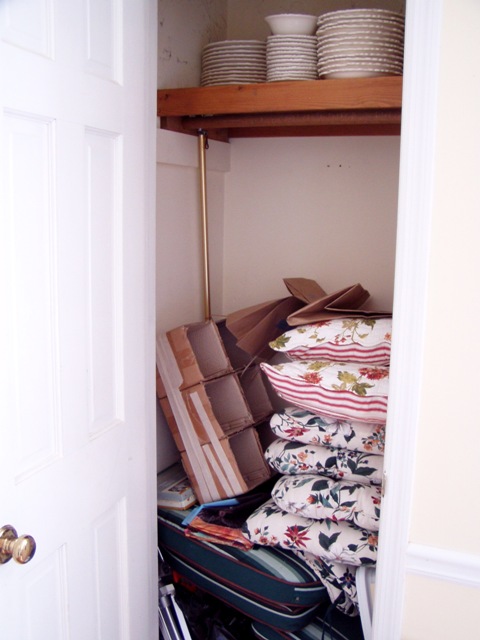 To this…ahhh, much better! 🙂
(End of previous post.)
Updates to closet:
Now for a few current pics to show how the closet looks today. The main thing I've changed is I've decided to keep some of my candle holders in the bottom of the closet. I put a little nail in the door so I could store one my summer wreaths inside this closet, too.
You'll find 8 place settings of Syracuse, Orchard china, a St. Patrick's Day tea set, 6 Bordallo Pinheiro plates, 6 Wedgwood floral salad plates, and lots of pitchers, etc…stored on the top shelf. Do you see the Thanksgiving platter standing up in back?
Next shelf down holds 12 place settings of Lenox, Butler's Pantry, Gourmet, 8 chargers and salad plates of Spode, Emma's Garland, designed by Kim Parker, a sweet pink, and a bluebird mug from my friend, Charlene (Heart's Ease). The long handle you see is my Colonial Candle candle snuffer. The large, green platter standing up in back is more Bordallo Pinheiro .
And the final shelf holds 12 place settings of cream ware I found at HomeGoods (no name on the back) along with 6 place settings of colorful (fall) china I found at Pier 1 last summer at 60% off. Most of the Pier 1 china (and some of the Lenox, Butler's Pantry) is out on the porch where I've been playing with a possible fall tablescape. You'll also find pink, heart shaped custard dishes, a bunny tureen, hob nail candle holders, crystal candle holders that you can barely see on the right side and a small, silver plate vase. Another platter from the Pier 1 collection is standing up in back.

And finally…now located on the very bottom, are some of the pillar candle holders you frequently see used in tablescapes. Shell holders are from Home Goods, red ceramic and iron holders are from Hobby Lobby. One set of cream ones in back are from A Classy Flea while the white set is from Colonial Candle.
Hope you had fun taking a peek into my china closet for this Met Monday.
If you would like to see a jaw dropping dream dish closet, check out Bonnie's dish room, HERE. It's amazing!
Let's go see what everyone else has been working on…lots of wonderful "Before and Afters" await!
If you are participating in Metamorphosis Monday, please be sure to add your permalink below, and not your general blog address. If you aren't sure how to obtain your permalink or have any questions about using Mr. Linky for this post, just click on the Metamorphosis Monday logo in my sidebar for detailed instructions.
Don't forget to copy and paste the Met Monday logo button to your computer so you can add it to your side bar and your Met Monday post. That way visitors will know that your are participating in Metamorphosis Monday.
Please be sure to link back to the host blog, Between Naps on the Porch, so your fellow bloggers who are participating today, will get lots of visits, as well.
Please do not add your link below until your Met Monday post is actually published to your blog.
The following blogs are participating in this Metamorphosis Monday:
Unfortunately, the participant links are missing from this post because the linking service BNOTP was using for this party is no longer active.
*If a post is sponsored or a product was provided at no charge, it will be stated in post. Some links may be affiliate links and as an Amazon Associate, I may earn from qualifying purchases. *