Welcome to the 265th Tablescape Thursday!
When I created a fall mantel in September…
…mischievous ravens took up roost among the books, candlesticks and antlers. (Mantel can be viewed here: An Autumn Mantel and Fire Screen)
Then they threw a Halloween party out on the porch and invited all their friends!
Some nerve, huh?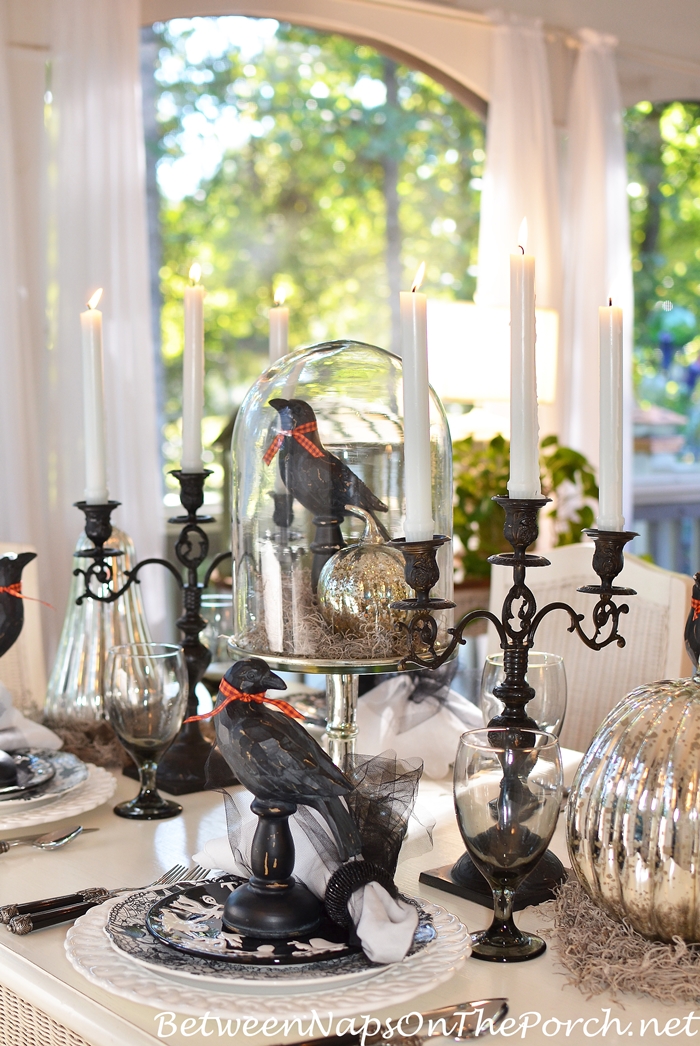 At least they dressed in festive bow ties for the occasion.
The napkin sheaths are inexpensive tulle purchased from the fabric store and cut into large sqaures…no hemming required.
A raven's-eye view…
Trick or Treat! Flatware is by Gourmet Setting and is available on Amazon here: Gourmet Settings Treble Clef
Found this cute dishware in HomeGoods this season.
I think the black cat is my favorite, although the haunted house is pretty cute, too.
One cheeky fellow took up roost under the cloche alongside a wee mercury glass pumpkin.
Mercury Glass pumpkins are available around Halloween in Marshalls and in Pottery Barn here: Mercury Glass Pumpkins
Not dark yet but couldn't resist lighting the candles for you. It dawned on me yesterday, I haven't had a single crow on the birdfeeders hanging from the deck while this table has been set here on the screened porch.
Do you think they are afraid the crazy woman who lives here will stuff them and turn them into a decoration? 😉
I've always loved Halloween! It's a time when even the grown-ups get to dress up for costume parties and pretend they are 10 years old again without a care in the world, even if it is just for one night.
A few words from Mr. Poe
Open here I flung the shutter, when, with many a flirt and flutter,
In there stepped a stately raven of the saintly days of yore;
Not the least obeisance made he; not a minute stopped or stayed he;
But, with mien of lord or lady, perched above my chamber door
Perched upon a bust of Pallas just above my chamber door
Perched, and sat, and nothing more.
Then this ebony bird beguiling my sad fancy into smiling,
By the grave and stern decorum of the countenance it wore.
"Though thy crest be shorn and shaven, thou," I said, "art sure no craven,
Ghastly grim and ancient raven wandering from the Nightly shore
Tell me what thy lordly name is on the Night's Plutonian shore!"
Quoth the Raven, "Nevermore."
Excerpt from The Raven by Edgar Allan Poe
Happy Halloween!
Links to previous Halloween table settings can be found at the top of BNOTP under the category Tablescape/Holiday/Halloween AND under the category The Holiday Home/Halloween/Tablescapes. Or, check them out here: Halloween Table Settings
Looking forward to the beautiful tables linked for this week's Tablescape Thursday!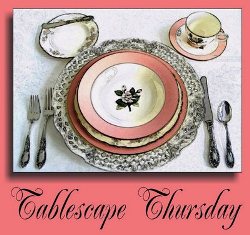 If you are participating in Tablescape Thursday, please be sure to add your permalink below, and not your general blog address. To get your permalink, click on your post name, then copy and paste the address showing in the address bar, into the "url" box when you link up.
You'll need to include a link in your post back to the party in order to link up and participate. That's so visitors to your blog will be able to find the party and the other Tablescape Thursday participants.
If you would like to use the Tablescape Thursday logo button in your post, just copy and paste it to your computer and upload it to your post as you would any photo.
Please, don't add your post name/blog name ALL IN CAPS…it tends to create big spaces between the rows of links.




Welcome! Thanks for coming to the party!
*If a post is sponsored or a product was provided at no charge, it will be stated in post. Some links may be affiliate links and as an Amazon Associate, I may earn from qualifying purchases. *