Welcome to the 457th Metamorphosis Monday!
Have you ever come across a great paint color online, perhaps on a blog or on Pinterest, only to discover it's an older color that's no longer available? I often get emails or messages from BNOTP readers asking how they can get the color formula for the yellow paint I've used in so many rooms of my home.
This yellow is an older Duron color called, Sugar Cookie. It's a bit of chameleon, changing from a light yellow to a more buttery-looking yellow, depending on the light.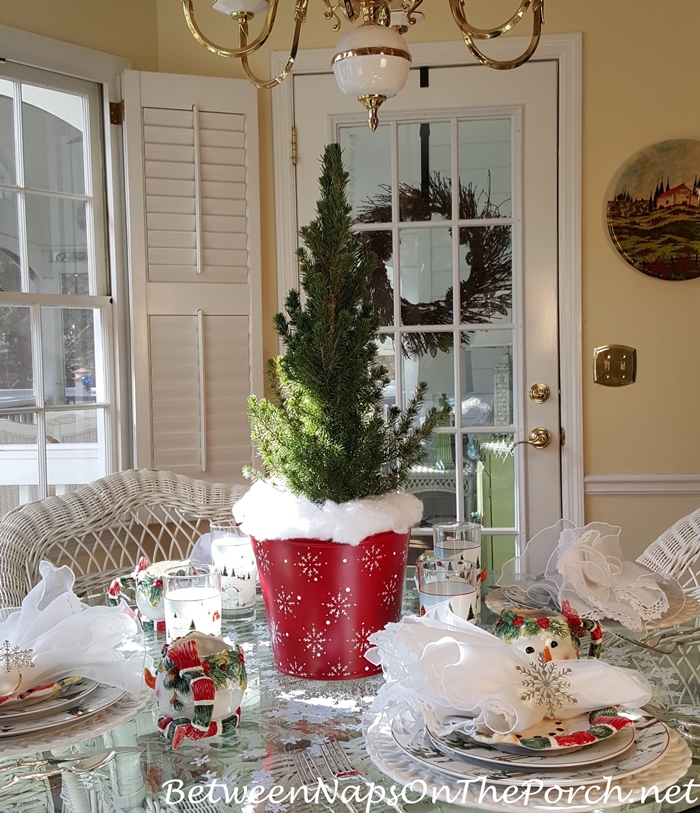 I've used Sugar Cookie in my living room, entry, kitchen, master bedroom and office. Several years ago, Sherwin Williams bought Duron. The next time I needed to purchase more of my fave yellow paint, I stopped by a SW store and asked if they still had the formula and could mix some up for me. They said, Yes!
I bought a gallon and when I got home I was dismayed to find the paint they had mixed for me was a dark, dreary color, nothing like the original Sugar Cookie. So beware having Sherwin Williams mix it up. I guess their base formula has changed or something. (Photo below is originally from THIS post.)
Sometime later I happily discovered that the Home Depot near me still had the old Duron paint fan deck thingy stored away underneath the counter in the paint department. Since BNOTP readers occasionally ask how they can get the yellow paint they've seen in my home, I would periodically stop by the HD paint department to ask if they could color match to that little yellow square on the fan deck.
That was usually followed by a post where I would share the latest formula. It kept changing because HomeDepot periodically changes their base paint formula as many paint companies do. Unfortunately, when I stopped by the paint desk about a month or so ago, I was told they have a new manager over the paint department and he had discarded all the old Duron paint fan decks.
A Better Way
Well, it looks like buying paint in an older, no-longer-available paint color just got a lot easier! You can now order a sample board or a small sample of Sugar Cookie (or any other paint color) via a fabulous website called MyPerfectColor.com. I thought it was too good to be true when Allie, a BNOTP reader first emailed me to tell me about it, but I tested it out and it worked!
So here's how the process went: I visited MyPerfectColor here: MyPerfectColor.
There I saw this box below. I typed Duron Sugar Cookie into the box and clicked on "search."

This screen below popped up. The yellow color it was showing looked very much like Duron Sugar Cookie, so I decided to order a sample to see how close it really matched.
These were some of the choices available for ordering. They even offered it in a spray can. I was tempted to go with the Hand-Painted Sample Board but ended up going with a 4 oz. sample jar instead. When I ordered, the cost was $4.99, and the shipping was $4.99. So my total cost was $9.98. It looks like the cost of the paint sample has gone up $1 since I ordered on October 19th, so a 4 oz sample is now $5.99.
After I made my selection this screen popped up. I continued on and placed my order for a sample container.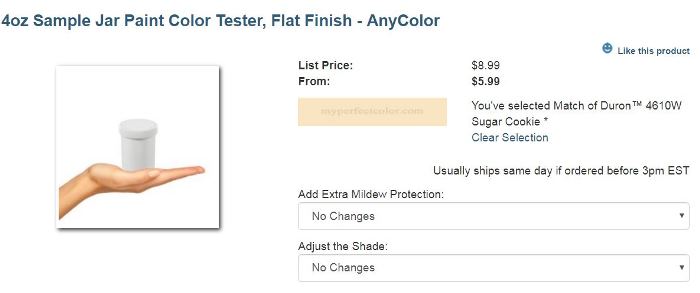 The sample came very well packaged.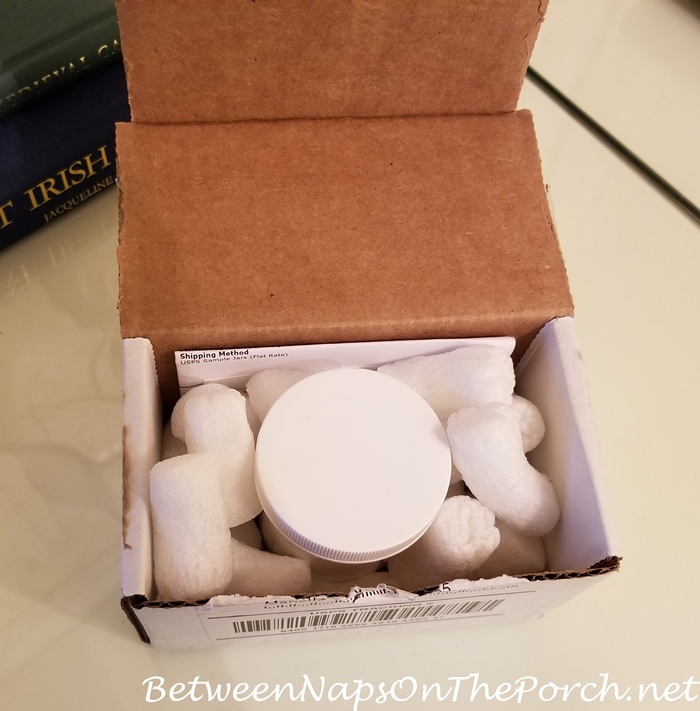 Ummm, I wondered if it would really match. Was my beloved Sugar Cookie color really inside that jar? 🙂
Looked pretty good when I opened it! I took these photos in the evening in my office, so please excuse the shadows/lighting.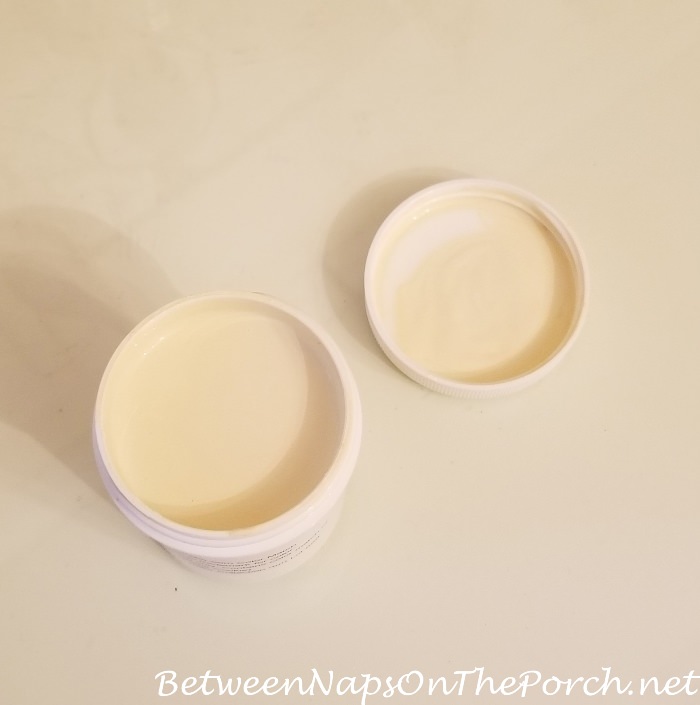 I had a plastic paddle that I had used at some point long ago for stirring white paint. I dipped it into the paint sample and set it aside to dry. Later that evening I compared it to the Sugar Cookie walls here in my office.
The verdict: Looks good! Pretty dead on, if you ask me!
If you have been wishing to try a sample of Duron Sugar Cookie, if this link works, you can order a sample here: Sugar Cookie Sample. If that link doesn't work, just start at the home page of MyPerfectColor.com and type Duron Sugar Cookie into the search box.
Another great yellow, if you're looking at yellow paint colors for a room, is the old Duron color, Tea Biscuit.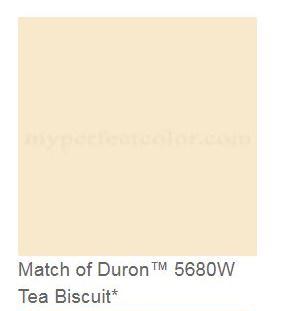 It's the yellow color I chose for the walls in my upstairs family room/bonus room. Tea Biscuit is a little lighter yellow than Sugar Cookie. I wanted a lighter yellow since the furniture in this room is antique pine. I didn't want the beautiful, golden color of the pine furniture to fight with the wall color, so I went with a lighter yellow for more contrast with the furniture.
Here's one more picture showing how Tea Biscuit looks with light coming in through one of the dormer windows in this room. It's a very light yellow. Love both it and Sugar Cookie.
If you're interested in obtaining a sample of Benjamin Moore Raspberry Truffle, the color I have on the walls in my dining room, I'm guessing this system would well for that, as well.
Someone once pointed out that all my paint colors are food names: Sugar Cookie, Tea Biscuit, Raspberry Truffle. lol I do have a serious sweet tooth, so maybe my paint choices are being made subliminally. 🙂
Here's one more photo showing how Raspberry Truffle looks in the evening by lamplight.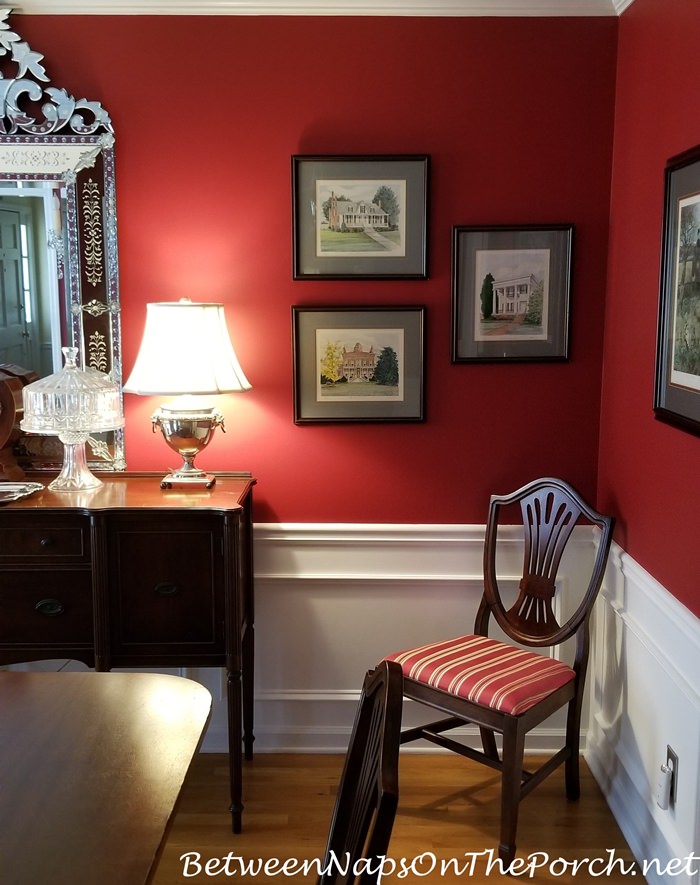 It should also work for the red paint I used on my front door: Benjamin Moore Heritage Red. In addition to obtaining a sample of the paint, you can also order the paint in quart and gallon sizes. It appears they only sell Benjamin Moore paint at MyPerfectColor, so perhaps the site is affiliated or owned by Benjamin Moore. I really like Benjamin Moore paint and have used it several times in my home, as seen in this post.
As stated at the start of this post, this isn't a sponsored post, just sharing this resource since I think it's absolutely brilliant! I will definitely be using it again in the future!
A million THANKS to Allie for telling me about MyPerfectColor! I believe she found it while trying to track down Sugar Cookie. I still love Sugar Cookie, after all these years. I think it will forever be my favorite yellow because it's a great neutral that works in any room and with pretty much any color fabric. I'm thankful for the person who shared that color with me around 20 years ago! She had it all throughout her home and I loved it the minute I saw it!
Here's the info that came with my order, in case it's helpful.
Looking forward to all the great Before and Afters for this week's Met Monday!
Pssst: I post almost daily to Instagram. Follow Between Naps on the Porch on Instagram here: Between Naps On The Porch. If you enjoyed this post, subscribe for free email updates when a new post is up here: Subscribe for post updates.
Metamorphosis Monday
Metamorphosis Monday is a party that's all about Before and Afters. If you are participating in Met Monday, please link up using the "permalink" to your MM post and not your general blog address.
To get your permalink, click on your post name, then just copy and paste the address that shows up in the address bar at the top of your blog, into the "url" box for InLinkz.
In order to link up, you'll need to include a link in your MM post back to the party so the other participants will have an opportunity to receive visits from your wonderful blog readers.
Please observe these few rules:
Please link up Before and After posts that are home, gardening, decorating, crafting, painting, sewing, cooking, fashion or DIY related.
Be sure to include a link back to the party in your post, so your readers will be able to find and visit the other bloggers who are participating.
Do not link up to the party if you're doing so to promote or sell a product.
To those who are linking up: If you notice a shop or store linking up to sell products (yes, unfortunately, that does happen) please let me know so I can remove their link from the party. No one wants to click a link expecting a Before and After, only to find a spam link to an online business/store.

*If a post is sponsored or a product was provided at no charge, it will be stated in post. Some links may be affiliate links and as an Amazon Associate, I may earn from qualifying purchases. *