I'm always taking pictures to share with you. Last summer I took some photos but never found a good time to share them here on the blog. It's really cold here today in Georgia and I'm craving a little summer. I thought you might be, too.
We're headed up to the farm today where it's still summertime. So for the next few minutes, let's forget all about the cold. Where we're going, there's nothing but green grassy fields and blue skies.
I've shared my friend, Marie's "city" home several times here on the blog.
You may remember these pictures taken during the blue hour at Christmastime a couple of years back.
When Marie and her family need a break from the hectic pace of city life, they head up to their farm in the country. It so pretty here! From the top of this hill you can see the mountains off in the distance.
If you subscribe to Postcards From the Porch, the BNOTP newsletter, you may remember seeing the picture below since it's easier to share photos in the newsletter before they appear on the blog sometimes. The day we were hanging out on the farm, we were riding around in an all-terrain type vehicle. I asked Marie what it was called several times but I still can't tell you today. It's was a weird name I'd never heard before so it just wouldn't stick in my memory. It was a lot of fun to ride around in, though a bit noisy. Wonder why they don't put mufflers on those things when they build them? Spoken like a true city girl, right?
This was the only part where I felt kinda nervous. I've always had a little fear of large holes in the ground filled with water, aka ponds and lakes. I had visions of us driving right off this narrow road into the pond and landing upside down. Sometimes an imagination is a pain in the you-know-what, ya know? Since you're reading this, you know we made it across safely, coming and going. Marie is a good driver! 🙂
The views on the farm were beautiful!
It was a gorgeous day!
The cows were checking us out.
This was a mom with her two babies. It's been a while but I think Marie told me she had twins.
Okay, I'm going to hush and just let you enjoy the peaceful vistas out on the farm.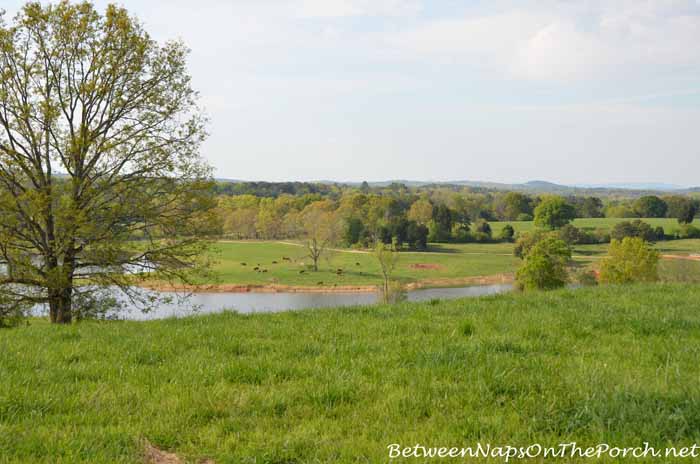 Hope you enjoyed a little break in the cold weather. Just a few more weeks now and spring will be here! Promise!
Tour Marie's home decorated for Christmas here: Tour A Beautiful Victorian Home Decorated For Christmas
*If a post is sponsored or a product was provided at no charge, it will be stated in post. Some links may be affiliate links and as an Amazon Associate, I may earn from qualifying purchases. *