Happy Weekend! How is your weekend going? The last few days here have been all about getting back to where I was before the recent lightning storm. I have a new modem, compliments of my cable company. I had to purchase new computer speakers to replace the Yamaha speakers I've been using for 25+ years–they no longer worked after the strike. And $509.68 later, my garage door opener is working again. Apparently, the strike fried the circuit board in the opener and took out the door sensors. All in all, that storm did $667.62 in damage, at least that I've found so far.
I was reading online about whole-house surge protectors. They are very expensive to have installed, and from what I've read, they don't always prevent things from being damaged. Do you have a whole-house surge protector? If so, would you recommend I add one to my home?
These are the speakers I purchased and they are awesome! I have a set on the desk where I work in Ohio and love them, so I decided to purchase them again for my office here in Georgia. (If you need great sounding speakers for your computer, you'll find them here: Speakers.)
On to happy things–here in Georgia, April 15th is our "safe-to-plant-annuals" date. I took a look at our weather for the next 5 days and it's looking really good. So I decided it was time to put the annuals I wintered over this past winter back out onto the deck. You may remember my geraniums were looking pretty sad after being neglected when I was away visiting family for 3 weeks during the month of August. They didn't get watered during those three weeks except by Mother Nature. They survived but were looking pretty sad. You may remember that I wanted to see if I could winter them over and bring them back to life for spring.
The wintering-over process went very well! On pretty days when the temps were above freezing, I would pull them out into the driveway to soak up the sun. Starting around early March, I began fertilizing them with Osmocote and Miracle Grow. I am thrilled with how they are looking! The Foxtail Fern even has 4-5 new fronds.
I was stunned when I placed the three smaller pots of geraniums into the plant stand on the porch where those always go. Normally when I buy new geraniums each year, they are typically kinda small and take a couple of months to really fill out. Not this year! They were so big after sunning themselves on warm days this past winter, I could barely fit all three pots into the stand!
They already have so many buds–those should be blooming very soon. I'm not sure I can winter them over again, or if I do, they will have to go into much bigger pots and I'll need new plants for the stand because these are almost too big for the stand now.
Every year I buy a large, red geranium for the porch. I take it out onto the deck on sunny days for a bit of sun since geraniums need the sun like a fish needs water.
Normally the big geranium lives here on this shabby wood chair on the porch during the summer months.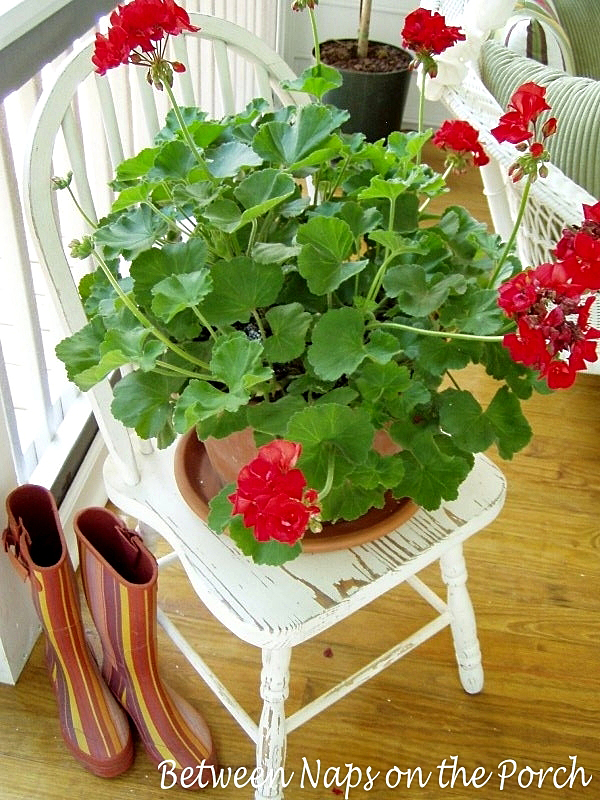 This is how it looked in the fall after going through the August heat when I wasn't here to water it. (It's in the large pot on this end of the cart.)
And here's how it looks now! Quite the change! I can't believe how healthy it looks! It's not blooming yet but it should be very soon. It's so nice not having to drive to the nursery, spend money on plants, bring them all home in the car, transplant them from plastic pots into clay pots and wait for them to get bigger. I feel like I've jumped forward a couple of months. Good thing I saved some $$$ this year since I needed them for the speakers and the garage door repair. Argggh.
I could tell that the Foxtail Fern I wintered over was pretty badly pot-bound. I've been meaning to transplant it to a larger pot.
Here's how it looked when I removed it from the plastic pot it was in! Wow! Those round things are called tubers. I did a bit of reading about these ferns online today and apparently, when a Foxtail Fern is planted in the garden, it will spread out and choke out the surrounding plants. I'm glad I have it in a pot!
I think it's breathing a sigh of relief right now! I transplanted it into a pot that's a couple of inches wider so now it has an extra 1-2 inches all the way around to grow and spread out.
Remember the Leyland Cypress Trees I planted as a screening plant quite a few years back? They get a lot of shade since all the trees in my backyard are so large, so they grew more slowly than those that were planted here 30 years ago.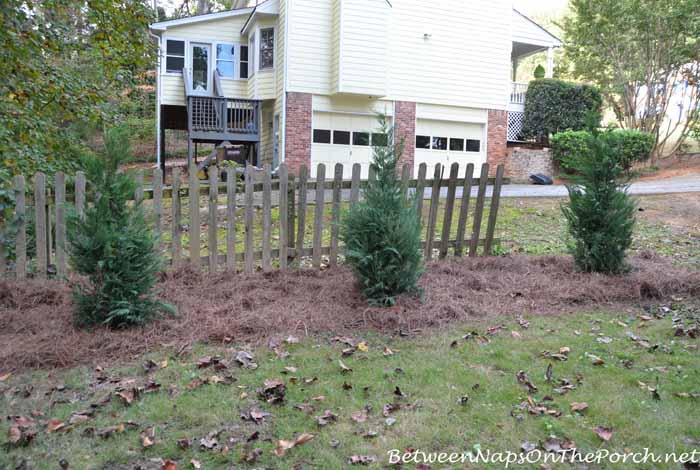 They are now two stories tall! This is the view from the screened porch that's a full story up. I'm sure my neighbors appreciate the privacy and not having to listen to my jazz music from the porch. 😉 Just kidding! I usually keep it pretty low.
Here's our weather for the next 10 days. I can't wait to get out and spiffy up the screened porch as soon as the pollen slows down. Looking forward to sharing some tables on the porch and deck with you real soon!
*If a post is sponsored or a product was provided at no charge, it will be stated in post. Some links may be affiliate links and as an Amazon Associate, I may earn from qualifying purchases. *