Welcome to the 433rd Metamorphosis Monday!
The week before I left for Morocco in mid-March, I forced myself to purchase new eye glasses. At one time I had two pairs for everyday use, but one pair mysteriously and unpredictably snapped in half one day for absolutely no reason. I lived in fear the other pair would do the same at any time.
I have contacts I wear occasionally, but they don't work very well due to a bad case of astigmatism in my left eye. I'm not sure exactly why, but heading off to Morocco for 16 days with only one pair of glasses had me really worried, worried enough that I decided to finally break down and get new glasses.
I always dread getting new glasses, primarily due to the expense and the arduous task of choosing the perfect pair. Instead of using Costco or Sams this time as I have done in the past, I decided to try an eyeglass shop that's just a couple of miles from my home: Lenscrafters. After this experience, I will definitely use them again.
Their eye-glass selection was awesome, so many pretty frames from which to choose! I settled on a pair of Tiffany & Co. frames. I love, love, love that Tiffany blue color and somehow getting that gorgeous Tiffany blue in my glasses made having to wear them (instead of contacts as I have most of my life) a little less painful.
Here's a side view of those glasses from this previous post where I shared them after returning from my trip. I love the little Swarovski crystal butterfly accent on each earpiece. These frames are also available here: Tiffany & Co. Glasses. I think mine are the 51 mm size.
When I purchased these glasses for everyday use, I talked with the Lenscrafter's technicians about a problem I always have, one that's unfortunately very common to anyone over the age of 40. My regular glasses are great for driving and everyday use, but they stink when it comes to viewing the computer screens in my office.
I'm super, duper near-sighted, so when I want to read an article or an email on my cell phone, I just take off my glasses and I can see fine. I'm so nearsighted, I could read the inscription inside a ring. But trying to view a computer screen that's around an arm's length away while wearing my regular progressive lens glasses is a pain. I end up tilting my head way, way back to see through that little area located at the bottom of my lenses. Sound familiar? What a pain in the neck–literally!
I swore once I returned from my trip, I was going to address this situation. I have really enjoyed my new Tiffany & Co. glasses, and the process I went through to get them had been painless. So, I wasn't dreading this second trip near as much as I had the first one. It's amazing how I build up stuff in my head to be so difficult, then often, it isn't.
Lenscrafters has some type of newfangled technology (maybe all Optometrist do now–not sure) where you sit and look into a little machine/camera and it takes a picture that perfectly determines how to design your "progressive" lenses. Apparently, this takes out a lot of the human error factor that used to occur when this was done by the technician.
For working at a computer, Lenscrafters recommended what they referred to as "Computer Station" glasses. They are designed where the vast majority of the lens has the prescription you need for seeing a computer that's sitting in front of you about an arm's length away.
A small area across the bottom part of the lens is for reading or looking down at something on your desk while a small area right across the top sees further out beyond the computer. That's in case you work in an office environment where occasionally someone may walk up to your desk in front of you. It keeps you from having to change your glasses in order to see them clearly.
I don't have that issue since I don't work in an office with other people, plus my desk faces right into a corner. But that feature does help when I want to read something I have on the bulletin board above my desk.
It's also great for watching the TV above my monitors as the very first cars eagerly follow the police and DOT over the newly rebuilt I-85 bridge! Yay! The bridge is back! lol
The glasses on the right are the new "computer-station" glasses. Hard to see in this photo, but they are a pretty nautical blue. I went for larger lenses this time because I wanted LOTS of space for the computer-viewing part of the prescription.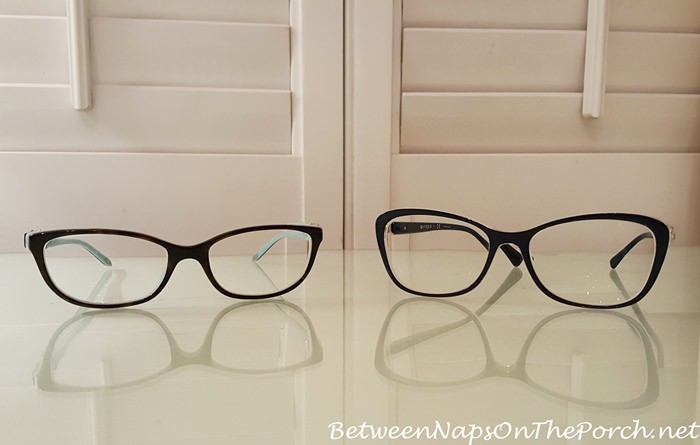 I paid zero attention to the brand when shopping for these, I only cared about function. The ones that looked the best on me and gave me plenty of computer-viewing space are these frames by Vogue. They are really light-weight, which I love! They have little bows with crystals on the side which is fine, but I really didn't care what was on the side.
In this photo below, taken this morning in the room I call my "morning room," it's easier to see the pretty blue color of the new work-station glasses on the right. Lenscrafters gives a big discount on the second pair of glasses, so that helps when purchasing two pairs. Plus, this time I discovered they give discounts for the insurance I have. I wish I had known that when I purchased the first pair because it saved me a lot on this pair!
I wanted to share these work-station glasses with you for Met Monday because OH. MY. GOSH., what a change it has made in how I work. It's wonderful no longer having to lean my head back to see through that tiny area at the bottom of my everyday glasses. I should have gotten these workstation glasses a long time ago!
A couple of times I have forgotten that I had them on and have worn them out of the office. When I run downstairs to have lunch or check the mail, I can pretty much see everything just fine. I totally forget I even have them on. It's only after a few minutes that I sometimes notice the chair down the hall or something at a distance is kinda fuzzy.
A few days ago I drove all the way to the post office and back and didn't even realize I had on my computer glasses until long after I had gotten back home. So, though they are not for driving, they worked pretty well since I never even noticed a problem.
Of course, when I switch back to my regular glasses, then I notice how much better I can see at a distance. You definitely wouldn't want to accidentally wear computer glasses when driving to a new place where you would need to be able to read road signs from a distance or at night. It's definitely best to always wear glasses that let you see long distances when driving, but at least for my prescription it isn't the end of the world if I forget and accidentally wear them on a short trip to the grocery store.
Update: I notice a huge difference if I forget and wear them in the car at night. As soon as I drive out of my driveway, I realize I'm wearing the wrong glasses and have to turn around and go back. They definitely do not work well enough to drive at night.
Hope this is helpful if you've been struggling viewing a computer screen. I wish I had gotten these years ago! Such a lifestyle improvement, for sure!
Pssst: I post almost daily to Instagram. Follow Between Naps on the Porch on Instagram here: Between Naps On The Porch.
Metamorphosis Monday
Metamorphosis Monday is a party that's all about Before and Afters. If you are participating in Met Monday, please link up using the "permalink" to your MM post and not your general blog address.
To get your permalink, click on your post name, then just copy and paste the address that shows up in the address bar at the top of your blog, into the "url" box for InLinkz.
In order to link up, you'll need to include a link in your MM post back to the party so the other participants will have an opportunity to receive visits from your wonderful blog readers.
Please observe these few rules:
Please link up Before and After posts that are home, gardening, decorating, crafting, painting, sewing, cooking, fashion or DIY related.
Be sure to include a link back to the party in your post, so your readers will be able to find and visit the other bloggers who are participating.
Do not link up to the party if you're doing so to promote or sell a product.
To those who are linking up: If you notice a shop or store linking up to sell products (yes, unfortunately that does happen) please let me know so I can remove their link from the party. No one wants to click a link expecting a Before and After, only to find a spam link to an online business/store.
*If a post is sponsored or a product was provided at no charge, it will be stated in post. Some links may be affiliate links and as an Amazon Associate, I may earn from qualifying purchases. *