Welcome to the 415th Metamorphosis Monday!
I've been on a mission the last several months, really going all the way back to last summer, to clear out anything and everything that I don't use on a regular basis. That has included going through all the closets in my home. There are 12 closets in this house: 10 upstairs and 2 on the main level. That's not including the eve storage off the upstairs living area.
When I had hardwood flooring installed in the guest room this past summer, I had to clean out the closet in that room since the new flooring was going in there, too. It was no small job since it contained a large, ancient, 5-drawer, metal file cabinet that I had been wanting to get rid of for ages.
It took a whole day to go through it and a few more days to go through the whole closet, but it felt so good once it was done. There were 25 years of tax returns in that file cabinet!
I took all those tax returns to the FedEx location near my home. Using a coupon, I was able to have them all shredded for around $10. The flooring guys helped me get the file cabinet into my SUV and off it went to be recycled.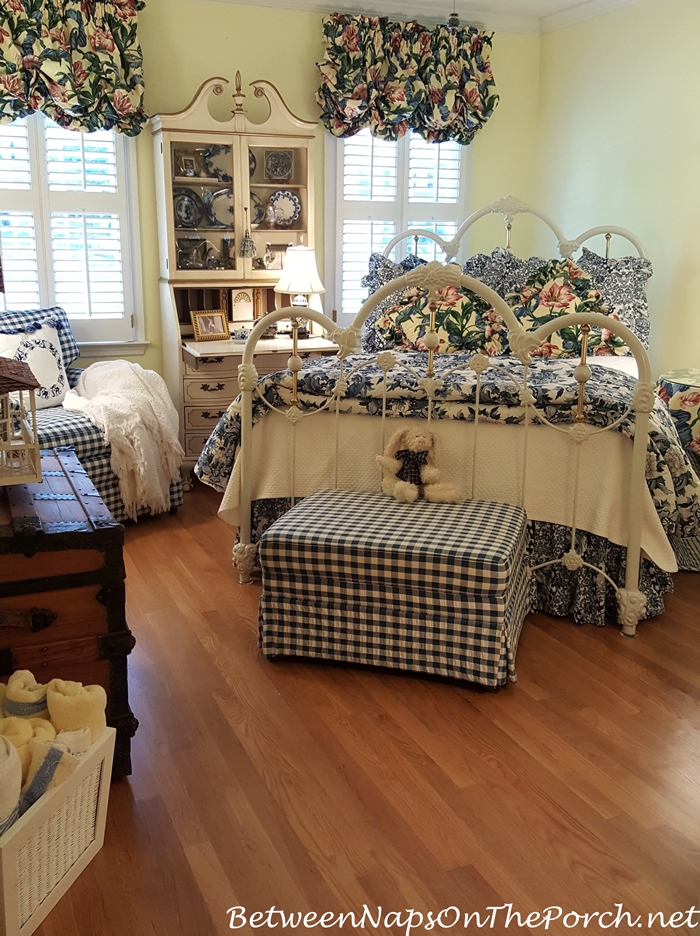 Continuing in that same clear out and recycle mode, I got busy Sunday morning going through tons of magazines I've collected over the years. What you see below is only about half the magazines I had to go through, there were more in the upstairs living room and in my bedroom.
I rarely buy a magazine these days, maybe once a year. With so much inspiration online now via blogs and Pinterest, I just don't feel the need to buy magazines like I once did. When I do subscribe to a magazine, I normally do so digitally now, preferring to read it on my iPad.
Before diving into the great magazine purge, I put a huge pot of home-made soup on to cook. I love cooking up a big pot of soup because it means I'll have a ready-made meal for when I'm short on time or just don't feel like cooking.
You'll find the recipe I use and love here: Vegetable Beef Soup. This is the perfect hot meal for this time of year and it makes your whole house smell wonderful!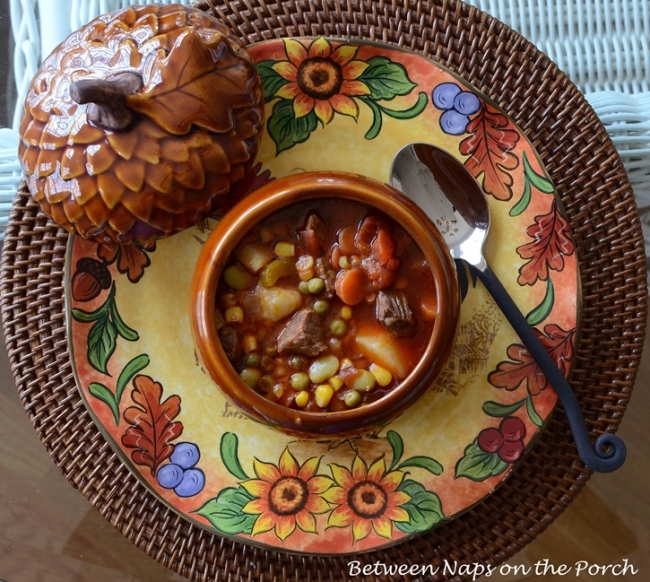 While the soup was cooking, I got to work going through the magazines, pulling out those I wanted to keep to read again. Afterwards, I had 8 very heavy bags of magazines ready to be recycled. I had been dreading this job for ages because I find it extremely hard parting with magazines, especially the ones about gardening, birding and decorating. But it's done now and all those heavy bags are in the back of my car, ready for recycling.
Does anyone else find it mentally exhausting, going through magazines and forcing yourself to part with them?
A Minor Repair
Recently I was outside on the deck and I noticed a spindle/baluster had fallen off the gate that's across the steps going up to the deck. You can see it leaning there against the edge of the gate where I propped it for the photo. Have no idea what caused it to come off.
I decided to use the brad nailer I purchased back when I built a small cubby organizer (see organizer HERE) and retrieved it for this small job.
I used heavy duty wire cutters to clip off the old nails that I couldn't get out of the gate. I wanted a flush fit when I reattached the spindle. The brad nailer worked great! I'm so glad I have it because I find myself using it a lot for small projects like this. This one is available here DeWalt Brad Nailer, and I can definitely recommend it.
A Surprise Discovery
Remember this whimsical table setting I put together for a Tablescape Thursday during December. The truck I used in the centerpiece was described as a "Vintage Holiday Truck" in the ad, HERE.
When I wrote that post, I think I referred to it as a Woody car since it looked like it would have had wood panels on the sides in real life. (See this tablescape here: Bringing Home the Tree: Christmas Table Setting)
I was so surprised when I came across this picture on the Instagram page of the NakedNantucketer. Doesn't the truck in this photo look a lot like my little green truck? lol Wonder what type of vehicle this is? Maybe a jeep?
An Unplanned and Unwanted Before and After
Back in November I planted tulip bulbs I had ordered during a visit to Keukenhof Gardens in Holland last spring. Once the tulips were in, I planted Violas on top. I fertilized them shortly after planting them and they were doing great. They had grown a good bit bigger.
Recently while checking the mail, I looked down and saw this–violas laying out on the driveway and on the grass. What?!
Something had given my Violas a severe trimming, pulling some right out of the ground. See that single, large plant over on the left? They were all around that size and had blooms before the trimming. (sniff, sniff) If you look closely you'll see some pretty big foot hoof prints in the flower bed.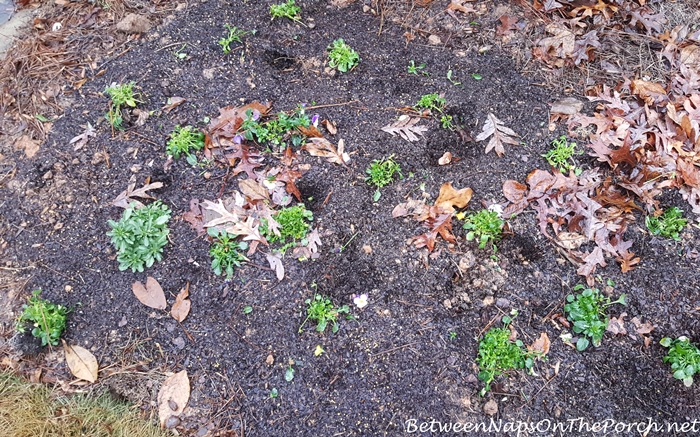 Do those look like deer footprints? I think this may be the work of deer because we have some living in the wooded areas of our neighborhood, but this is the first time they've eaten my flowers. I'm not sure if my poor Violas are going to recover. If they do, they may get eaten again. I guess the deer are hungry and couldn't resist the banquet I had planted for them. I hope they don't eat my tulips when they come up! I'll be trying to nurse these back to health, wish me luck!
Looking forward to all the Before and Afters posted for this week's Metamorphosis Monday!
Metamorphosis Monday
Metamorphosis Monday is a party that's all about Before and Afters. If you are participating in Met Monday, please link up using the "permalink" to your MM post and not your general blog address.
To get your permalink, click on your post name, then just copy and paste the address that shows up in the address bar at the top of your blog, into the "url" box for InLinkz.
In order to link up, you'll need to include a link in your MM post back to the party so the other participants will have an opportunity to receive visits from your wonderful blog readers.
Please observe these few rules:
Only link up Before and After posts that are home, gardening, crafting, painting, sewing, cooking or DIY related.
Do not link up to the party if you're doing so to promote a website or sell a product.
Do not link up a post that was just linked up last week since readers would have already seen that post.
*If a post is sponsored or a product was provided at no charge, it will be stated in post. Some links may be affiliate links and as an Amazon Associate, I may earn from qualifying purchases. *