Snow: some people love it. Some, not so much. I'm afraid I fall into the "not-so-much" category. Wish I could send it all to my son, dil and grandchildren…they love this cold, white stuff.
It snowed off and on all throughout the day.
Earlier in the day I came out long enough to get the snow off the boxwood shrubs and to snap a few pics.
Notice the dovecote, it's not completely covered in snow. That's going to change.
This is how the boxwood shrubs looked right after they were planted in 2016. They grew a tremendous amount this past summer, much faster than I had expected.
It kept snowing throughout the day and this is how they looked later in the day. 🙁 The two up front looked more like big spiders, than shrubs.
I knocked all the snow off of them again. Afterward, the two "spider" shrubs went from looking like the one on the left to looking like the one on the right.
Much better.
Here's how the magnolia and dovecote looked. I always worry about the Magnolia tree because its large, flat leaves catch snow and ice, and that often leads to broken limbs. This Magnolia has lost its top to two previous ice storms during the 27 years I've lived here. It always grows a new one afterward.
It continued to snow this evening, and as I worked in the office, I heard strange sounds from outside. I came out to find this, large branches broken off the Magnolia.
Found them laying all around the tree. Wouldn't be surprised if one of these bunches of limbs is from the top of the tree again.
The dovecote this evening…
And here's how the boxwood shrubs looked. ~~~sigh~~~ Those two flat clumps at the front are normally two-foot tall shrubs. Those are the same ones I cleared off twice earlier in the day. 🙁
I removed the snow off of all the shrubs again. They are still sprawled out and gaping open in the center, but I'm hoping when the sun comes out tomorrow, they'll stand up straight again. There's a 90% chance of snow again tonight, but thankfully it's supposed to stop by 8:00 AM.
I'll leave you with this magical photo taken by my neighbor today. Georgia truly is a winter wonderland this evening!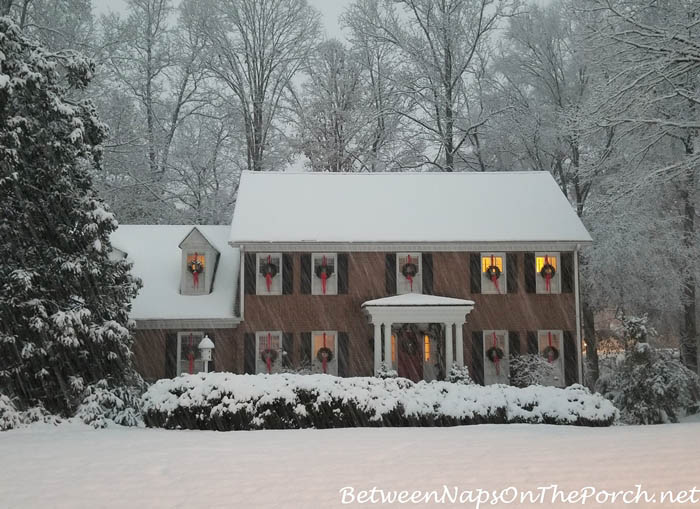 *If a post is sponsored or a product was provided at no charge, it will be stated in post. Some links may be affiliate links and as an Amazon Associate, I may earn from qualifying purchases. *