Welcome to the 480th Tablescape Thursday!
We're back in the breakfast room for this week's Tablescape Thursday, only there's no sunshine today. It was a rainy, dreary day out, so I decided to make my own sunshine inside.
My centerpiece is a bit tall for this spot, so had to slide the table over slightly due to the chandelier.
If you are a cat lover, you're going to love the dishware I'm using today. I tripped over it on eBay a few months back, and it was love at first sight.
After I had this tablescape completed, it seemed to need something. I placed a pretty tree skirt I've had for many years in the center and loved how it looked in this setting. Sometimes you have to get inventive with your tablecloth. lol
I let the cats decide on today's centerpiece. At first they wanted Christmas mice decorating their tree. When I explained I was having trouble finding enough mice, they went with another favorite: Birds! 😉
Found these adorable little birdies dressed in their winter plaids and stripes in the ornament section in Target.
The dinnerware I'm using in this table is by one of my favorite artist, David Carter Brown. It's by Oneida and the pattern is called: Christmas Kitties. I have so many plates with his beautiful images, such a talented man!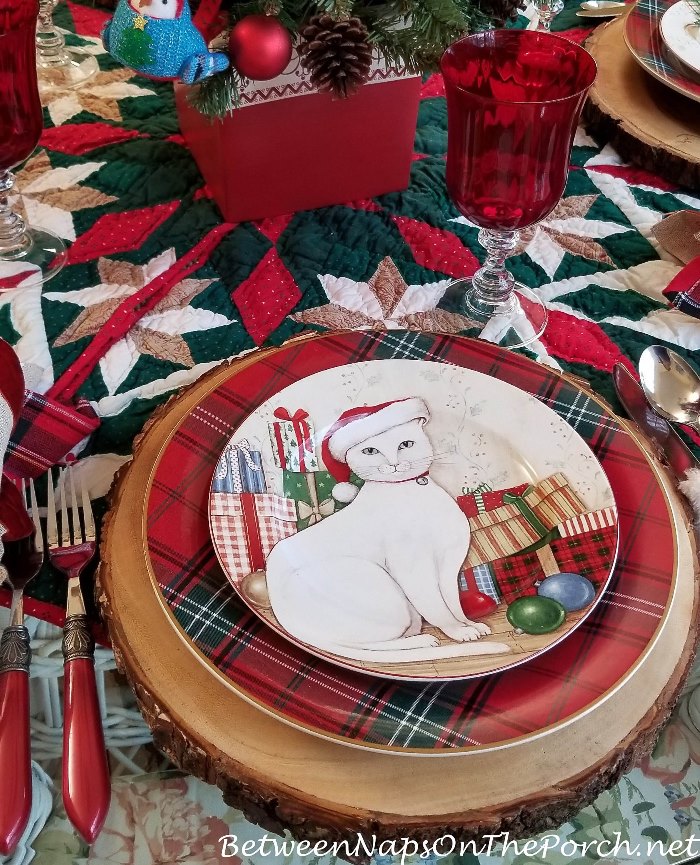 As I admired each plate, I knew two things for sure: David Carter Brown loves cats and must have several of his own.
Only someone who really knows and loves cats could depict their sweet faces as he has in these paintings.
I was only able to find four plates, hope to find at least four more at some point.
Look at that sweet face! I've often seen that loving look on the face of my kitties in the past. I love all the plaid Christmas packages surrounding each kitty.
I paired these kitty salad plates with plaid dinner plates from here: Tartan Dinnerware.
Each kitty salad plate contained a lot of plaid, making them perfect for pairing with plaid dinner plates.
I think this sweet furbaby may be my fave. Oh, I can't pick a fave, they are all adorable!
Just look at that sweet, sweet face. You know you've seen that look on your kitty's face many times! Love these plates so much! Gaaa!
The beautiful bark-edged, wood chargers are available here: Bark-edged Chargers. Have enjoyed using these so much and wish I had purchased them years ago. They look great with so many patterns!
I paired velvet-trimmed, linen napkins over plaid napkins. I love the contrast of the velvet edging against the more rustic look of the linen and the wood chargers. Reindeer antler napkin rings are available here: Antler Napkin Rings.
Merry Christmas to all animal lovers everywhere! Hope this table brought a smile to your face. 🙂
Looking forward to all the beautiful table settings for this week's Tablescape Thursday!
Pssst: I post almost daily to Instagram. Follow Between Naps on the Porch on Instagram here: Between Naps On The Porch. If you enjoyed this post, subscribe for free email updates when a new post is up here: Subscribe for post updates.
Tablescape Thursday
If you are participating in Tablescape Thursday, please be sure to add your permalink below, and not your general blog address.To get your permalink, click on your post name, then copy and paste the address showing in the address bar, into the "url" box when you link up.
You'll need to include a link in your post back to the party to link up and participate. That's so visitors to your blog will be able to find the party and the other Tablescape Thursday participants. Requiring a link back also prevents businesses and scammers from linking up to sell their products. (Yup, that really happens, unfortunately.)
*If a post is sponsored or a product was provided at no charge, it will be stated in post. Some links may be affiliate links and as an Amazon Associate, I may earn from qualifying purchases. *