Doesn't it feel good to finally get "stuff" done that's been needing to be done for ages? I know, the list is always endless, but at least I can finally check a few things off.
Yesterday, I left you with a painted screened door, but before it could be installed it needed to be re-screened. It just barely fit into the back of my SUV, but thankfully it did and off we went to the screening shop.
A Nighttime Visitor
I was amazed at how many leaves came in through that one doorway while the door was away being screened. They were all over the porch, even up underneath the swing.
While the screen door was missing from that end of the porch, I heard some strange noises down on the porch one evening. EEK! I had the table on the porch half-set for THIS fall table setting and I'm guessing Mr. Raccoon who visits my feeders at night must have come along and thought, "Hey,no door! Must check out shiny objects!"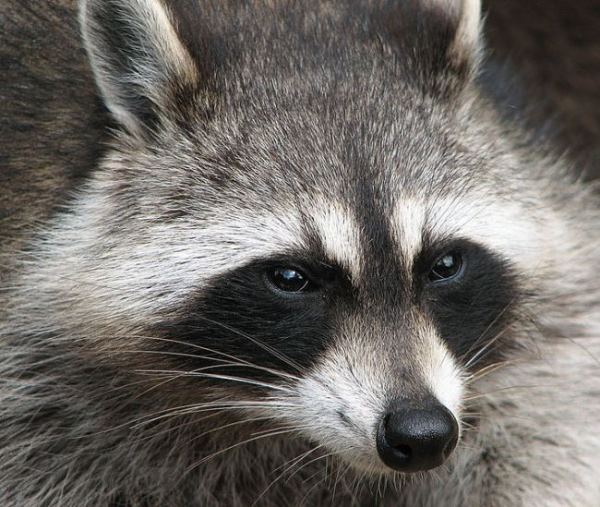 From the office it sounded like someone was picking up items on the table and sitting them back down. lol As I sat working in the office, I would have been slightly freaked out if I hadn't remembered I have a visitor pretty much every night. I don't think too many burglars are interested in mercury-glass pumpkins lit up by moonlight. 🙂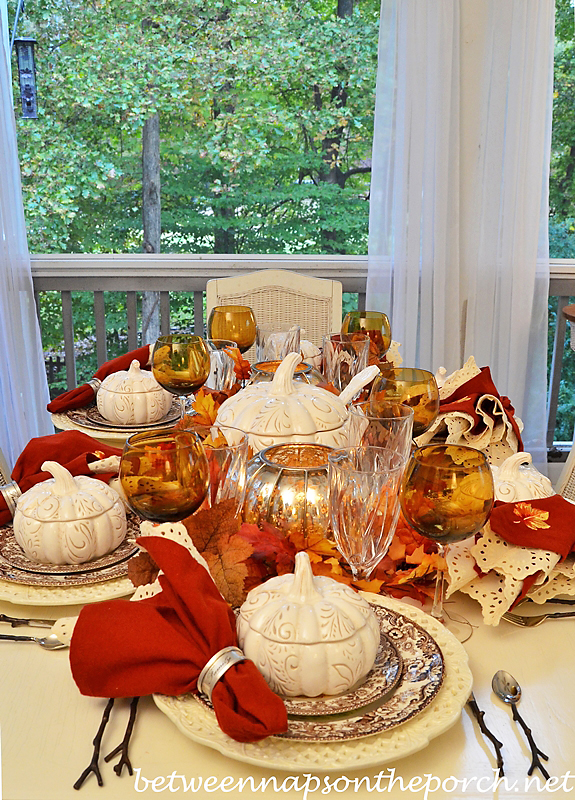 After about a week, the door was ready. Here it is all freshly screened, still with plastic wrap stuff across the top.
You may remember I was a little dismayed at having to remove the door to paint it and to have it re-screened since I had not long ago paid to have it professionally installed. But my little trick of leaving the hinges in place and just removing them from the door side worked really well.
Installation was a breeze. I just lined the little screw holes back up with the hinges and put the screws back in. Mr. Raccoon will not be able to play on the porch so easily now.
Another little job that got completed on the porch recently was the replacement of the speaker visible in this pic.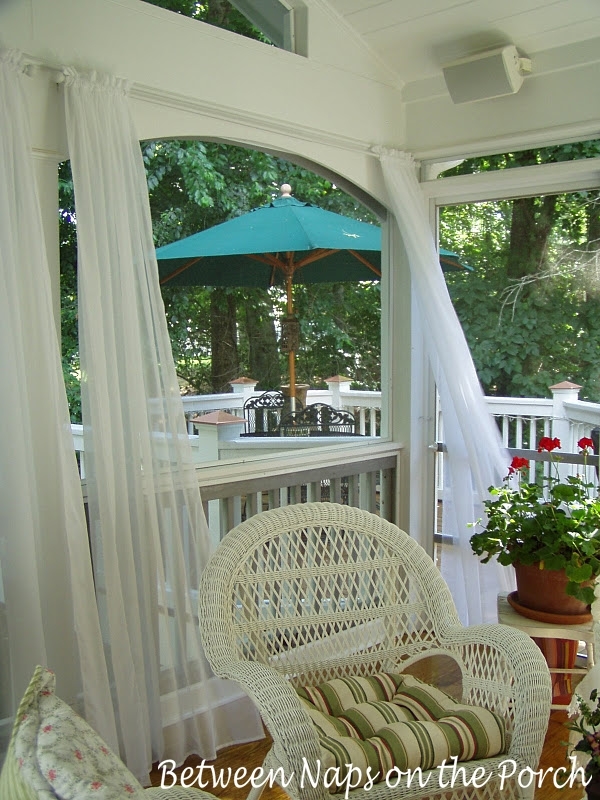 Actually, both speakers were replaced including the one over on this side.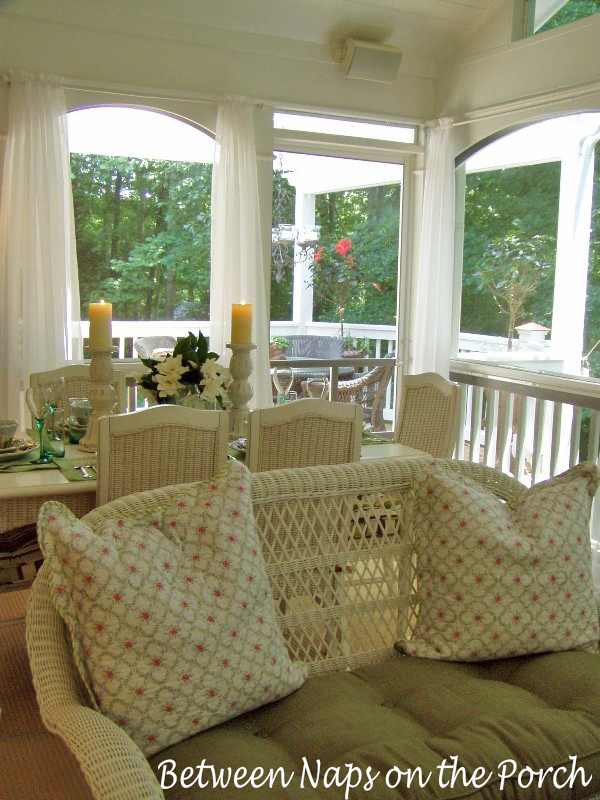 This summer when I had the porch professionally pressure-washed, the speaker on the right side (above the door) leading out to the deck, was accidentally hit by the sprayer. At least I think that's what I think happened since I found it dripping with water afterwards and it never worked again after that day. The speakers on the porch are outdoor speakers but I don't think they are designed to withstand a direct blow from a pressure washer hose.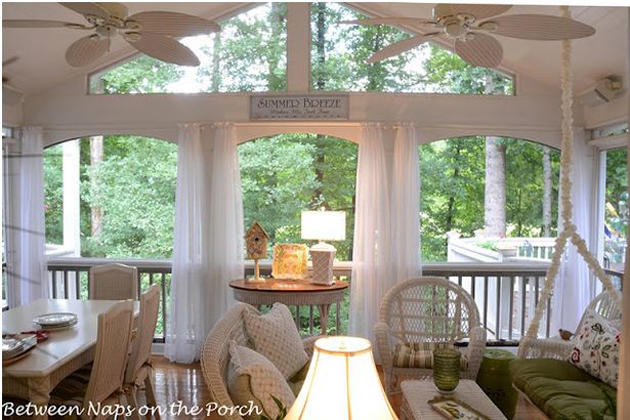 I sent the speaker away for repair but the company where I bought it told me it was still under warranty and they would replace it at not charge. They asked me to mail in the other speaker, too. It took a while, all the corresponding back and forth and the mailing of speakers, but eventually they sent me two brand new speakers…how nice was that!
Fortunately, when the porch was being built and I had it wired for music/speakers, the company who did the wiring left lots of extra wiring up in the ceiling. Now that I think about it, I think they did that because I asked them to.
I remember the day they were here doing the install, I told them I was concerned I'd later wish the speakers were in a different spot. I wasn't sure if over the door was the best place. So, I asked them to leave the wiring long enough to allow for some shifting or moving if needed later. I never needed it since I liked the placement of the speakers just fine, but that extra wiring came in handy for installing the new speakers. I don't think I could have held the speaker AND attached the wiring at the same time because they are pretty bulky and heavy. The wiring was plenty long enough to allow me to sit the speaker on the top of my step ladder while I worked on the wiring part.
The wiring was a breeze. If you can tell black from red, you can install these speakers. I just matched the wire to the correct colors and the wiring was done. It may be this way for all speakers but having never installed any, I was thankful to find it so easy.
I'm all over the place in this post. Remember my lovely begonias?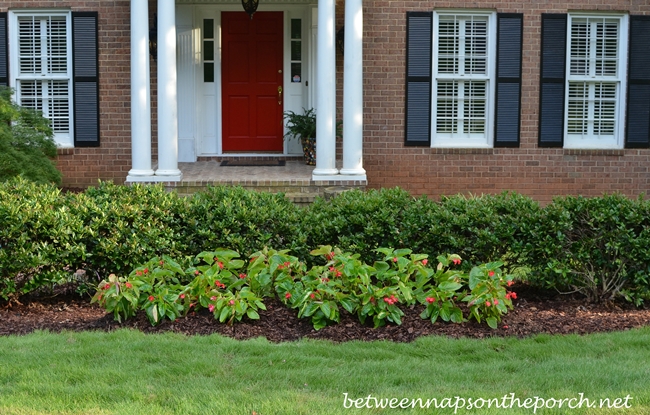 Well, we had some cold weather one night and now they look like this now. Womp, womp.
I pulled them out but I'm way behind in getting my pansies in. The earlier you get them in (once the hot weather has passed) the more they can establish themselves and grow bigger before the really cold weather arrives.
Here sit my pansies, asking politely when I'm going to get off my duff and put their feet in the ground. Hopefully I'll get them in today. The wonderful thing about living in Georgia, and about pansies, is if you plant these babies in the fall, they will bloom and be gorgeous all fall, all winter and most of spring. In fact, I've had to pull out perfectly beautiful pansies in the spring to plant my summer annuals because they can look pretty awesome even into spring.
What pansies don't especially like is heat. By late spring they are often getting long and leggy and not so attractive, but if you live in the south, pansies are a great investment for the winter landscape since they give almost three seasons of beautiful color. I've even seen them completely covered in snow and once the snow melted they were just fine underneath. Love that!
Do you live where you can plant pansies for the winter? Have you already got your's in?
Ever installed speakers up high and been thankful for extra wiring?
Got any nighttime visitors who like playing with shiny objects on your porch? 🙂
*If a post is sponsored or a product was provided at no charge, it will be stated in post. Some links may be affiliate links and as an Amazon Associate, I may earn from qualifying purchases. *