I've been out of town this past week for Thanksgiving. Just got back in late last night around 11 PM. It was a bit of a rough drive since I'm still sick with a yucky cold, but at least the weather was perfect for the trip home.
On the way home and just 45 minutes into my trip, I got a wild hair and did something completely unplanned. It was totally a spur of the moment decision. This past week a friend and I were emailing back and forth talking about L.L. Bean and how we wished they had a physical store in each of our states: Georgia and Texas.
During that interchange I Googled to see where L.L. Bean currently has stores. I was surprised to discover there was one in Cincinnati, Ohio, only about an hour from where I would be visiting family for Thanksgiving. I actually pass through the heart of Cincinnati every time I head to Ohio.
Yesterday, while headed back home down I-75, when I started seeing signs for Cincinnati popping up, I asked Google Voice for directions to L.L. Bean to see how close it was to the interstate. When the directions/map popped up on my phone showing it was only 6 miles (about 10 minutes) away, I knew had to stop!
Okay, let's go inside the Cincinnati L.L. Bean and do a bit of shopping. Everything was 20% off when I was there yesterday!
I didn't take a ton of photos but the store is quite large. It was well staffed and everyone I talked with was super nice. I was so excited to be inside a real L.L. Bean store, I shopped for at least two hours! I had to force myself to leave. lol That's one of the reasons I was so late getting home last night!
It looked to me like they had pretty much everything in the store that you typically see online. Just as online they were out of sizes for some of the more popular items like the women's Fisherman sweater.
I barely resisted buying more flannel shirts! I've already purchased six this fall but I saw one more that looked much prettier in person than it had online. I often find that with L.L. Bean, the clothes look better in real life than they do in the photos on the website.
(You'll find all their flannel shirts available here: Flannel Shirts.)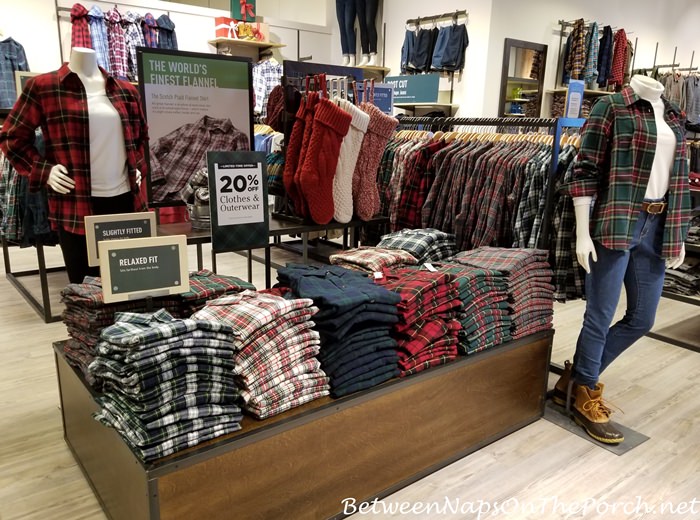 I didn't take time to try on any of their iconic boots or shoes since I already have a pair.
These were super cute! I don't see them online.
I've been eyeing their plaid/tartan flannel PJs online, so it was nice to actually get to see/touch them in person.
It was like being in a candy store…so many awesome goodies that I've never even noticed online.
There was a lot camping gear and a whole section dedicated to doggie supplies and treats.
So what did I buy on this real life excursion to an L.L. Bean?
I purchased another Fisherman Sweater. I already have it in cream as seen here, and recently I purchased it in a beautiful deep Cherry color.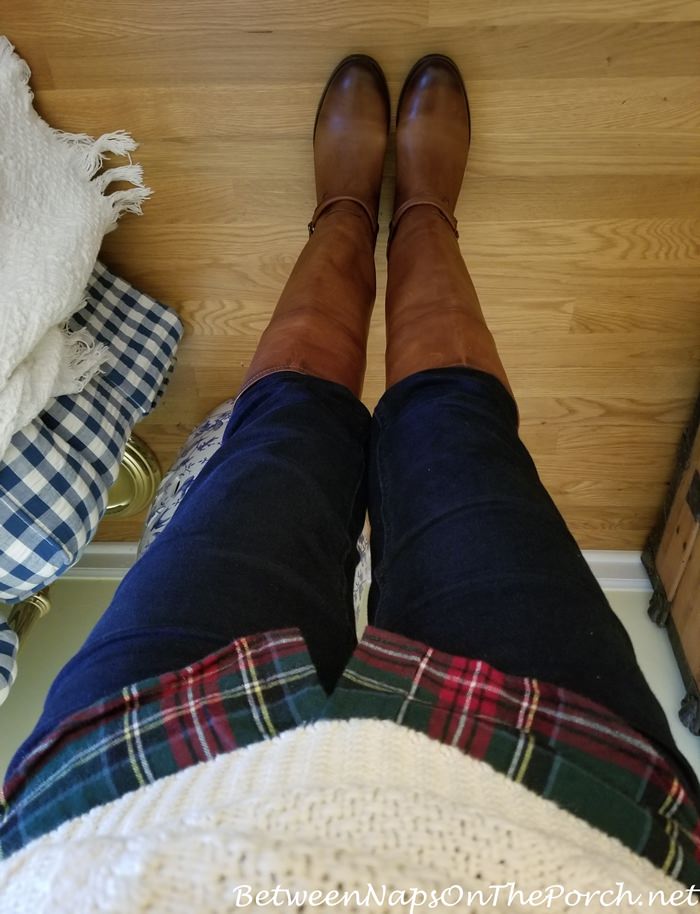 I had hoped to find the lighter gray color that's out of stock online, but it was out of stock in the store, as well. But they did have it in this Black/Slate color which is much prettier in person than it appears online. It's not near as pale/faded looking in person as it looks on the website. I know I will get a lot of wear from this piece because I've been wearing my other Fisherman sweaters so much.
You'll find it here, though I'm not sure what sizes are left at this point: Fisherman Sweater. That's an L.L. Bean Flannel shirt underneath it. I love how their shirts coordinate so nicely with their sweaters.
Another sweater I had been eyeing online and really loved in person was this Fair Isle Fleece Pullover. The neat thing about it is that the fleece is on the inside. I really like that since I'm not a huge fan of fleece sweaters where the fleece is on the outside. This sweater is available here: Fair Isle Fleece Sweater.
I don't normally like a prominent logo on my clothing, but the L.L. Bean logo is so cute I was actually looking forward to buying one of the pullovers with the little L.L. Bean patch. Loved this beautiful sapphire blue, it looks more purple to me than blue, and that's usually a good color for me.
This sweater also has soft, warm fleece on the inside, too. Love that! See what I mean about the cute L.L. Bean logo. They have a special name for that cute little patch, one of the associates shared the name with me yesterday. Totally escapes me now, though.
You'll find this sweater here: Sweater.
This cotton rugby shirt was so reasonably priced, I couldn't pass it up. It's available online here: Cotton Rugby. The turtleneck is by Sundance and available here: Turtleneck.
I purchased several gifts for friends while shopping, they have so many cute things right now that would make great stocking stuffers, including these adorable keychains. Something tells me future trips to visit family will often involve a stop by L.L. Bean on the return trip home. lol
Ralph Lauren Sweaters Arrived
Earlier today as I was working on this post, two other sweaters I ordered this fall, arrived. You may remember I recently purchased this cute Bear sweater at Ralph Lauren online when I caught it on sale.
Though it wasn't available in women's sizes, I have discovered I can wear a Boy's Large and/or Extra Large in Ralph Lauren. This sweater fits me in the Boy's Large, so if you're a size 6-8 top or less, keep that in mind when shopping at Ralph Lauren.
The other sweater I ordered was this adorable Reindeer sweater. I first ordered it in a large since the bear sweater had worked for me in a large. Though it fit pretty well when it arrived, I knew it would be a bit snug with a heavy, flannel shirt underneath which is how I thought I would probably wear it. So I reordered it in a Boy's Extra Large and it fit's great.
I love this sweater! It's a cotton-wool blend and feels so high-end. All the Ralph Lauren sweaters feel substantial and well-made. This sweater is currently on sale here for what I consider an excellent price: Reindeer Sweater.
The other sweater that arrived and I'm also thrilled with is this beautiful Aran Wool-Cashmere sweater. The Boy's Extra Large (XL) again fit perfectly with lots of room underneath for a heavy flannel shirt.
Words can't describe how soft it feels! I seriously wish I had a blanket made out of this blend of lambswool and cashmere! It is luxurious!
I kept trying to take photos that would really, really show how soft it is. Why don't they make sweaters in this style for women? I love it! I just looked and unfortunately, I think the XL in this sweater is sold out. If you love it, check back in a few days and maybe they'll have it restocked. It's currently on sale here: Aran Wool-Cashmere Sweater.
Before I close out this post, I want to share something really neat that I saw on Instagram yesterday. I'm not sure who started this idea, I think it may have been Linette Lyles on Instagram, but I do love the idea. Some folks have started leaving little treats for their delivery folks to show their appreciation for their hard work during this crazy holiday season.
Isn't this a neat idea?!
I'm not sure who posted this one, didn't see a link for it, but you can see their name at the bottom of the note. I may do this since I do so much Christmas shopping online this time of year.
Update: Thanks so much to Brenda for creating this sign so we can all print it out! You'll find the one Brenda made here: Sign. Once at that link, click on the "Open" button and print it out. I don't have a color printer, but the sign looked great even in black and white, so I'm going to use it that way on my porch.
See you tomorrow for Tablescape Thursday…and stay well, dear Friends!
*If a post is sponsored or a product was provided at no charge, it will be stated in post. Some links may be affiliate links and as an Amazon Associate, I may earn from qualifying purchases. *