Yesterday I drove over to Avalon, a local shopping area that's around 25 minutes from my home. I had a Tommy Bahama dress to return that unfortunately wasn't the color I expected when I ordered it online. I never visit Avalon without stopping in to see what's new in Lilly Pulitzer. I really prefer shopping LP in person whenever possible since they offer clothes in such a variety of fabrics. It's kinda time-consuming shopping their site online because you have to click on the "details" tab to check the fabric for every dress, shirt, etc… When shopping in-store, I can reach out and touch the item and instantly know if it's something I would be interested in trying on.
They always have the most beautiful dressing rooms! I've only shopped in person in two Lilly Pulitzer stores–the one in Phipps Plaza in Atlanta and the shop in Avalon in Alpharetta, and both have the prettiest, happiest dressing rooms you could imagine. This full-length shell mirror was stunning! I wish I had thought to change the photo size on my cell phone to take vertical photos so the whole mirror would have been visible in the photo. Next time I'm there, I'll try to remember to do that.
Here are two closeups for you. I asked one of the lovely sales associates about the mirror. She said that their mirrors come plain and "they" (I guess whoever does this for Lilly) decorates them with shells. Wow!
I have mad respect for the fact they do that because I know how long it took me to make 12 shell chargers! I can't imagine doing a full-length mirror!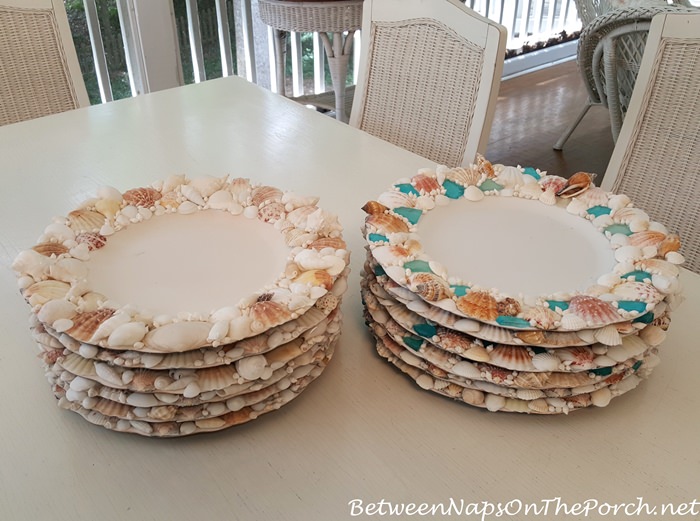 And they have full-length mirrors like this in every single dressing room! It must take days!
Here's one more close-up…LOVE! This mirror made me want to buy a cottage on the beach just so I'd have a really good excuse to have a mirror like this one. Ha! I know you don't need an excuse to make a shell mirror, but just imagine this mirror in a beach house!
So what did I buy? When I reached out and touched this dress, I knew I wanted to try it on. It's 100% linen and felt so substantial, so nice! One of the reasons I love clothing made from natural fibers (like linen and cotton) is they are so breathable for summer. Plus, I love how they drape/skirt over the body and don't cling. I rarely find polyester, knit and other clingy-type fabrics flattering when I try them on. The lighting in my office wasn't the best but the following photos in this post better show the actual color.
Here's a photo showing the dress online. It's not this bright/vivid in person. One of the first things that drew me to this dress, besides that it's made of linen, is how classic Lilly it is! It looks so classic, like some of the dresses Lilly Pulitzer would have worn. It also reminds me of some of the dresses Jackie Kennedy would have worn. I love its simple, classic, design.
These close-ups are more accurate for gauging the true color. I love the color of the green in this piece. It's not a neon green like it appears in the photo above that's online.
This is how the color really looks.
Love the little slits on the side along the hem, the 3/4 sleeves, and how it looks with the cuffs turned up. That's how I will wear it–with the cuffs turned up. This dress is currently available online in two colors here: Lilly Pulitzer Linen Tunic.
How I Care for My Linen
When it comes time to wash this dress, I will probably wash it by hand or in my handwash basket on my ancient GE washer. The Laundress is my favorite for washing dresses and shirts. I love all their washes, especially the ones designed for silk and wool. You'll find all their products here: The Laundress.
This is my absolute favorite product for ironing my linen tops/dresses. It doesn't make linen or cotton clothing feel stiff or starched. It basically makes it feel like it's brand new again, the way clothes feel when you've just purchased them. Plus, it somehow makes linen behave a bit better and wrinkle a little less. I don't mind wrinkles in linen because that's the nature of good linen, but this starch just makes linen feel and look that much better. I just purchased a refill for my bottle since I never want to run out. You'll find it available here: Mary Ellen's Best Press.
Do you know the difference between starch and sizing? I did not so I looked it up and here's what I found: Starch is used to stiffen fabrics, like shirt collars and cuffs, where sizing is used to add body to a garment, to give it a crispness or "hand." That's totally what Mary Ellen's Best Press does in my opinion. As you spray it on a shirt or dress while ironing it, it gives it that "feel," that "hand" that a dress or shirt has when you first buy it. I love that! I also decided to try their Caribbean Beach scent. I think a Lilly Pulitzer linen dress calls for a Caribbean Beach scent. Ha! You'll find the Caribbean Beach scent Best Press here: Mary Ellen's Caribbean Beach Best Press.
I'm getting a quote today for some work here at the house. Actually, I plan to get several quotes over the next few weeks. Not sure what I will follow through on since right now seems to be a difficult time for getting work done for so many reasons. But it never hurts to start working on the estimates. I'll give you an update if I follow through with any of the work I'm having quoted.
How is your week going? Hope you are staying cool and well-hydrated!
*If a post is sponsored or a product was provided at no charge, it will be stated in post. Some links may be affiliate links and as an Amazon Associate, I may earn from qualifying purchases. *