Oh, to be a child again and get to visit Marie's house at Halloween! Imagine being 8 years old and trick-or-treating here on Halloween night!
If you made it past the fire-breathing dragons…
…with massive wings beating back and forth to scare you away…
…would you be brave enough to walk under this guy to collect a treat? 🙂
Marie's home is set well back from the road, a busy road that sees a lot of traffic throughout the day. So it really helps to have large decorations that can be seen from a distance.
Once past the dragons, you'll need to sneak by the ghosts on the right…
…and the witches on the left.
Marie always changes her decorations a little each year. This year she hung witches hats (or maybe those are wizard hats) from the porch. Notice the giant spider and the "candy" sign over the front steps. I love the giant spider! I think the candy sign lights up at night.
This year Marie decorated with trees on either side of her front door. Love the garland!
A little closer view of each tree…
Cute wreath for the front door!
Unfortunately, it always during the daylight hours when Marie and I get together, so I rarely get a chance to take photos of how everything looks lit up at night. One year we arrived back just as the blue hour approached and I snapped a few photos. These photos taken from a previous year will give you an idea of how everything looks lit up at night.
I think Marie said she is going to remove the spheres from the trees this year. In the past, the squirrels kept damaging the wires. They glow orange and purple for Halloween…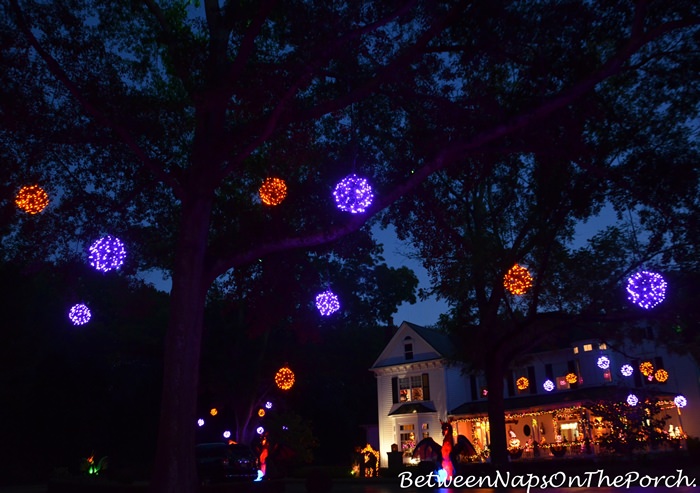 …and Red/white at Christmastime.
Here are a few more photos from previous Halloweens showing how Marie's home looks late at night. Just imagine seeing this as a child! It would be like a dream, wouldn't it?
When Marie and I are out running around having lunch or shopping, people are always stopping us to chat and to tell Marie how much they enjoy passing by her home all throughout the year. I feel blessed to have a friend with such a fun-loving spirit! I wish there were more Maries in this world!
Happy Halloween to you!
*If a post is sponsored or a product was provided at no charge, it will be stated in post. Some links may be affiliate links and as an Amazon Associate, I may earn from qualifying purchases. *