Before I share something fun and lighthearted (a nice distraction on this day) I just wanted to say my heart and prayers go out to all effected by Hurricane Sandy. ♥
A Little Halloween Decorating & A New Lamp for the Office
If you've been following the progress of the office, you know I've been hoping to find some new lamps better suited for this space than the polished brass lamps I'm currently using. During the course of creating the office, I went around the house and pulled lamps from various places, planning on using those until I found something better. I had a feeling it was going to take a while because I just don't care for most of the lamps I see in the stores these days, at least not the stores I most often frequent.
The lamps I've been using in the office aren't bad…I still like them. But they are polished brass and everything in this room is either nickel or oiled rubbed bronze. (Pssst: If you were one of the folks who was looking for the Pottery Barn Wrapping Paper/Craft Organizer when I posted about adding this one to the office last summer, I noticed last night they are finally back in stock. 🙂
While shopping in Home Depot recently for a tool chest for the garage, I was shocked to come across a lamp I actually liked. Whoo, hoo…'bout time! Instead of just snapping a few pics of the lamp, I thought, why not have a little fun. So I ran around the house, gathered a few things together and created some fun Halloween-themed vignettes. Are you ready for the big night? Have the candy all ready? You don't want to get "tricked" ya know! 😉
I have this thing about fabric shades. I prefer a lamp with an all fabric shade and preferably in white or cream. This lamp had both. I love the colored, burlap, etc… shades but they just never give off enough light to suit me.
This lamp is made by Hampton Bay and since it's heavy, it feels nice and sturdy when you turn it on and off. I don't like a wobbly lamp.
It has a cute "swing-arm" design. Love that style! It works well with the ORB knobs on the chest. The price was right, just $49.97, which ended up being $45 with my military discount. Not too shabby for a lamp this size with an all fabric shade.
BOO!
Changed up the vignette, swapping the ghost for a mercury glass pumpkin under a glass cloche.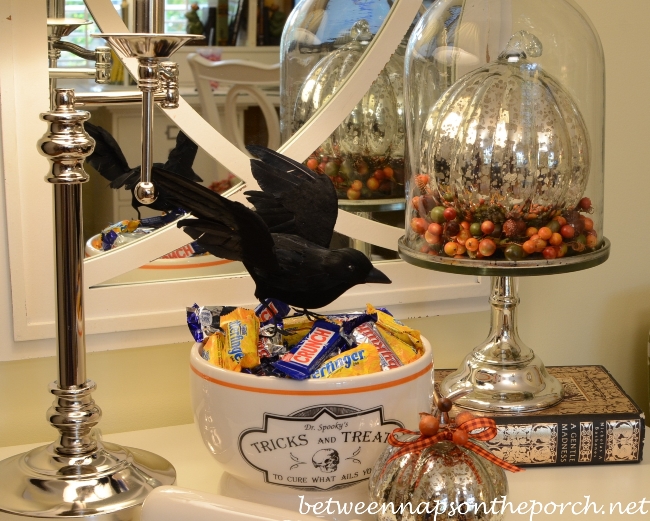 Have some candy, if you can get you-know-who to move!
I think I had a little too much fun creating all these today. It was fun playing. I found this vintage scale in a local consignment shop a few weeks ago. Amazingly, it still works.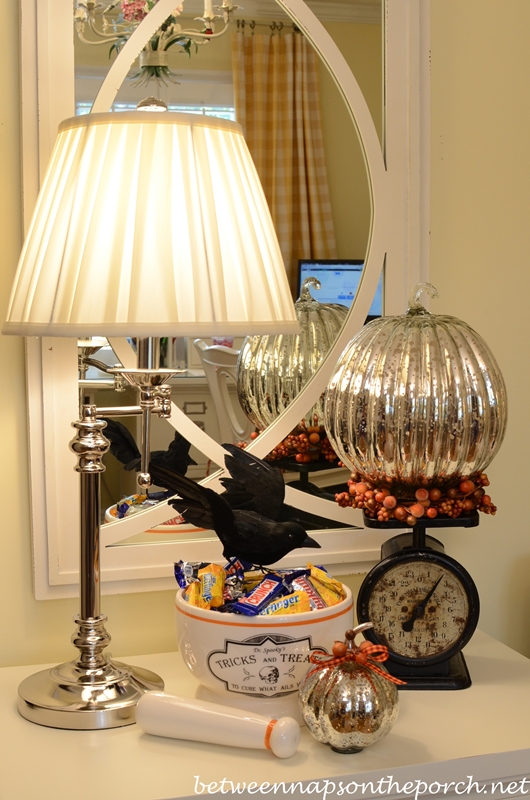 Okay, check this out. This is Mr. Pumpkin with a tealight candle inside.
And here he is with a couple of eerie, purple glow sticks. HA!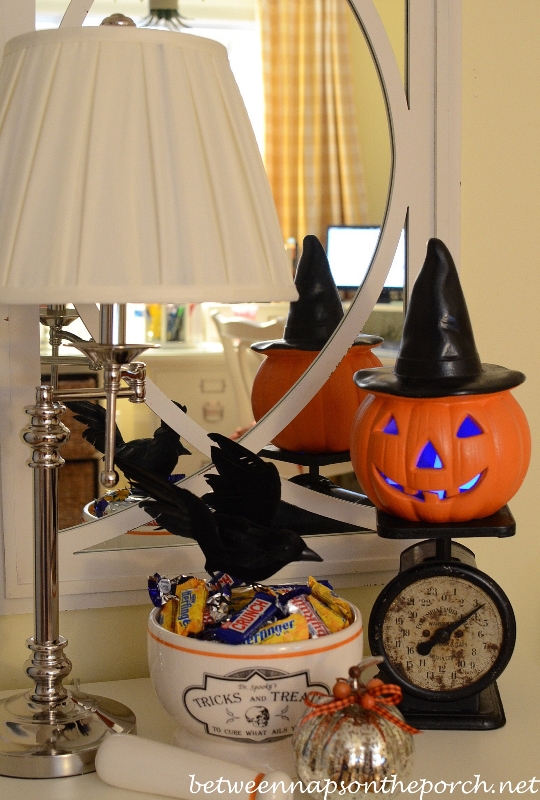 I wasn't sure what I'd do with the scale when I bought it, but I've discovered it makes a fun pedestal for just about anything.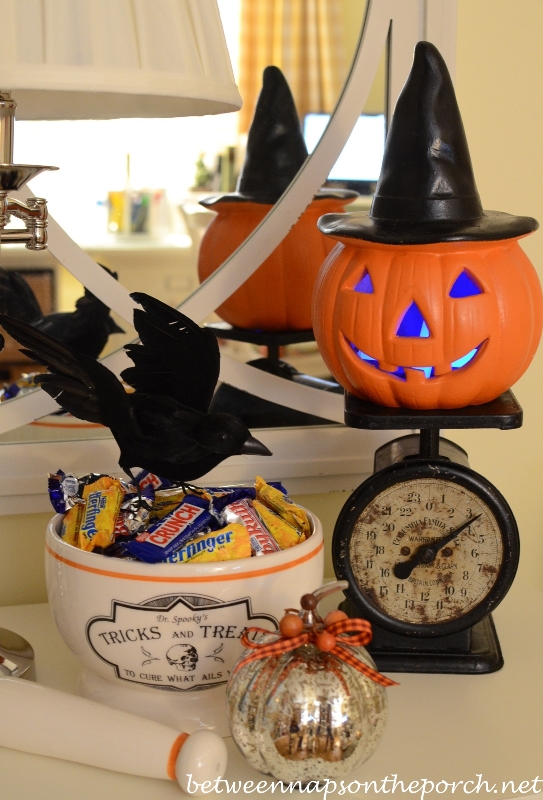 Sure you don't want a piece of candy?
Happy Halloween!
Links referenced above in this post:
Building a Home Office: the Journey
Getting Organized: It's the Garage This Time
*If a post is sponsored or a product was provided at no charge, it will be stated in post. Some links may be affiliate links and as an Amazon Associate, I may earn from qualifying purchases. *