Eye of newt and toe of frog, Wool of bat and tongue of dog…
Double, double toil and trouble; fire burn and cauldron bubble.
Macbeth (Act IV, Scene I)
~William Shakespeare
Eeek! It's like a scene from Alfred Hitchcock's movie, The Birds! Only, in this case it's The Bats!
I've had this image saved on my computer for a year or two. I've always wanted to duplicate the look on my front porch for Halloween. Isn't it a riot?! I decided this was the year–time to go for it!
This is actually a super easy project but I made it a bit more complicated than it had to be. I didn't realize the site where I found the image (Country Living) actually provided a template for the bats so I ended up making my own template by tracing around a bat decal I already had, enlarging it as I went. So, if you decide to make a colony of bats for your front porch, you can save yourself some time by using their template. I'll link to it at the end of this post.
This Halloween project called for something called stiffened felt. I had never used stiffened felt before but I found some at Michaels and bought all they had which was fifteen, 9″ x 12″ pieces. They were .99 cents each so I asked if they had it in rolls. They did not. I knew I'd only get one bat out of each sheet, based on the template I had made, and I needed around 40-45 bats. Ummm, I wasn't liking how the numbers were adding up for this project; $45 was more than I really wanted to spend.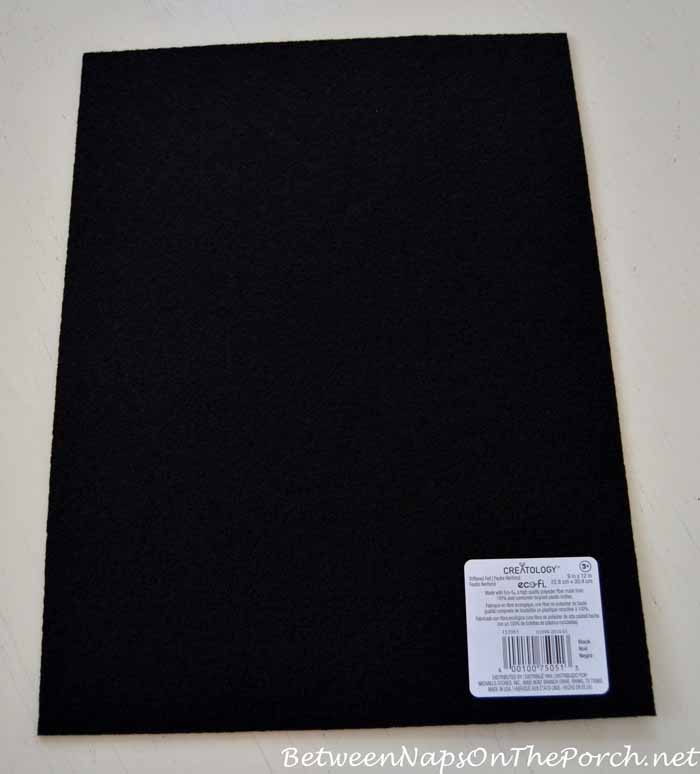 After purchasing the 15 pieces of stiffened felt that Michaels had in stock, I decided to stop by Hancock Fabrics to see if they had stiffened felt in rolls or by the yard. My hope was if they did, it would be less expensive to purchase it that way.
They only had regular felt by the yard and that was going to be way too soft for making bats. While in Hancocks I noticed this black stuff that looked like it might do the job. The black stuff turned out to be "Ultra Firm Stabilizer." Apparently, it's used between layers of fabric when sewing to add stiffness. Have you ever used it?
The stabilizer was only $6.27 a yard and I used a coupon to get 50% off. I purchased four yards for around $13. Four yards turned out to be more than enough to make 45 bats. I returned the stiffened felt to Michaels and got busy tracing and cutting out my bats.
While cutting them out, I found it was possible to cut them out two at the time, but I ended up cutting them out one at the time…just found that a bit easier.
I noticed the directions on the Country Living template recommended attaching the bats with black duct tape. I tried that and this is what happened…bats on the porch floor. I quickly discovered that the duct tape stuck to the house and the door but it did not stick that well to the stabilizer. I'm not sure if it would have stuck better to the stiffened felt, but I kind of doubt it.
Here's what I found worked great: I placed a couple of drops of hot glue on the back of each bat body and then stuck a rolled up piece of duct tape to the hot glue. Once the glue was dry, I just pressed the bats wherever I wanted them on the door and surrounding molding. Worked great and no more bats on the porch floor! So basically I just hot-glued the duct tape onto the bats and then the duct tape easily held the bats to the door and molding.
Update: I found if I pull off a bat to reposition it to a different spot, it usually won't stay stuck. It will appear to stick but then eventually falls off. The duct tape tends to not work if you pull it up and then try to stick it down again. So, just keep that in mind. You may need to redo the tape on the back of your bats if you start moving them around.
My bats turned out a bit fatter so though I only used around 40 bats, it looks like I used a lot more than in the inspiration picture. I think I may take a few down today and trim them up to make them a bit skinnier.
All the porch needs now is a few more pumpkins and big, fat chrysanthemum and it will be ready for the trick-or-treaters.
If you decide to make these, be sure and take a coupon with you to whatever store you go to. You can usually find them at the store website and it will save you a good bit. I bet most fabric stores will have stabilizer. You may even be able to find it at Hobby Lobby and they almost always have a 40% off coupon online.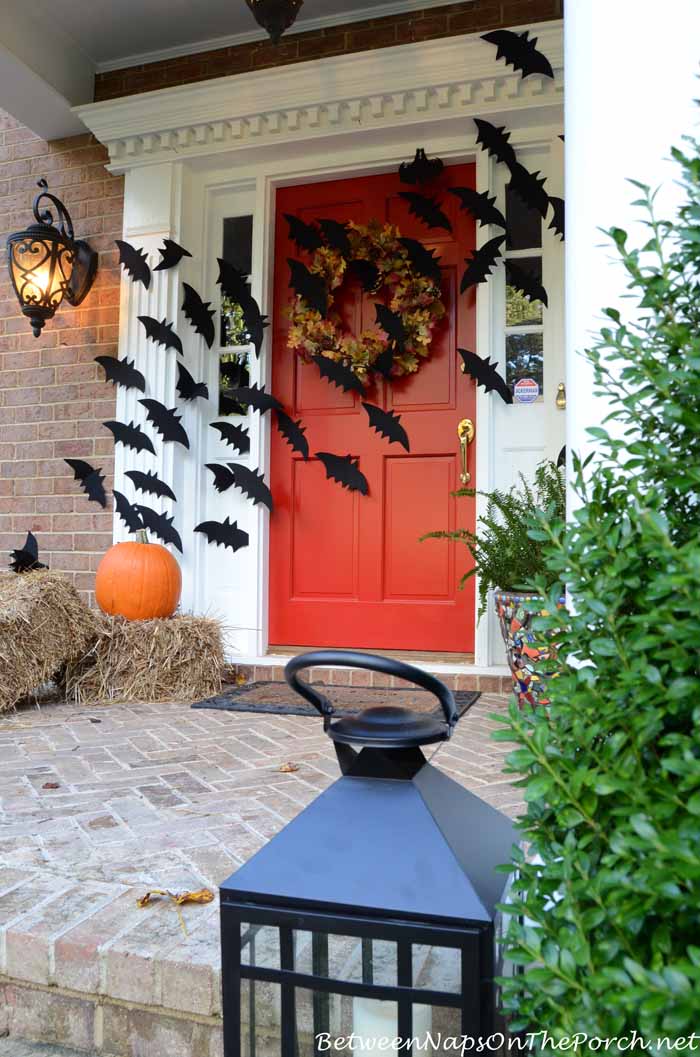 Just hangin' out! 😉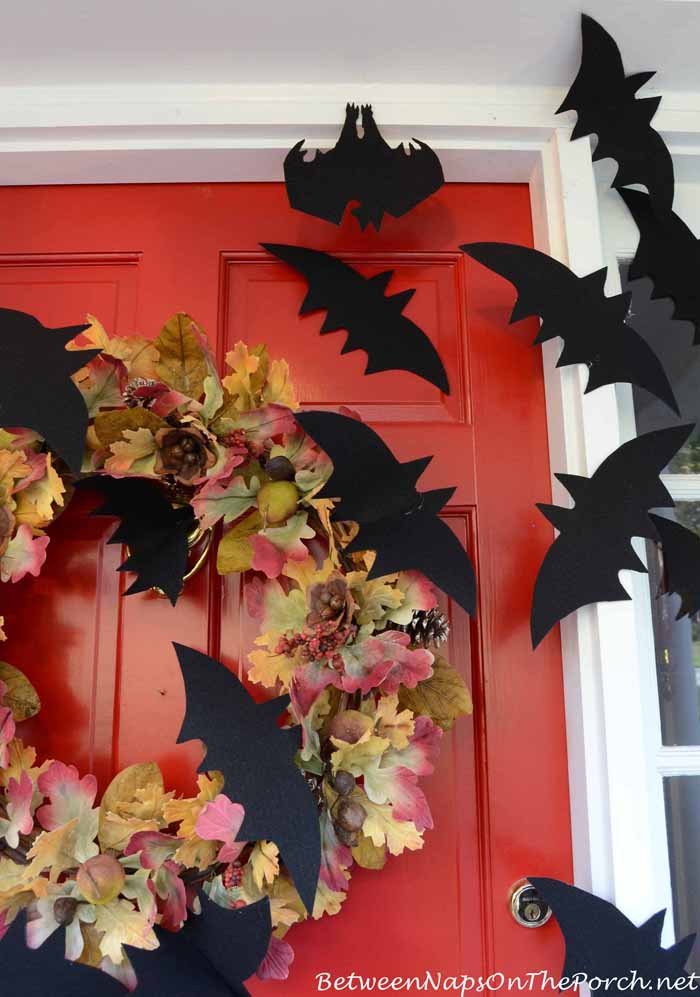 A few nighttime views….
Do you think the kids will like it when they come calling?
As I'm typing this, the owls are back and they are hooting up a storm in my backyard. I love hearing them so much!
Happy Halloween, dear Friends!
If you would like to make your bats using the template from Country Living, you'll find it here: Bat Template
Update: I had a request to post the template I made for my bats. I more or less followed the design of a silhouette/decal I already had and just drew my bat a fair amount bigger so it would be visible from the road. For variety, make your bats different sizes. I wasn't overly precise when I made mine so they varied in size. Just right click on the image below and save it to your computer, then print it out.
*If a post is sponsored or a product was provided at no charge, it will be stated in post. Some links may be affiliate links and as an Amazon Associate, I may earn from qualifying purchases. *