I started to save this post for tomorrow's Metamorphosis Monday, but I have some great eye-candy I'll be sharing in that post. Today, I'm answering some of the questions I've received on recent posts and sharing a few purchases that are making me ridiculously happy.
When I posted about this cute desk caddy/organizer, someone asked about the mercury glass balls in the background.
Some of you may have recognized it as this floor-standing lamp I purchased to go beside my desk while I was visiting my son, daughter-in-love, and grandchildren. I loved that lamp so much during the time I was visiting in their home, I purchased it a second time so I'd have one to use in my bedroom back home.
I quickly shared a photo of it in place in a recent post, but I wanted to share this one today since it really shows how inviting this lamp looks in a bedroom. I was a little surprised how lovely it looks in the evening since it's a bit more modern than most of the other lamps in my home. Anyway, I do love it and I'm really enjoying the cozy reading corner it created here in my bedroom.
(You'll find it available for what I consider a great price here: Floor Lamp.
Goodbye Gawdy, Ugly Tissue Boxes
I usually order the paper products I use online, including the facial tissues (Kleenex) I use all around my home and here on my desk. A recent order arrived with a couple of the boxes all smushed in on the corners. I looked at those boxes and thought about how I really didn't want to display them anywhere in my home in their battered condition. That sparked a thought and I searched online to see if I could find a cute cover that would fit over the ugly boxes.
I didn't find a cover to go over the boxes, but I found something I liked a whole lot more…a clear, acrylic box that you place the tissues inside. How cool is that!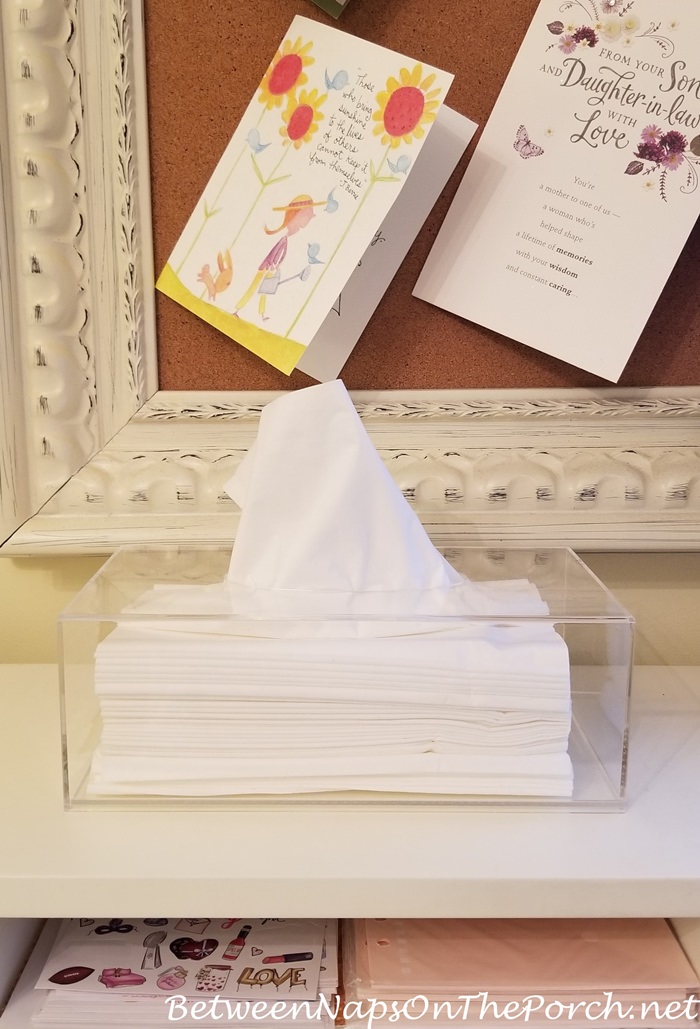 It's super easy to use, you just tear open the cardboard tissue box, remove the tissues, then slide open the bottom of the clear tissue box and place them inside. It also comes in a smaller square size for tissue boxes that shape/size.
Besides loving how it looks and how it doesn't fight the other patterns/decor in my office (like ugly tissue boxes normally do) I love that I can see exactly how many tissues are left in the box. I also love how the tissues stay sticking up and don't ever seem to ever fall back inside, an issue I've often had with cardboard tissue boxes.
I liked this clear tissue box so much, I purchased a second one immediately to use in another room of my home. I really love how clean and crisp it looks here on my desk! (You'll find it available here: Clear Tissue Box.)
Another Reader Question
Recently, I had a question about the down/feather inserts I purchased to go inside the pillows on my porch when the insert that came with the pillows fell apart.
These are the down inserts I purchased and I'm super pleased with the quality. I would totally buy them again! The BNOTP reader who asked about the inserts I ordered, asked if I had any issues with down pillows getting mildewed on the porch in the past.
I've never had that problem with any of my other down pillows on the porch, so these should be fine, too. None of the pillows ever get wet when it rains, so maybe that's why I've never had that problem.
I purchased these down inserts in the 20 x 20 size after measuring my pillow covers to see what size I needed. They feel wonderful to lean against! Very pleased with how they look and the quality! If you need down inserts for your pillows, you'll find the ones I'm using here: Down Pillow Inserts.
Wacky but I Love It!
I debated on whether to share this next product or not because you may think I'm a complete nut–if you don't already. lol It's something that's making me happy now and that I know will make me ridiculously happy this winter!
So you know how I'm always whining about how I hate being cold–like hate being cold with a passion. Recently, I had to buy a new toilet seat for my half bath. Apparently, when I had a clog in the mainline a few months ago and had to call a plumbing company out to fix it, somewhere in the process of working in the half bath, they broke the lid of the toilet seat. I found this situation below a few days after they left. I wish they had told me about it, but they didn't.
I never had a chance to fix it because shortly after is when the school closings started happening and I took off for Ohio to help with my grandsons. After my return, I rediscovered this and went online thinking I'd just order a new seat. During the process, I came across the toilet seat of my dreams! lol Seriously!
I discovered they now make heated toilet seats! What?!!! Is there anything worse than sitting on a freezing seat when leaving a warm, cozy bed in the middle of the night in the wintertime?
In addition to having three different heat settings, there's also a built-in light that's really pretty and keeps you from needing to turn on the light at night. I love that feature!
Though I'm not using the heated feature yet, I am definitely enjoying the little light feature. The other light you see in the background is a night light I plugged in for even more light.
Note: You do need an outlet nearby for the operation of this seat. The cord is about three feet long so I'm currently using an extension cord. I think I'm going to have an electrician install an outlet nearby. Fortunately, there's already an outlet on the other side of the wall so it should be pretty easy to install.
If you hate cold bathrooms as much as I do, you'll find this little invention here: Heated Toilet Seat. It has a 4.7-star rating after 1,546 reviews, so I'm not the only one in love with this thing. The reviews are pretty funny!
Have a great weekend and I'll see you tomorrow for Metamorphosis Monday!
*If a post is sponsored or a product was provided at no charge, it will be stated in post. Some links may be affiliate links and as an Amazon Associate, I may earn from qualifying purchases. *