I love this time of year! I can feel the excitement of the upcoming holidays in the air, especially when I visit some of my favorite places to shop this time of year. I have a lot of different things I want to share today, so we'll be jumping around a bit in today's post. I think that's the way my brain works anyway. lol
A while back I set a fun, mystery-themed table for Tablescape Thursday.
There were a lot of suspects in this whodunit mystery story! There was Mr. Bear…
Mr. Owl…
and Ms. Fox, just to name a few. (Check out this mystery table and read all their alibis here: In the Library with the Candlestick.)
I've used these whimsical animal salad plates in a few tables over the years.
I think they are hysterical and so much fun!
They brought them back again for this year and they are currently on sale. Some of the plates are priced at just 2.99 and 3.99 each, plus I think there's an extra 25% off that price with the code EXTRA25. That is an incredible sale! If you missed out on these plates in the past and would like to pick some up while they are on sale, you'll find them here: Fun Animal Salad Plates.
Recently I shared that this Villeroy & Boch Christmas china is currently on sale.
Well, the sale has gotten even better!
I was in Macy's yesterday and noticed it's currently on sale at 50% off. The sign said it was a 1-Day sale but when I looked online just now, it appears they've extended it for another day. I love, love, love this serving plate! The edges are fluted and it is gorgeous! Filled with cookies, this would be a beautiful hostess gift or a beautiful plate to use on a buffet table for a Christmas party. I hope there will be lots of Christmas parties this year! You'll find this gorgeous plate here: Villeroy & Boch Christmas Plate.
Another gift or hostess-gift idea would be a couple of these beautiful mugs! My photo from yesterday doesn't do it justice. The bottom has a 3-D effect/design–can you see how the red part around the bottom protrudes outward? It is beautiful! Again, it's 50% off and you'll find it here: Beautiful Christmas Mug.
This set is even a little less than buying two of the mugs above. I love it, too! I think it would make a wonderful Christmas present or hostess gift. You'll find the set here: Villeroy & Boch Toy's Delight Mugs. I just learned this year that V & B does an annual Christmas mug! How did I not know this?! You can see this year's mug here: Annual Christmas Mug.
I also fell in love with this serving bowl yesterday. Again my photo doesn't do it justice. I love the design, the gorgeous red color and the fluted edge! Again, everything is 50% off right now. Check out everything that's on sale in this collection here: Villeroy & Boch Toy's Delight.
If you've been reading BNOTP this autumn, you know I've been shopping for pants/corduroys all fall. I LOVE my Talbots corduroy pants–they are so incredibly warm! The tops are now on sale and here are a few that have caught my eye.
I really love snowflake sweaters and have quite a few in my winter wardrobe. This one comes in both gray and red. The gray looks so elegant and would be beautiful for wearing to a holiday party! You'll find it on sale here: Snowflake Sweater.
This caramel brown color is really big this year. I've always loved this color, even before it was cool! lol I really the button detail on the shoulder. I think this sweater is actually 50% off–you'll find it here: Sweater with Button Detail.
I'm seriously thinking of ordering this sherpa cardigan. I'm allll about cozy and this screams cozy to me! You'll find it on sale 30% off here: Cozy Sherpa Cardigan.
Special Gifts for Special Loved Ones or Friends
One of my favorite pieces to wear in the fall and winter is my Burberry Scarf. A Burberry scarf is one of those wardrobe staples that never, ever goes out of style. Once you have one, you can wear it every fall and winter for the rest of your life. It's truly iconic!
I ordered mine a few years back and at that time, they were still offering monogramming on request. Then unexpectedly, they stopped. I was so mad at them when they stopped monogramming their scarves! I had purchased a scarf for my son while they were still doing the monogramming but the year I wanted to buy one for my daughter-in-love was the year they stopped. Arggh.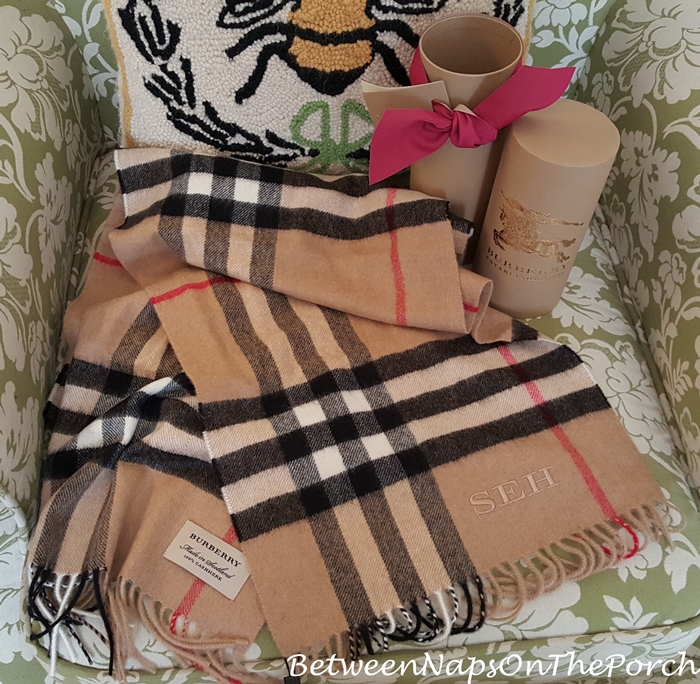 I called them and complained two years in a row, hoping they would bring monogramming back. I must not have been the only one who complained because they finally brought it back. I was finally able to get a scarf for my dil and have it monogrammed with her initials. Wish I had a picture to share! I usually go with a color thread that matches the scarf but you can also choose another color if you want your monogram to contrast and stand out a bit more.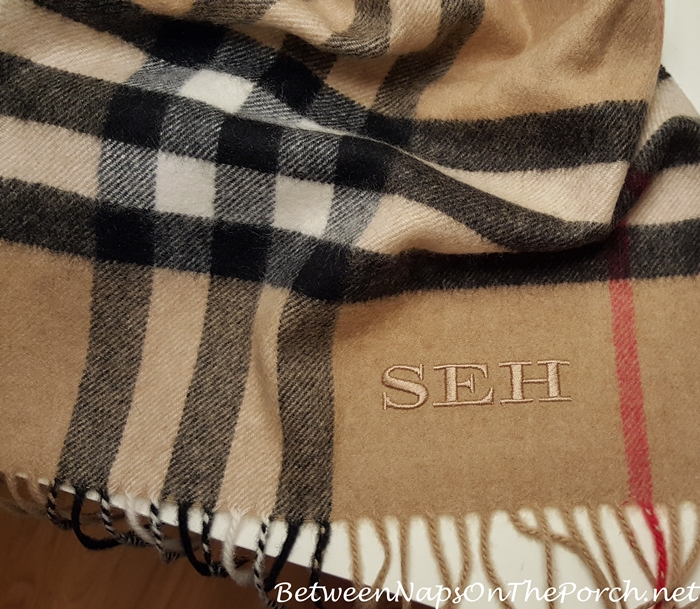 I love wearing my Burberry scarf with this red Orvis jacket, but it really looks great with any winter coat.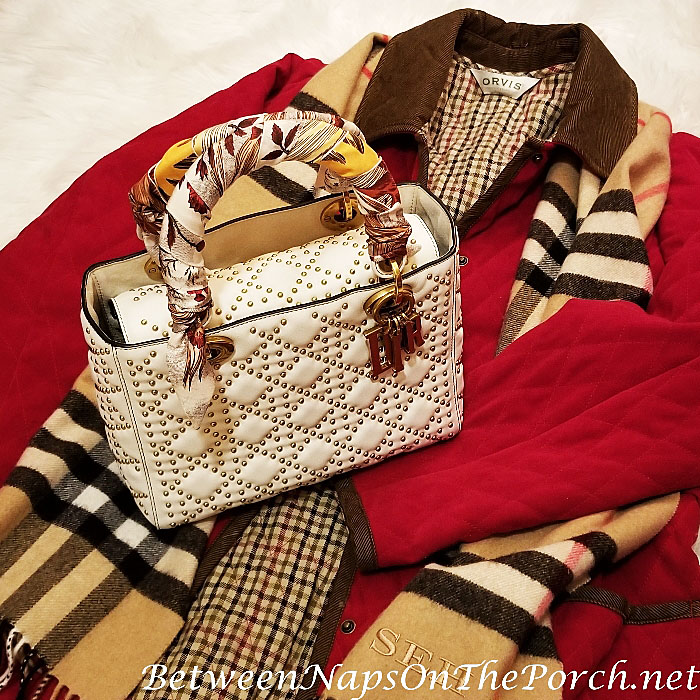 Here's how's my son's Burberry scarf looks with his black, wool, winter coat. Such a classic look! When you have young sons, you have to occasionally wear a dinosaur tie to work. Ha!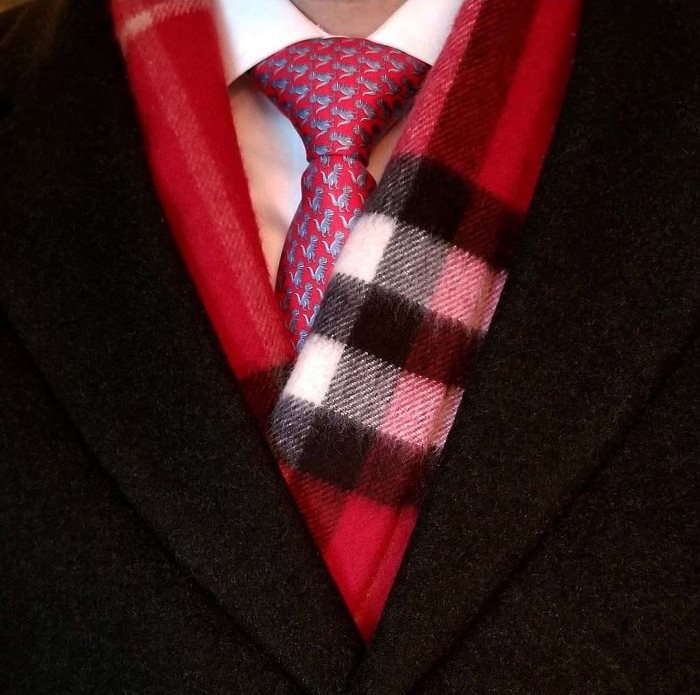 If you're looking for a special gift for someone in your family or for a good friend, I very much recommend a classic, cashmere, Burberry scarf. The monogramming is finally back and it's free which is awesome! You can see all the colors this scarf comes in here: Burberry Cashmere Scarf in the Classic Burberry Check. To see how Burberry scarves are made, check out this delightful 2-minute video: The Making of a Burberry Scarf.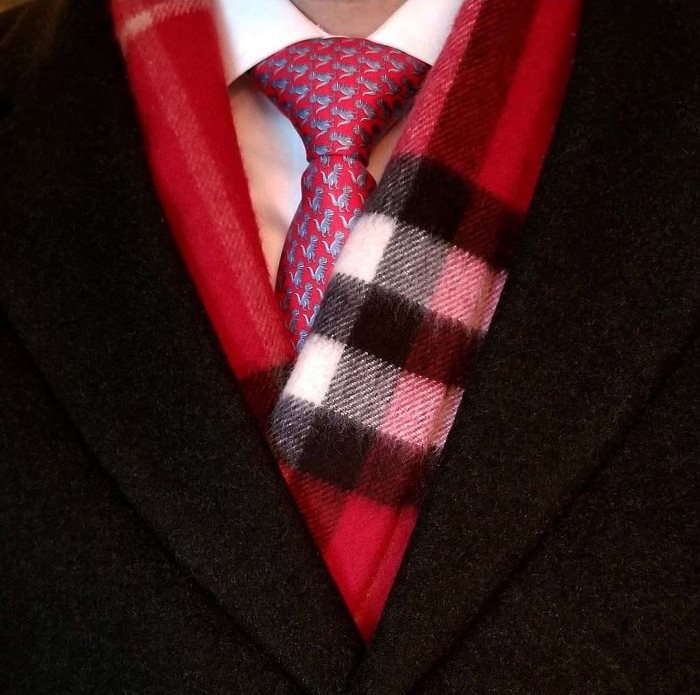 If you have any cashmere sweaters or scarves, consider getting one of these special bags for storage. I like that I can see through the front of it, yet the scarves are protected from any cashmere/wool-loving critters.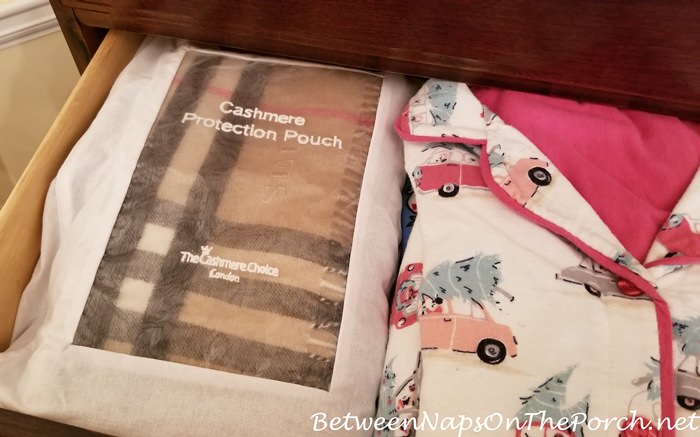 These bags are quite large and will hold multiple sweaters and even a small blanket or throw. You'll find this cashmere storage bag here: Storage Bag for Cashmere Sweaters or Scarfs.
Ever wonder how to tell a real Burberry scarf from a fake? Check out this post where I share a lot of comparisons and details: Burberry Scarf: Fake vs Real and How to Avoid Getting Scammed.
A Splurge
This is outside my budget but wanted to share it because I love it! It's a Burberry jacket in the classic Burberry house print. I love the mix of colors, really the whole design/style of this jacket! If it falls inside your budget and you love it too, you'll find it here: Burberry Classic Check Puffer Jacket.
Okay, I'm off to set a table for tomorrow's Tablescape Thursday! See you tomorrow!
*If a post is sponsored or a product was provided at no charge, it will be stated in post. Some links may be affiliate links and as an Amazon Associate, I may earn from qualifying purchases. *