Welcome to the 283rd Metamorphosis Monday!
I love lamps, but I guess you kind of knew that when you saw this picture of my screened-in porch. I mean, who has a porch added to the back of their home and doesn't have a single overhead light installed? In the immortal words of Jim Carrey in the movie, Liar, Liar, "It was meeeeee! " 😉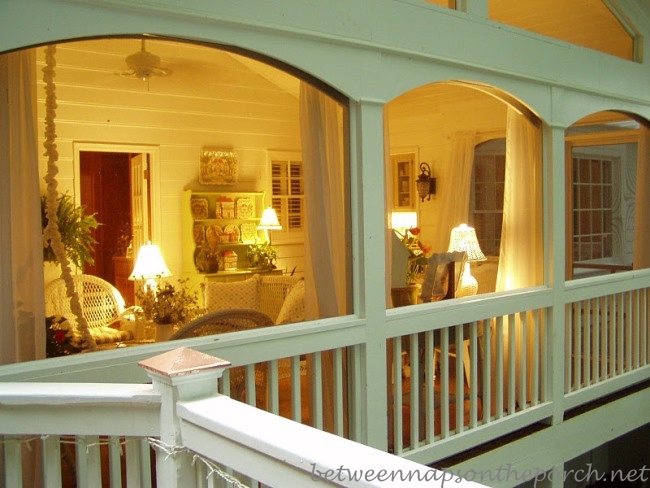 I do love lamp lighting in a room because it's gentle on the decor and kind to the occupants. Just as we look better in softer lighting, the rooms in our home look more inviting when bathed in soft light. In this older picture taken around Christmastime, you can see I have quite a few lamps in my living room/den. I have them spread out all around the room.
Funny story: Many, many years ago, during the height of the brass lamp days (which appear to be back now-yay!) I was lamp-poor and was in the process of buying lots of lamps for my home. I went to a big warehouse lamp sale and purchased a BUNCH of brass lamps. I was quite pleased until a decorator friend stopped by and told me I had way too many brass lamps in one room. He declared it looked like I had been to a brass lamp sale. And I had! HA!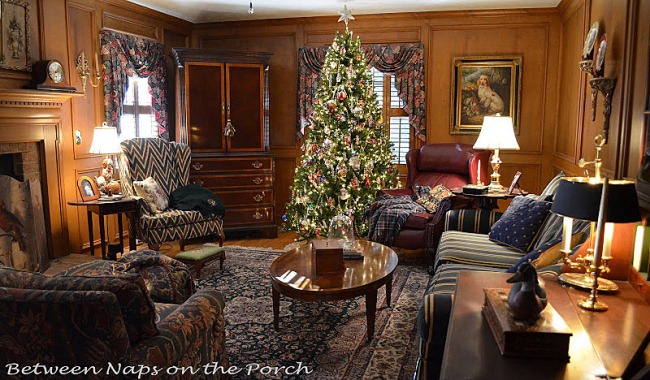 I don't normally let the opinions of others sway me when it comes to decorating…I just do what I love. But in this case, he was totally right. I had overdone the brass-lamp thing in this one room so I moved a couple of them out and replaced them with other styles.
As you can see, there's usually a table in the spot where the Christmas tree was in the above picture.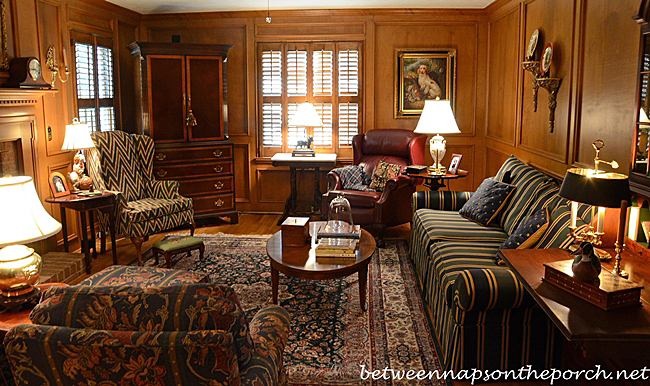 This is the lamp that lives there.
The small table beside this wingback chair sports a lamp I had made from a ceramic dog found while antiquing/thrifting one day.
I still have plenty of brass lamps in the room. There's a fat, round one on the heart-shaped table between the chairs in this little seating area in front of the fireplace and a tall brass one in the corner near the bookshelves.
The taller height of this lamp makes it work well in this corner. I love layering in a room when it makes sense and this lamp gives depth to this little corner of the bookshelves.
There's a wee rooster lamp on one of the bookshelves; did you notice it on the shelf in the picture showing this side of the room? It adds light in a spot where you don't expect it…love that!
The tables on either side of the sofa also have brass lamps as seen in this older picture. I still love brass lamps but I've been keeping my eye out for a non-brass lamp to break up the "looks-like-you-went-to-a-brass-lamp-sale" motif.
In this old photo taken when I still had a wooly tree in the corner, you can see the brass lamp that's been at this end of the sofa for many years.
Several months ago I came across a warehouse sale and spotted this lamp. In my ongoing quest to break up the monotony of too many brass lamps in the living room, I purchased it for this spot.
It was a great price, I couldn't find the receipt this evening but I think it was either $39 or $49. Since it was a warehouse sale, it was a "final sale" item so I was hoping it would work in this corner.
This is the fabric on the sofa next to the table…colors of navy, green, gold/yellow and a touch of burgundy red. There's a burgundy-colored leather wingback chair on the other side.
So, what do you think?
You know what really captured my heart about this lamp, well besides the fact it has a bird on it, and I do love birds? Notice the fish scale design…remind you of anything?
This is what it brought to mind for me…my favorite china pattern, Herend's Rothschild Bird in the green border. I first spotted this china on a home tour and it was love at first site. You can read about that in this old post from 2009: Herend Rothschild Bird…My New Obsession
I was curious if Herend had made a similar lamp and maybe this was a knock-off of one of their designs. I Googled this evening and couldn't find a Herend lamp with the fish scale design. I can't help but think the china was the inspiration for this lamp, though.
So, that's my wee metamorphosis for this week. The living room has a new lamp and I think at last, it may not look like I went to a brass lamp sale! 😉
This room still needs curtains. It's never ending, this decorating thing…ya know? And aren't we glad?!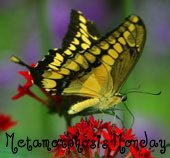 If you are participating in Metamorphosis Monday, you will need to link up the "permalink" to your MM post and not your general blog address. To get your permalink, click on your post name, then just copy and paste the address that shows up in the address bar at the top of your blog, into the "url" box for InLinkz.
In order to link up, you'll need to include a link in your MM post back to the party so the other participants will have an opportunity to receive visits from your wonderful blog readers.
Please observe these few rules:
Only link up Before and After posts that are home, gardening, crafting, painting, sewing, cooking, DIY related.
Do not link up if you're doing so to promote a website or product.
Do not link up a post that was just linked last week since a lot of readers will have already seen that post.


*If a post is sponsored or a product was provided at no charge, it will be stated in post. Some links may be affiliate links and as an Amazon Associate, I may earn from qualifying purchases. *