Welcome to the 497th Metamorphosis Monday!
Thanks so much for all your wonderful comments on Saturday's post. It was so heartwarming and encouraging to read your comments and stories! You shared so many of the same thoughts I have and I truly appreciate each and every comment.
I was so surprised by how many of you had actually had the opportunity to visit A Classy Flea in person! I know a lot of folks mentioned they had hoped to visit and were disappointed that it closed before they had the opportunity.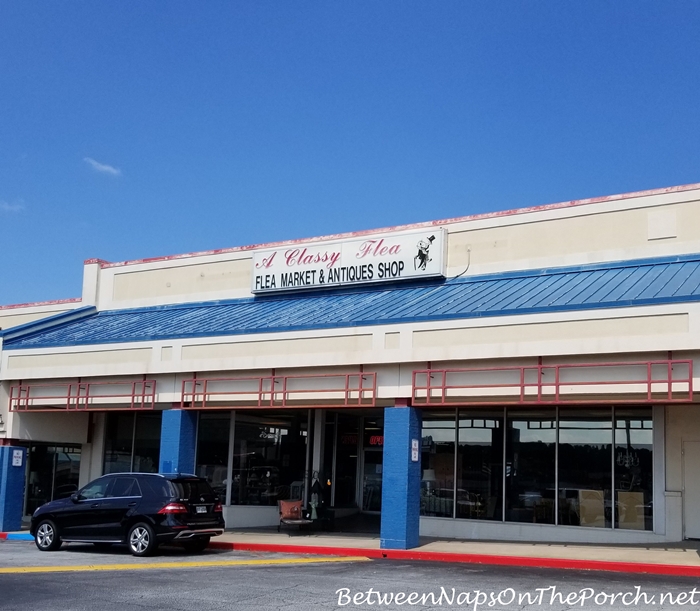 I'll be visiting the Marietta Antique Market sometime soon since that's where several of the dealers who were in A Classy Flea moved. I'll try to take photos while I'm there to share in a post sometime soon. I'm looking forward to checking it out.
I guess the Greek philosopher, Heraclitus of Ephesus, got it right when he said, "The only thing that is constant is Change. There really is no way to fight it, is there? We just have to adapt and be thankful for the memories. Easier said than done sometimes, I know!
Basement Door Makeover Has Finally Been Completed Properly!
I have a small Before and After to share for this week's Metamorphosis Monday. It's not an especially exciting Before and After but it definitely made me happy seeing it finally completed correctly.
Last summer I replaced the door going down to the basement. The old door was badly damaged on the basement side by the previous homeowner's dog. I had installed a kitty/pet door in that same door when I first moved in since we had three cats back then. Now that all my furbabies have sadly passed on, it was time to replace the door with a new one.
When I was having the deck refinished last summer, I had the same painting company doing that work, also take care of the staining and finishing of the new basement door. The process got off to a rocky start because it turned out the guy they had doing the staining, had never done that type work before. Arggg!
The painting company sent out another more-experienced painter and he did his best to undo the previous guy's work and stain the door where it would match the surrounding wood paneling as much as possible. He had his work cut out for him, it's very hard to fix a botched stain job.
He did a good job and it was looking a whole lot better until he applied the final two sealing finishes. They (the painting company and the guy who did the work) insisted they had used a low-luster, satin finish for the protective coat, but in real life, it looked very high-gloss. Not even semi-gloss…it looked HIGH gloss and didn't match with the sheen of the surrounding wood paneling at all.
The photo below is from last year when the work was done. Unfortunately, it's not showing up in the photo very well, but believe me–in person the door had a very high-gloss shine that did not look good with the surrounding walls, which have more of a satin sheen/finish. Look at the area around the doorknob, you may be able to see the high-gloss shine there.
At the time the work was done, despite expressing my disappointment with how high-gloss shiny the door looked and how it didn't match the walls, they insisted it was the best they could do. They had no other answers. I hoped the gloss factor would die down a bit with the passage of time, but unfortunately, it has not.
Recently I had to have the painting company back out to do some warranty touch-up work on one the decks they had painted last summer. While here, the warranty guy asked if there was anything else he needed to address. I mentioned the door knowing that it was probably a complete waste of time to bring it up since they had no answers to the high-gloss problem the year before. I was stunned when he said that Minwax, the brand they had used before, had just this past year come out with a "matte" finish. I asked if it could be applied directly over the current finish that looked like a high-gloss finish, and he said, yes.
So this past week they put two new coats of finish on the door and it is much, much better. So hard to show it in pictures but the finish on the door is much closer to the soft satin-like sheen of the paneling now.
If you look at that area near the doorknob, you'll notice there's not near as much shine now as there was before.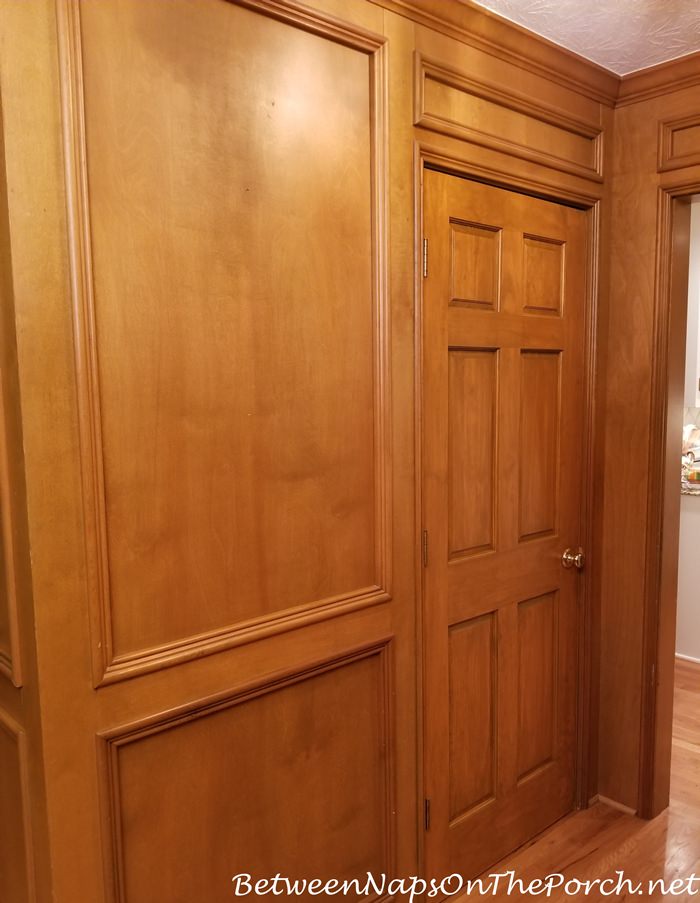 I think this is the product he used. I forgot to get a photo of the can when he was here doing the work, but he said it was the Minwax "matte" finish and that Minwax had just come out with this year. Isn't it odd that they would just now come out with a matte finish? What have people been using all the years before when they didn't want a shiny gloss finish? Ummm.
Okay, I just looked online and there are reviews for this product on Amazon HERE dating all the way back to 2015, so I think he was wrong about it not being available last year, unless he used something totally different. I think I'll give them a call today and ask since this has me really curious. I'll update this post if I find out it was something different that he used, but I know he said it was the Minwax matte finish.
Though this was just a minor update, I'm so happy to finally have the basement door matching the finish of the surrounding walls so much better now. That hallway is normally pretty dark, it's a short hallway between the living room and the kitchen, so the light isn't normally on. But I'm so glad that the door matches now for those times when the light does get turned on.
Did you work on any fun or exciting projects this past week? I'm looking forward to checking out all the great Before and Afters for this week's Met Monday!
Looking forward to all the great Before and Afters for this week's Metamorphosis Monday!
I post regularly on Instagram. Follow Between Naps on the Porch on Instagram here: Between Naps On The Porch.
If you enjoyed this post, subscribe for free email updates when a new post is up here: Subscribe for post updates.
Tip: Please do NOT use a Hotmail email address to subscribe. Hotmail is notorious for filtering out perfectly good emails. Google and you'll find tons of people complaining about this. I regularly hear from subscribers who used a Hotmail address to subscribe and are not getting blog post updates, so please use another email to subscribe. Gmail is awesome, their email is great and it's free.
Metamorphosis Monday
Metamorphosis Monday is a party that's all about Before and Afters. If you are participating in Met Monday, please link up using the "permalink" to your MM post and not your general blog address. To get your permalink, click on your post name, then just copy and paste the address that shows up in the address bar at the top of your blog, into the "url" box for InLinkz.
In order to link up, you'll need to include a link in your MM post back to the party so the other participants will have an opportunity to receive visits from your wonderful blog readers.
Please observe these few rules:
Please link up Before and After posts that are home, gardening, decorating, crafting, painting, sewing, cooking, fashion or DIY related.
Be sure to include a link back to the party in your post, so your readers will be able to find and visit the other bloggers who are participating.
Do not link up to the party if you're only doing so to promote or sell a product.
To those who are linking up: If you notice a shop or online store linking up to sell products (yes, unfortunately, that does happen) please let me know so I can remove their link and block them from participating in future parties. No one wants to click a link expecting a Before and After, only to find a spam link to an online business/store.


*If a post is sponsored or a product was provided at no charge, it will be stated in post. Some links may be affiliate links and as an Amazon Associate, I may earn from qualifying purchases. *