For many years I had curtains in my living room. They were never really what I wanted here and always felt a bit too formal for the room.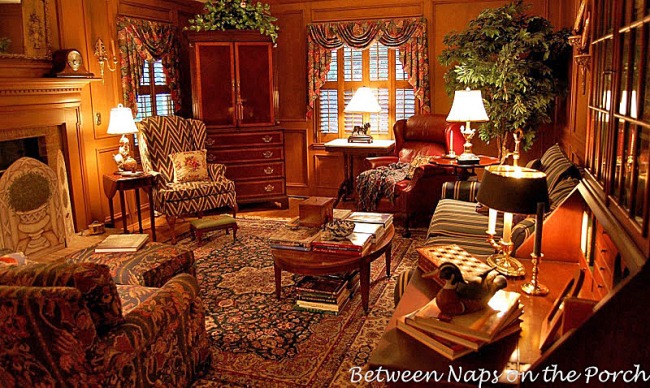 Back in October, 2012 (wow, has it been that long!) I removed them because I decided I'd rather look at windows with just plantation shutters than look at curtains that I didn't like and didn't suit the room.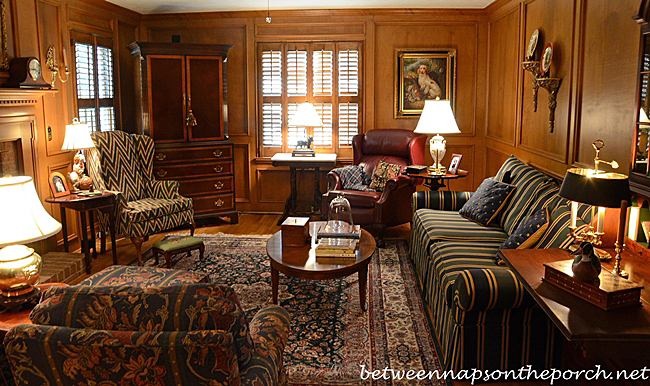 After I removed the old curtains, I went on a search for drapes but quickly lost steam when I couldn't find any I liked. In this photo I shared a few weeks ago, you can see the windows are still drape-less. I absolutely love plantation shutters for the privacy, sun control, insulation and beauty they add to a window/room. But I know drapes would add texture and soften the look of the shutters.
Today I was near a Ballard Designs outlet so I stopped in. I didn't have draperies on the mind but I always check to see what they have in. I was thrilled to discover they had their velvet drapes on sale for half price. They looked just like these below, only in a dark green color called, Sage.
I checked and they had four panels in the sage color. They were all super long at 108 inches but that was okay, I knew I could hem them. They were reduced from $169 down to 126.99, then half off making them $63.50 a panel.
I gathered up four panels in the sage color and took them up to the register. As I checked out, I asked the sales associate if they had anything wrong with them, were they all first quality? She assured me they were first quality, not damaged or seconds. I always like to check because some of the items for sale in the outlet are damaged.
This evening I took them all out to start measuring them for hemming. Only one drape had come in its original packaging which was a plastic bag. The others were just folded up. When I started laying them out, something didn't look right. One panel appeared to be a different shade of green. Umm, I wondered how that could be when I had verified they were all sage green before taking them up to the register.
Notice how 3 panels are lighter in the photo below and one is darker. I made sure I had them all turned in the same direction, you know how velvet can sometimes have a different look depending on which way it's turned. They were all turned the same way. Rats!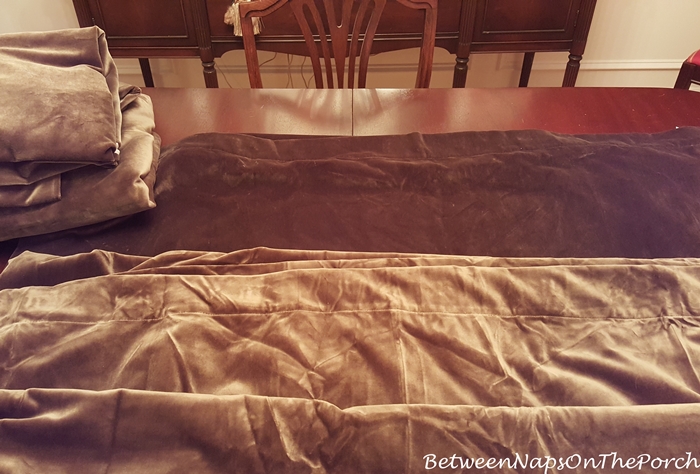 Notice how when I fold up the dark one and turn it a particular direction, it looks a lot like the others. I guess that's why it looked the same in its package. The darker one is the one on the bottom right.
I think I know how this happened. Someone put an incorrect sticker on the darker panel. Notice on the back of the label that's sewn into the darker curtain, it says, Sage.
It even says "sage" on the outside of the plastic bag.
But, when you turn the label over (the one that's sewn into the panel) it says "Evergreen," not sage. Either color would probably work in my living room but I need four matching panels.
I'm going back to Ballard Designs tomorrow and hopefully they will have another sage panel. If they don't, I'll have to return all four panels because I can't have three sage panels and one evergreen panel hanging in the living room on these two windows.
I like the hanging mechanism for these draperies. They have these plastic loops on the back along the top.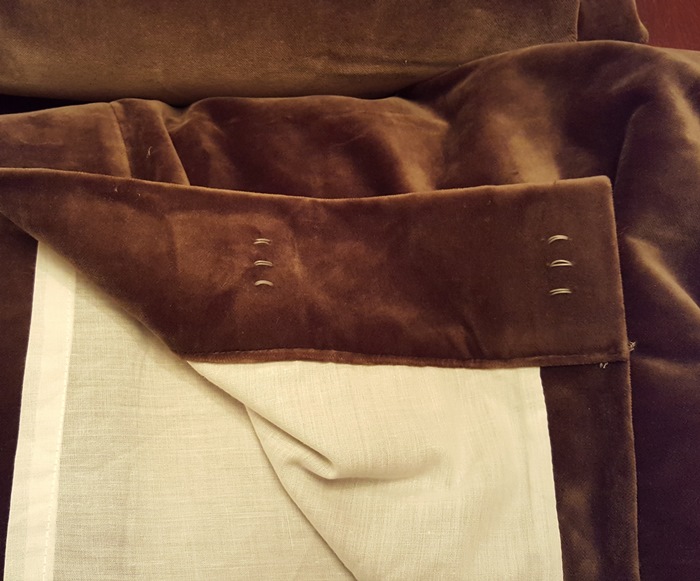 You hang them using drapery pins and clip rings as shown below. Looks pretty easy!
I was thinking about going with a curtain rod similar to the one I used in the dining room. (See that post here: French Pleat Check Draperies)
Keep your fingers crossed for me tomorrow, hope I can find another sage panel. Will keep you posted on how that works out.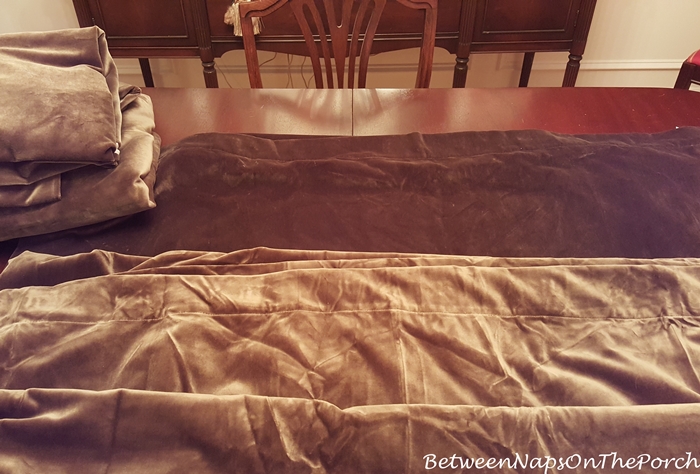 *If a post is sponsored or a product was provided at no charge, it will be stated in post. Some links may be affiliate links and as an Amazon Associate, I may earn from qualifying purchases. *