Welcome to the 222nd Metamorphosis Monday!
How was your weekend? We had nice weather here and I decided it was time to get to work on priming the new screened door out of the porch. While I was priming it, I had a "uh-duh" moment. I wish it had been an "Ah-ha" moment, but unfortunately it wasn't. No, it was definitely an "uh-duh" moment.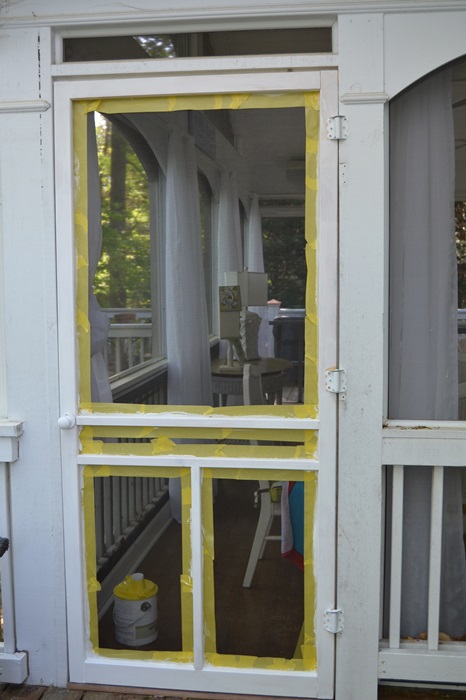 I suddenly realized in the midst of priming, there was no way in the world I was going to be able to prime and paint the back side of the cross pieces that run horizontal on the door. Those pieces are jam up against the screening so there's no way to really reach that side of those to paint them. 🙁
I think I vaguely remember some discussion about this when the porch was being built five years ago. I'm guessing the painter removed the screening so he could fully paint both sides of the screened doors and my contractor must have had them re-screened by the same company he had build the screens for the porch itself. So, I guess that means I'll need to remove the screening, prime and paint the door on BOTH sides, then take it to have it rescreened. This door project just gets more and more complicated! Crazy, huh?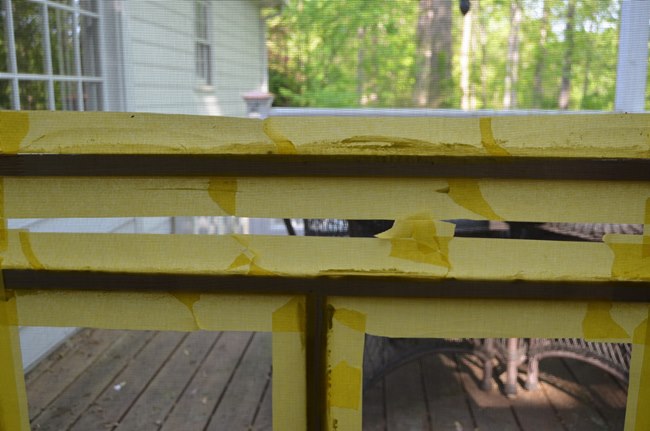 Determined to get something accomplished this weekend, I went to work rehanging the freshly laundered swing chain covers. The attack of the pollen is already back in full swing (despite my recent porch clean-up) but I just can't stand looking at those bare swing chains.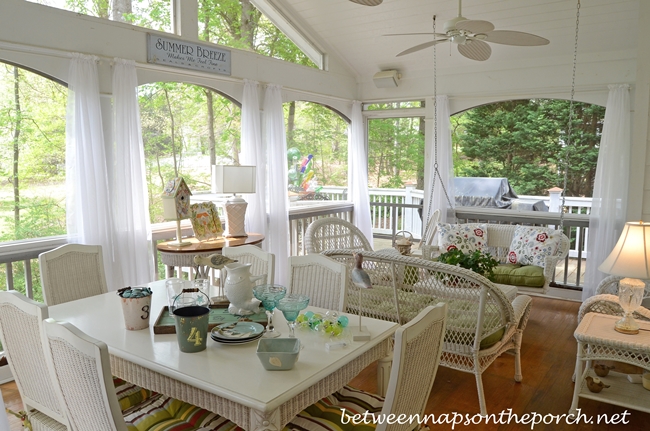 Putting the covers back on goes a lot faster than removing them. It's much easier to snap them back up than to carefully pry the snaps apart without ripping the fabric to remove them for washing. In the pic below, I had just finished covering the chains on one side. I really do like how they look covered!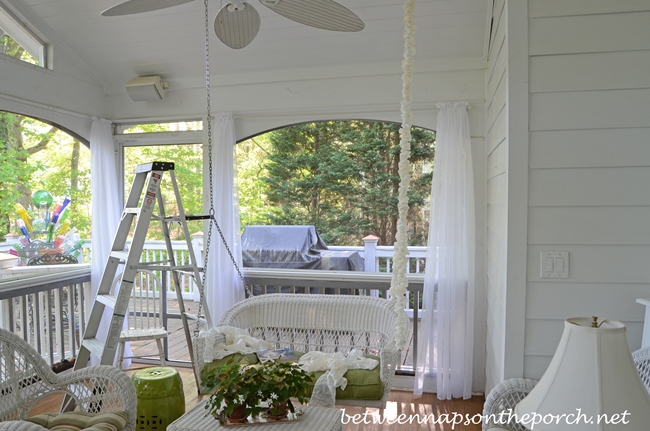 The covers I use are just cord covers purchased at Hobby Lobby (with a coupon) and cut to fit the length of the chains. You can read detailed directions on how many covers I needed for my swing and what lengths I cut them in this post: Hiding Ugly Swing Chains. If you decide to cover your swing chains, you can use any color covering you wish. I went with white so the chains would kind of just disappear.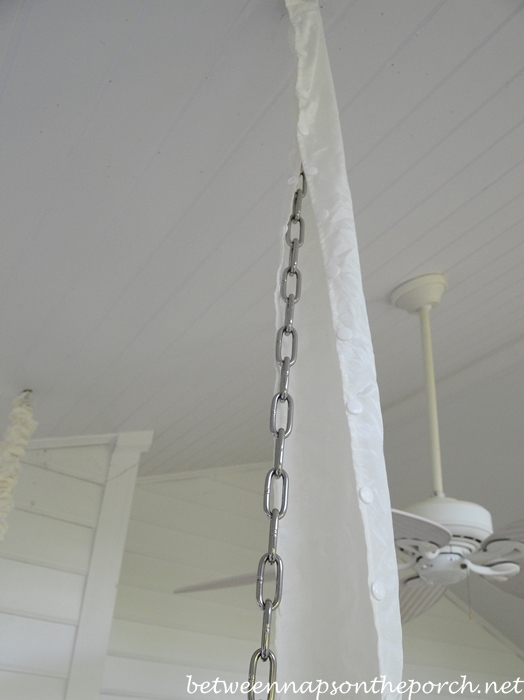 All done. I'm sure they'll be covered in pollen soon, but that's okay. If that happens, I'll just vacuum them off with the brush attachment on my vacuum and they will be fine.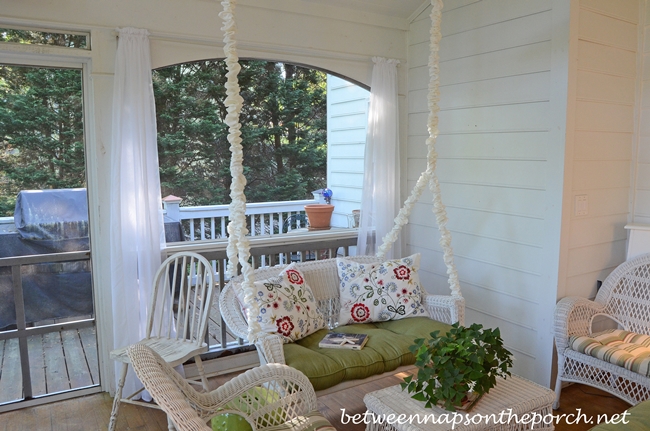 Now it's time to buy a few flowers for the deck. I lost one of my knock-out rose topiaries this year, it just flat out croaked during the winter.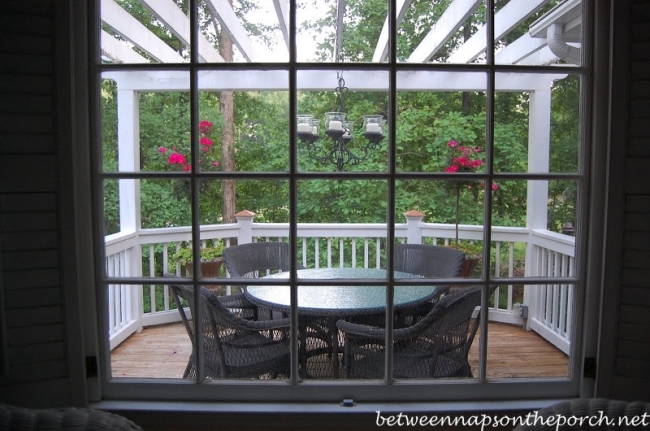 Hope I can find something hardy for these pots this summer, something in a pretty topiary form.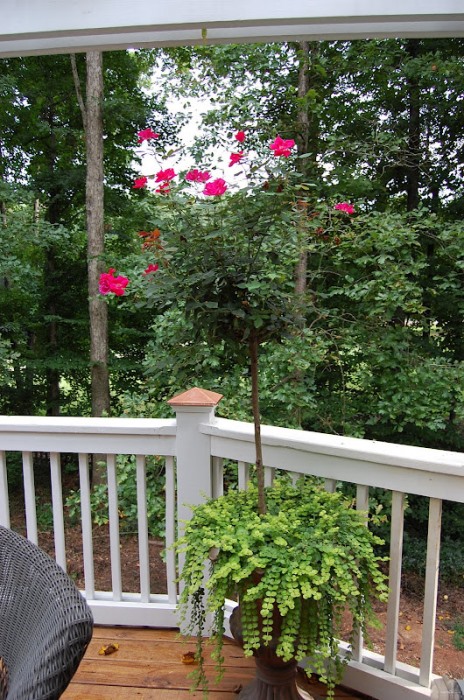 I can't use hibiscus here because in the past my mischievous squirrels eat all the leaves right off the plant.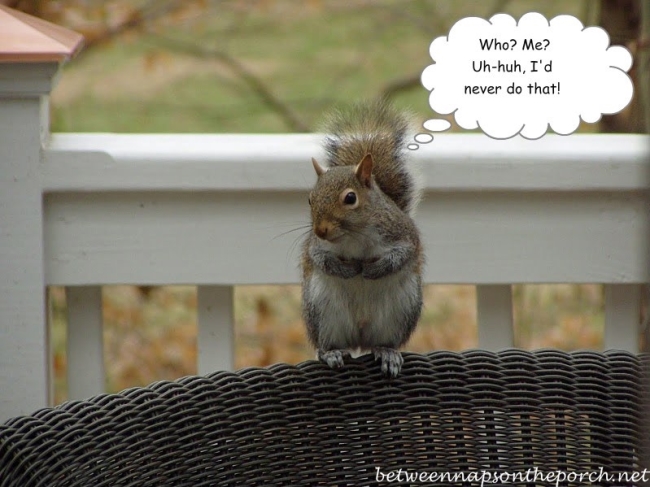 I transplanted this squirrel-eaten hibiscus to another more secluded corner of the deck one summer, in an attempt to save it before the squirrels stripped it totally bare. Bad squirrels!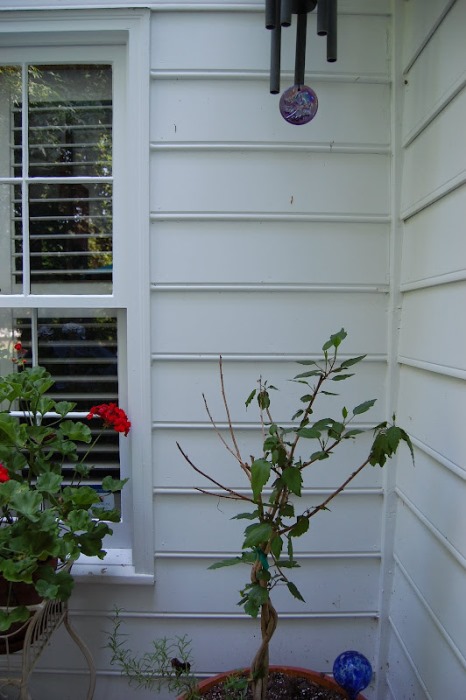 How are your outdoor spaces looking? Did you do any spiffing up this weekend or is it still a bit too cold where you live?
Thank-You!
Before I end this post, I wanted to thank you for all your prayers for Max. His appetite improved this weekend and he ate really well so keep those prayers coming…they are working! And thank you so much for all the generous donations you made to the account Cyndy set up to help with Max's medical expenses. I feel so blessed by your generosity and support during this very difficult time.
On a sad note, my son lost his sweet kitty, Haley, this weekend. We adopted her when she was just six weeks old and Chip was 12 years old. They've been together forever; he even took her off to college with him.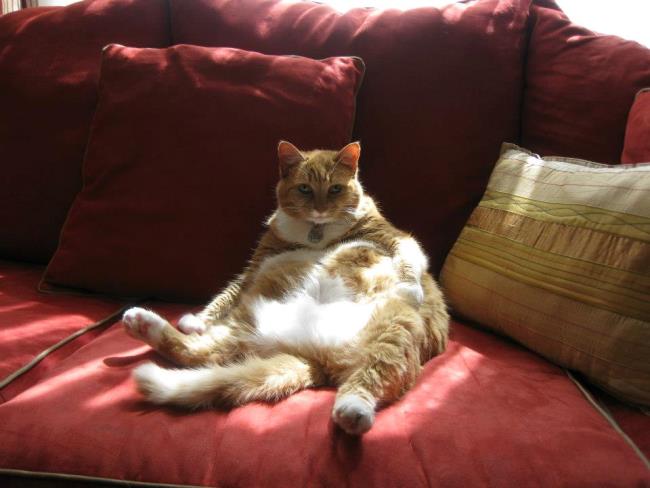 She passed away in her sleep during the night on Saturday night after a wonderful evening spent in my son's lap and the laps of their friends who were visiting. Chip told me she was so happy Saturday evening and purred up a storm. He found her Sunday morning when he awoke, she had passed during the night.
She was 18 years old and had a full, well-loved life. Both my son and his wife will miss her greatly, as will I. Last time I visited them, she came running out of the kitchen when she heard my voice. I guess she still remembered me from all those years when I fed her and loved her when Chip was still living here at home. I pray that we will see all our furbabies in heaven one day, I pray that will all my heart.
Metamorphosis Monday: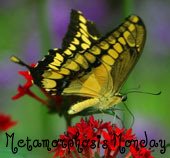 If you are participating in Metamorphosis Monday you will need to link up the "permalink" to your MM post and not your general blog address. To get your permalink, click on your post name, then just copy and paste the address that shows up in the address bar at the top of your blog, into the "url" box for InLinkz.
In order to link up, you'll need to include a link in your MM post back to the party so the other participants will have an opportunity to receive visits from your wonderful blog readers.
Please observe these few rules:
Only link up Before and After posts that are home, gardening, crafting, painting, sewing, cooking, DIY related.
Do not link up if you're doing so to promote a website or product.
Do not link up a post that was just linked last week since a lot of readers will have already seen that post.
Do not type in ALL CAPS. It spreads the links waaaay out.
Let's try something fun today! Please visit the person who linked before you and after you…that way everyone will get some visits.




Welcome! Thanks for coming to the party!
*If a post is sponsored or a product was provided at no charge, it will be stated in post. Some links may be affiliate links and as an Amazon Associate, I may earn from qualifying purchases. *