Exhausted! That describes me today. Every year or two I have a company come out to pressure wash the decks and screened-in porch. The process is exhausting but everything always looks great once it's done. I had to take the sheers back down. I also covered up the outdoor speakers and the table since it was too large to really move anywhere.
The outdoor wicker was moved onto the deck.
Table chairs, sheers, cushions, wreaths, decorative pieces, lamps, etc… were all moved inside. After all the cleaning was done, it all had to be moved back out again. Ugh.
Once the decks and porch were clean, I decided it was time to tackle another job I've been putting off. I have copper caps atop each of the posts out on the deck. You can see one of them in this pic taken when they were still fairly new.
Almost all of the caps look like this now, stained and covered with hail dents.
In addition to looking pretty awful, they are forever falling apart. Several are missing one of their sides. Usually when I notice a side piece is missing, I retrieve it from the yard and glue it back in place with wood glue. I've been doing this off and on for the last 5 years. Five. Long. Years. Tedious, very tedious. I should have returned them when they first started falling apart, but by the time I realized it wasn't just a fluke and was going to be an ongoing problem, it was really too late to return them.
There are 17 posts, thus, 17 post caps. Each cap has four sides so every few weeks another cap has lost a side. Frustrating! Lately, the pace has stepped up and I have multiple caps missing their sides. I noticed online tonight, the reviews are not very good for these post caps. Folks are complaining about the same thing…they fall apart.
Today I decided to purchase some replacement caps. I'm going to give this solar version from Home Depot a try. It was only $3 more per cap than the old, non-solar version and I really like how they look. I probably shouldn't say this, will jinx myself for sure, but I've never had much luck with solar lighting. A few years ago I purchased solar lights on sale from a high-end garden store. It was a store I never shopped in due to their high prices but the sale was so good on the solar lights that day, I decided to give them a try for my front walkway. Within just 2-3 months they had all ceased to work. Fortunately, the store let me return them. I'm really hoping these will work and work for a long time. If they don't, they will be going back. Hopefully solar lighting has greatly improved since my last purchase.
I was surprised to see these already lighting up this evening since they were fresh out of the box and had not yet had sunlight shining down on them to charge them.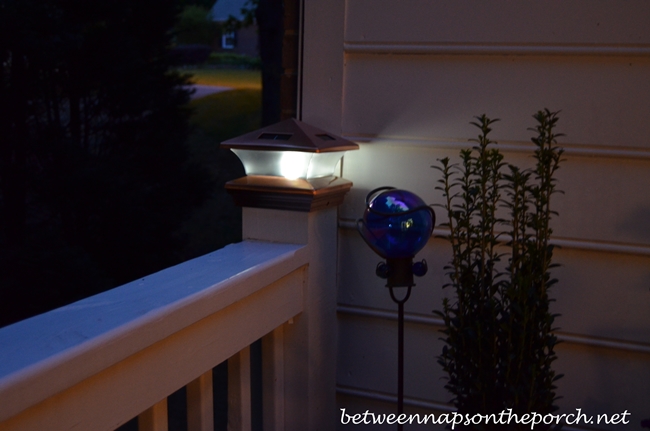 Have you had any experience with the solar post caps? If so, how did they hold up? Still working? Keeping my fingers crossed these will work for a long, long time.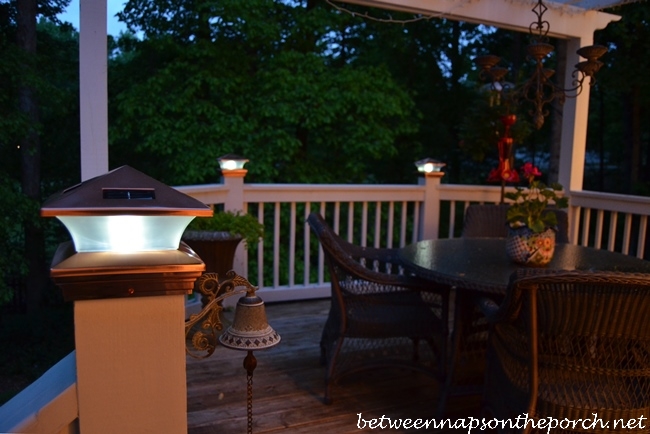 *If a post is sponsored or a product was provided at no charge, it will be stated in post. Some links may be affiliate links and as an Amazon Associate, I may earn from qualifying purchases. *