Welcome to the 482nd Metamorphosis Monday! I wasn't sure if I'd be able to write this post this morning. Last night while working on a puzzle here in the office, I started noticing I couldn't see very well out of my left eye. Immediately I could tell it was another ocular migraine. This is only the 3rd or 4th one that I've ever had. With the previous ocular migraines, there was no headache afterward, but this time was different. It was like I was back in high school, the ones I had back then were excruciating.
At first, I took an Advil Allergy/Sinus tablet, thinking the headache must have been brought on by pollen. When that didn't help, I remembered I had once purchased some Excedrin Migraine a while back. I found it in my medicine closet and noticed it had expired in 2017. Since I was in so much pain and it was too late to drive to a 24-hour grocery store a few miles away, I took one of those.
It didn't help either. By 1:30 this morning the pain was so bad I drove over to the Urgent Care that's close to my home. Since it's a huge, hospital-affiliated facility, I thought they might be open 24 hours a day. Nope, they were closed. I almost drove to our local hospital, but just felt too bad to drive that far, so I went back home. I think I finally fell asleep between 3-4:00 this morning.
I guess I'd better buy some Excedrin Migraine to keep on hand since it appears the ocular migraines are going beyond just vision disturbances now. Ugh. Thankfully they rarely happen. Don't worry, I saw my eye doctor after the last Ocular Migraine and he confirmed all was fine with my eyes. I can see fine this morning, just have a lingering "don't-move-the-head-too-fast" headache. Think I'll take a nap once this post goes up. lol
My Met Monday this morning is a new desk chair for the office. You may remember this beauty that I purchased last year. I love how it looks but it has started to sag downward in the center making it very uncomfortable for working.
I think the seat is just a very large chunk of foam. It would have been great if I only worked at my desk for a little while each day, but I spend a lot of time in my office chair since I work on a lot of things here in the office, including the occasional puzzle.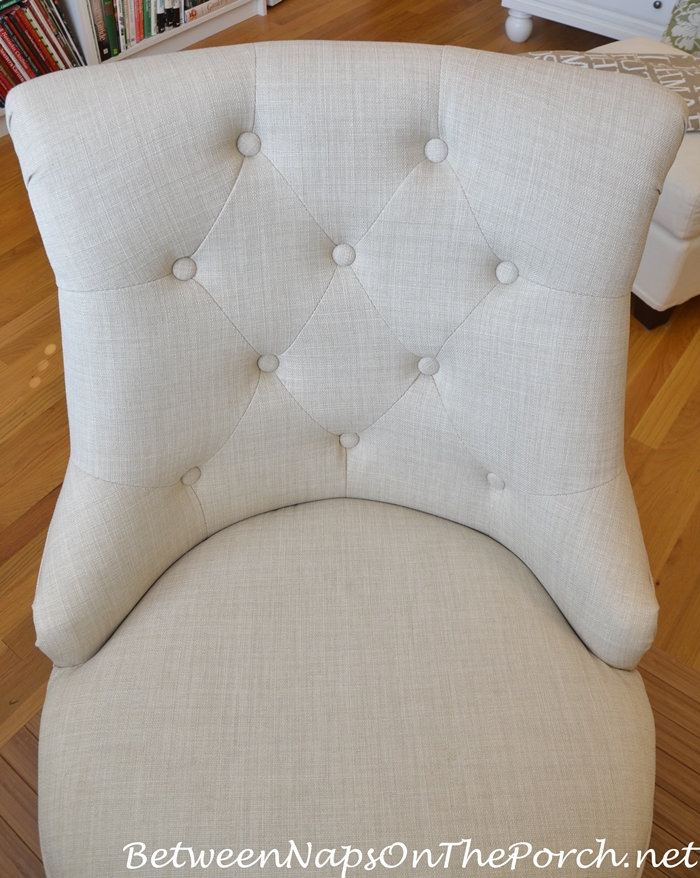 I thought this time I'd try one that was more office-like. This one had mixed reviews, they were either really good or not so good. I decided to try it, hoping I would get a good one.
It has arms, which didn't work out the last time I tried one with arms. The previous armed chair I tried kept scratching my desk with its chrome, metal arms whenever they hit the desk, which was a lot. Since the arms are padded on this chair, I was hoping that wouldn't be an issue. Unfortunately, it looks like I'll be returning this chair, too.
It has two major issues: 1. It will not hold its height. No matter how many times I adjust the height, if I get up and walk away, when I return the chair has settled back down to a much lower height. It's usually an inch or two lower than where I had previously had it set and I have to adjust the height all over again. That gets really old–having to re-position your chair to the correct height 400 times a day.
The other issue is the knob that controls the tilt feature, will not budge. Its located underneath the seat and you're supposed to be able to turn it to make the back tilt easily back or stay upright. Unfortunately, it's permanently stuck in the tilt-back mode and is impossible to adjust, no matter how hard I try.
I have another chair coming today and I'm hoping it will work. I had purchased another chair a few days ago that looked very much like this one below, except it was white. When it arrived and I opened the box, I never even took it out. I could tell by looking at one of the arms that it would look terrible with my desk. It was stark-white and all the furniture here in the office is more of creamy, off-white color. I returned it the same day it arrived. I hope the one coming today isn't too, too white.
The chair you sit and work in during the day is such an important chair. I'm hoping I eventually find one that works for longer than a year. I'm tempted to order another one of these, hoping I win the chair lottery and get one that works properly, but it was a fair amount of work to put this one together, and I hate to do that again only to find it doesn't work properly again. I also still think one without arms is a better choice since I can scoot up closer to the desk. We'll see how the one that's coming today works out…will keep you posted!
Looking forward to all the great Before and Afters posted for this Met Monday!
Pssst: I post almost daily on Instagram. Follow Between Naps on the Porch on Instagram here: Between Naps On The Porch. If you enjoyed this post, subscribe for free email updates when a new post is up here: Subscribe for post updates.
Metamorphosis Monday
Metamorphosis Monday is a party that's all about Before and Afters. If you are participating in Met Monday, please link up using the "permalink" to your MM post and not your general blog address. To get your permalink, click on your post name, then just copy and paste the address that shows up in the address bar at the top of your blog, into the "url" box for InLinkz.
In order to link up, you'll need to include a link in your MM post back to the party so the other participants will have an opportunity to receive visits from your wonderful blog readers.
Please observe these few rules:
Please link up Before and After posts that are home, gardening, decorating, crafting, painting, sewing, cooking, fashion or DIY related.
Be sure to include a link back to the party in your post, so your readers will be able to find and visit the other bloggers who are participating.
Do not link up to the party if you're only doing so to promote or sell a product.
To those who are linking up: If you notice a shop or online store linking up to sell products (yes, unfortunately, that does happen) please let me know so I can remove their link and block them from participating in future parties. No one wants to click a link expecting a Before and After, only to find a spam link to an online business/store.
*If a post is sponsored or a product was provided at no charge, it will be stated in post. Some links may be affiliate links and as an Amazon Associate, I may earn from qualifying purchases. *