Welcome to the 542nd Metamorphosis Monday!
For this week's Met Monday, I'm sharing a small computer workstation I set up in the guest room at my son and daughter-in-law's home. If space is limited in your home but you would love a dedicated spot for working on your computer, I can definitely recommend the setup I've created and will be sharing in today's post.
A little backstory: I often plan or time my visits with my son and daughter-in-law to coincide when I can be the most help to them, like when they have a lot of evening events to attend or have travel plans where they are unable to take the little ones along. Visits can sometimes last a few weeks, depending on what we all have planned, or sometimes a planned shorter trip will end up getting extended as needs arise.
I love my visits to see them–love spending time with them and my two grandsons so much, but blogging for several weeks on a small travel laptop can be challenging when you are used to working with two large monitors back home.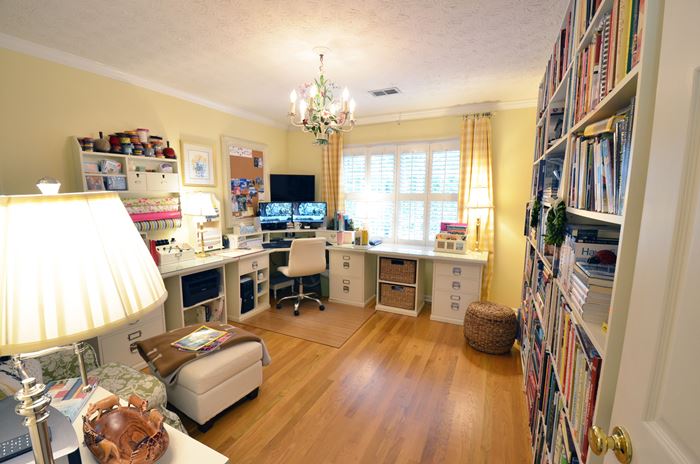 During a previous visit, I got an idea: why not set up a little workstation in the guest room, and while I'm at it, add a nice large external monitor to use with my laptop! I ran the idea by my son and dil and they both thought it was a great idea! I think this little setup will also come in handy for the other family members and friends who are frequent visitors to their home.
I searched online, read a bunch of reviews and settled on this inexpensive desk that didn't look like it would take up a lot of space. This desk was super easy to assemble, only took about 15-20 minutes.
I like how the design of the desk places the monitor up a bit at eye level. I don't need a mousepad because my favorite Logitech mouse doesn't require one and works great on the black surface of the desk.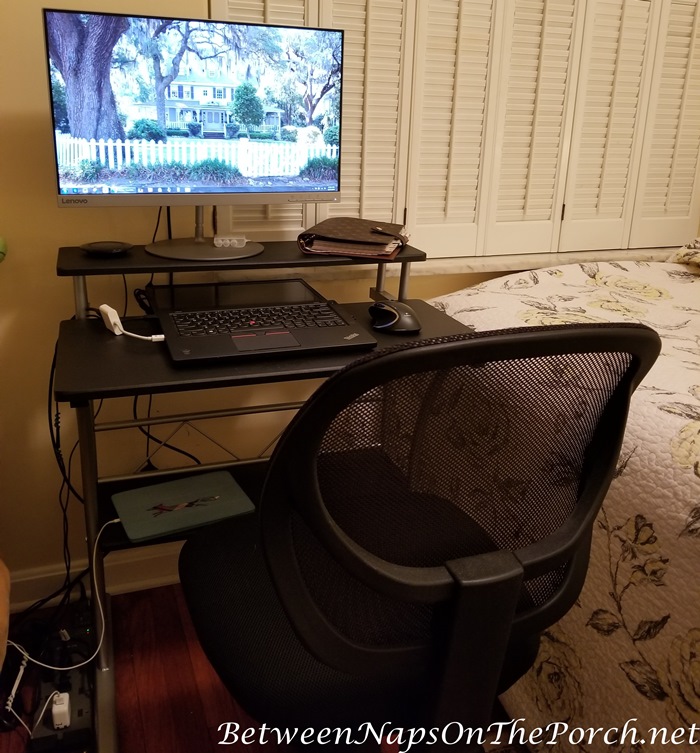 I like the extra shelf below for holding books or really anything you wish. I often place my handbag there. In the photo below, I was charging my iPad so had it resting on the shelf. I also ordered the same 12-outlet power strip surge protector I use at home so I'd have plenty of plug-in space for all my electronics like my iPad, phone charging pad, etc…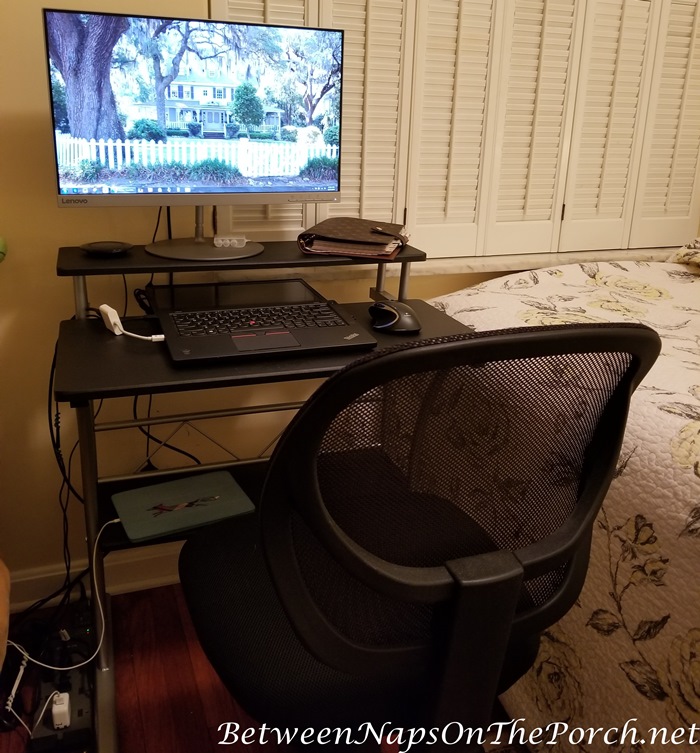 Since I don't need the monitor on my laptop while working here, I folded it back and out of the way, although I could have kept it upright to use as a second monitor since it doesn't block the view of the large monitor at all. I'm finding the single, large monitor is really all I need as I work with split screens and drag/drop what I need from one to the other.
The monitor I purchased is so large, it's easy to open several windows and drag photos from a window/file into the blog post I'm working on. Love that! My son loaned me his HDMI adapter/converter for connecting my laptop to the new monitor, but I went ahead and ordered a new one since I'll need one each time I visit. I'll link to it and the other items I'm using at the end of this post.
I also purchased an inexpensive chair that had great reviews. I liked the design of this chair with the open/mesh back and the heavily padded seat. So far I'm very pleased with how it sits and find it quite comfortable.
I have soo enjoyed this little workstation and have been kicking myself for not having set it up sooner. It's so much better than sitting at the dining room table where my grandsons were often having to hop over the electrical cord running from my laptop to the nearby outlet. It also eliminates my computer and other work "stuff" taking up space at the end of the dining table, though my son and dil never once complained or seemed to mind. This setup is just so much better and more convenient!
If you've been thinking of setting up a little workstation but don't have a lot of space, I can definitely recommend this arrangement. Below you'll find links to everything I'm using in this computer workstation.
HDMI, DVI, VGA, Converter/Adapter for an External Monitor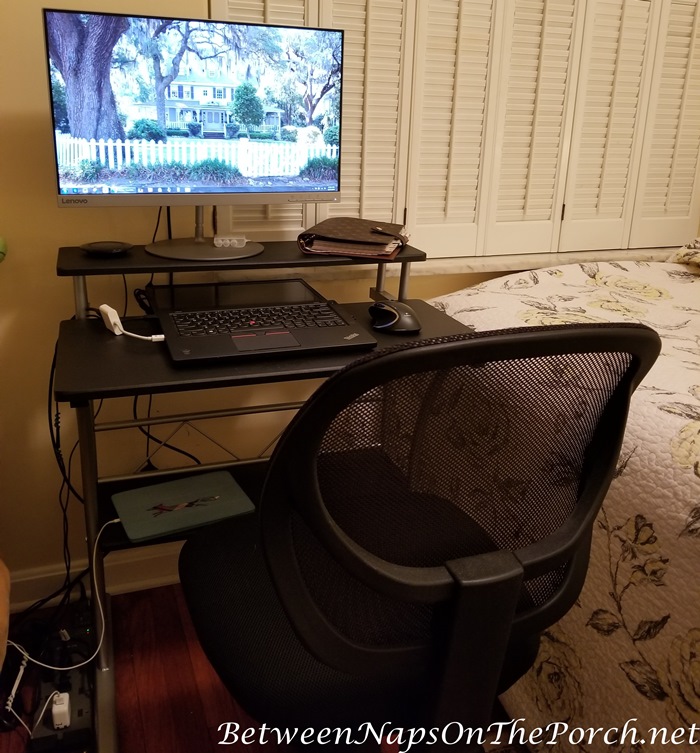 Looking forward to all the great Before and Afters for this week's Metamorphosis Monday!
Metamorphosis Monday
Metamorphosis Monday is a party that's all about Before and Afters. If you are participating in Met Monday, please link up using the "permalink" to your MM post and not your general blog address. To get your permalink, click on your post name, then just copy and paste the address that shows up in the address bar at the top of your blog, into the "url" box for InLinkz when prompted.
In order to link up, you'll need to include a link in your MM post back to the party so the other participants will have an opportunity to receive visits from your wonderful blog readers.
Feel free to link up Before and After posts that are home, gardening, decorating, crafting, painting, sewing, cooking, fashion, travel or DIY related. Please do not link up to the party if you're only doing so to promote/sell a product.
To those linking up, if you notice a shop or online store linking up to sell products (yes, unfortunately, that happens) please let me know so I can remove their link and block them from participating in future parties.
This party has ended, click button below for the links to all who participated.
*If a post is sponsored or a product was provided at no charge, it will be stated in post. Some links may be affiliate links and as an Amazon Associate, I may earn from qualifying purchases. *