If you saw my house right now, you would think I was one brick shy of a full load. Lol, maybe I am! I get started on one project, like decorating a tree, and about 1/3 of the way in, I get bored. I stop, start vacuuming or go grocery shopping or start cleaning the screened porch. A few hours later, I'm back working on the tree. There's so much that I want to do and have completed before family arrives, I feel a bit scattered and have trouble working on just one thing through to completion. Anyone else feel like that when decorating the whole house for Christmas?
Some things are totally done, like the upstairs family room where my son and dil will be sleeping. It's decorated for the most part. This is an older photo of the room for reference.
I added some lit garland across the top of the armoire along with some very tall Santas and a Nutcracker my son gave me many years ago.
I brought out the feather tree and added it to the antique pine chest in this room. I thought the lights atop the armoire and on the tree would be so pretty lit up here at night. I added a little foot button thingy to the tree and the armoire lights so they would be easy to turn off when it's time for bed.
I may move the bowl I brought back from Morocco and add something else to the top of the chest, not sure just yet. Everything is still in a state of flux.
It's raining, dark and gloomy out today, so not a lot of light coming in through the dormer windows. Each dormer seat in this room is decorated with a Christmas pillow and a Christmas themed book.
Both of my grandsons love books (and cats) so I thought they might enjoy finding this one on the window seat when they come into the room where their parents will be sleeping.
I placed a Lenox Winter Greetings candy dish here on the chest coffee table.
It's filled with one of my son's favorite snacks–Pistachios. Wonder if he'll lift the lid to see what's inside?
The tree in the downstairs living room is decorated. I still need to find a star for the top. I bought one last year and it was way too big. Not sure it will get its star before family arrives on Tuesday, but maybe I'll find time to shop for one before then.
A few close-ups…
I'm still working on the mantel here in the living room. I'll be stopping by one of the places near me that sells live trees in the next day or two to ask for a few of their scraps, the ones they cut off trees as they are purchased. Normally they get thrown into a large barrel for burning so they are happy to let me take all I want. I always take a big trash bag and fill it up with what I need to decorate around the house. I love the scent of the live evergreens throughout the house!
Though the mantel isn't finished, I wanted to share something new I purchased this year that's working out great.
This year I purchased these holders that are designed for hanging stockings across a mantel.
I liked this design because it's supposed to work on any size/style mantel. Also, the top part of the hanger is fairly flat so it shouldn't interfere with the greenery or any other decorations I decide to use across the mantel.
I went with this darker bronze finish so they wouldn't be very noticeable against the mantel and would coordinate well with the antique brass mirror over the mantle. I don't think they'll be very visible once I have my greenery in place. You'll find these stocking holders available here: Stocking Holders for Mantel.
You'll find many more styles of stocking holders in different colors/finishes here: Stocking Holders for Mantel. There are so many cute ones, I had a tough time choosing.
I don't think I'm going to wrap the gifts and place them around the tree just yet. That may be more temptation and torture than two little boys can take! Ha!
Instead, I may do a modified version of this around the tree, only without the Santa bag filled with presents. Will have to think about that. (See this previous Christmas post here: 'Twas the Night Before Christmas, A Visit from St. Nicholas.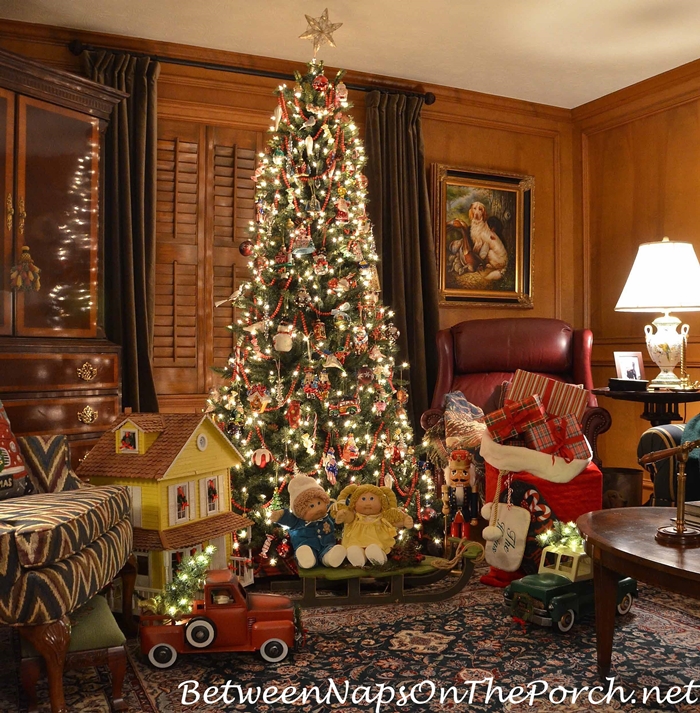 Looking for additional Christmas decorating ideas? Check the Holiday Home category at the top of the blog. You'll find tons of ideas for the holidays!
Happy Thanksgiving to you and your family!
*If a post is sponsored or a product was provided at no charge, it will be stated in post. Some links may be affiliate links and as an Amazon Associate, I may earn from qualifying purchases. *