I receive a good many emails each week from the wonderful readers of BNOTP and one question I get over and over again is: How do you decide how many place settings to buy of a particular china? Here's just three of the e-mails I've received on this topic:
1. "Whenever I see a dish sets (usually come in set for 4/box). I am not sure if I should just buy the 4 (in 1 box) or buy 2 boxes. Is hard to find set for 6/box. In my family there is only 3 of us. Are your table scapes usually set for 4 or 6? How do you make those decisions, to buy the 2nd box or not? Could you teach us one day. What should be the basis for a dish collection or MUST haves. I'd love information like that. Even if we don't entertain a lot, just to make everyday life special (for the 3 of us).
PS: For the dish set I was referring to stores like Home Goods or Marshalls."
2. "I'm wondering how many placesettings you would recommend buying when you find a pattern you like? I always feel like I should buy 6 or 8 of each pattern but then I don't have a whole lot of storage. Is there a number that seems to work out best for you?"
3. "I'm just getting into tablescapes and am wondering how exactly to get started? Do you just buy everything on clearance? Allow yourself a monthly budget? How often do you buy for your tablescape? I don't even know where to start or how to get started but am very, very interested in doing so. Guess I'll have to visit some of the other posts for Tablescape Thursday!"
I've been meaning to write a post about this topic forever and I'm sorry it's taken me this long to do it…better later than never, right?
There is no easy answer for this question, but I'll tell you how I decide how many place settings to buy when I purchase china. I've tried to come up with an acronym…something you could remember and apply in these circumstances, and the one I thought of is: C.A.P.
C for Cost: If I am shopping for china (on purpose) or just happen to run across some I love while I'm out, cost will most likely play a factor in how many place settings I purchase. But that isn't the only determining factor.
A for Availability: I've learned over the years that availability of the china in the future is an important variable that needs to be considered. I'll explain more on that in a second.
P for Purpose: For what purpose will I be using this china?
Now, let's apply CAP to some typical situations:
Let's say I have everyday china and now I have decided I'm going to purchase china in a Christmas pattern that will specifically be used for holiday meals each year. I know my P (purpose)…it will be for Christmas holiday meals. I know at holiday meals, I could have a large number of folks for dinner…so most likely I will try to purchase at least 12 place settings. Also, I have 12 place settings in the flatware I use at holiday gatherings, so 12 is my standard number of place settings to buy if I'll be using it for events that could potentially be a large gathering. If you have even larger holiday gatherings/dinners, you may wish to purchase more. Or, buy more than one kind of Christmas china and mix and match. I love that idea!
What about C: cost? If the china is really expensive, I may buy 6 place settings this year and 6 more the next year to break up the cost. Or, look for one of those 12 months, same-as-cash that department stores run occasionally. Just be sure to pay as you're supposed to so you avoid any interest. They are hoping you won't, so you will need to be disciplined and careful if you do it that way. Also, for more expensive patterns, let your family or friends know you've started a collection and if they are seeking gift ideas for future birthdays, Christmas, etc…you know just the thing. 😉
I also have to consider the A: Availability. If it's a china pattern that is being produced ongoing right now, I will feel comfortable buying just 6 place settings and then later on buying 6 more. If it's a vintage or no longer produced china pattern that I've come across on eBay or in an antique shop like the Spode, Tower pictured below, I know I'd better buy all I need or can find then, because it may be very difficult to locate more later on. When I purchased the Spode Tower, I found a seller who had 12 place settings, all from the same estate. I bought all 12 since it is so rare to find a seller with that many place settings from a single estate. It was much cheaper than buying individual pieces over many auctions and having to pay shipping every time. Plus, I knew the china should all be from the same time period (1920's) and the same "red" color. All these factors played into my decision to purchase all 12 place settings at one time.
Another scenario:
What if I come across china in Marshalls, TJMax or HomeGoods that I wish to collect? Again, I will consider C.A.P.
P. Purpose: For what purpose am I buying the china. If it's china I would like to use on the porch, I'm going to buy 7 placesettings. Why 7? Because the table on the porch seats 6 so when I entertain on the porch for dinner, I normally just have 6 folks for dinner. I like having one extra place setting as insurance for future breakage, but cost will factor into this, too.
A. Availability: When I purchase china from Marshalls, TJMax or HomeGoods, I know from past experience they always have a limited amount of any pattern and it goes quickly. Once it's gone, they rarely ever get any more of it back in. So again, if it's for the porch, I'm going to buy 7 place settings.
So, we've consider P, Purpose…it was for porch entertaining. We considered A, Availability…and I know that will be limited to pretty much right now…probably won't find it again in the future. All that's left to consider is:
C. Cost: All three of these stores have very affordable prices for china…usually $2.99 or $3.99 for salad plates and $4.99 for dinner plates, so I normally don't hesitate to buy what I think I need.
My Advice:
So, here's my best advice: Whether you are out shopping for china intentionally, or just happen to come across some while you're out thrifting/antiquing or shopping, ask yourself, C.A.P.
P. Purpose: For what "purpose" will I be using it: bridal shower, everyday, holiday meal, casual dining? Will I use it in the dining room, breakfast room, or on the porch for the event I have in mind? That will be a starting point for deciding how many place settings you should buy.
A. Availability: How available is this china? Have I found it in a store that will be stocking it for a long time or is this a "get it now before it's gone" situation?
C. Cost: Is it very expensive or reasonably priced? Can I afford to buy all I need now or will I need to buy some now and some later?
All these factors have to be considered together. What do I mean?
Some Real Examples:
If I find a pattern in HomeGoods that I adore and really want to use on the porch…I'll buy 7 place settings and I'll buy it then! I know availability is limited and their prices are always reasonable. But if I wait and have to buy it at Replacements.com or on ebay (if I can even find it in those places) it's going to cost a lot more. If it's a pattern I truly love and will be disappointed if I can't collect all the pieces I need, I will drive that day or the next to several locations to collect all the pieces I need. I had to do that with the Ma Maison china I collected. I went to several HomeGoods in one day to collect 7 place settings of Ma Maison because I knew without a doubt, in another few days you wouldn't be able to find it in a HomeGoods anywhere. That turned out to be right, unfortunately.
For some reason HomeGoods only gets maybe 12 or 18 place settings of any particular pattern in each store…maybe enough for 2-4 people to buy it. And when it's gone, it's gone.
Same thing when I collected the Alice in Wonderland set. I made it a mission to find the number of place settings I needed within the span of a few days because I knew it might be difficult to find later. I've only had to do that with 2 or 3 china patterns that I've collected, thank goodness.
Same situation applied to the "beach" china I found at Kohl's. I knew they might not get it in again…although they surprised me by having it again the next summer (very unusual). I knew I would use it on the porch (7 place settings) and the cost was reasonable.
When I bought my Christmas china, Lenox, Winter Greetings, I bought 12 place settings. I wanted it for holiday gatherings which I knew could potentially be larger gatherings. It was a bit pricey, so I had to consider that factor. Since it's still being made and available, I would have felt comfortable buying just 6 to start with, then 6 later.
But do keep in mind, companies can discontinue a pattern at any time. I don't worry about buying a spare place setting when I'm buying 12 place settings since it's not as big a factor as when I'm buying 6 for a table that seats 6. That would be more of an issue if I broke a piece since I could no longer seat 6 for dinner using the same china for each place setting. (Again, it's fun to mix and match china, so the place setting don't always have to match.)
Recently, I came across Valerie Parr Hill's 12 Days of Christmas china in an antique shop.
There were 8, 4-pc place settings and a few serving pieces for only $45 for everything. Even though I didn't really need more Christmas china, I absolutely loved the pattern and who can pass up 8 place settings of beautiful china for what it cost to fill up your gas tank one time?
Everyday China:
What about for your everyday china? I recommend buying at least 12 place settings for a family of 3 or 4 because you're going to go through that pretty quickly each day and you will need a good number of place settings or you'll be washing dishes all the time. If the number in your household is even larger, you may need to buy even more place settings.
Some china is so inexpensive, like the white, Gibson, Big Lots china (shown below) that so many of us snagged, (thanks Michael for telling us about it) you can buy several boxes at one time. When it was on sale, it was only $19.99 for six, 6-pc place settings, including napkin rings and serving dishes! 18 place settings would only have been $60!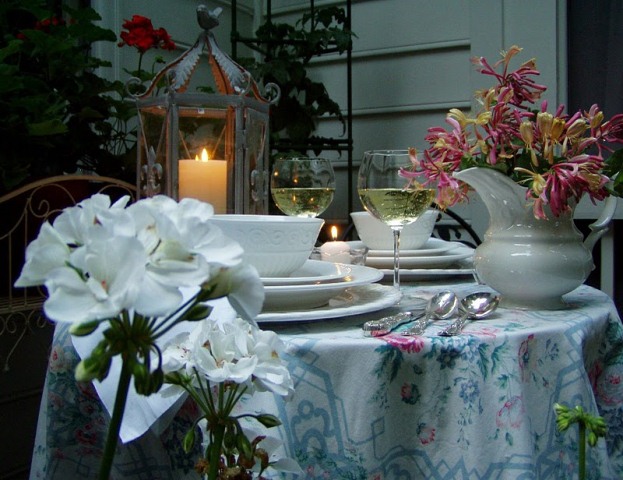 Those of us who have been collecting china for a while pretty much know now how many place settings we will need just from experience. But if you have not been collecting china for very long or are just starting to buy a few sets for special occasions, it's my hope this guide will help you decide for future purchases.
BNOTP Facebook followers know if I find something just too wonderful to pass up, I do try to alert them…like the adorable stemware I've come across at Dollar Tree and used HERE, HERE and HERE. 🙂
To view the above tablescapes and others posted here at BNOTP, click on the heading, Tabletop♦NapkinFolds♦PartyIdeas at the top of this blog.
How do you decide how many place settings to buy when you shop for china? Please share your recommendations.
*If a post is sponsored or a product was provided at no charge, it will be stated in post. Some links may be affiliate links and as an Amazon Associate, I may earn from qualifying purchases. *