Welcome to 440th Tablescape Thursday!
We've always had a soft spot in our hearts around here for cats and bunnies. When my son was very small, we had a sweet bunny named Phineas.
Phineas was a much-loved bunny and even enjoyed cuddling with our hamster, Ralph, nearby.
So when I stumble across a cute bunny bowl, I can rarely resist. A few weeks ago I shared this adorable bowl in a post.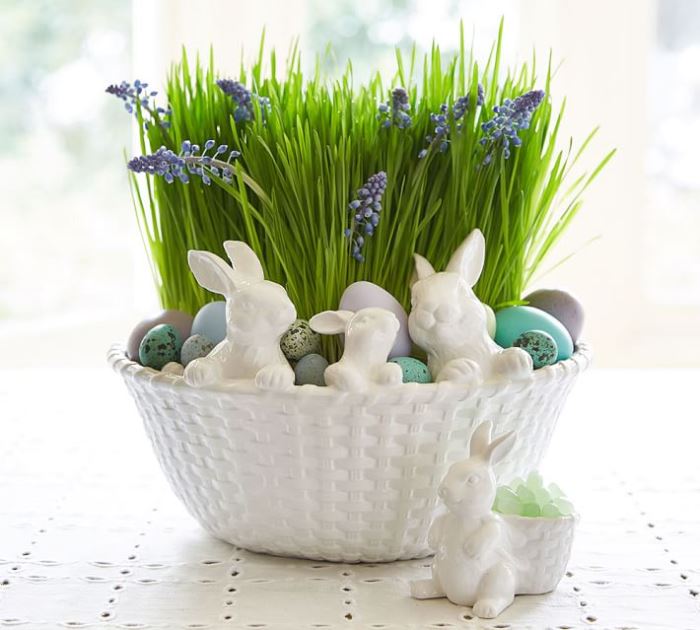 When I saw it from this angle, I was totally ruined and it had to come home with me. Who thinks up these precious pieces? Definitely someone with a love for animals, especially bunnies. Sooo cute!
I'm currently using it on my kitchen counter to hold fruit. It would also be adorable in a bathroom holding wash clothes, soaps and other bath essentials. I plan to keep it out year around, too cute to put away! (Bunny bowl is available here: Bunny Bowl.)
I just noticed there's a smaller version available here: Bunny Bowl.
There's another bunny I love using in table settings throughout the year. Mr. Bunny has a basket so he's very versatile. Sometimes he comes bearing a gift of shamrocks. (Tablescape can be viewed here: St. Patrick's Day Table Setting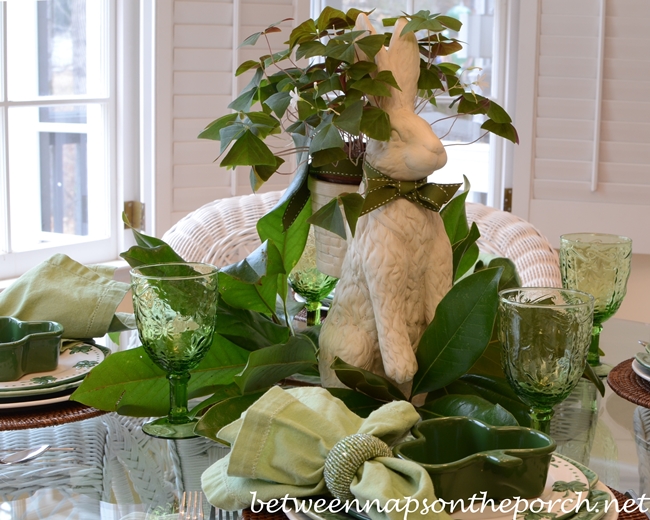 In the spring it might be Debutante Camellias. (Table Setting can be viewed here: Easter Table Setting.)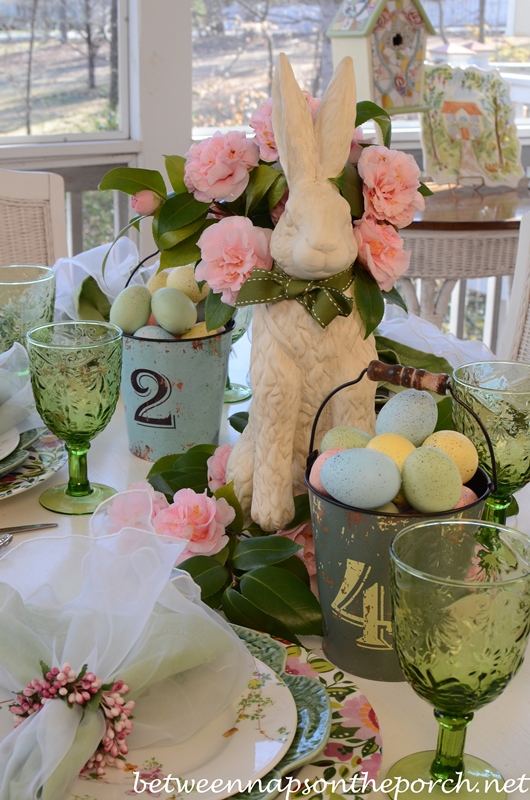 Or, it could be carrots if he's been raiding Mr. McGregor's garden. hee, hee (Tablescape can be viewed here: Peter Rabbit Raids McGregor's Garden.)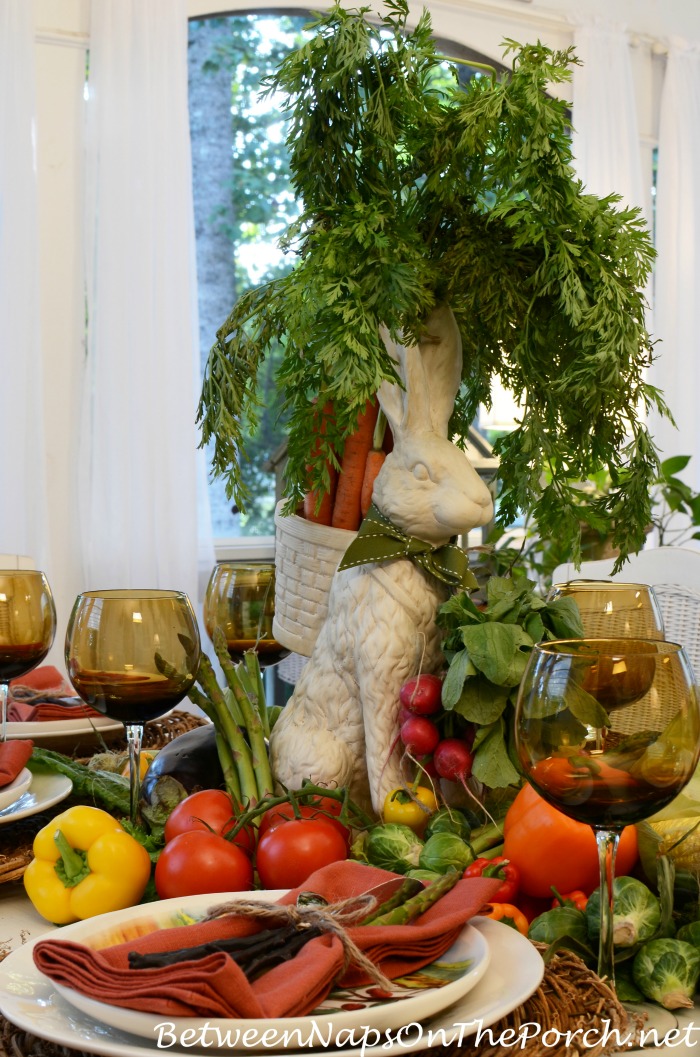 He's even been known to bring a Poinsettia at Christmastime! (Tablescape can be viewed here: Christmas Table.)
One of the most frequently asked questions I receive in comments and emails is where did I find Mr. Bunny. He was designed by artist Marjolein Bastin and I found him in a local gift shop several years ago. Unfortunately, I haven't seen him available since the year I purchased him.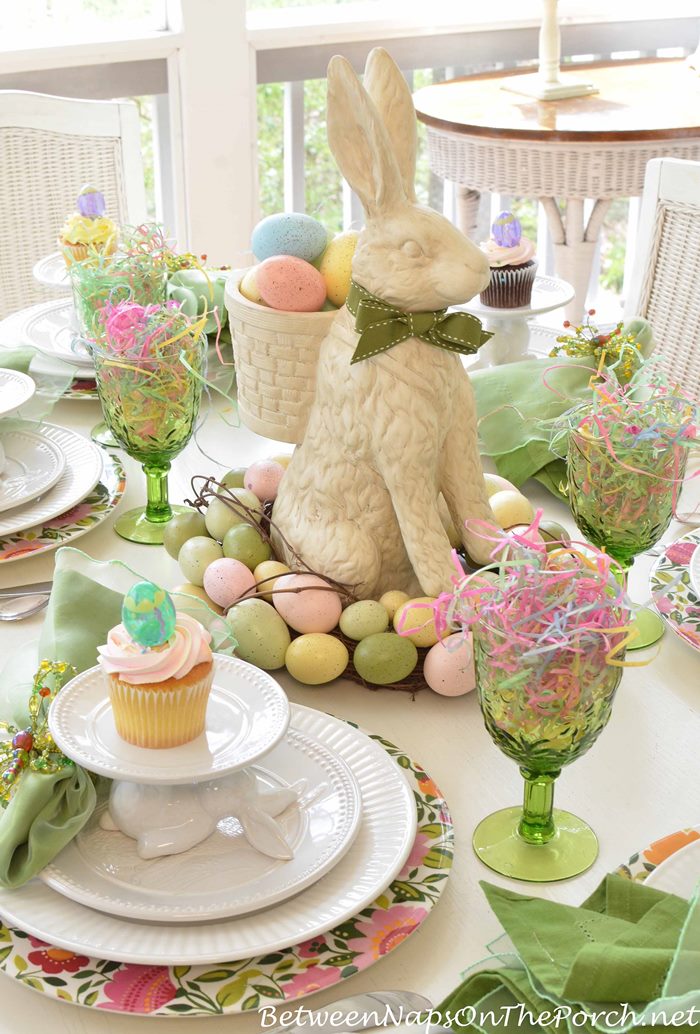 Bunnies with baskets have definitely become popular,though. I've found several online this year that are super cute. This bunny with basket is almost 13 inches tall and is available here: Bunny with Wicker Basket.
I'm eyeing this one for my front porch, but I think he could also be used as a centerpiece in a spring table setting, though he's quite tall.
The description states he is 26 inches tall! I love his plump little belly! 🙂 He's available here: Bunny with Basket.
Below on the left you'll see a bunny with two baskets.
I purchased him last year and here's how he looked in one of my spring Easter table settings. (Tablescape can be viewed here: Easter Spring Table Setting.)
He's carrying Easter eggs in one basket and daffodils in the front basket. (With our early spring, all my daffodils are in full bloom right now, so I don't think I'll be able to use them in an Easter table this year.) He could also hold candy or even food in the lower basket and a dip in the top basket. Or, imagine him in a guest bath holding pretty soaps or other bath needs. Bunnies with baskets are definitley versatile! This bunny is available here: Bunny with Two Baskets.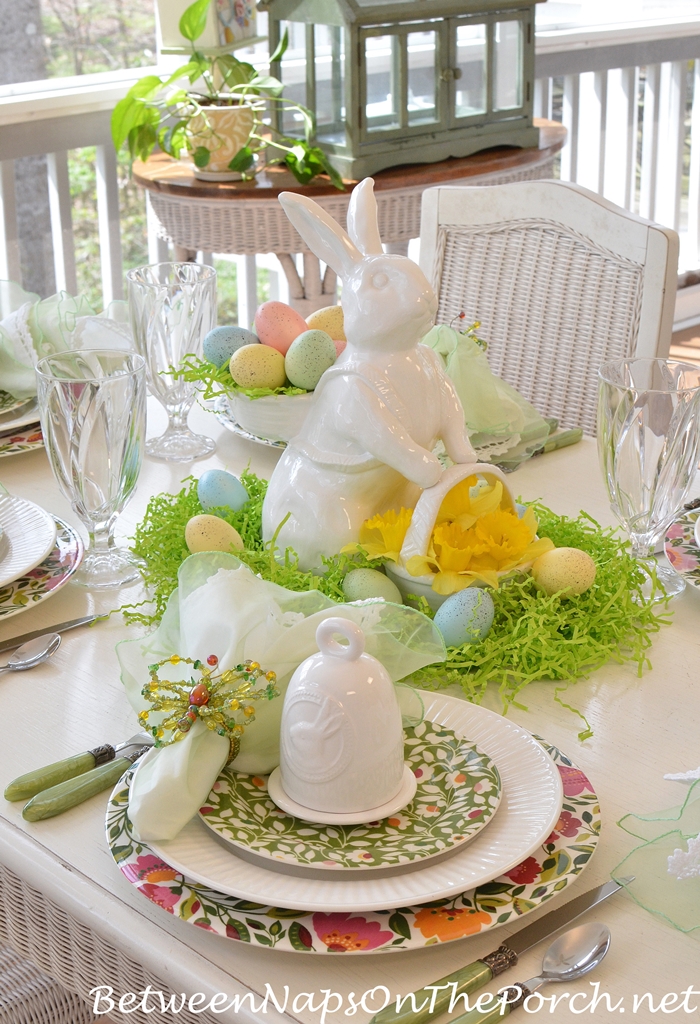 The precious bowl below on the right showing three bunnies and a butterfly is available here: Bunnies and Butterfly Bowl.
Another adorable option is this white bunny with a deeper basket. He's available here: Bunny with Tall Basket.
Update: Thanks to Pinky for sharing that Pier 1 also has some adorable bunnies this year. You'll find this cute guy here: Bunny with Basket.
Love this one, too! He can be found here: Bunny with Planter.
I kept thinking this early spring was a fluke and winter would soon return. But so far it's staying. It hit 73 degrees here today! Even our azaleas have started to bloom…crazy weather but I'll take it over winter anytime!
Happy early Springtime, Friends!
Looking forward to all the beautiful tables for this week's Tablescape Thursday!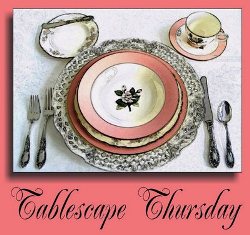 If you are participating in Tablescape Thursday, please be sure to add your permalink below, and not your general blog address.To get your permalink, click on your post name, then copy and paste the address showing in the address bar, into the "url" box when you link up. You'll need to include a link in your post back to the party to link up and participate.
That's so visitors to your blog will be able to find the party and the other Tablescape Thursday participants. Requiring a link back also prevents businesses and scammers from linking up to sell their products. (Yes, that really happens, unfortunately.)
*If a post is sponsored or a product was provided at no charge, it will be stated in post. Some links may be affiliate links and as an Amazon Associate, I may earn from qualifying purchases. *