Welcome to the 608th Metamorphosis Monday, a blog party sharing fabulous Before and Afters!
Sorry, this week's Met Monday is going up a bit late. I'm still fighting a horrible sinus infection and pneumonia so not at my best right now. But enough of that, let's have a little travel adventure and some fashion fun for this week's Metamorphosis Monday!
If you are a handbag lover, especially a Louis Vuitton handbag lover, you are going to love today's Before and After! Recently my friend, Teresa, purchased a beautiful Louis Vuitton bag from the LV boutique. You may remember me mentioning Teresa before here on the blog. Teresa and I met through the blog when she joined me on a last-minute trip to the Netherlands. We became great friends on that trip and have since taken two more trips together, including one to Egypt a couple of years ago.
I love traveling with Teresa because she's always up for an adventure!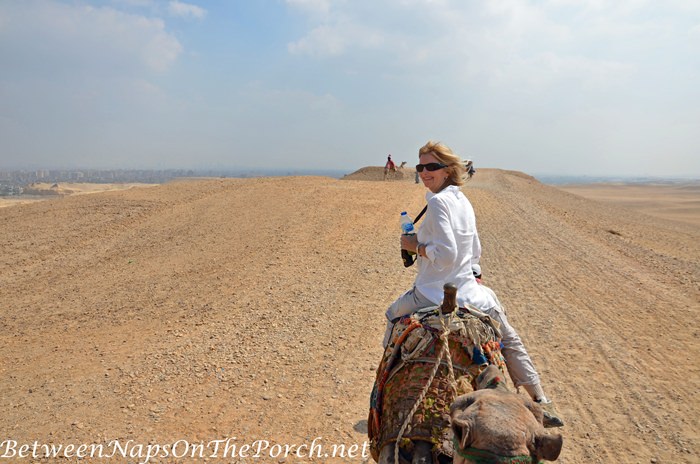 In fact, she's more adventuresome than I am! When visiting Egypt, there are a few pyramids that you're allowed to enter. If I'm remembering correctly, this pyramid was called the Queen's Pyramid and we were told we could go inside. Unfortunately, to enter one had to climb backward down through this very narrow chamber underground, under the pyramid.
I have a touch of claustrophobia but what really sealed the deal that there was no way I was going inside was when the guide told us that it smells bad inside the chambers deep inside the pyramids. Ugh. I quickly decided I would pass, happy to enjoy the pyramids above ground! Teresa took on the challenge and headed down as seen in this photo I posted to the Between Naps On The Porch Instagram. (Follow BNOTP on Instagram here: Between Naps On The Porch.)
Would you do this, crawl through a narrow tunnel to enter into the underground chambers inside a pyramid?
After reaching the bottom, Teresa still had to crawl further down to finally get into the main chambers/rooms of the pyramid. Can you imagine getting down there and then having the lights go out? Gives me nightmares just to think about it. lol I took this photo of Teresa with a zoom lens just as she reached the bottom and looked back up.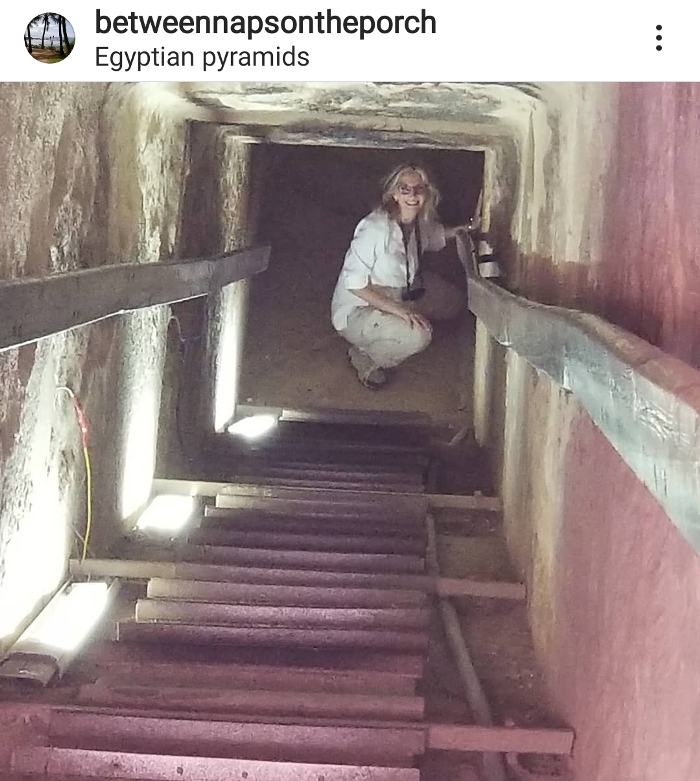 Besides a passion for travel, another interest Teresa and I share is a love for handbags. If you were to ask Teresa, she would tell you her recently acquired love for Louis Vuitton handbags is all my fault. 😉 We both own the popular Pochette Metis in reverse monogram.
Recently Teresa added a second bag to her LV collection, the beautiful Croisette bag shown below. I was so excited when she told me she had purchased this bag because just this past spring I fell in love with this lighter Damier Azur pattern. Over the summer, I had been eyeing the Croisette bag but managed to appease myself by picking up a mini-pochette accessory bag and a key ring holder in this pattern.
I love the size of this bag! It's not too big or too small. The only thing that I've been a tad worried about is the raw Vachetta leather that comes on this bag. If you're an LV fan, you are most likely familiar with LV's Vachetta leather that's so often used on the handles and straps of their bags. Though beautiful, Vachetta leather is famous for spotting if a drop of rain or water or anything gets on the leather because Vachetta is actually untreated, unprotected, cowhide leather. In the last few years, LV has started making more bags with leather handles/straps that do not feature untreated leather, but a few of their bags do still come with the raw Vachetta leather.
Fortunately, there's a way to protect the leather so you don't have to panic if you get caught out in a stray summer rain shower. A lot of the handbag Youtubers I follow online treat the Vachetta leather on their handbags with a rain/stain repellent called Apple Garde. Apple Garde is available here: Apple Garde.
Not wanting the Vachetta leather on her bag's handle and strap to be ruined by a stray drop of water or even the lotion/natural oils from her hands, Teresa decided to protect her bag. First, she protected the Damier Azur canvas on her bag by wrapping it with a saran type wrap by the brand, Kirkland. I think any brand would work well for this. I'm not sure it would hurt the canvas if it was also sprayed with the Apple Garde, but in all the tutorials I've seen, the canvas is always covered up since it really doesn't need to be sprayed or protected.
The Louis Vuitton Croisette bag in Damier Azur canvas has a really pretty pink fabric interior. You can just see it peeking out a bit in this side view. Covering the bag with some type of protective material helps protect the lining against overspray, as well.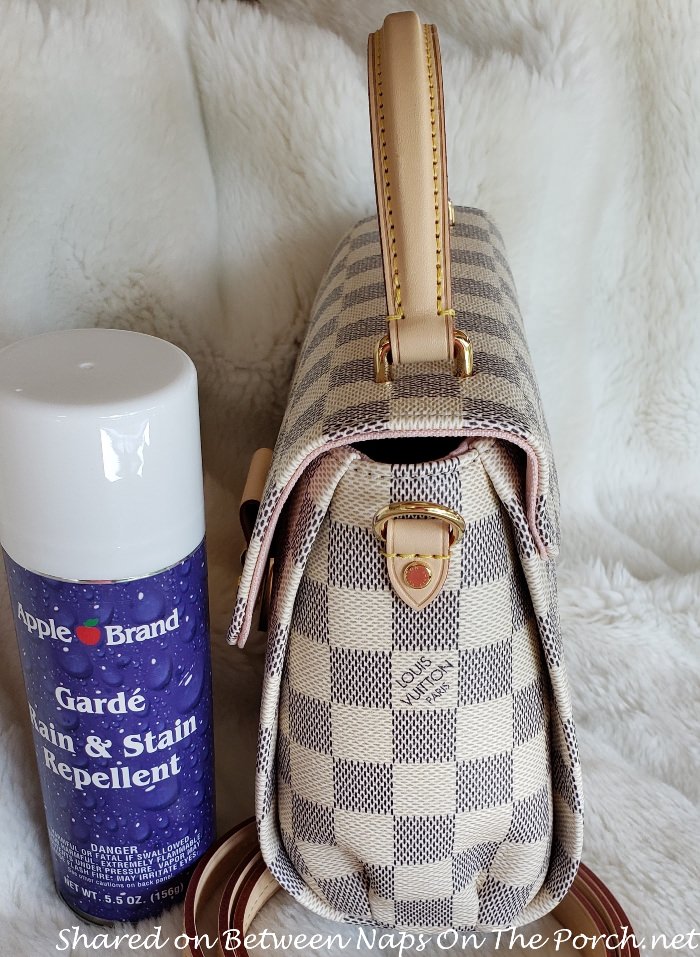 Teresa also ended up wrapping the gold metal parts of the strap to protect them from overspray.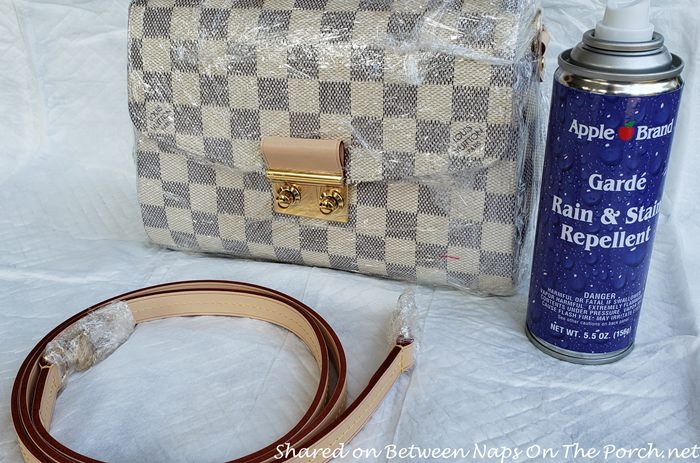 Since Teresa's bag was brand new, the protective stickers that come on the metal closure/lock part of the bag were still in place, so that was helpful in protecting those.
Before treating her bag with the Apple Garde, Teresa test-sprayed a pair of her summer sandals. The Apple Garde worked great on those so she was ready to proceed. Follow the directions on the can for spraying the protectant. It's better to spray 2-3 thin coats than one heavy coat to avoid having the protectant run. Most people apply at least two coats of Apple Garde to ensure their Vachette leather is fully protected.
When using a product like Apple Garde, be sure to spray in a well-ventilated area, maybe a covered outdoor area on a sunny day when no rain is expected. Teresa said the Apple Garde had a very strong smell when first sprayed.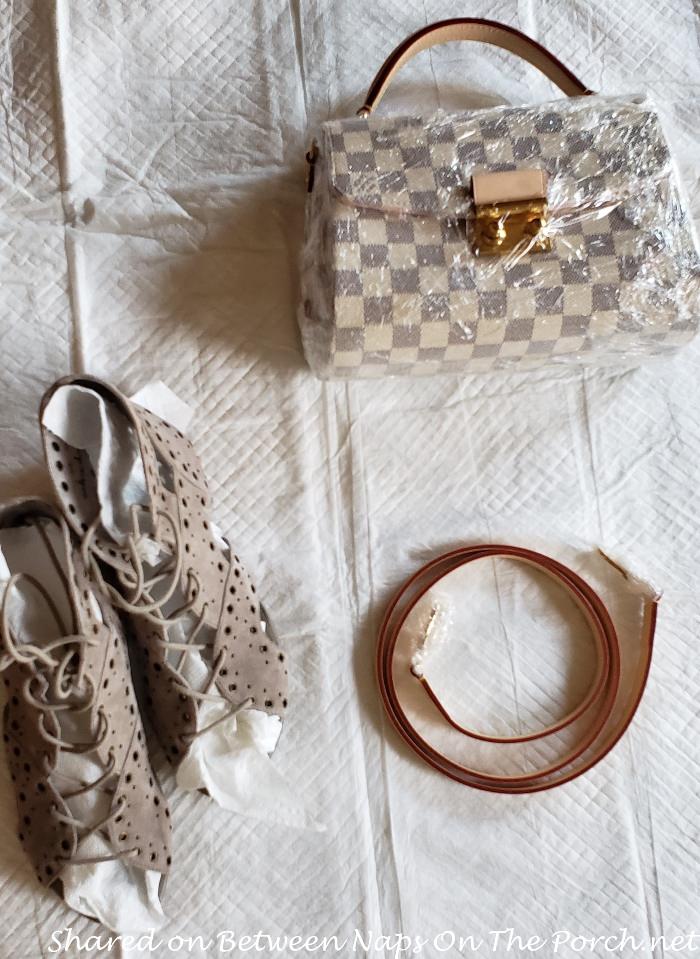 I've always heard that when Vachetta Leather is sprayed with a protectant, the leather will turn darker for a few seconds but then lightens back up as it dries. Teresa confirmed that was exactly what she saw when she sprayed the Vachetta leather on her bag. You can see the handle looks a little darker in this photo taken right after she had just had sprayed it.
Here's how Teresa's bag looked after it had completely dried. Argggh, I need this bag! Definitely putting it on my wish list for next summer. Sooo pretty!
Thanks so much to Teresa for sharing this beautiful Before and After! Now she can use and enjoy her bag without fear a random splash of water will stain the beautiful Vachetta Leather.
Looking forward to all the wonderful Before and Afters linked for this week's Met Monday!
Pssst: Did you know Between Naps On The Porch is on Instagram? You'll find me on Instagram here: Between Naps On The Porch.
Like to know when a new blog post is up and available to read? Subscribe for email updates, it's free and your email will never be shared.
Subscribe for free post updates via email here: Subscribe.
Metamorphosis Monday
Metamorphosis Monday is a party that's all about Before and Afters. Please link up your Before and After projects like DIY projects, room makeovers, craft projects even recipes. Any Before and After is great! Please do not link up Table Settings, save those for our Tablescape Thursday party on Thursday.
If you are participating in Met Monday, please link up using the "permalink" to your MM post and not your general blog address. To get your permalink, click on your post name, then just copy and paste the address that shows up in the address bar at the top of your blog, into the "url" box for InLinkz when prompted.
In order to link up, you'll need to include a link in your MM post back to the party so the other participants will have an opportunity to receive visits from your wonderful blog readers.
Update: Please do not link up table settings/tablescapes for Metamorphosis Monday. Please save those for our Tablescape Thursday party on Thursdays. Recipes are fine because that's definitely a "Before and After" but please save your beautiful table settings for Tablescape Thursday. Pretty vignettes (transformations) you've created on atop a chest or somewhere in your home are great for our Before and After party, but let's save the actual table settings for Tablescape Thursday.
This party has ended, click button below for the links to all who participated.
*If a post is sponsored or a product was provided at no charge, it will be stated in post. Some links may be affiliate links and as an Amazon Associate, I may earn from qualifying purchases. *