When I first moved into my home almost 30 years ago, I struggled to furnish it. As a faithful reader of Traditional Home and Colonial Homes magazines back then, I had fallen in love with classic-traditional furniture styles and antiques. I would regularly visit some of the best furniture stores in the Atlanta area–stores like Matthews Furniture, Beverly Hall, and Furniture Craftsman. I drooled over the beautiful inlaid Councill Craftsman dining tables, Baker piecrust tables, Henredon canopy beds, Maitland Smith secretaries and Hickory Chair sofas and chairs.
Once in a great, great while I would buy a beautiful piece, then it would take a long time to save up again to buy another treasured piece. It took a long time to find the right pieces for the rooms in my home since my budget was so limited. I didn't want to buy furniture to just fill the rooms, I wanted to find just the right pieces for each room. Since money was so tight and the furniture I was buying good quality, thus not inexpensive, I couldn't take chances with my purchases. There would be no redoing it so I had to get it right the first time.
As the years passed, I began visiting local antique stores and fell in love with antiquing. While antiquing I would often find beautiful pieces as well-made (or better) than the high-end, new furniture I was stalking, and often the prices were much better, too. Almost every Saturday I would head out to hit at least one or two of my favorite antique shops.
Antiquing for me has always been a form of therapy, just like gardening. It didn't matter the stresses of the past week, once I stepped into an antique store all my cares melted away. Antiquing could also be really exciting since you never knew when you would come across that one special item you couldn't leave behind.
Gradually over the years, I've slowed down on my antiquing, not because I don't still love it, but because I really don't have much space in my home to add anything new. I don't remember the first time I stepped inside A Classy Flea, but I must have loved it because of the many antique stores I have visited over the years here in the Atlanta area, ACF has always been my favorite. When I read recently that the owners had decided to retire and the store would be closing, my heart sank.
Since I first heard the news they were closing, I've tried to not think about it too much. I've discovered over the years that I don't do well with change, at least when it comes to people, pets or places dear to me. Last Friday I forced myself to visit ACF one last time because I wanted to find out where the dealers were all going.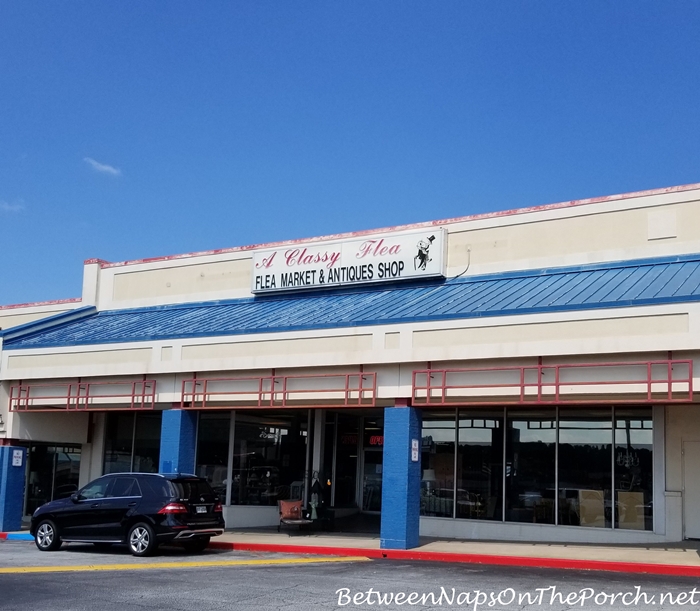 It was three days before they were scheduled to close and I had to fight back tears the entire time I was in the store. I had never seen it like this and it made me so, so sad. As I walked through the rooms, the memories came flooding back and I relived finding so many of the beautiful pieces that now fill the rooms in my home.
It's hard to realize that I'll never be able to get up on a Saturday morning again and head to A Classy Flea to explore for new treasures. Back in the day, I would occasionally visit twice in a week and still find new things. Their prices were always so good, things never lasted very long. If you saw something you loved, you had better get it then!
I realized this evening that one of the reasons the closing of ACF has hit me so hard is probably because the years I shopped so often in ACF were some of the most difficult years of my life. A Classy Flea has always been there, a constant I could count on. And now it was going away. I felt like I was losing a really good friend.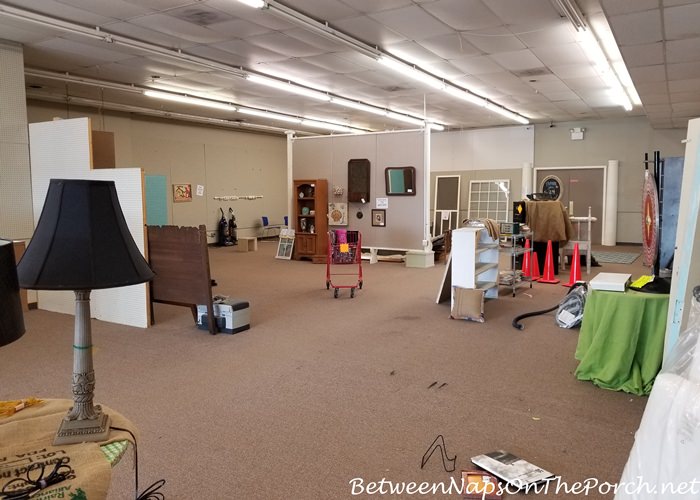 One of the antique dealers behind the checkout counter shared something during my visit that was a total shock.
She said antiques weren't selling anymore. What?! She said that's why so many of the antique stores have taken the word "antique" out of their name. She cited a couple examples of stores in our area that had changed their name recently, removing the word "antique" from their name.
Well, fine! Just fine! That leaves more for me. New, quality furniture is great, but every home, no…every room, needs a little bit of history that only the warmth a beautiful, vintage or antique piece can provide. I think one day they'll be a big turn around and all those folks who currently scoff at antiques and wouldn't dream of putting a "dusty, old piece" of furniture in their home will be clamoring for them.
And you know where they will all be–where all the antiques will be? They'll all be in my house. And I'm not sharing! 😉
I took a few photos of some of the things that were still left.
This chair was $39!
Thank you to all the ACF dealers, especially the owners of A Classy Flea, for being there for me and so many others for the past 30+ years!
As I stood talking with one of the antique dealers behind the counter during my last ever visit to A Classy Flea, I heard her voice break as she repeated some of the stories customers had shared during their final visits to the store over the past few weeks. I could see the sadness in her face as she looked away, casting her eyes down toward the floor and saying, "There are going to be a lot of tears shed this Sunday."
Before I left I made sure I was on the mailing list so I would be notified where all the dealers land, but I know now, there will never be another place like A Classy Flea.
Update: I received an email from Janet with A Classy Flea and she said the following:
You mentioned in your article, you are interested in keeping up with where the dealers will be going. Gretchen(Gre), Sheila (KNK), Kim (Mom), Charlie (CHAR) can be found at Woodstock Market. Gene & Mary (EM) went to Marietta Antique Mall. Tony has a space at West End Market. I relocated to Park West Vintage (formerly Dupree's) & Big Shanty Antiques on Canton Hwy across from Old Time Pottery. I'm still using JMC as my dealer code.

NET, KI, ALLI, DLW, BEL, PHL, LRA, LYNN, TER & Q, at this time, are undecided or retiring. Jo Gillian & others have talked about doing pop-up sales & that will be communicated through ACF's customer email list
So if you live locally or plan to travel here, you'll find the dealers who were with A Classy Flea at the locations listed above.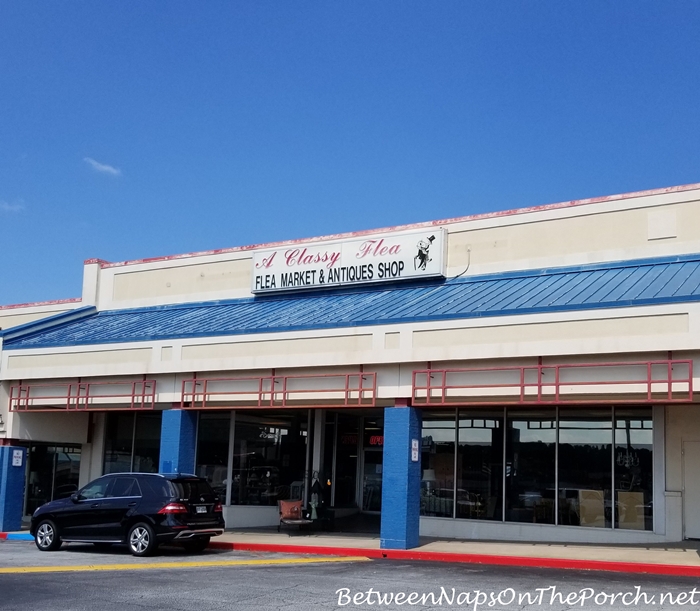 *If a post is sponsored or a product was provided at no charge, it will be stated in post. Some links may be affiliate links and as an Amazon Associate, I may earn from qualifying purchases. *