Plantation shutters have been a popular window treatment for many years. They offer lots of great benefits like sun control and extra insulation, which really comes in handy when the weather turns super cold like it has been lately.
If you've ever shopped for plantation shutters, you probably know that they are usually made of either wood or a man-made product like vinyl or plastic, sometimes referred to as "polywood." I'm a big fan of wood shutters because they are usually lighter weight than vinyl or made-made products, which means less problems with panels sagging, especially in larger windows.
Another big advantage wood shutters have over vinyl/plastic shutters is that normally man-made panels do not have a way to adjust or tighten the louvers (tension adjustment screws) if they become loose or begin to sag down over time. It's pretty inevitable that louvers will eventually start to loosen up over time due to everyday use.
There are a few shutters out there that have springs built into the panels. I've always shied away from those because if the spring goes bad, there's usually nothing you can do but replace the whole panel.
Some less-expensive wood shutters don't have tension adjustment screws either, so when shopping for shutters it's important to ask about this feature. If you have wood shutters and you've noticed a louver sagging or hanging down, check to see if it has a tension adjustment screw. If it does, you can fix the loose louver in seconds. Let me show you how it works.
Each winter I will notice a section of louvers on a few of the shutter panels I open and close on a regular basis, begin to hang down. The reason this tends to happen this time of year is because wood shrinks in the wintertime. If I did nothing, chances are the tension would improve or maybe fully recover once warm weather/humidity returns in the spring and the wood expands back out again. But it doesn't always and who wants to look at floppy louvers all winter. Right?
If you have a louver panel sagging or hanging down in one of your windows and it won't stay in an open position as it should, open the panel and look for a little holes(s) down the inside edge of the panel. That's where you'll normally find the tension adjustment screws if your panels have them built-in. There's normally one tension adjustment screw for each section of the panel. You'll notice below, my shutters have one screw for the top section and one screw for the lower section on each panel.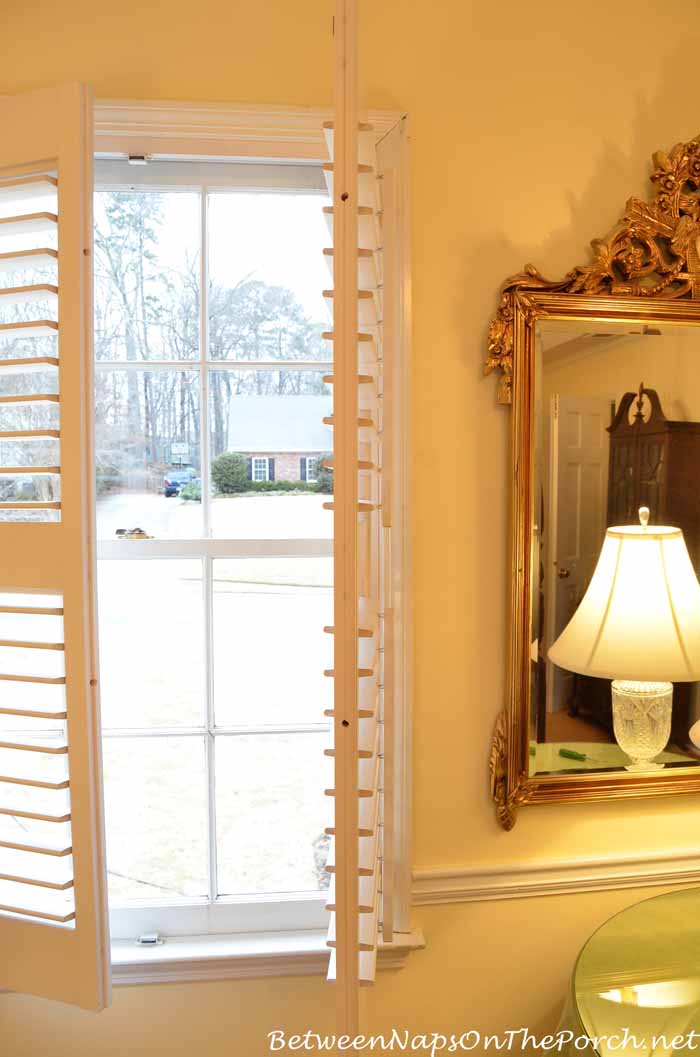 Here's a little closer view of the hole where the tension adjustment screw is hidden.
Tightening your loose louvers back up is super easy if you have plantation shutters with tension adjustment screws built-in. Simply take a Philips head screwdriver, insert it into the hole, and while holding the actual louvers steady with your left hand, give the screw a tiny little nudge clockwise with your right hand. If you don't hold the louvers still with one hand while tightening the screw, the louvers will turn and you can't adjust the tension.
Important: The reason I say to give the screw just a little "nudge" is because usually the screw just needs the tiniest turn to tighten the louvers. Don't turn the screw very much or you could risk over-tightening. Usually a teeny, slight turn of the screw will do the job. Of course, you'll want to swap those directions if you're left-handed and prefer using a screwdriver with your left hand.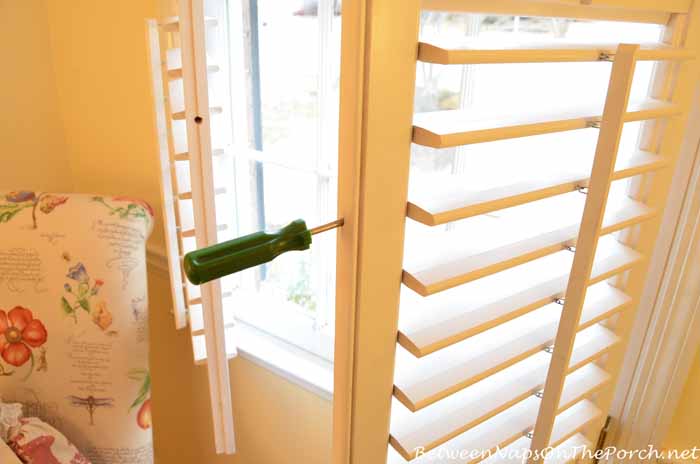 All fixed!
If you have a window in your home with bi-fold plantation shutter panels, the screws are normally located in between the shutter panels. Another window where I normally run into a loose louver or two during the winter is here in my breakfast room. (see arrows below pointing to loose louvers) During the winter months when it's cold out and the leaves are off the trees, I open and close the louvers in here almost daily, so one or two will tend to loosen up when it's super cold out.
Again, the tightening process only takes seconds for bi-fold shutters, too. Just open back your bi-fold panels and you should see holes where the tension adjustment screws are hidden in between the panels. Some manufacturers may put the tension adjustment screw on the outside edge of the panel, but most hide it inside the panel where it isn't visible.
Hope this is helpful for anyone running into this issue from time to time. If you have any questions about plantation shutters or about tightening up the tension on the louvers, let me know and I'll be happy to answer them in the comments below.
If plantation shutters is something you have an interest in, I've written a more extensive post answering a lot of questions about them here: Plantation Shutters, Versatile Window Treatment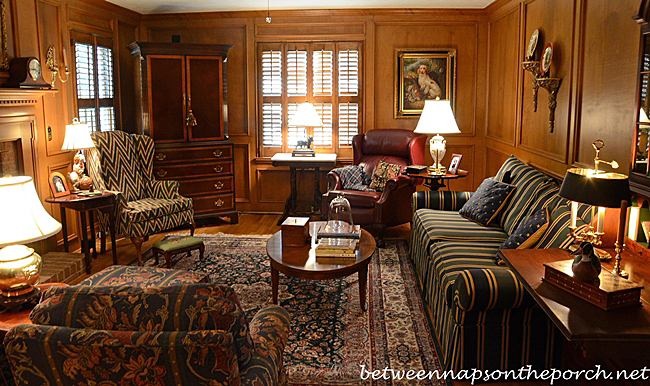 *If a post is sponsored or a product was provided at no charge, it will be stated in post. Some links may be affiliate links and as an Amazon Associate, I may earn from qualifying purchases. *