That title kinda sounds like a Nancy Drew Mystery story gone wrong, doesn't it? Ewww! Yeah, I think I'll pass on that book! lol
Before we get into today's post, I am happy to announce that CabinetGate is officially a wrap. I had one door that arrived damaged and a replacement door is being shipped, but other than that and some possible shelf tweaking, the garage cabinet storage project is all finished. I'm looking forward to sharing it with you tomorrow for Tablescape Thursday! I'm really happy with how it turned out. Tired, but very happy!
Update: See the garage cabinet storage project completed in this post: Tablescaping Storage for Dishware, Flatware, Napkin Rings, Napkins and Glassware.
The Mysterious Case of the Greasy Glass
For quite a while now I've had a weird occurrence taking place inside my cabinets. I put shiny, clean glasses inside and months later when I open the cabinets to retrieve the glasses, I discover gremlins have sneaked in and dirtied them all up.
I'm not sure exactly how to explain what happens, but take a look at this photo below. Notice how the glasses look super cloudy. When I touch one, it feels disgusting, like it's coated with some slimy, oily substance. And whatever it is, it kinda sticks to the hands. Yuck!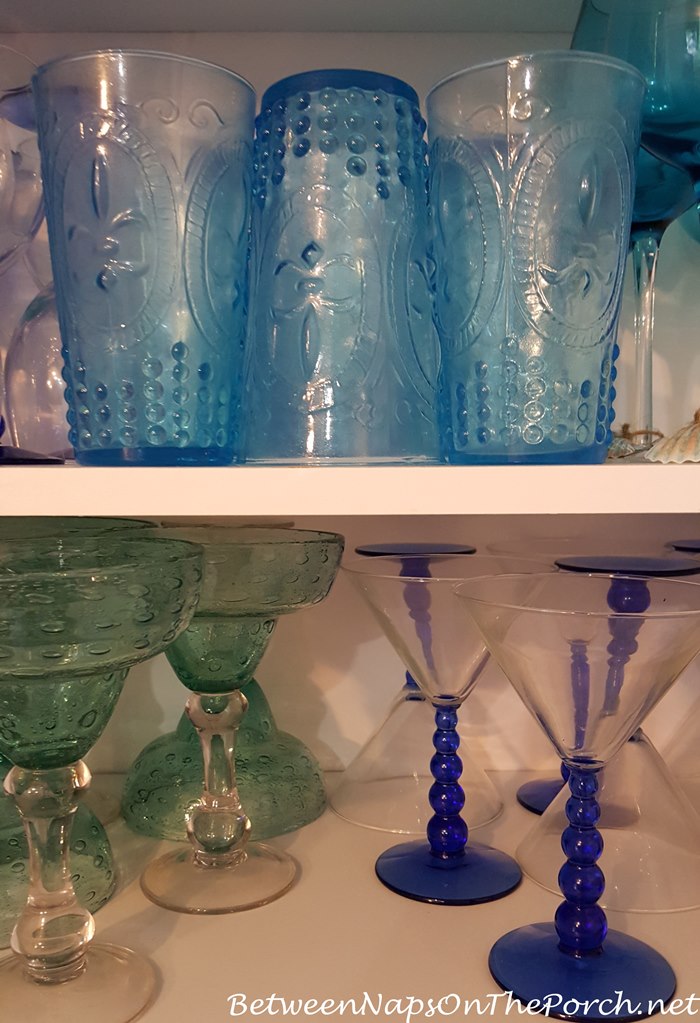 At first I thought it was just my dollar store glasses doing this, but no, I see it on more expensive glassware, too. Last night I Googled my little fingers off trying to find an answer. There are several threads online where other folks are having the same issue and wondering what the heck is going on with their glasses.
THIS article states that it's a glass disease called "crizzling" and is caused by the alkali leaching out of the glass which is why the glass feels slippery like soap. Not sure I entirely agree with that assessment since the article references this as being something that only happens to cheaper glass, and that's just not always the case. A lot of folks at the "Glass Message Board" HERE have noticed it on more expensive glassware, as well.
Probably the best article I've found on this topic is THIS one by The Royal Society of Chemistry. They state that the issue is caused by the unstable elemental composition of the glass AND storing the glass inside wooden cabinets. They also see "seasonal dampness" as another contributing factor in this problem.
The glasses I see it on the most are the ones stored in the wood cabinets in my laundry room. Those cabinets hang on the wall and are just like the ones I have in my kitchen, except I've painted the ones in my kitchen, both inside and out. I haven't ever painted the ones in my laundry room
I"m not sure what type wood they are made from, it may be maple. They are original to the house, so they date back to 1982-83. That seems to be a common factor, by the way. This issue seems to happen more to glassware that is stored in wood cabinets or wood curios/display cabinets.
This issue has drawn quite a bit of attention because if it can actually cause permanent damage to glassware and has led to the deterioration of some rare pieces of historical glass at the National Museums of Scotland. Crazy, huh?
Whenever I set a table for Tablescape Thursday, or just to enjoy with friends, I always wash the glasses before placing them on the table if they are glasses I haven't used in a while. I do that for dishware, too. The glassware I use every day doesn't ever have this issue since it's washed regularly.
Have you seen this issue with any of your glassware? If so, was it stored in a wood cabinet? Do you only see it on less expensive glassware, or have you also seen it on high-end glass pieces?
In one of the articles I read last night, one collector had seen it on her expensive glass paperweights, but not all of them. Maybe it has to do with the exact composition of the glass.
I've moved the majority of my glassware to one of the new cabinets in the garage, will share that with you tomorrow. It will be interesting to see how it fares in its new location. As soon as this post goes up, I'm going to get to work de-greasing all my glassware. I can't have you seeing cloudy, dirty looking glasses inside my new cabinets, tomorrow! 😉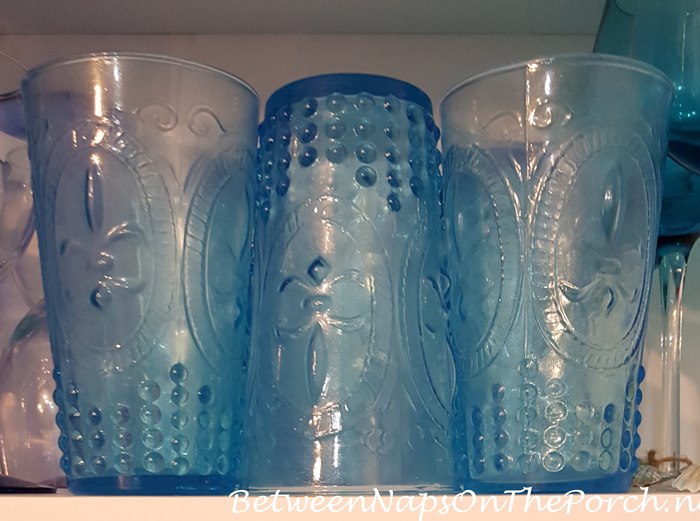 New Napkins for Halloween
Oh, before I go, I celebrated adding the cabinets to the garage with a set of new napkins. Won't these be hilarious for Halloween?! I love all the images/silhouettes! My favorite has to be the witch with her tall pointy hat–and that nose and chin! lol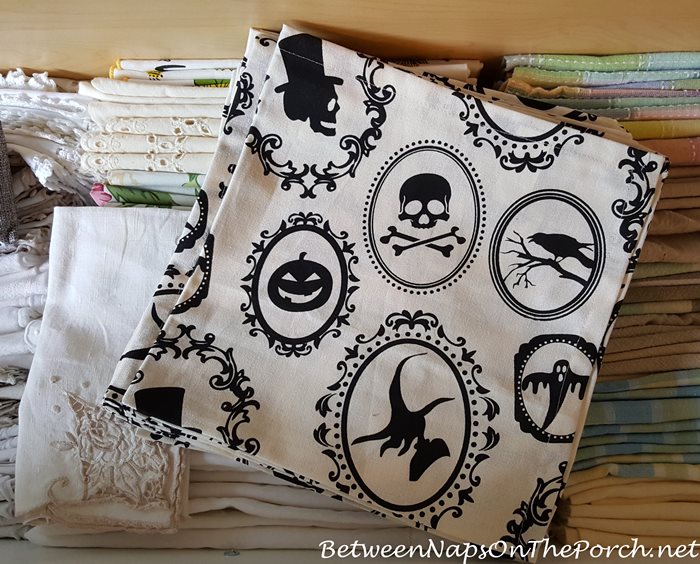 If you need a fun set of napkins for your Halloween table this year, these are available here: Halloween Napkins. Unfortunately, it appears the price has gone up since I purchased them on August 3rd. I only paid $13.58, including tax, and that was less than a week ago.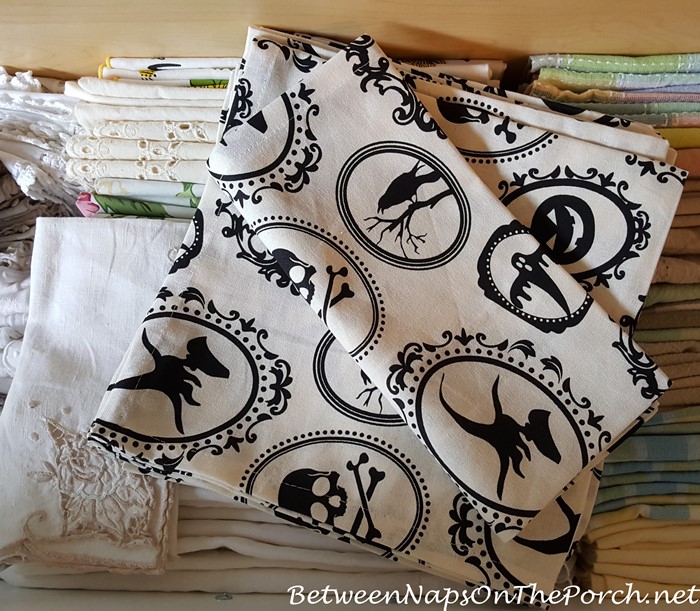 See you tomorrow for Tablescape Thursday!
Pssst: I post almost daily to Instagram. Follow Between Naps on the Porch on Instagram here: Between Naps On The Porch.
*If a post is sponsored or a product was provided at no charge, it will be stated in post. Some links may be affiliate links and as an Amazon Associate, I may earn from qualifying purchases. *