Welcome to the 679th Metamorphosis Monday!
Happy Monday! Hope you are snuggled down inside somewhere this morning, keeping nice and warm. This morning I have a little update I've made that I hope you'll find helpful if you sometimes struggle with denim transfer on your car seats.
A while back I shared this awesome cleaner that is pretty much a miracle cleaner in my eyes. When I got blue jean/denim stains on the leather seats of my previous car, the one I just sold this past September, this cleaner did a fabulous job of removing the denim transfer from the seats. I don't know how it does it, but it's pretty amazing!
I just checked this morning and it's currently out of stock as so many things are these days, but I'm sure they'll get more in soon since it's normally always available. When they get more in, you can find it here: Super Cleaner.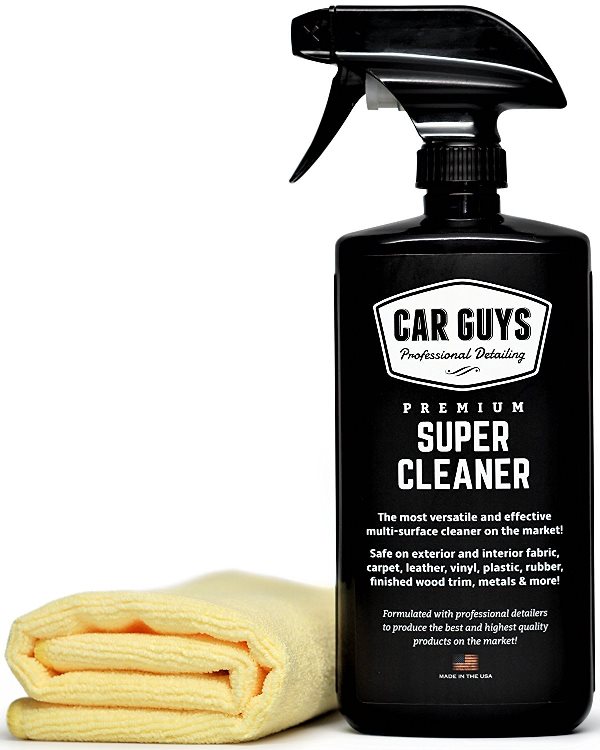 When I sold my 14-year-old SUV last year and purchased a new SUV, I bought a sheepskin cover hoping that would prevent issues with denim transfer from jeans to the light-colored seats. The wool, sheepskin cover definitely helped, but over time I was still seeing some denim stains appearing along the edge of the seat. My SUV sits up kinda high, especially since I went with 20″ wheels, so when I'm wearing jeans and exiting the car, the jeans always scrub a little against the edge of the seat.
So this is my new solution–I purchased a cover that completely covers the entire bottom half of the seat. I still like having a sheepskin cover on top since it raises me up a little and because it's just so warm to sit on when I first get into the car before the seats warm up. (Note: I was too lazy to remove it for the photos so the underside of the sheepskin cover is barely visible in the photo below on the right where I lifted it up for the picture.)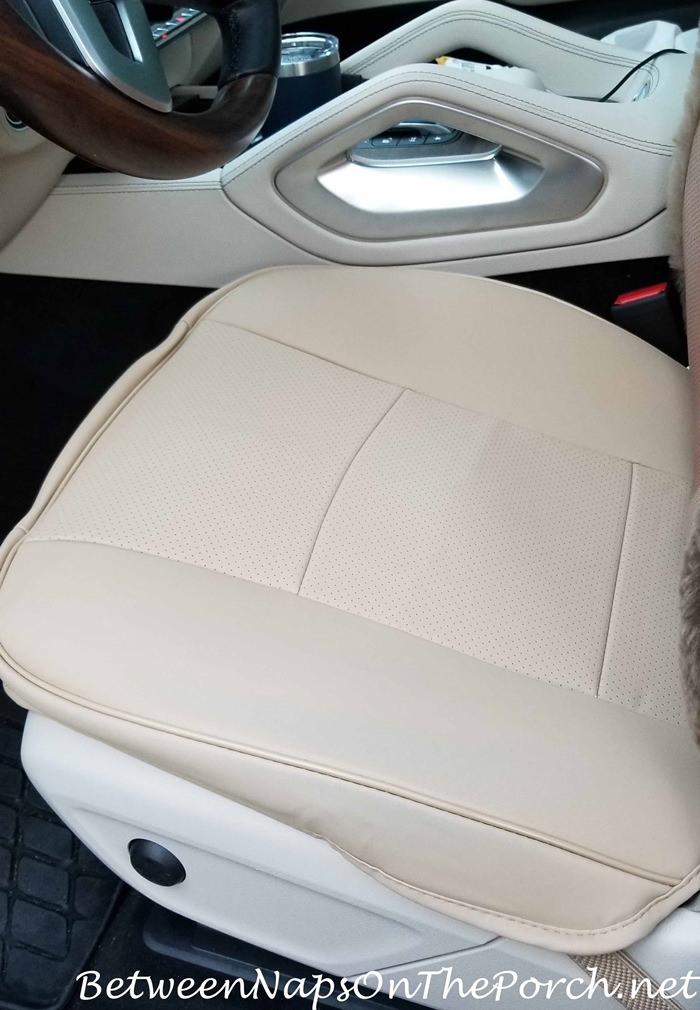 If you look closely along the outer edge, you can see some denim stains already appearing there. Better to get the denim transfer on the cover than to have to keep cleaning my actual car seat every few days–which, over time, probably wouldn't be good for the seat. Come spring, I will probably remove the cover since I mostly wear jeans in the fall and winter. During the summer months, I live in shorts, skirts, and light summer dresses.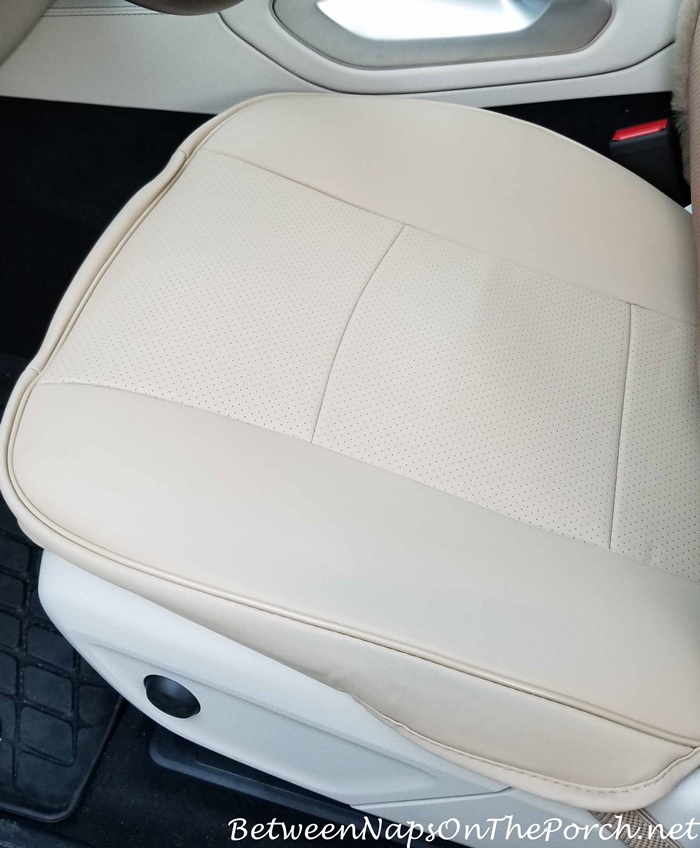 I shared this solution with a service advisor at the dealership where I purchased my car and he was super interested. He said this was a constant issue they are seeing when people bring their cars in for servicing and that after a while, it becomes impossible to get the denim stains out. I actually drove to the dealership (about 40 minutes from my home) on Friday to show him how the cover looks/works because so many people are having this issue. Even if someone has a black or dark interior (the cover comes in other colors) I can't imagine anyone would want denim stains getting transferred to their nice seats.
I wish they made this cover in a color that matched my seats a bit better. I'm thinking of ordering it in the dark gray color since the gray would probably look better with my interior. I think I'll do that today. Anyway, I wanted to share this cover in case you are repeatedly having this issue with your car seats. This cover is available in several colors here: Seat Cover. Here's another style that I think is really pretty: Seat Cover.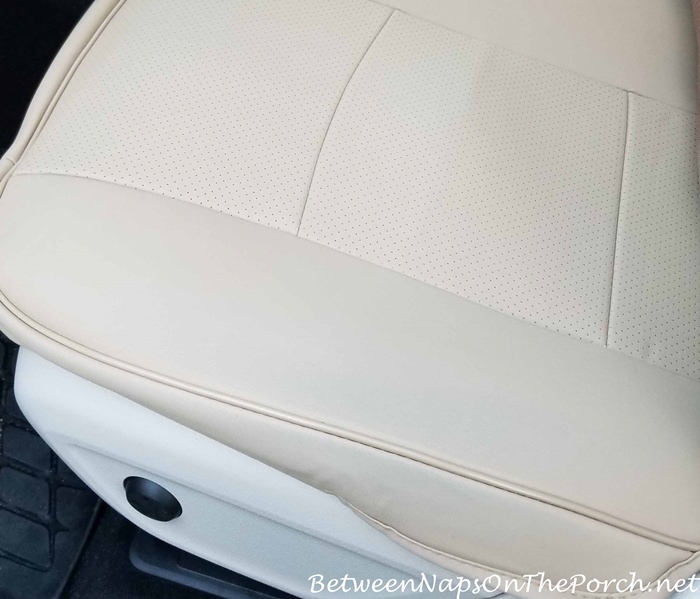 Looking forward to all the wonderful Before and Afters linked for this week's Met Monday!
Pssst: Did you know Between Naps On The Porch is on Instagram? You'll find me on Instagram here: Between Naps On The Porch.
Like to know when a new blog post is up and available to read? Subscribe for email updates, it's free and your email will never be shared.
Subscribe for free post updates via email here: Subscribe.
Metamorphosis Monday
Metamorphosis Monday is a party that's all about Before and Afters. Please link up your Before and After projects like DIY projects, room makeovers, craft projects even recipes. Any Before and After is great! Please do not link up Table Settings, save those for our Tablescape Thursday party on Thursday.
If you are participating in Met Monday, please link up using the "permalink" to your MM post and not your general blog address. To get your permalink, click on your post name, then just copy and paste the address that shows up in the address bar at the top of your blog, into the "url" box for InLinkz when prompted.
In order to link up, you'll need to include a link in your MM post back to the party so the other participants will have an opportunity to receive visits from your wonderful blog readers.
This party has ended, click button below for the links to all who participated.
*If a post is sponsored or a product was provided at no charge, it will be stated in post. Some links may be affiliate links and as an Amazon Associate, I may earn from qualifying purchases. *