Welcome to the 667th Metamorphosis Monday!
I've never been one to move furniture around but I've done that more in the last couple of years than all the previous years combined. Many, many years ago, 1994 to be exact, I fell in love with the soft colors in this room featured in Traditional Home. I love old clocks so the beautiful Bornholm tall-case clock in this room definitely caught my eye.
That room was the inspiration for my upstairs family room.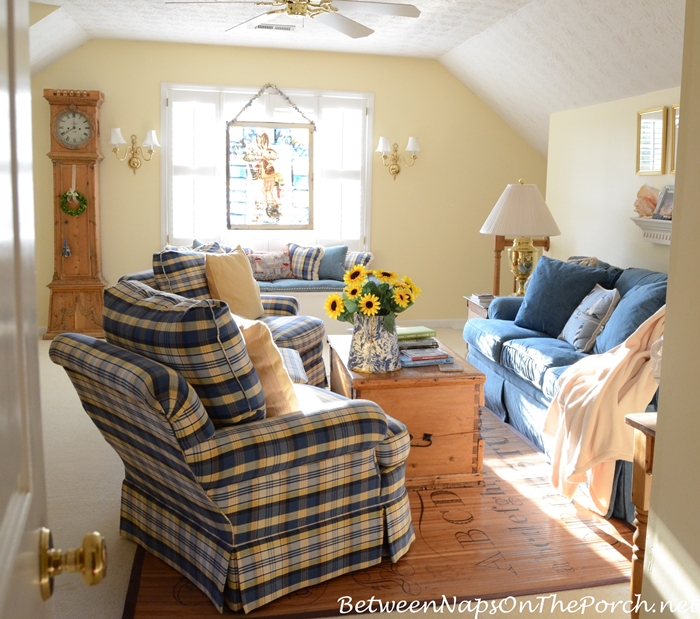 Since the downstairs living room is a cozy, paneled spot that's great for reading and movie watching… (photo from a previous Christmas)
…I kept the upstairs living room (aka bonus room/FROG) light and airy.
Last year (or was the year before–my years are all running together) I added a little chest over in the corner near the clock.
I fell in love with the chest after my daughter-in-law and I placed one between my grandsons' beds after giving their bedroom a makeover for Christmas. Since this photo was taken, my daughter found and hung adorable Christmas-themed pictures over their beds to complete the Christmas makeover.
Anyway, I love this blue chest but it felt as if it was crowding out the clock a bit.
My favorite part about it being in this corner was the view coming up the back staircase.
Since I liked the chest there, to fix the crowding issue I moved the tall-case clock to the long, upstairs hallway that's just outside that room. I liked seeing it here when coming up the stairs, but after a while, I never even noticed or thought about it. It's funny how we often stop noticing furniture when it's in a passage or hallway, I guess because we are always en route somewhere else, so our minds are definitely not on the hall or the furniture in the hall. Though the clock looks fine here at the top of the staircase, I really, really missed seeing it each time I walked into the upstairs living room.
So, I moved it back. Sorry about the dark photo, this was taken early this morning. Also, please ignore the dollhouse–it was on the trunk in the guest room until I moved the trunk out of that room. Now I need to find a new spot for it and the trunk.
Here's a better photo of the room on a sunny day to get an idea of how the clock normally looks in that spot. I definitely like the new lamp I just put in this room a lot better than the brass one I previously had here. (See photo above for that change.)
So where did the blue chest end up? I moved it out into the hallway. The narrow wall to the right is where the clock was before I moved it back to the bonus room.
This hall is really long, running the full width/length of the house, minus the rooms at either end.
There's another chest at the other end. I love how the two chests sort of balance each other out here in this long passage upstairs.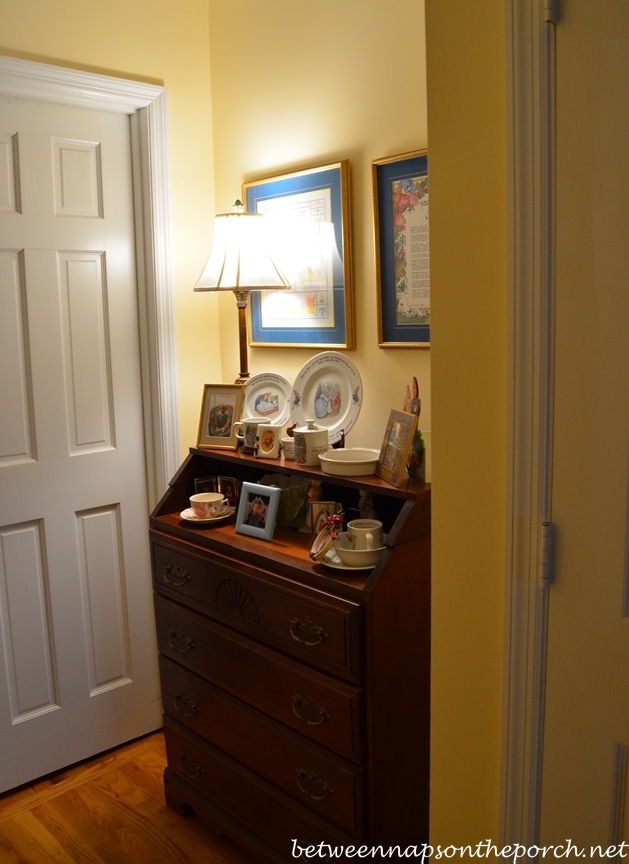 Here's a view of the upstairs hall showing both chests. In the evening, it's nice having both ends of the hall lit up without having to turn on the ceiling lights. Now I need to find a new spot for the trunk that I moved out of the guest room a few weeks back. lol See what I mean about all this furniture moving! I've thought about donating the trunk to a local no-kill, kitty shelter that has a shop where they sell donated furniture, etc… Just wondering if I could use it in another home if/when I move one day. In any case, I will be moving it out of the hallway sometime soon.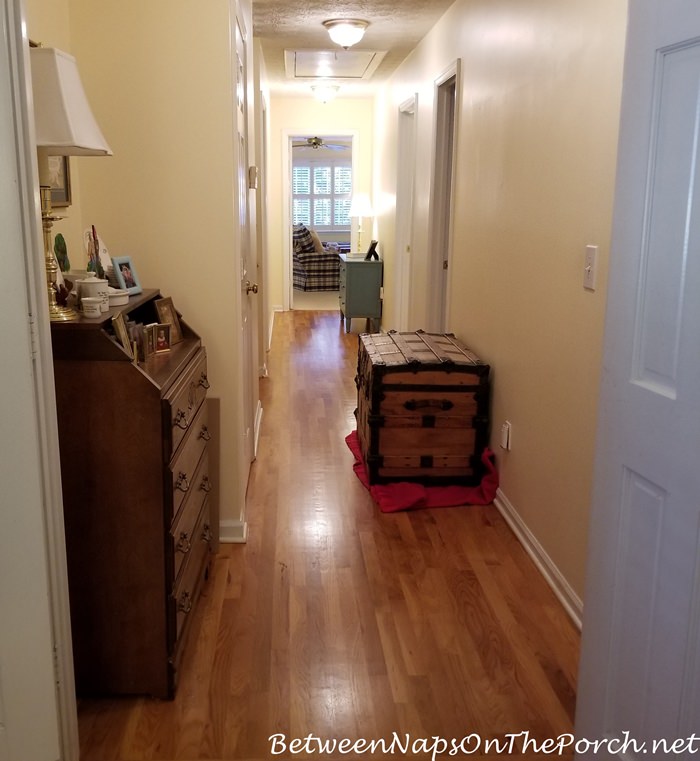 Have you been moving any furniture lately? Are you a regular mover of furniture or do you tend to leave things right where they are?
Looking forward to all the great Before and Afters linked for this week's Metamorphosis Monday!
Pssst: Did you know Between Naps On The Porch is on Instagram? You'll find me on Instagram here: Between Naps On The Porch.
Like to know when a new blog post is up and available to read? Subscribe for email updates, it's free and your email will never be shared.
Subscribe for free post updates via email here: Subscribe.
Metamorphosis Monday
Metamorphosis Monday is a party that's all about Before and Afters. Please link up your Before and After projects like DIY projects, room makeovers, craft projects even recipes. Any Before and After is great! Please do not link up Table Settings, save those for our Tablescape Thursday party on Thursday.
If you are participating in Met Monday, please link up using the "permalink" to your MM post and not your general blog address. To get your permalink, click on your post name, then just copy and paste the address that shows up in the address bar at the top of your blog, into the "url" box for InLinkz when prompted.
In order to link up, you'll need to include a link in your MM post back to the party so the other participants will have an opportunity to receive visits from your wonderful blog readers.
This party has ended, click button below for the links to all who participated.
*If a post is sponsored or a product was provided at no charge, it will be stated in post. Some links may be affiliate links and as an Amazon Associate, I may earn from qualifying purchases. *