Welcome to the 349th Metamorphosis Monday!
This cool fall weather has me itching to get outside and do a little sprucing up. Lately I've been noticing the bistro table I love to use for outdoor dining was starting to show its age.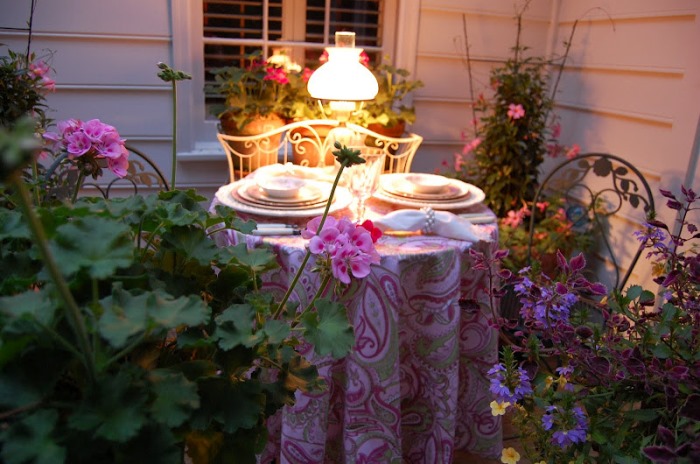 I normally use a tablecloth when dining here but the rest of the time the table is uncovered for everyday use.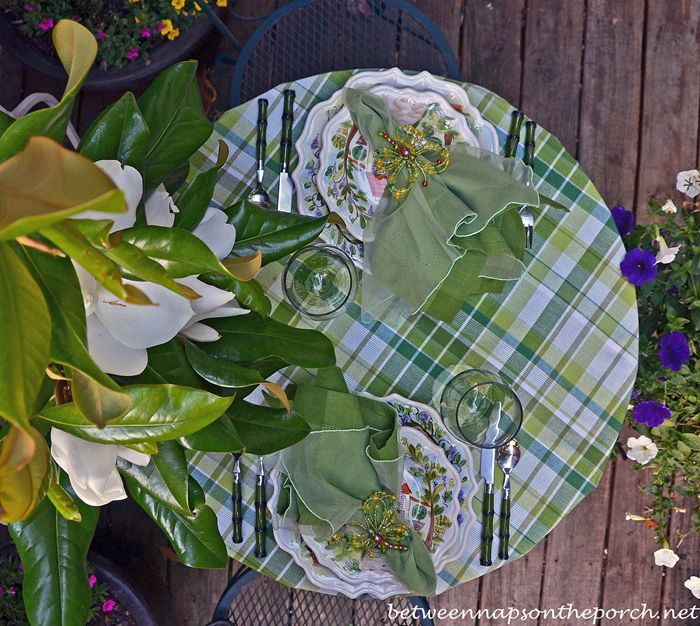 This set is made of metal. When I plant wave petunias in the pots nearby during the summer months, the petunias reach out, thinking the chairs are just right for climbing. The summer I came out to set the table for Tablescape Thursday and found this, I loved how the petunias looked too much to disturb them. Is there anything better than a chair full of pink petunias? 🙂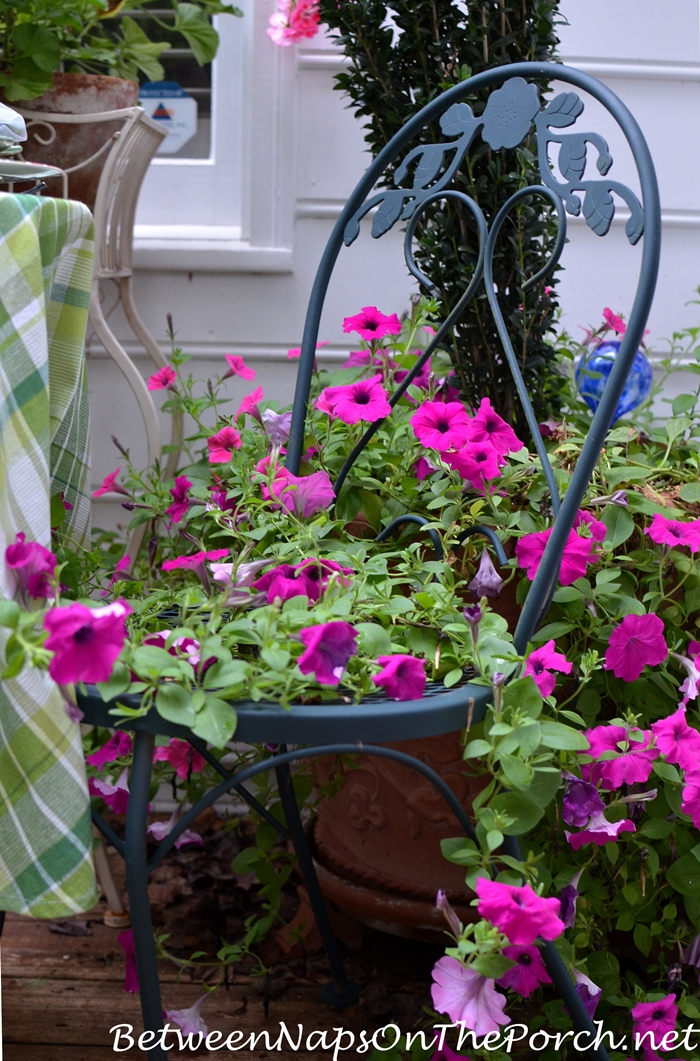 With fall here and no petunias to disturb this year, it was time to do a bit of refurbishing of this little dining spot. First thing it needed was a good scrubbing down to remove any dried-on hibiscus blossoms and dirt.
There was also the beginning tell-tale signs of rust.
Even the backs of the chairs were starting to show a hint of rust.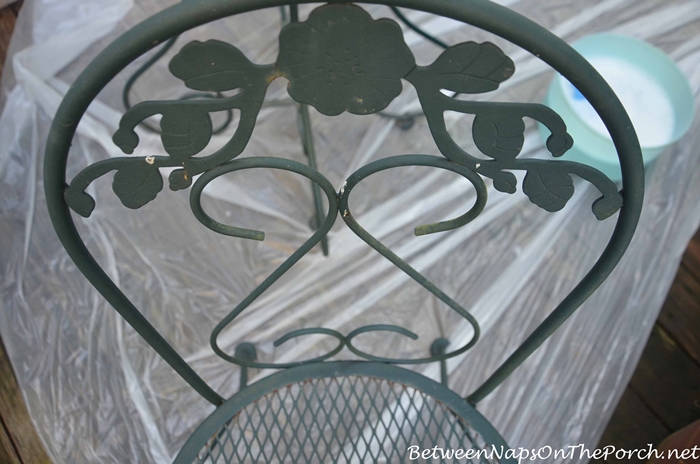 After placing plastic dropcloths down from my local True Value, I filled a tub full of soapy dishwater and gave the table and chairs a good scrubbing.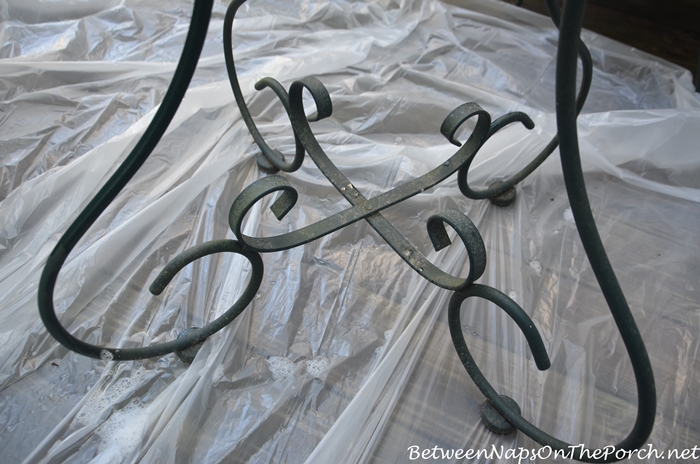 Remember when I built this cubby organizer to store my tools in my mini-workshop? During the time I was making the organizer I invested in an electric sander.
I purchased an awesome sander by Dewalt and it made the job of sanding smooth the little cubbie sections a fast, easy job.
Even though it isn't necessary to sand a surface before applying the paint that I planned to use, Rust-oleum 2x Ultra Cover Paint & Primer in Hunt Club Green, I decided to give the table and chairs a light sanding in the areas where I could see some rust. I've always loved the dark green color of this table and chairs so I was really happy when I found Rust-oleum made a color pretty much identical to the original paint color. I wouldn't be surprised if the original color was this exact Hunt Club Green.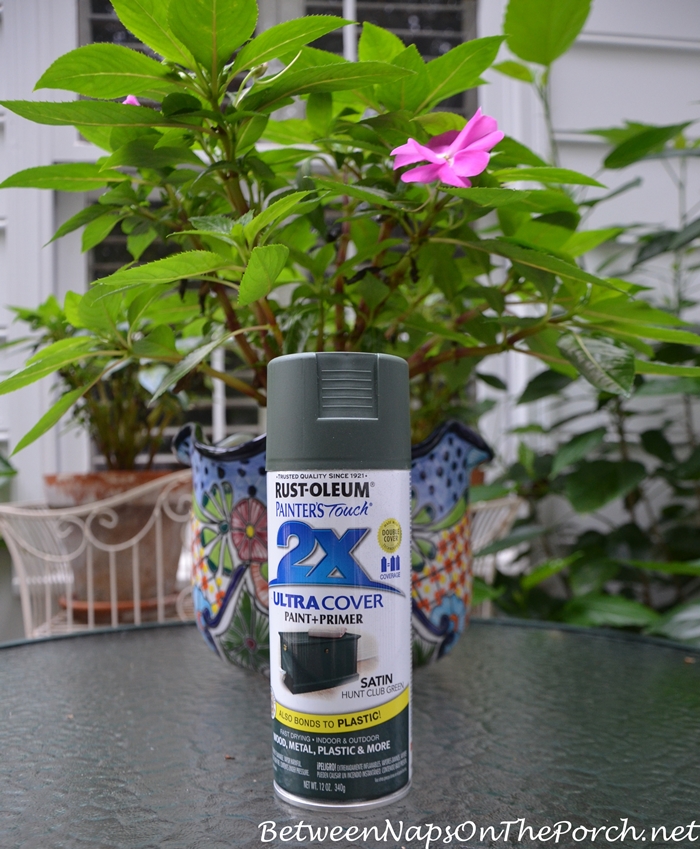 Before getting down to work, I put on a protective mask to avoid breathing in any of the sanding dust. I also wore a mask while painting. I buy these in bulk so I always have one before doing any sanding or spray painting.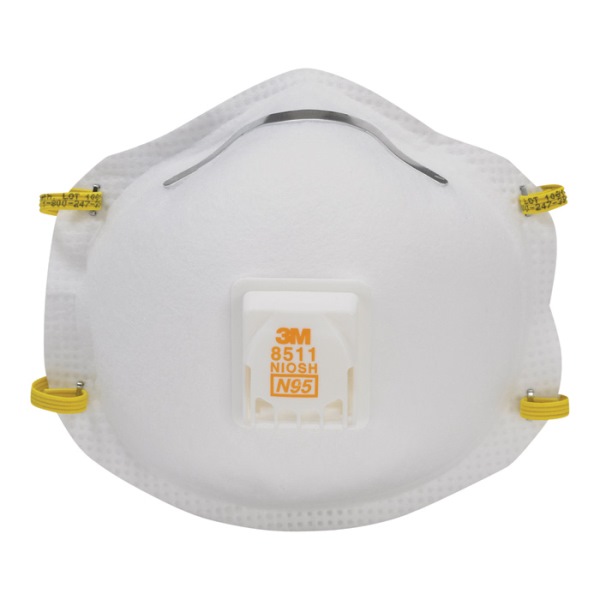 First I used the mini-wire brushes I bought when I repaired and painted my froggy fountain,
Then I gave the chairs a light sanding with my electric sander.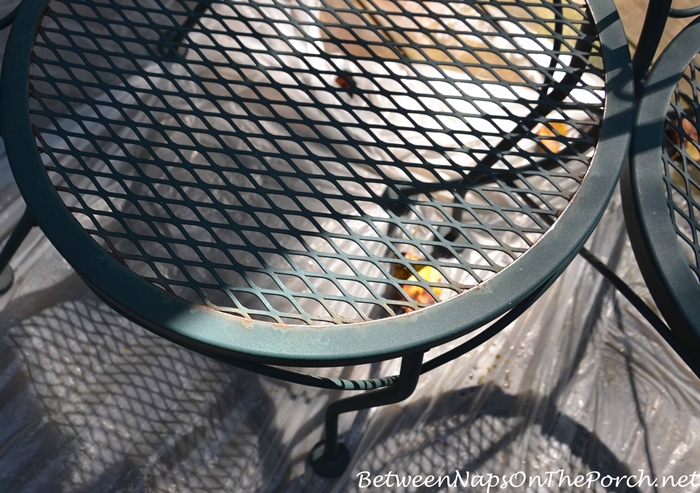 Next I pulled out my Scotch Blue Edge Lock Tape to tape off the glass area of the table.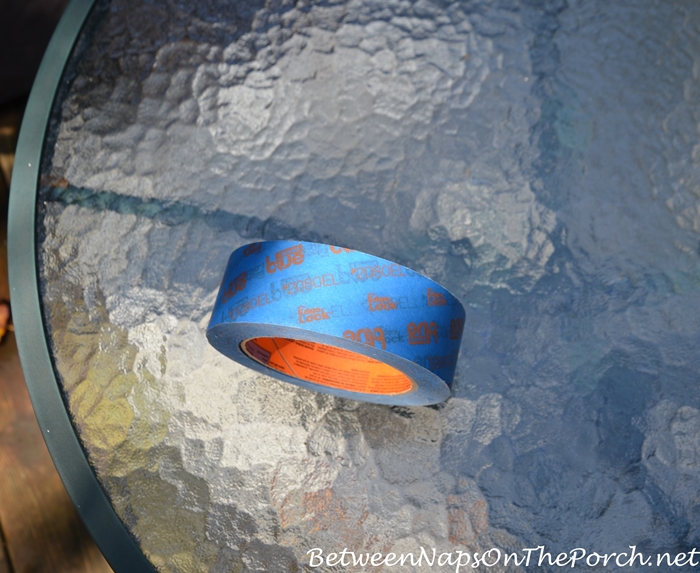 The taping off went quickly despite the table being round.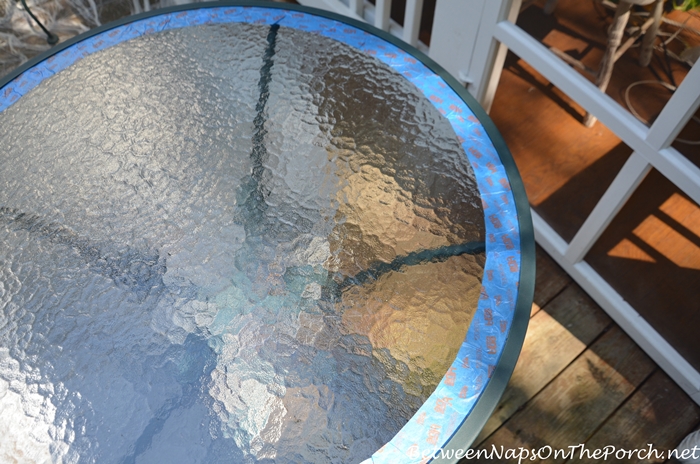 The tape is very flexible and bends to fit where you need it.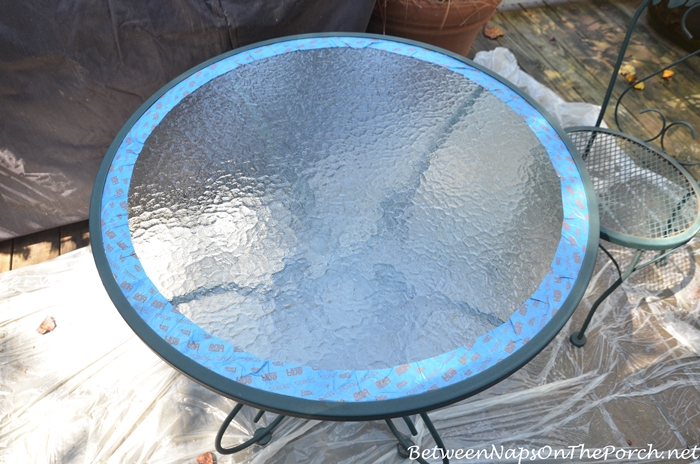 Once I had everything taped off, I got busy spraying. I covered the chairs and table with a two coats, although one really did a pretty good job of covering everything. The second coat was just to catch any spots I may have missed. When I removed the tape from the top, I had a little surprise. Oops! lol I should have used some of my plastic drop cloth or some newspaper and covered the whole top of the table.
Thankfully, Goof Off came to the rescue, easily removing the overspray from the glass. Paint thinner would work as well, but I already had a bottle of Goof Off on hand, so that's what I used.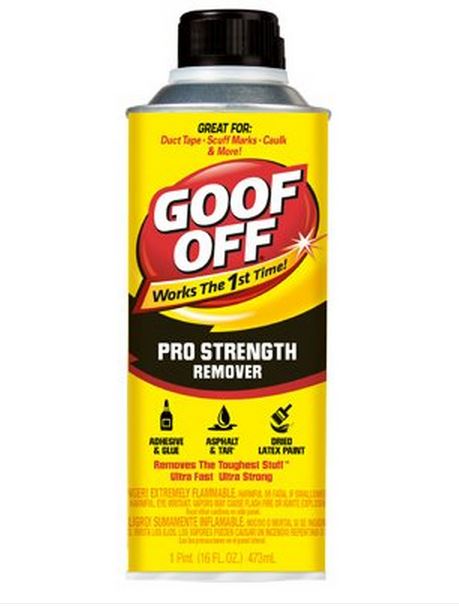 So here's how my little bistro set looked after refurbishing. I have to say, if I didn't know better, I'd think it was a brand new set!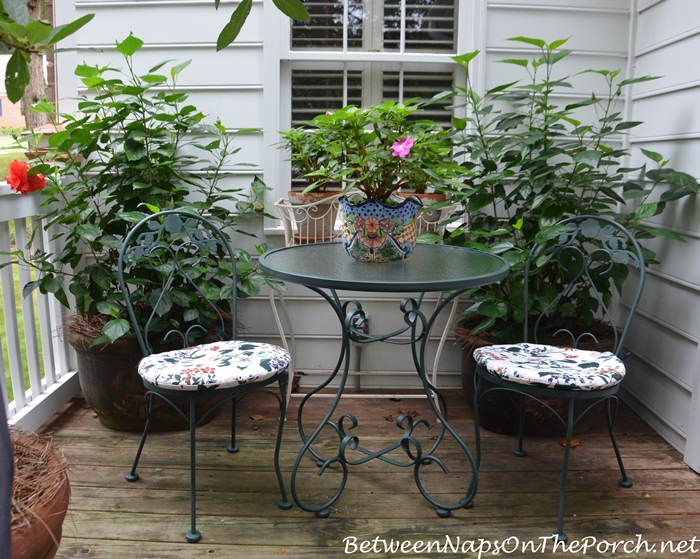 The cushions aren't new. They either came with the set or were sold to go with it way back when I purchased it many years ago. I store them inside when I'm not using them, so they have held up well over the years.
I was so surprised to see it only took one can of paint to makeover this whole bistro set, and that was applying two coats!
You can see how nicely the overspray cleaned up in this view. Again, it's easy to avoid that issue, just cut newspaper or a piece of plastic dropcloth close to the size of the top of your table, then using the painter's tape, tape it down to the surface to protect it.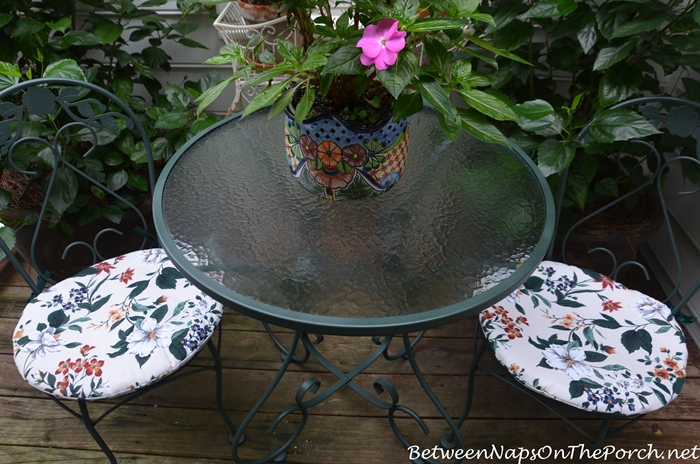 The chairs turned out great, too!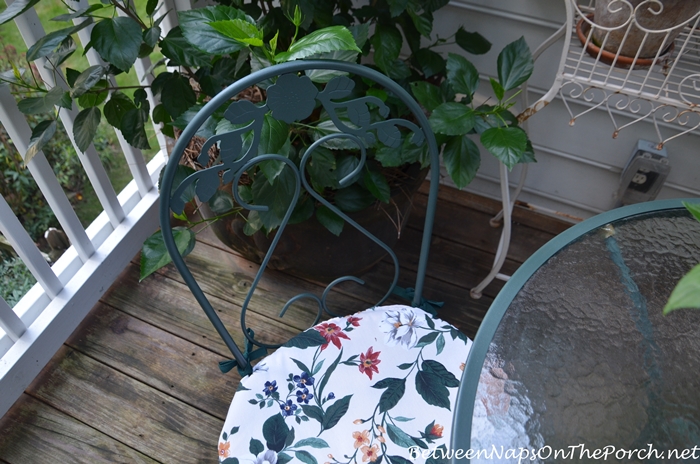 Love, love, love Rust-Oleum paint for refurbishing outdoor furniture!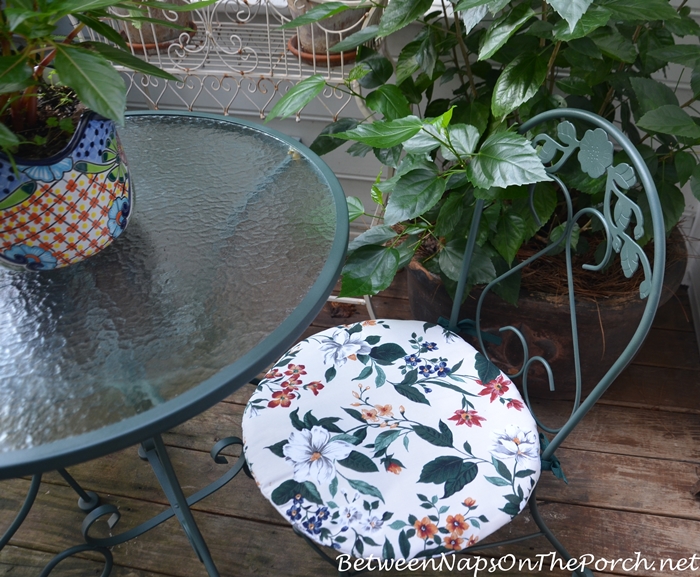 If you've never painted with spray paint, here are a few tips that I've learned over the years.
Shake the can well to mix the paint inside the can. While spraying, occasionally shake the can again just to keep the paint well mixed.
Be sure and wear a good face mask and always use spray paint outdoors or in a very well-ventilated area. Follow all directions as stated on the can.
Tape off and cover any surfaces that you don't wish to paint because it's easy to get some unintentional overspray as seen in my project.
When applying the paint, it's better to apply two-three light coats of paint instead of one heavy coat to whatever you're painting. If paint is applied too heavily, it tends to run. So resist the urge to try to cover a surface completely in just one coat. Rust-Oleum dries very quickly so you won't have to wait very long to apply another coat. Just follow the directions on the can regarding how long to wait before applying additional coats.
When applying paint from a spray can or from a spray dispenser, keep the can or container moving in a nice even pattern. Pausing will cause paint to pool up in areas, so just keep your hand and the sprayer moving. When you need to pause or stop, discontinue spraying.
I think this little table and chairs is all ready for a nice fall dinner here under the stars! What fall projects are you working on these days? Speaking of fall projects, be sure to tune into True Value's Twitter Party on October 13th from 8-9pm EST! We'll be chatting about fall DIY (prizes will be given!) follow along with the hashtag #ValueofDIY. See you there!
I was one of the bloggers selected by True Value to work on the DIY Squad. I have been compensated for my time commitment to the program as well as writing about my experience. I have also been compensated for the materials needed for my DIY project. However, my opinions are entirely my own and I have not been paid to publish positive comments.
Looking forward to all the fabulous Before and Afters for this Met Monday!
Metamorphosis Monday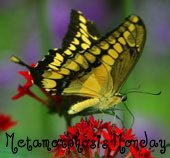 If you are participating in Metamorphosis Monday, please link up using the "permalink" to your MM post and not your general blog address. To get your permalink, click on your post name, then just copy and paste the address that shows up in the address bar at the top of your blog, into the "url" box for InLinkz.
In order to link up, you'll need to include a link in your MM post back to the party so the other participants will have an opportunity to receive visits from your wonderful blog readers.
Please observe these few rules:
Only link up Before and After posts that are home, gardening, crafting, painting, sewing, cooking, DIY related.
Do not link up if you're doing so to promote a website or product.
Do not link up a post that was just linked last week since a lot of readers will have already seen that post.
*If a post is sponsored or a product was provided at no charge, it will be stated in post. Some links may be affiliate links and as an Amazon Associate, I may earn from qualifying purchases. *