When updating or making improvements to your home, do you ever feel like you take three steps forward, only to take two steps back? You get a few things done and start to feel like you're making some headway, while unbeknownst to you little gremlins are at work messing something else up. I tell ya, home ownership is not for weenies! Recently, I had hardwood flooring installed in my guest room. I had been wanting to do that for ages and I truly love how it turned out..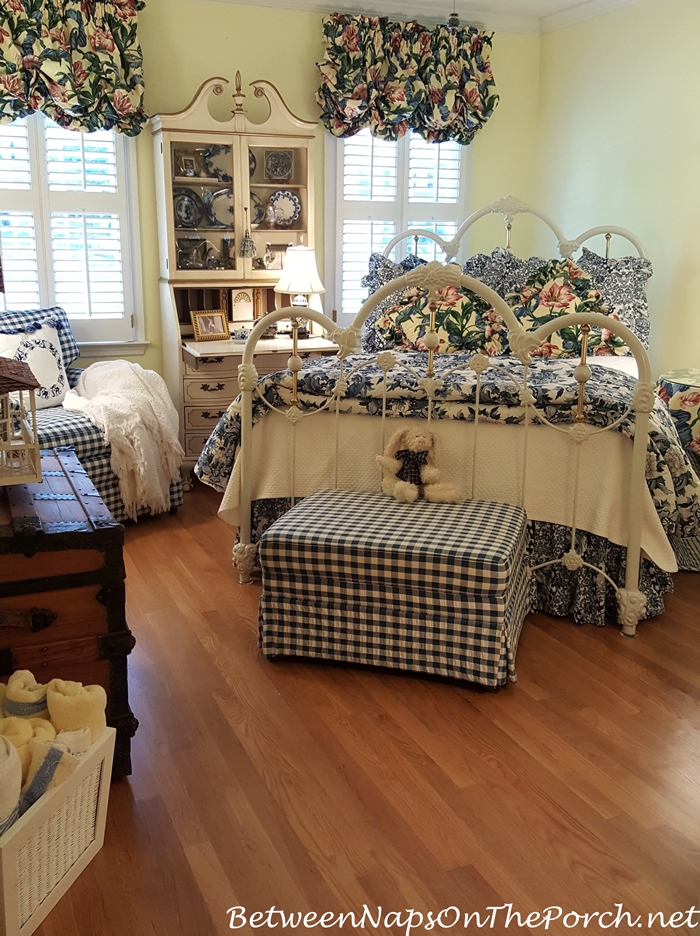 About a month before I added hardwood flooring in the guest room, I was vacuuming in my bedroom and I lifted up the seagrass rug (as I often do) to vacuum underneath the edge. You may have noticed that rug in previous pictures that I've posted of this room.
Here's a photo from several years ago with a better view of the rug. I found the rug in either Bed, Bath and Beyond or Linens and Things–it's been so long, I can't remember which store now.
Here's a close-up of it from a previous post written back in 2008. It's a seagrass rug and I loved the look of the rug, though it was never especially comfortable to walk on. It wasn't painful to walk on, just not very soft underfoot.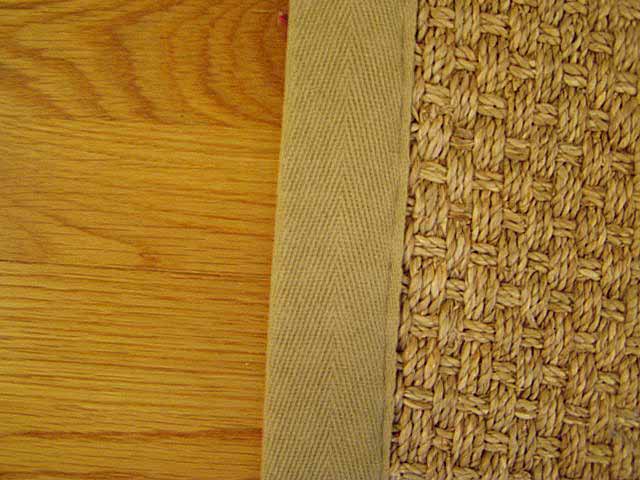 When I lifted the rug to vacuum, I got quite the shock. The latex or rubber backing of the rug was falling apart. The distressing part was that it was sticking to the hardwood flooring. 🙁 I took quite a few photos of the rug to share with you but I was unable to find them on my computer today. I must have accidentally deleted them. When the guys were here installing the hardwood flooring in the guest room, I asked them if they would help me remove the rug from under the bed. They did and this is how the floors looked in the "walking" path around the bed.
You can see in this photo of the floor at the foot of the bed, how the rubber/latex backing that had broken down/rotted away on the back of the rug, only deteriorated in the areas where the rug received pressure from walking.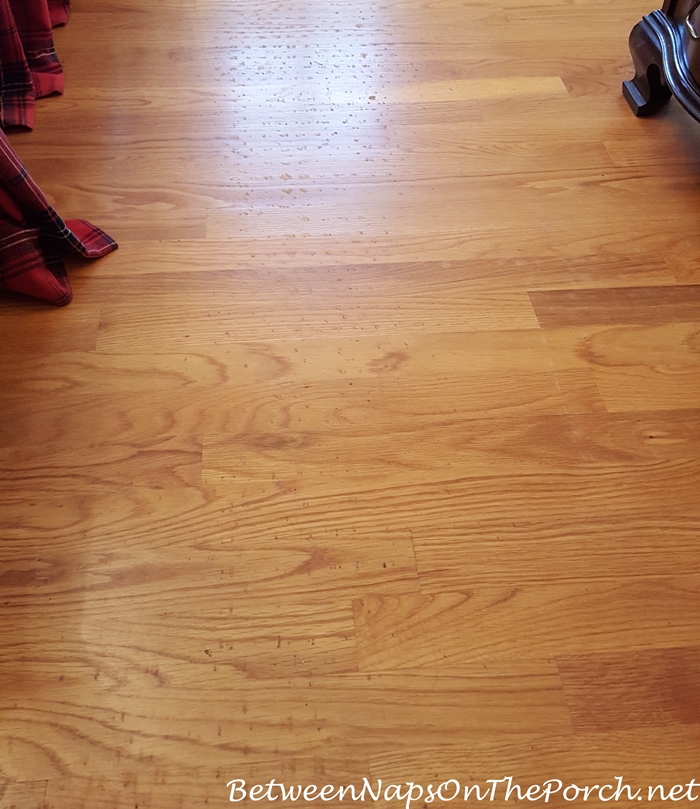 The rug also went up underneath the secretary that's near the foot of the bed, so this is what I found once I moved the secretary to a new place in the room. It had also deteriorated under the feet of the secretary. I tried scraping it off with my fingernail and it was impossible. You could scrap off the tiny bits, but in most places, it was way too thick. It was like concrete stuck onto the floor!
I asked the hardwood flooring guys what I should do and they suggested mineral spirits. I questioned if that would be safe for the hardwood floor and they said yes, it would be fine as long as I didn't leave it on there a long time. They said to wipe it on, then wipe it right back off, just don't leave it on the floor too long. I tried it and it didn't help at all, not even a little bit. The rubber backing didn't budge.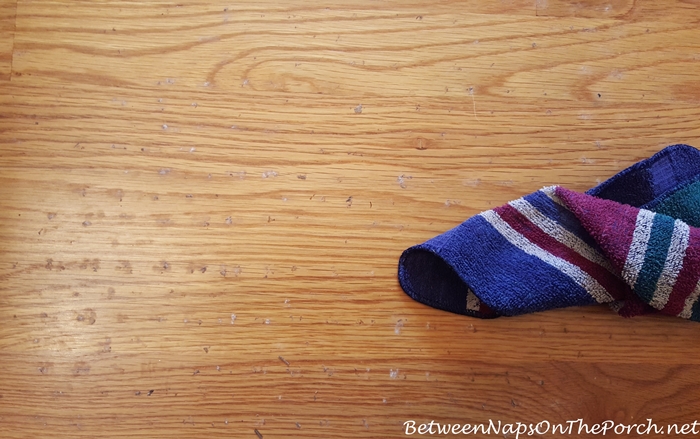 What to do next? I did what I always do, I went to Dr. Google. I Googled various phrases relating to the rubber backing of a rug breaking down and sticking to hardwood flooring and I came across a thread where several folks were talking about this problem. Apparently, it's not that uncommon. Someone needs to sue these companies that are making rugs with backings that deteriorate and damage the flooring underneath! Grrrr!
In the forum, people were suggesting all kinds of things and the person asking for help was letting them know that none of their suggestions had worked. Finally, someone suggested denatured alcohol, and someone else mentioned having had good luck using that.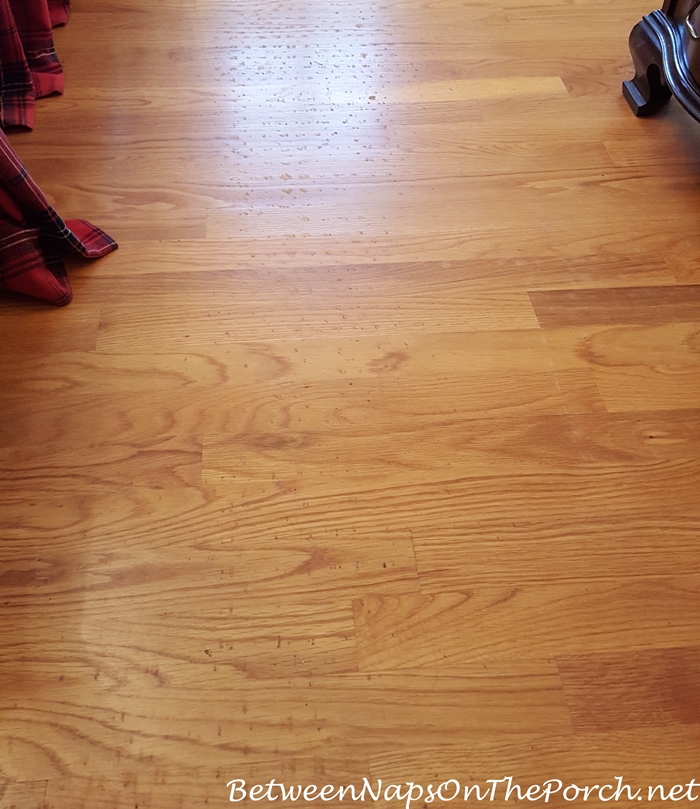 I drove to a Walmart Market that's near my home and checked in the pharmacy for denatured alcohol but couldn't find any. I asked the pharmacist and she wasn't sure exactly what it was either. She Googled and from the description, we decided that it sounded like something you would buy in a hardware store. I headed over to the hardware store and found it there immediately. I purchased this kind: Klean Strip Denatured Alcohol.
I was a bit nervous at the thought of trying it on my hardwood flooring, but at this point, I didn't have anything to lose. If I couldn't get this stuck-on latex backing off the hardwood flooring, I was going to have to have the floor screened and re-polyed or maybe even refinished. Before I tried it, I asked the flooring guys who were still here installing the guest hardwood flooring, if they thought it would be okay. They said, yes. So with their approval, I decided to go ahead and give it a try. It's kind of weird rubbing something on your hardwood flooring that says "clean-burning fuel" on the label!
Success! It did work and without that much scrubbing. I had to really work on the super thick chunks that had been left behind by the rug backing, but I was amazed at how well it worked. I was relieved to see that it didn't appear to damage the finish of the floor at all. You can see a spot where I cleaned the floor in the photo below. (I had to leave the rag I was using in the photo to get my camera to focus on the mostly blank floor.) The area I cleaned is there just above the rag.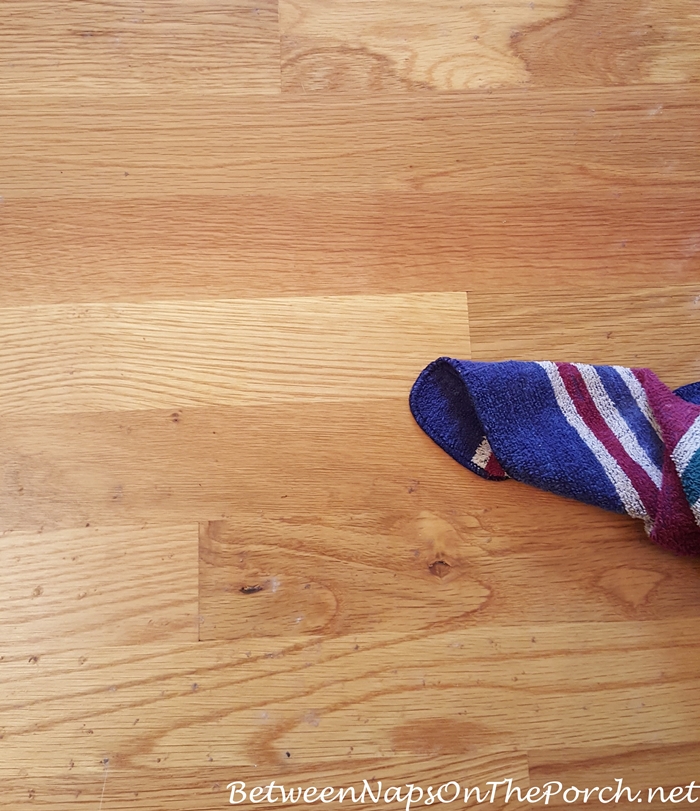 As mentioned, the only place the rug's backing deteriorated and stuck to the hardwood flooring is in the immediate path around the bed. Picture the path you walk around and around your bed when you're making it up in the morning, that's where the rubber backing stuff stuck to my hardwood flooring. I guess it broke down where there was repeated pressure over the years from walking. So far, I've cleaned the flooring down one side of the bed and about halfway across the foot of the bed. It was a lot of work and my arms/hands got tired, so I had to stop. I'll go at it again this evening to remove the rest. Here's how it's looking so far.
Once I've done all around the entire bed, I'll go back and look for little pieces I may have missed. The first pass over the floor seems to get the majority of it and loosens up the part that's left behind. So usually one more application gets the rest of the rubber bits and pieces off the floor. I've run my hands up underneath the bed and thankfully it's fine under there.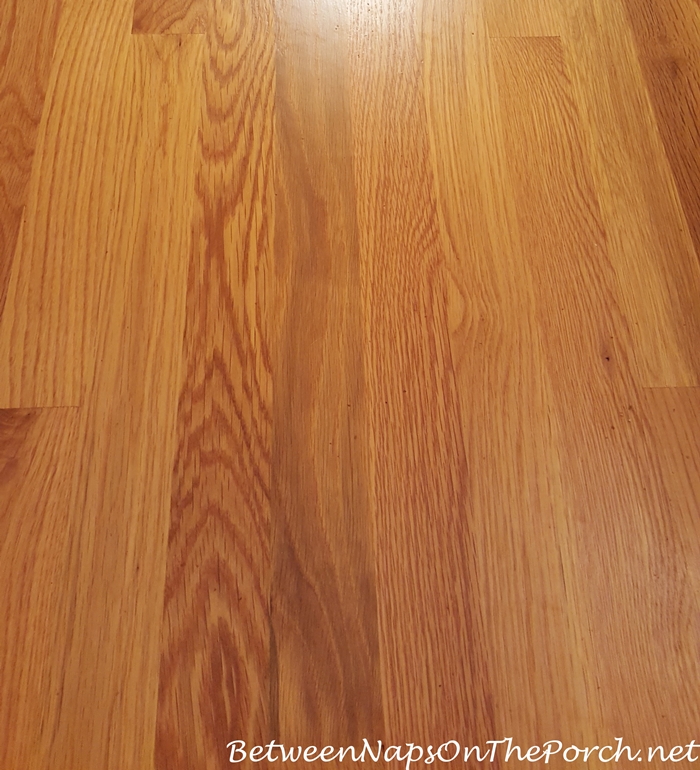 The only bad part, for now, is in just the right light, I can catch little shadows of where the backing was stuck down, like little smears atop the varnish or polyurethane. Do you see them there in the light in this photo below, the little smeared areas? I called A.L. Thomas, the flooring company I always use and trust, and asked what they would recommend. They told me to give it a little time and the shadows I'm seeing may eventually fade out–sometimes issues like that will correct themselves. I sure hope they're right, that would be wonderful! So I'm going to wait, maybe give it a year or so. If the shadows are still there, I'll have the floors rescreened or refinished in this room. They are barely noticeable now, so I don't mind waiting a bit.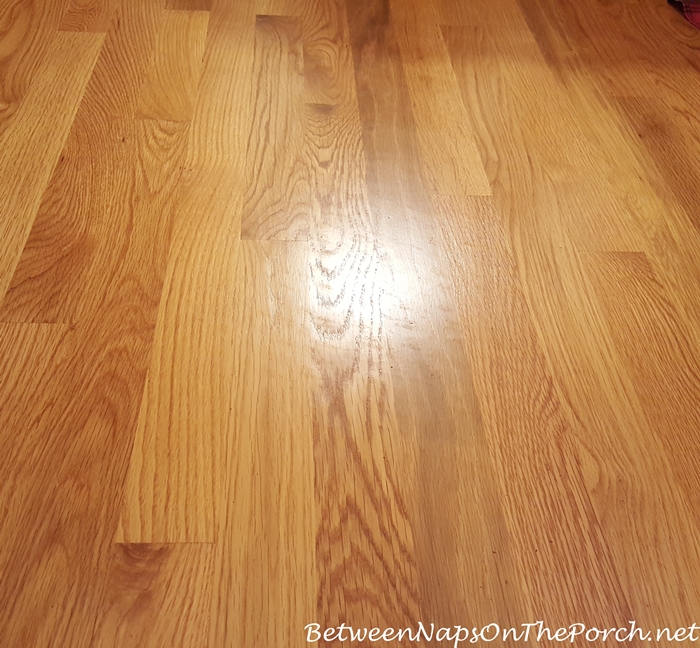 My Advice
Never, ever use a rubber or latex-backed rug on your hardwood flooring! If you do (and I wouldn't ever!) use one of those rug protector thingies underneath the rug. I still wouldn't ever use a latex-backed rug again after this experience because I'd be afraid some of the latex would get through the rug protector underneath. It's just not worth the risk!
The reason I didn't use a rug protector under this rug was that I've always thought those were only needed where a rug could slip or slide. Since my rug was underneath a bed with no risk of it slipping or moving around, I didn't think I needed anything underneath. I never expected the backing to fall apart like it did. And when it did, it went quickly. I have often lifted that rug up over the years to vacuum underneath, and it was always fine. Until it wasn't. 🙁 Update: I had some questions about the tartan bedding, you can read more about it in this previous post: Tartan Bedding
Go check under all your rugs if you have any rugs in your home with the rubber/latex backing. Better to catch it now before it has time to start rotting/deteriorating and ruining the floor underneath. I hope this post saves a few floors out there!
*If a post is sponsored or a product was provided at no charge, it will be stated in post. Some links may be affiliate links and as an Amazon Associate, I may earn from qualifying purchases. *