Happy Friday! Have any plans for the weekend? I hope to do something relaxing this weekend, feel like it's time to stop and smell the roses gardenias that are blooming in my yard right now.
The last month and a half has been a whirlwind of activity around here. I sat down the other day and listed all the things I had gotten done since returning from the Netherlands the first week of May. Here's how that list looked:
Painted and replaced 19 post caps on two decks
Had screened-porch floor re-varnished
Cleaned out guest room closet, including a large 5-drawer file cabinet stored there
Hauled off the file cabinet to be recycled
Took 3 large bags of papers and files to FedEx to be shredded & recycled
Added Hardwood flooring to the guest room & guest room closet
Got my surprising DNA Test results back
Purchased two garden benches for the front porch
Assembled both benches
Purchased and planted 16 boxwood shrubs
Purchased two HUGE planters, got them home and into the garden
Planted two Standard Limelight Hydrangeas in planters
Spread 16 bales of pinestraw
Mounted copper-roof dovecote bird house to 4 x 4 post, dug hole with post-hole diggers & installed house in the garden
Cleaned out the garage, donating 4 Christmas trees and tons of other stuff
Purchased a potting bench for the garage
Primed and painted potting bench
Assembled potting bench
Created a 3-tiered terra cotta planter
Numerous donation trips to Goodwill after cleaning out guest room closet and garage
Created & posted 36 blog posts, sent out 6 Postcards from the Porch newsletters and posted to the BNOTP Instagram 50+ times
Time for a nap on the porch! 🙂
During my running around time looking for shrubs and such, I made a trip out to Lost Mountain Nursery. They have the cutest garden shed and I ventured inside.
I found lots of fun goodies for the garden. I like the signs, especially the top one: Kinky as a cheap garden hose. lol
More garden whimsy…
How about a moss purse planter! Filled with red geraniums or some colorful flowers, it would make the cutest centerpiece for a garden party or garden luncheon.
I came across this vivid plant during my visit and was enthralled. I couldn't take my eyes off of it. I've really gotten into plants that look great at night, what's often referred to as a "moonlight" garden. My Standard Limelight Hydrangeas are in full bloom and are beautiful at nighttime. They almost glow in the light of the moon. There's just something magical about a moonlight garden.
The label identified it as: Acorus Gramineus 'Minimus Aureus'. It can take full sun to part shade and likes to have wet feet all the time. In fact, it's great for boggy conditions where the ground is always moist, making it ideal to plant around ponds or in water gardens. It makes me wish I had a pond. I think its bright color would work well in a moonlight garden.
After my visit to Lost Mountain Nursery, I headed off to another local nursery where I saw some more moss handbags. They seem to be a popular fashion style for the best dressed gardens this year. I wonder if Anna Wintour is aware of this latest fashion trend? 😉
There were a lot of patriotic garden-art pieces, including this cow that's actually a planter. Do you see the white geranium growing out of his back?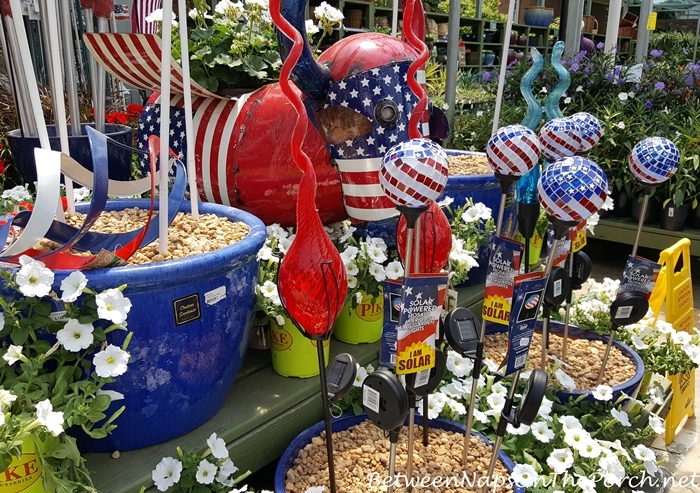 At another location of the same store, he was sporting a red geranium. I guess he's more of a bull than a cow with those sharp horns.
Maybe these guys are the cows.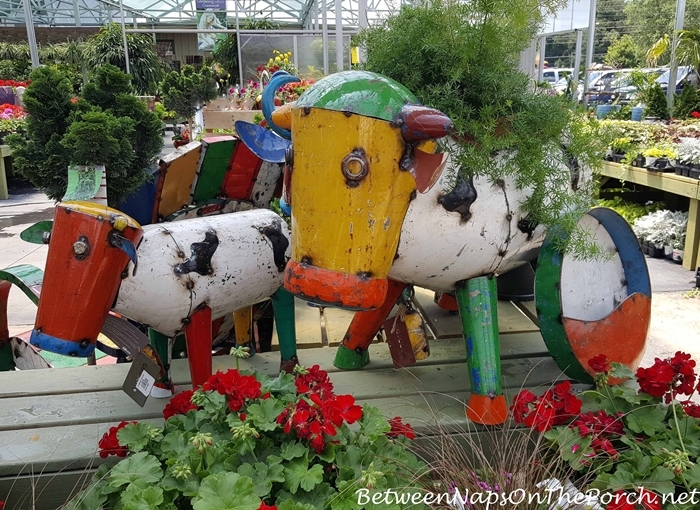 I love this van with the surfboards on top. It definitely gave me a giggle.
It made me think of my favorite "Pete the Cat" painting.
There was also an old, red truck for the garden. Funny, because normally we don't like seeing old, rusted-out vehicles in our gardens. Guess it's okay when they're this size.
It's a planter, too, and it reminded me of another truck in another garden.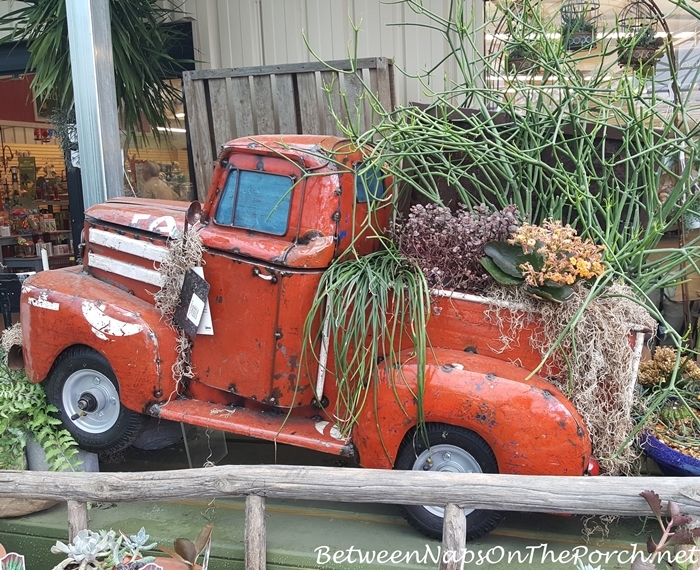 You may remember when I posted about a trip to Greenwood's on Green Street in Roswell, Georgia, a restaurant where you'll find a tree growing right up through the side porch that overlooks the garden. That's where we dined during out visit.
From the porch you can see this, an old truck that's also a planter. I wonder if this is where the artist got his inspiration for the truck planter I saw in the garden nursery.
There was also an old "woody" stationwagon, not a planter but just a bit of whimsical art for the garden.
Love this colorful Adirondack chair. It would certainly add a lot of color to the garden!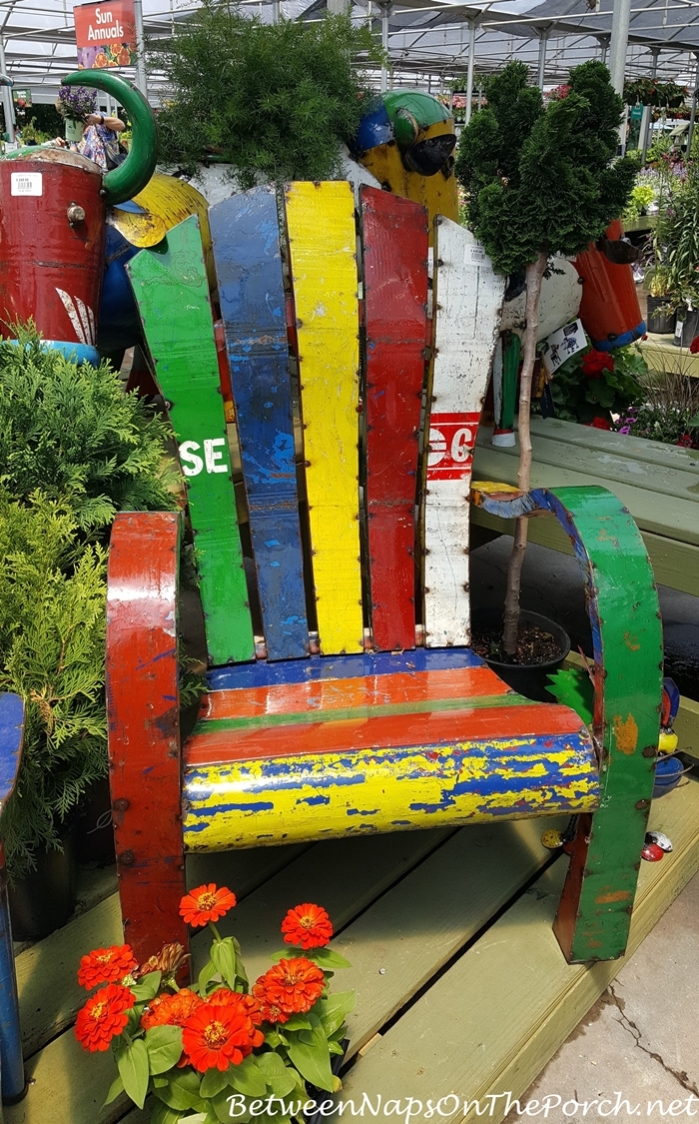 See anything you would consider for your garden? These would add a lot of whimsy to a cottage garden, wouldn't they?
Happy Weekend to you!
*If a post is sponsored or a product was provided at no charge, it will be stated in post. Some links may be affiliate links and as an Amazon Associate, I may earn from qualifying purchases. *