Welcome to the 703rd Metamorphosis Monday!
My home was built around 1982-83 so it's 40 years old now. I've lived here for 32 of those 40 years. Many, many years ago, sometime around the 2001-2002 time frame, I painted the walls of the garage. I don't remember now why I did that, I guess I thought they needed it.
In 2010, I turned my son's childhood bedroom into a home office. At that time, I moved all of his bedroom furniture down to the garage.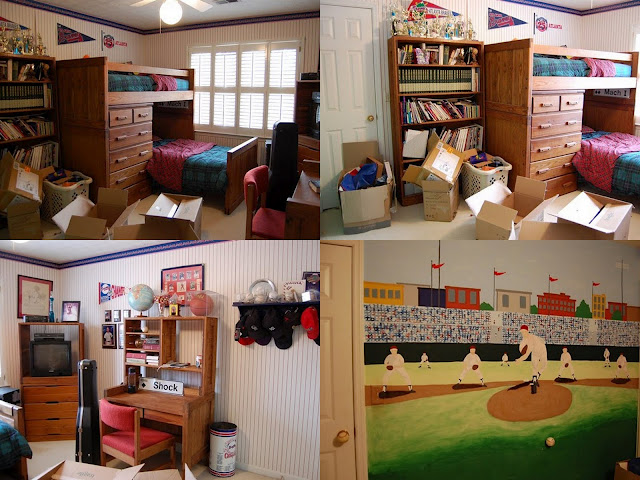 It was a big job, getting all that heavy furniture all the way down the stairs by myself, so I decided to not go as far as taking it all the way down to the basement.
I'm glad I only took it down as far as the garage because just a few short years later, it was needed again. I loaded the two beds into my SUV and drove them up to Ohio where the beds were once again employed in a dinosaur-themed bedroom makeover my daughter-in-love and I put together for my two grandsons. Over the next two years, during every trip to Ohio, I would take another piece–like the chest of drawers, another smaller chest that was also a cabinet for holding a TV, the desk, the desk hutch, and the desk chair. It was a journey getting it all there. The only thing I haven't been able to take is the huge bookcase that was a part of the bedroom set. It definitley won't fit into my SUV. One day I'll get it there, but currently, there's no room for it and it's not really needed, so there's no rush.
With all of that furniture finally out of the garage, I could see just how badly the garage needed to be painted again. Once I got that idea into my head, it was "Katie, bar the door!" The wheels started turning and this "paint -the-walls-project" has now morphed into a full-blown garage makeover.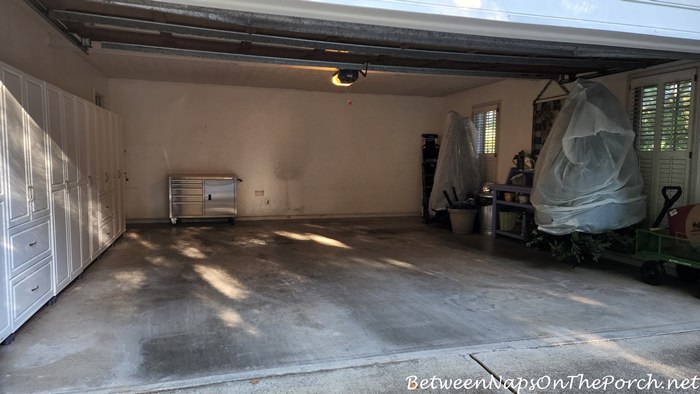 I've always wished for better lighting in the garage. These two small, builder-grade lights were all that I had here, other than the light in the garage door opener.
While waiting for the painters to be available (they will be here in two days!) I had new lighting installed. I LOVE this lighting! It is a million times brighter than the old lighting–definitely recommend it if you are in need of new lighting for a kitchen, garage, laundry room, or wherever.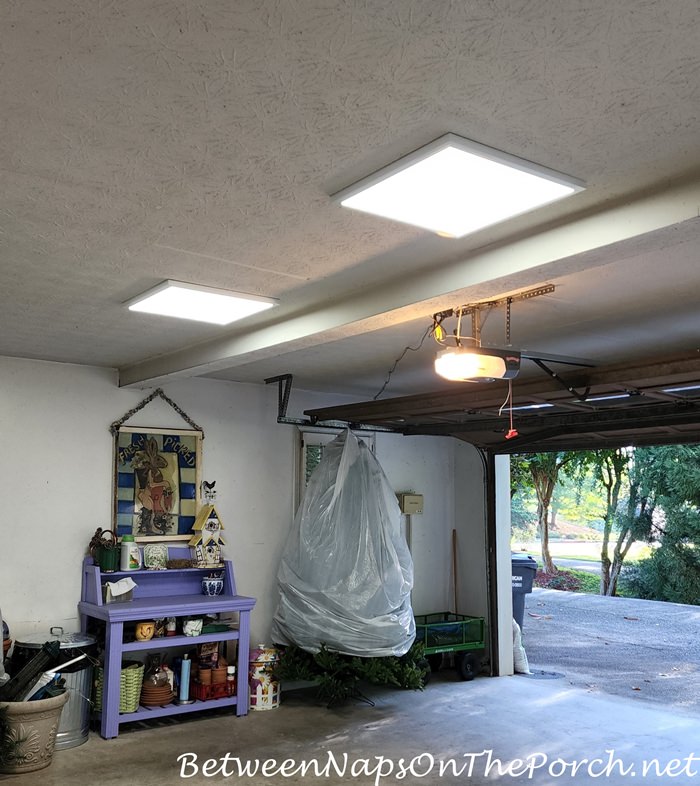 This lighting is designed with three settings: Soft White, Bright White, or Daylight–3000K/4000K/5000K. I went with the middle setting. The highest setting looked grayish white and the lowest setting had a yellow tinge/glow. The middle setting was perfect and really beautiful. It doesn't really come across in photos but it is a beautiful pure white light that is just perfect for the garage. I would totally use it in a laundry room or kitchen, as well. (This light is available here: Flush Mount LED Lighting.)
One of the things I wanted to have done before the painting took place was to have this wire that goes from the ceiling outlet to the sprinkler system, re-run along where the wall meets the ceiling, then down along the beam in the center of the garage so it would be much less noticeable. My sprinkler guy can't get here until next week, so he said to have the painters remove the tacks that are holding it up and let it droop down for painting the ceiling. He will be out next week to replace and reroute it with a new wire that will be a lot less noticeable.
During this makeover, I've decided to only have 5 cabinets down this wall of the garage. The cabinets have stayed so nice and clean inside over the past 4 years, all except for the one on the far left near the garage door. Being so close to the door, it collects dust, so I'll be moving it to the front wall of the garage and adding a couple of more cabinets to go with it.
One of my favorite parts of this makeover will be finally getting this wooden garage door painted. I have no idea why it wasn't painted when the home was first built since it was painted on the exterior side.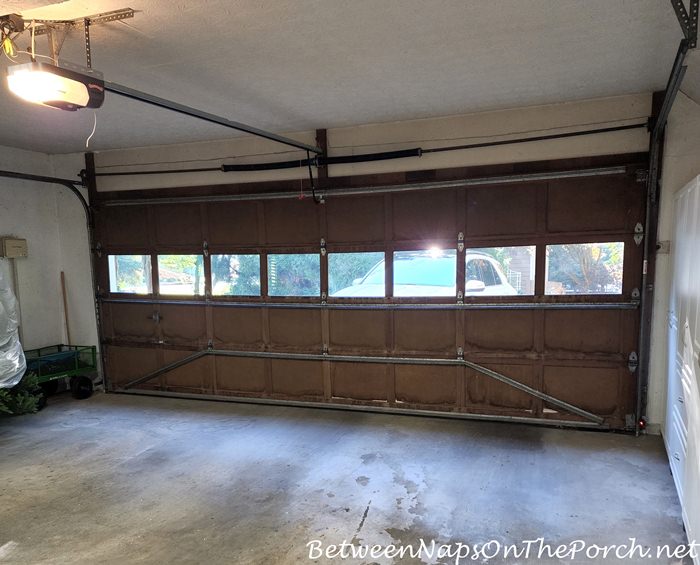 I've been second-guessing my choice for the new epoxy flooring. I've seen a few photos of this particular color installed and I think it looks a bit too white. The flooring guy will be back out tomorrow so I can take a look at the samples once again. They have me down on their schedule for an early August install.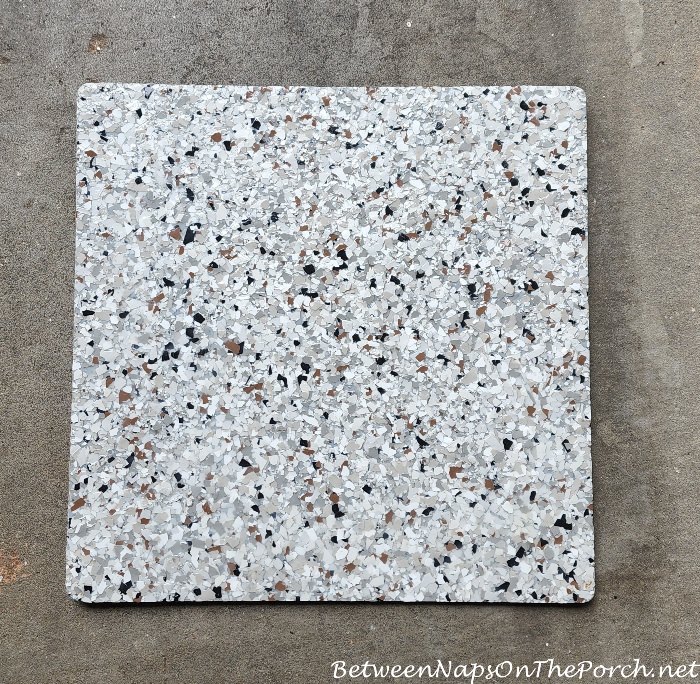 So that's a summary of where we are with the garage makeover. The painting is next and should take place this Wednesday and Thursday. Hopefully, it will only be a 2-day project. Things should be looking a whole lot better by the end of this week! Can't wait to share how things look once that is done. What projects are you currently working on in your home? I would love to hear!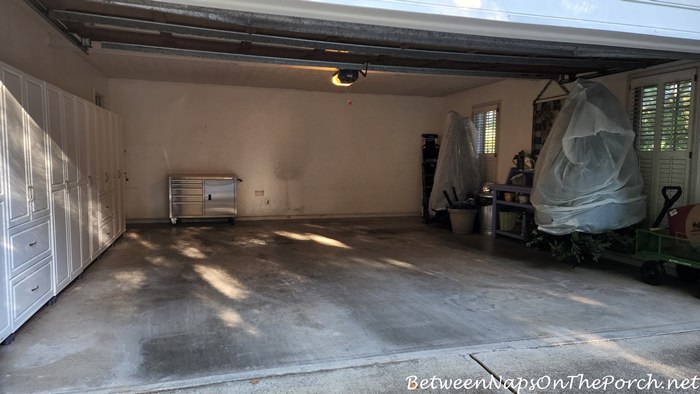 Looking forward to all the wonderful Before and Afters linked for this week's Met Monday!
Pssst: Did you know Between Naps On The Porch is on Instagram? You'll find me on Instagram here: Between Naps On The Porch.
Like to know when a new blog post is up and available to read? Subscribe for email updates, it's free and your email will never be shared. Subscribe for free post updates via email here: Subscribe.
Metamorphosis Monday
Metamorphosis Monday is a party that's all about Before and Afters. Please link up your Before and After projects like DIY projects, room makeovers, craft projects even recipes. Any Before and After is great! Please do not link up Table Settings, save those for our Tablescape Thursday party on Thursday.
If you are participating in Met Monday, you'll need to link your post to the party using the "permalink" to your MM post and not your general blog address. To get your permalink, click on the name of your post, then copy and paste the address that shows in the address bar at the top of your blog, into the "url" box for InLinkz when prompted.
NOTE: Please do not link up more than 3 posts from your blog. In order to link up, you'll need to include a link in your post back to the party so visitors to your blog can find the other party participants. When linking up to the party, give the InLinkz system time to find the link in your post to avoid having your link held for moderation/approval. Thanks!
This party has ended, click button below for the links to all who participated.
*If a post is sponsored or a product was provided at no charge, it will be stated in post. Some links may be affiliate links and as an Amazon Associate, I may earn from qualifying purchases. *