I couldn't resist picking up something from the current Talbots sale since everything on the entire site is 40% off. I'm still debating on this top–I LOVE the design but I prefer all cotton and it's a blend. It probably has enough cotton that I will love it. I may go ahead and order it today since the sale ends today. (Update: I did order it…just too pretty to pass up.) If you love this design as much as I do, you'll find it here: Beautiful Seaside Blue Top.
Love the colors in this summery tee! This is totally giving me beachy vibes! It's also 40% off and I ended up ordering it, as well. You'll find it on sale here: Summer Tee.
I had to get this green and white top. Bright summer greens are my favorite and I love how this looks with white pants/jeans. It should be great with my white shorts, too. It's on sale, as is everything I'm sharing today–the sale appears once it's in the cart. You'll find it here: Green and White Striped Tee.
My favorite white jeans for summer are Talbots white jeggings. I resisted buying jeggings for many years thinking they were only for younger folks. I was so wrong! They are incredibly comfortable and somehow magically have a slimming effect, especially when paired with a longer top or tunic-style shirt. I always buy the "curvy" fit, otherwise, I have issues with the waist gaping out on jeans. The curvy fit is available here: Curvy Fit Jeggings. If you don't normally have issues with the waist gaping out in back on your jeans, you'll find the regular fit here: Regular Fit Jeggings.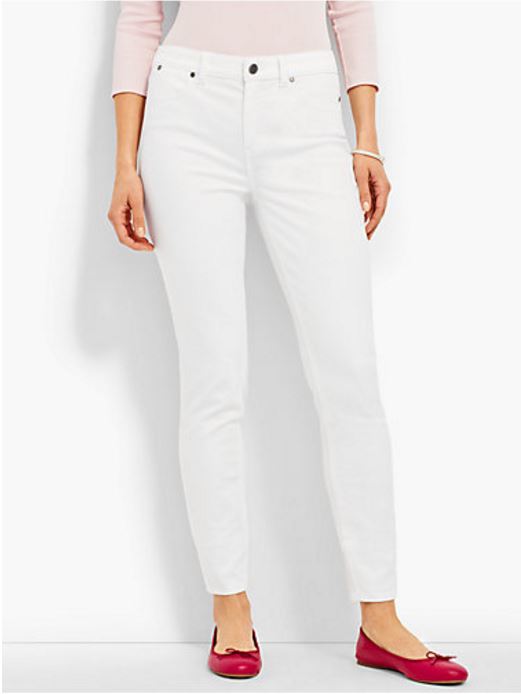 I love this cute brooch that's also on sale. There's also an adorable crab holding onto a pearl, too–so look for him if you check out the jewelry. 🙂 You'll find this sailboat brooch on sale here: Sailboat Brooch.
If you've been reading BNOTP for a while, you know I love my Ecco Yukon Sandals and pretty much live in them during the summer months. I wanted to try something different this summer and took a chance on these. Oh my Gosh–I LOVE them! I liked them so much after wearing them non-stop for 3-4 days, I ordered a second pair in a different color–those should arrive on Wednesday.
Just like the Ecco sandals that I love so much, these are fully adjustable all over. In fact, they are even more adjustable. You can adjust the width, the back, pretty much everywhere. I also love that they aren't too squishy feeling when you walk. I don't like sandals that have squishy, super-soft soles/bottoms because I always feel like I'm rocking and rolling in those–they can feel so unstable. These are not like that, they are the perfect amount of cushiness and I feel completely stable while wearing them.
When I first put mine on, I had the straps a bit too loose. I tightened them up and they are perfect. I love how stable I feel wearing these and they are so, so comfortable, I could stand in them for hours! I wore them recently when I was making so many trips back and forth moving allll the dishes inside. Definitely recommend these if you're looking for a comfortable, stylish summer sandal. They are also very reasonably priced–love that! Sizing-wise, I took my standard Size 7 in these, so if you order these, just go with your normal size and they should be fine. Can't wait to get my second pair. You'll find these available here: Awesome Sandals.
*If a post is sponsored or a product was provided at no charge, it will be stated in post. Some links may be affiliate links and as an Amazon Associate, I may earn from qualifying purchases. *