Welcome to the 474th Metamorphosis Monday!
Delphine enjoys traveling and has collected some wonderful memorabilia over the years. When she designed her guest room, she was inspired to decorate in a delightful travel/safari theme What a fabulous idea for a guest room since anyone lucky enough to sleep here would most likely love all things, travel.
For this travel-themed bedroom, Delphine found a fun leopard-inspired coverlet for the bed. Zebra accent pillows and African animal prints above the bed, add to this safari inspired setting. I love the suitcase at the foot of the bed! In the soft light of the lamps, this room really has a romantic feel, doesn't it?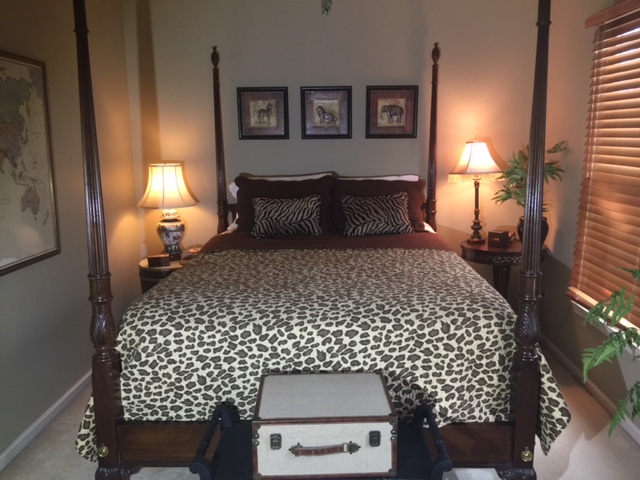 Of course, no travel-themed decor would be complete without a map for keeping tabs on where you've been and where you hope to travel next.
Do you see the red pins highlighting the places Delphine has been? If you have a large wall that you've been struggling with decorating, this would be such a cute idea! There are quite a few of these extra-large maps available here: Large Wall Map. You would probably need to have the map attached to a cardboard backboard or bulletin board designed for pinning. The red pins are available here: Red Push Pins.
Update: Delphine said her map was professionally framed and was mounted on a foam backing that's works well with push pins.
Across on the other side of this travel-themed guest room, you'll find more souvenirs and travel related memorabilia.
Delphine has a fondness for giraffes, as do I, so keep your eye out to see how many you can spot as we take a tour of this wonderful guest room.
I love the addition of the cameras, safari hat/jacket and binoculars. This is making me want to book a trip to Africa right now!
What a great piece for this corner of the room…so fun! Can you name all the animals in this whimsical totem pole?
Thanks so much to Delphine for sharing this wonderful, travel-themed guest room. It has reignited in me a serious case of wanderlust and makes me want to book a trip back to Giraffe Manor right now!
Do you have a room in your home that's decorated in a travel-inspired design? I think this would be really cute idea for a guest bathroom, as well.
Looking forward to all the wonderful Before and Afters for this week's Metamorphosis Monday!
Pssst: I post almost daily to Instagram. Follow Between Naps on the Porch on Instagram here: Between Naps On The Porch. If you enjoyed this post, subscribe for free email updates when a new post is up here: Subscribe for post updates.
Metamorphosis Monday
Metamorphosis Monday is a party that's all about Before and Afters. If you are participating in Met Monday, please link up using the "permalink" to your MM post and not your general blog address. To get your permalink, click on your post name, then just copy and paste the address that shows up in the address bar at the top of your blog, into the "url" box for InLinkz.
In order to link up, you'll need to include a link in your MM post back to the party so the other participants will have an opportunity to receive visits from your wonderful blog readers.
Please observe these few rules:
Please link up Before and After posts that are home, gardening, decorating, crafting, painting, sewing, cooking, fashion or DIY related.
Be sure to include a link back to the party in your post, so your readers will be able to find and visit the other bloggers who are participating.
Do not link up to the party if you're only doing so to promote or sell a product.
To those who are linking up: If you notice a shop or online store linking up to sell products (yes, unfortunately, that does happen) please let me know so I can remove their link and block them from participating in future parties. No one wants to click a link expecting a Before and After, only to find a spam link to an online business/store.
*If a post is sponsored or a product was provided at no charge, it will be stated in post. Some links may be affiliate links and as an Amazon Associate, I may earn from qualifying purchases. *