Welcome to the 320th Metamorphosis Monday!
Earlier this past winter when I was working on my winter bedding and was deep into all things plaid…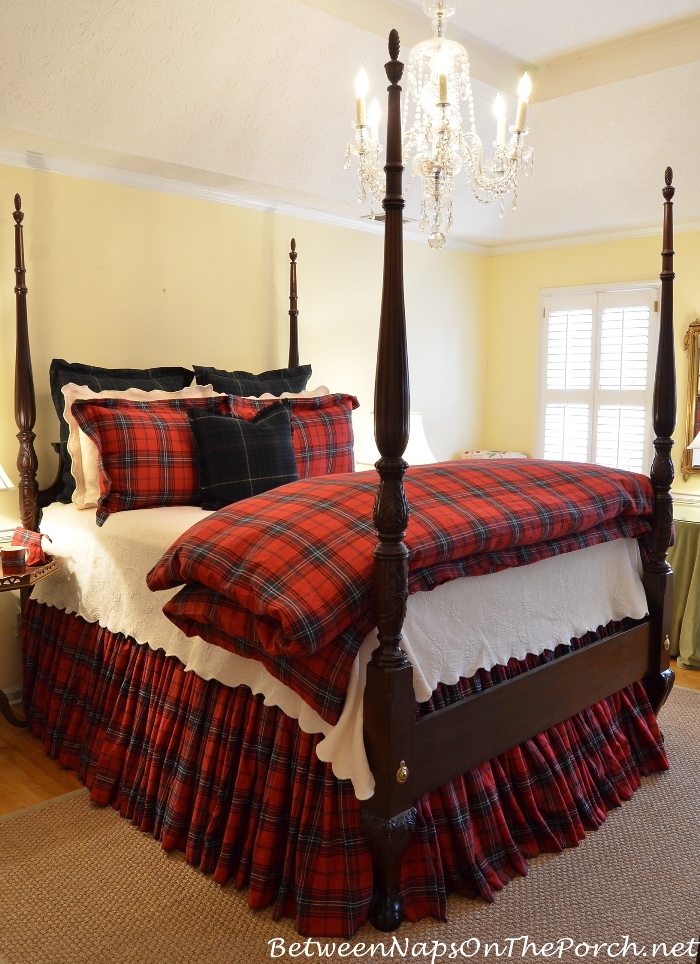 …I came across this picture of the Pendleton Weekender bag. It was love at first sight! There was just one problem. The bag hasn't been available for over two years. It was last sold in stores back in 2012. Drat! Don't you hate it when you trip across something awesome online, only to learn it hasn't been available in stores for years.
Apparently, when it was available, it sold for $198 which I think is actually a pretty good price for a Pendleton wool and leather bag of that size.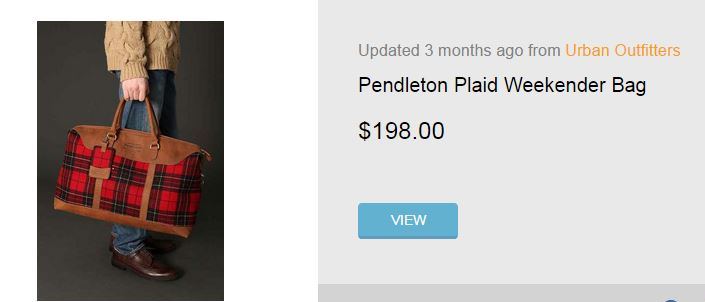 I would imagine it sold out quickly when star, Ginnifer Goodwin was spotted carrying one. Whenever a celebrity is seen wearing (or in this case, carrying) something, it often sells out within minutes or hours.
Over the last few months I've been occasionally checking eBay to see if by some miracle one might pop up. I wasn't having any luck finding it but eventually I found something perhaps even better.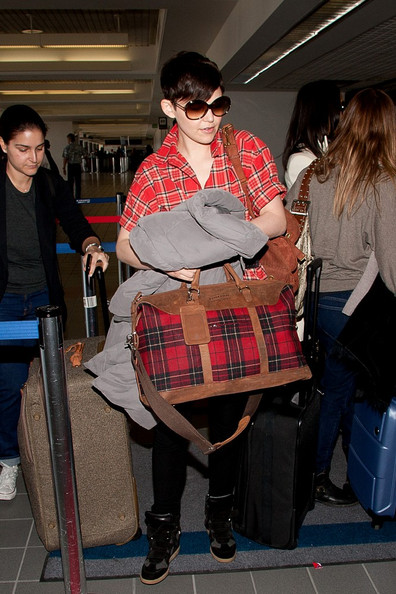 An auction came up for the wool and leather Pendleton Weekender bag in a Black Watch tartan. I love Black Watch, heck I love any plaid so I was thrilled to find it.
What made the auction especially awesome was it included a matching Pendleton wool/leather tote! The auction stated they were in great condition and looked brand new with only a small scuff on the leather of the weekender bag. I placed my bid and kept my fingers crossed. In the end I lucked out and won both for $103.50 plus $12 shipping, a great price considering the weekender bag alone sold for $198 when it was available in 2012.
When the bags arrived, they were in perfect condition except for one thing: they both smelled heavily of cigarette smoke. Usually eBay sellers mention things like that but this particular seller had not. I could have returned them but I really liked them. Plus, I knew how hard they would be to find again. So, I kept them and began reading everything I could find online about removing odors from purses, bags, clothing, etc…
I found a lot of information and ideas online from mixing a solution of vinegar and water to putting the item in a freezer to placing it in the dryer (with dryer sheets) on the little shelf most dryers have these days. I didn't want to risk damaging the wool fabric or leather with liquid concoctions or cold freezer conditions so I nixed any liquid and freezer suggestions.
I did try the dryer thing on a no-heat, air-dry only cycle, minus the dryer sheets since I've never liked the smell of dryer sheets. After about 40 minutes in the dryer, it didn't appear to be having any effect at all. I also tried placing baking soda (in its carton) inside the bags. After a few days there was still no real improvement.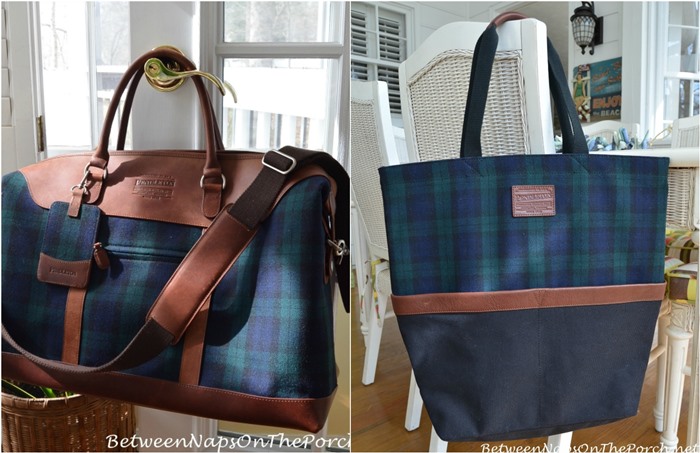 One idea I saw mentioned several times online was to simply allow the item to air out, out-of-doors. I liked that idea but during the time I was working on this little dilemma we were getting rain almost every single day. Plus, the temps were still quite cold out most days. Remember our freak snow storm? Even our sunny days had pop-up showers throughout the day and some days it was nothing but rain.
On a few of the mild days, I hung the bags from chairs out on the screened porch and I did see some slight improvement. I think with time the airing-out method would have eventually worked, although I think it would have taken a while since I didn't want to put them in direct sunlight for fear it would fade the leather or fabric.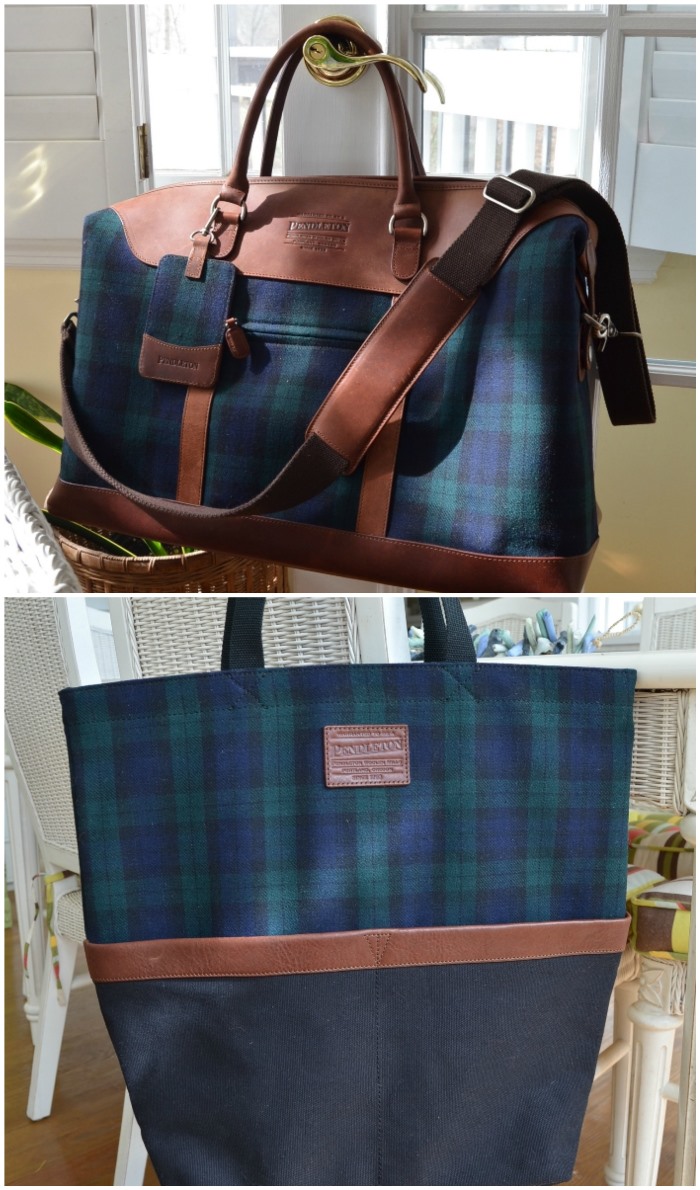 In an effort to speed up the process, I visited a couple of stores in search of something for getting smells/odors out of things. I came across this: the airBoss Charcoal Closet Deodorizer. I noticed it said it would neutralize mold, mildew, TOBACCO—ding, ding, ding, ding, that got my attention! I purchased two, one for each bag. Once home I looked them up online and the reviews were awesome. Folks said it really worked! Per the packaging, the air Boss Deodorizer contains odor absorbing charcoal.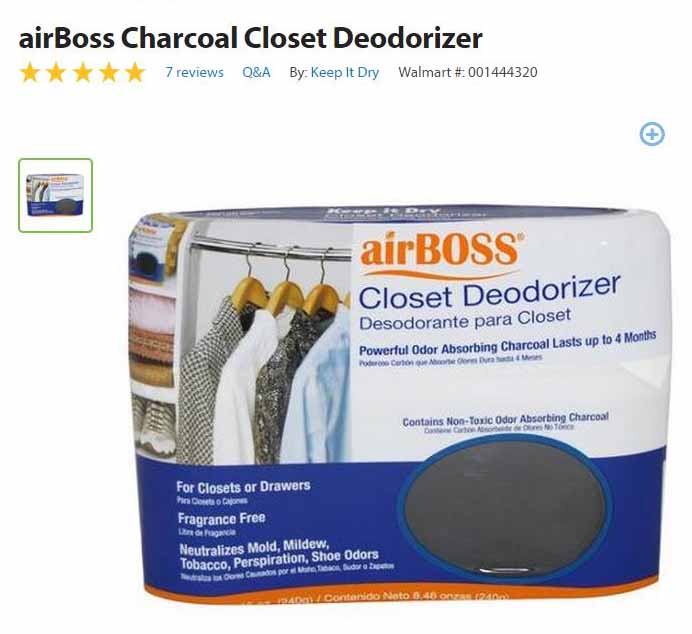 To open it, you tear off the top part of the wrapping along the perforated line, lift off the blue, plastic thingy, remove the silver foil seal that's covering the charcoal inside, then place the blue, plastic thingy back.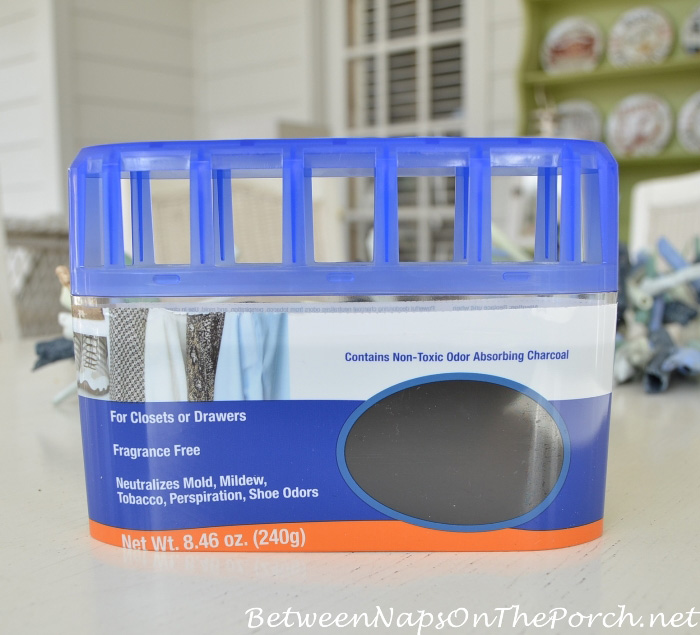 I placed one airBoss in each bag, zipping up the weekender bag. I've had them inside the bags for about a week now and they definitely appear to be working. The smell has decreased drastically. Now when I stick my nose down inside one of the bags, I just smell wool and leather.
I wanted to share this in case you ever run into this issue with a purse, bag or tote. A combination of airing out the item on a porch where the breezes flow through and tucking an airBoss inside appears to do the job of removing cigarette smoke and tobacco smells.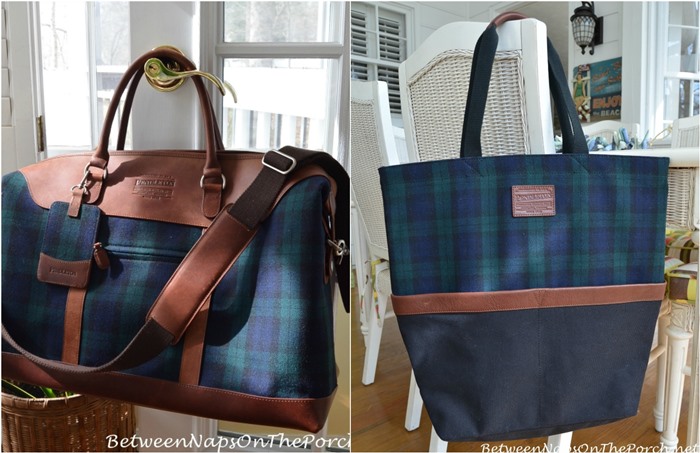 By the way, this isn't a sponsored post or anything, just sharing the good stuff when I find it!
Looking forward to all the wonderful Before and Afters for this Met Monday!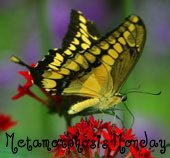 If you are participating in Metamorphosis Monday, you will need to link up the "permalink" to your MM post and not your general blog address. To get your permalink, click on your post name, then just copy and paste the address that shows up in the address bar at the top of your blog, into the "url" box for InLinkz.
In order to link up, you'll need to include a link in your MM post back to the party so the other participants will have an opportunity to receive visits from your wonderful blog readers.
Please observe these few rules:
Only link up Before and After posts that are home, gardening, crafting, painting, sewing, cooking, DIY related.
Do not link up if you're doing so to promote a website or product.
Do not link up a post that was just linked last week since a lot of readers will have already seen that post.
Please do not link up more than 2 or 3 Before and Afters each week. Thanks!
*If a post is sponsored or a product was provided at no charge, it will be stated in post. Some links may be affiliate links and as an Amazon Associate, I may earn from qualifying purchases. *