Welcome to the 677th Metamorphosis Monday!
Hope you had an awesome weekend! We had a mini-snow storm on Sunday. It was short-lived but pretty while it was coming down. Did you see any snow in your area over the weekend?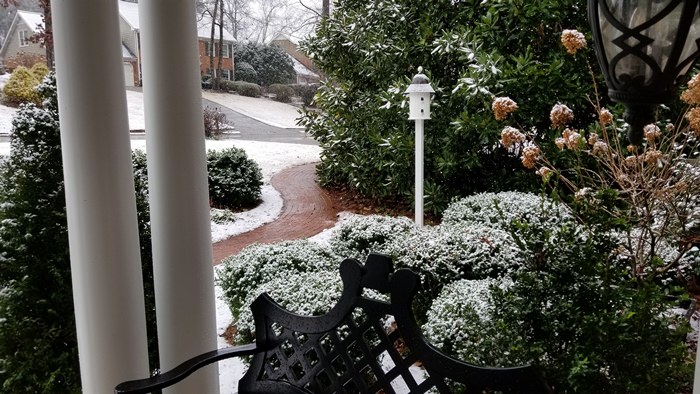 In a previous post a few months back, I mentioned the bowing issue I was having with the Ikea Billy bookshelves in my home office. Two lovely BNOTP readers suggested I look into the Ikea Hemnes bookcase which is made of solid wood. That was right around the time I was turning the guest room into a dual-purpose space for storing my smallish handbag collection. That has worked out great since the guest room is so rarely used and when visiting, family almost always prefers the queen-size sleeper sofa in the upstairs bonus room over the full-size bed in the guest room.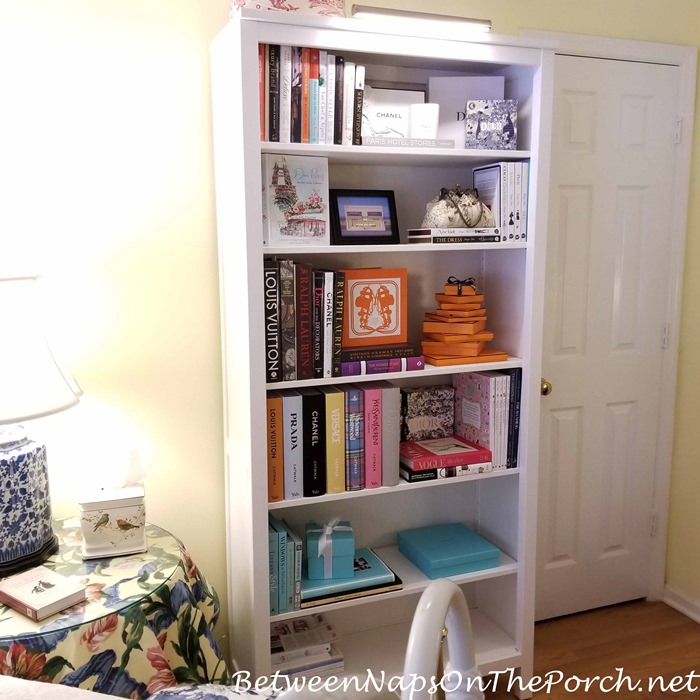 The other addition I made to the guest room was this Hemnes bookcase for storing fashion-themed or fashion-related books. (If you missed that previous post, you'll find it here: A New Bookcase (and Bookcase/Picture Light) for the Guest Room.) Today I thought I'd share a bit more about how the Hemnes has worked out and a few things to be aware of if you are interested in adding this bookcase to a room in your home.
First off, I really like this bookcase and I'm very glad I purchased it for the guest room. I have not seen any bowing at all with the shelves, even the ones that are holding my heavy collection of "Catwalk" books. (If you love fashion design, you'll find that collection available here: Catwalk Books.)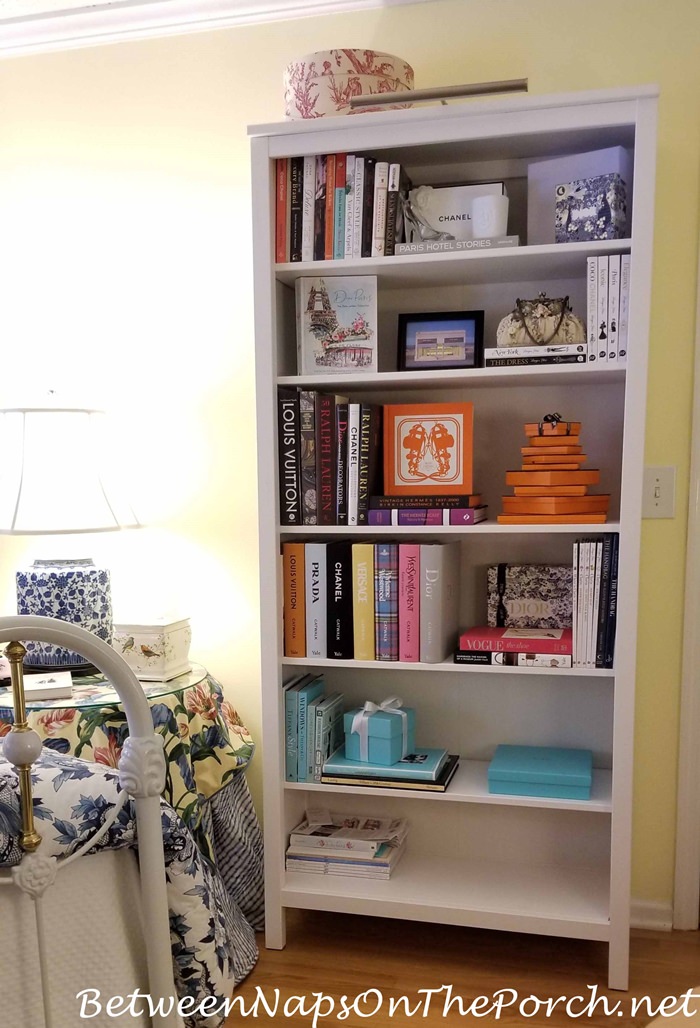 I've had so much fun decorating these shelves with fashion-related pieces like this little Mary Frances bag purchased many, many years ago.
I love this wee bag for special evenings out. It's truly a Mary Poppins bag and holds a lot more than you would imagine.
Hemnes Bookcase and Its One Design Flaw
If you are thinking of purchasing a Hemnes bookcase, there's really only been one design flaw that I've noticed with the Hemnes–and that's the way the sides of the bookcase actually block or hide whatever book is placed on the far left or far right of a shelf. Unless the book is a really wide book, it can end up completely hidden or lost behind the front edge of the sidewall of the bookcase. (Dear Paris: The Paris Letters Collection is available here: Dear Paris: TheParis Letter Collection.)
Even if it's a wide book, like say one of the Catwalk books seen below, if the shelf was full of books, you would have to remove a book from the shelf and slide all the other books over to be able to pull out whatever book was stuck behind the sidewall.
To deal with that issue, I filled that spot on each end of the shelves with books I rarely read, knowing that once they were in place behind the sidewall, I would most likely forget about them and never access or read them again. So though you can't see it, there's a "filler" book hidden behind the front edge of the Hemnes sidewall to the left of both of the Louis Vuitton books on the shelves in the photo below.
Last night, as I was going through my photos for this post, I was thinking again about how I wish Ikea had provided 12 "filler" blocks made out of heavy cardboard (or something) to fill in that spot behind the sidewalls of the bookshelf. Then I remembered some square, cardboard thingies that had come inside the box of an item I ordered recently. (I'll be sharing that item soon in a future post.) These cardboard pieces are almost perfect as filler for that empty spot behind the sidewall of the Hemnes. Though just slightly narrower than I need, I was able to remove three of the filler books I had been using and replace them with these cardboard pieces last night.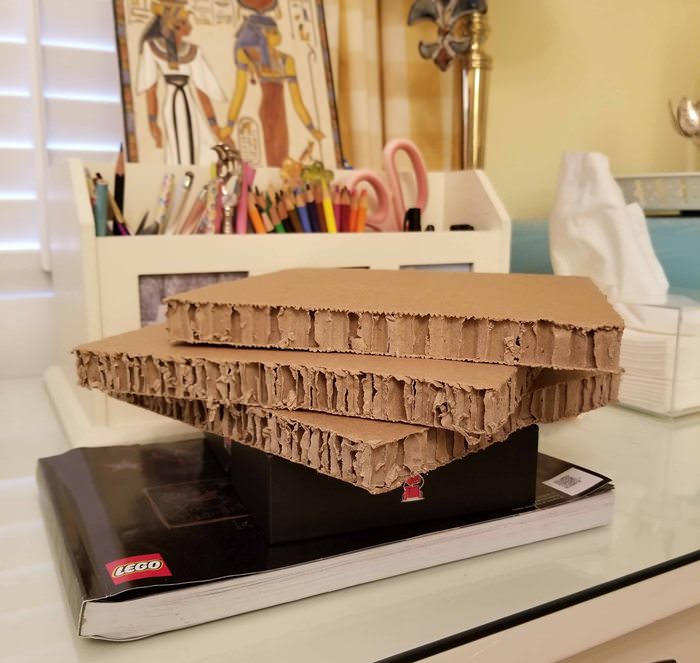 The only other odd issue I've had with the Hemnes was the surface of one shelf felt as if it had missed a second sanding. Often when you paint wood, it raises the grain. When that happens, you normally go back and knock the grain back down with a second light sanding, followed by another coat of paint. Most of the painted shelves of this Hemnes bookshelf felt nice and smooth, but there was one that had a very rough surface–so rough I would never want to pull the bottom edge of a heavy book across it while removing it from the shelf. I think that would damage the book very quickly. I'm guessing that particular shelf just didn't get sanded down well enough at some point in the construction process.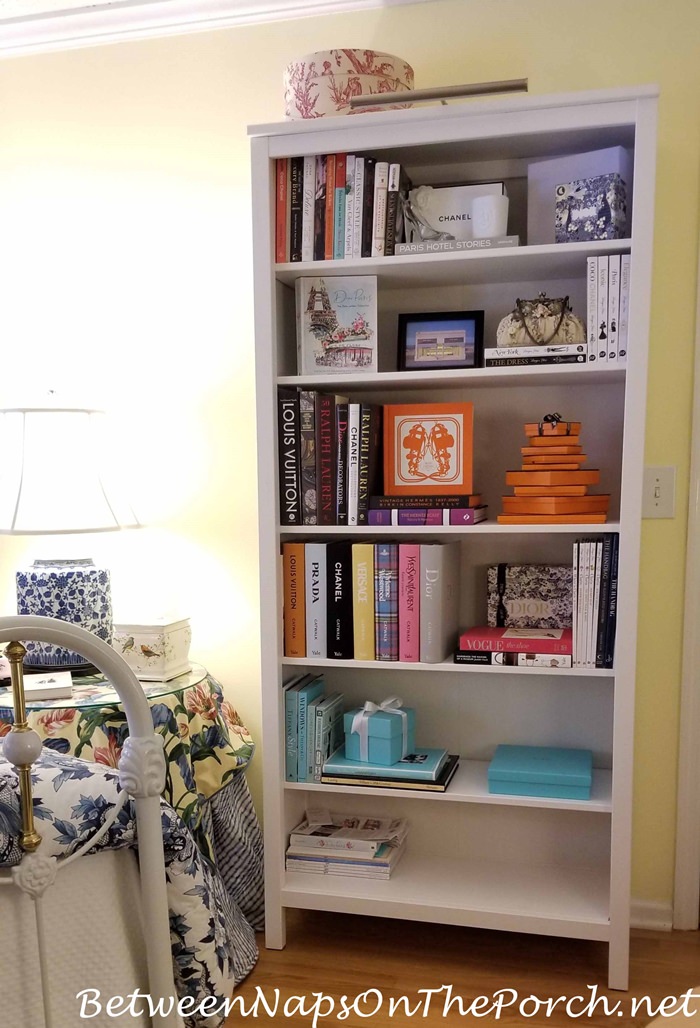 Ironically, when I was assembling the bookcase, that shelf had ended up in the spot where I was storing my big, heavy Catwalk books. Arggh.
So I ended up moving that shelf to the top of the bookcase where I'm storing much lighter, less-often-read books. The books on the top shelf are small enough, when I take them off the shelf, I can easily lift them up to remove them instead of just pulling them across the shelf. I could attempt to sand that shelf down some in the future, but then it would probably need painting again and you can't use regular paint for painting bookshelves or the books will stick to the paint. So I'll probably just leave it alone. It's fine for now since the books I'm storing on that shelf are so light.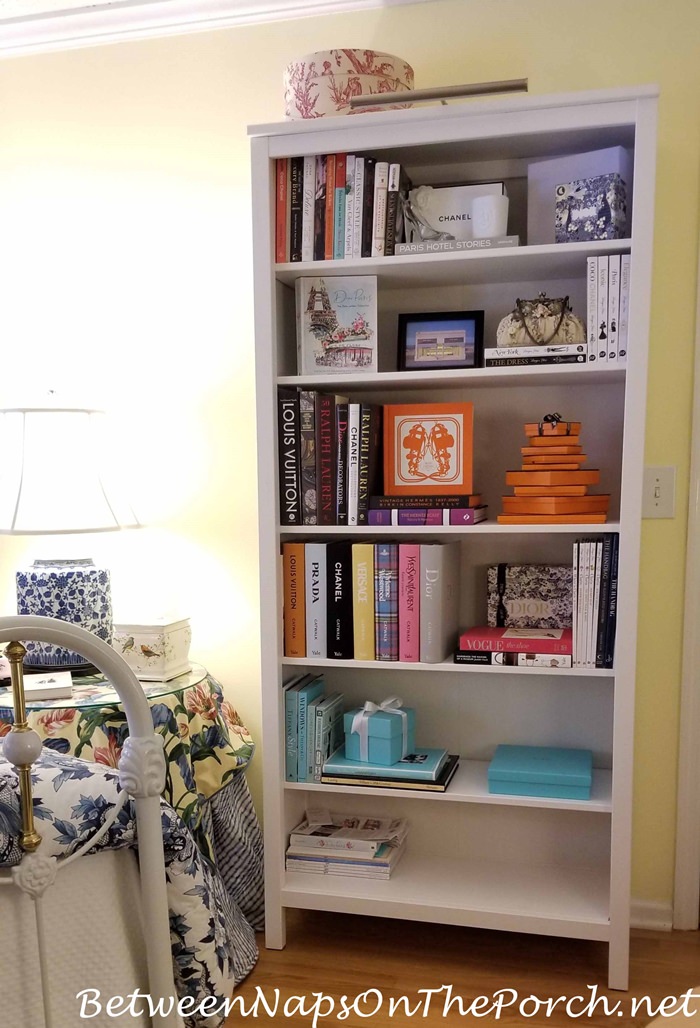 I have really enjoyed having this bookshelf here in the guest room and wouldn't hesitate to buy another Hemnes in the future. Hopefully, Ikea will come up with a solution for the "hidden-book" issue in future designs. Do you have a Hemnes bookcase in your home? If so, how have you dealt with the sidewall issue blocking the book you store on the far left or right of the bookcase?
Looking forward to all the wonderful Before and Afters linked for this week's Met Monday!
Pssst: Did you know Between Naps On The Porch is on Instagram? You'll find me on Instagram here: Between Naps On The Porch.
Like to know when a new blog post is up and available to read? Subscribe for email updates, it's free and your email will never be shared.
Subscribe for free post updates via email here: Subscribe.
Metamorphosis Monday
Metamorphosis Monday is a party that's all about Before and Afters. Please link up your Before and After projects like DIY projects, room makeovers, craft projects even recipes. Any Before and After is great! Please do not link up Table Settings, save those for our Tablescape Thursday party on Thursday.
If you are participating in Met Monday, please link up using the "permalink" to your MM post and not your general blog address. To get your permalink, click on your post name, then just copy and paste the address that shows up in the address bar at the top of your blog, into the "url" box for InLinkz when prompted.
In order to link up, you'll need to include a link in your MM post back to the party so the other participants will have an opportunity to receive visits from your wonderful blog readers.
This party has ended, click button below for the links to all who participated.
*If a post is sponsored or a product was provided at no charge, it will be stated in post. Some links may be affiliate links and as an Amazon Associate, I may earn from qualifying purchases. *