We are deep into the heart of winter now–it's bloomin' cold outside! Though I sorta hate to admit this, I have kinda come to enjoy winter the last few years. I think deep down I'm a bit of an introvert who is pretty happy staying snuggled up inside reading, puzzling, and working on whatever project I have going at the time. I truly love spending time with friends but I also need my alone time to recharge. Do you feel that way, too?
During the months of November and December, I had to put my puzzle board away. There was just too much going on during the holidays to work on a puzzle, plus I spent part of that time "building" a Home Alone LEGO house. I checked with Wicked Brick recently to see when the display case I ordered for it would be arriving since it was coming up on the originally quoted timeframe. As you can imagine, they were inundated with orders for Christmas and are running a full month behind, so it will be a while longer. There's really no rush, but I am looking forward to sharing how the house looks inside its display case once it arrives.
Today, since we are deep into snuggling/reading/hibernating season, I thought it would be fun to check out some delightful book/library-themed puzzles. I love books and I love puzzles so anytime those get combined in some way, I'm totally here for it! If any of the puzzles I share below are still available, I'll link to where you can still find them.
Definitely, a favorite puzzle for me is any puzzle featuring a bookstore or a beautiful library. This one is especially fun to work because there are several kitties hidden away–tucked in unexpected places. There's even a sneaky mouse hiding where you would never expect. I love it when a puzzle has little hidden surprises because they are so much fun to discover while putting it together. (This puzzle is still available here: Book Shop Puzzle.)
This was another wonderful puzzle featuring a fabulous bookstore.
Oh, how I would love to meander around inside this book shop! Do you see the door and the kitty? Lots of little gems tucked away to discover in this puzzle. (Puzzle is available here: Book Store Puzzle.)
Another delightful book shop, in fact, it's The Greatest Ever Book Shop In The World!
Love the little girl inside, it reminds me of my childhood visits to a local book shop where I would agonize over which Nancy Drew book to buy with my little biweekly allowance. You'll find this beautiful puzzle here: Greatest Book Shop.
I loved doing this one although it had a paper backing that was a bit too slick to stay put on my puzzle board until I was pretty far along in the process of putting it together.
I don't think it's still available, wasn't able to find it online. I love, love, love the view from this beautiful library! I love how library and bookstore puzzles always include much-loved pets–both cats and dogs!
I have this one but forgot to take a photo after I completed it. I think it's time I pulled it back out to do again. You'll find it here: Cat Sleeping in Library.
When I first really got back into doing puzzles a few years back, this was one of the first ones I completed.
My Nancy Drew books got me through a sometimes very trying childhood so this collection will always hold a special place in my heart. (Nancy Drew puzzle is available here: Nancy Drew.)
I completed this puzzle while visiting family in Ohio.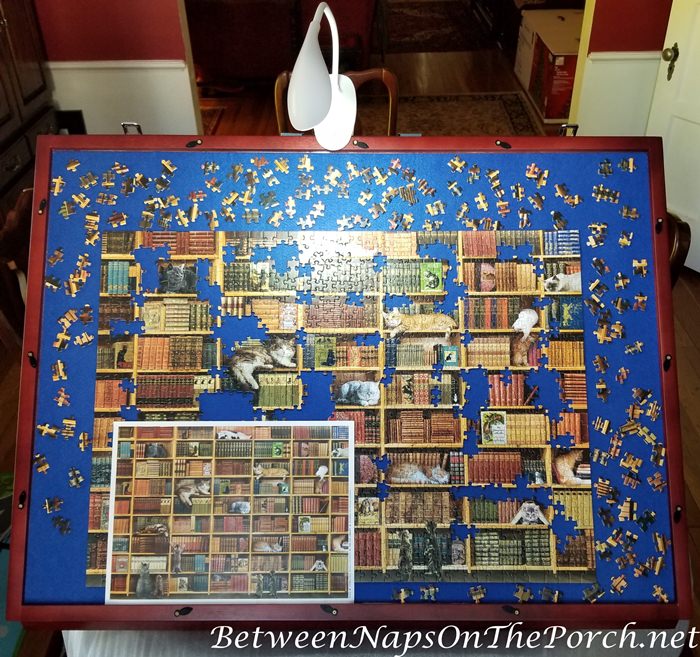 Here's how it looked once completed–excuse the glare of the chandelier overhead. It was so much fun to do!
You'll find it available here: Cats in the Library AND here: Cats in the Library.
I love this one of a used Book Store proprietor who appears to be puzzling over a note she's found in one of the second-hand books she's just unboxed. I wonder if it's a love note based on the book she found it inside? The note must be pretty exciting from the look on her face! I can't find it online now but if I'm able to find it again, I'll come back and add the link to this post. Update: I just found it here: Bookseller Puzzle.
I love this wonderful Book Store puzzle that I enjoyed working a while back. I don't think I took a photo of my completed puzzle since I couldn't find it on my computer. There are quite a few hidden surprises in this puzzle, especially in the flower boxes. You'll find this puzzle available here: Bookshop Puzzle.
Not a great photo but this is a wonderful puzzle to work!
Here's a better image. If you look closely, it really tells the story of the woman who lives here. Love this puzzle! It's available here: Cozy Cabin Puzzle.
This puzzle is a must for all Shakespeare lovers! I can't find my photo of when I completed it…
…but here's how it looks when finished. You'll find so many scenes from Shakespeares' plays scattered throughout this puzzle. It's fun figuring out which plays are depicted in the puzzle. This puzzle is available here: World of Shakespeare Puzzle.
Hope you enjoy these cozy book-themed puzzles as you snuggle in with your hot cocoa or coffee. Hang in there because spring is coming! In the meantime, we'll just enjoy the simple pleasures of winter days.
Pssst: Below you'll find a few more of my favorites:
*If a post is sponsored or a product was provided at no charge, it will be stated in post. Some links may be affiliate links and as an Amazon Associate, I may earn from qualifying purchases. *