Happy Weekend! I don't always post on the weekend but we're smack-dab in the middle of touring this beautiful Victorian home belonging to Governor Roy and Marie Barnes, so I didn't want to leaving you hanging for too long. If you missed any of the previous posts, you'll find links to those at the end of this post.
Today we'll be touring some of the upstairs bedrooms, but before we head up I'll share a couple of pics I took in the master bedroom downstairs. Unfortunately, most of my pics in this area didn't come out that well since the area was very softly lit. The lighting in this room is really beautiful. It's actually located back behind the crown molding. You can see it a little in this photo of the tree in the master bedroom. This tree had an angel theme and it was breathtaking! (Sorry about the blurry picture.)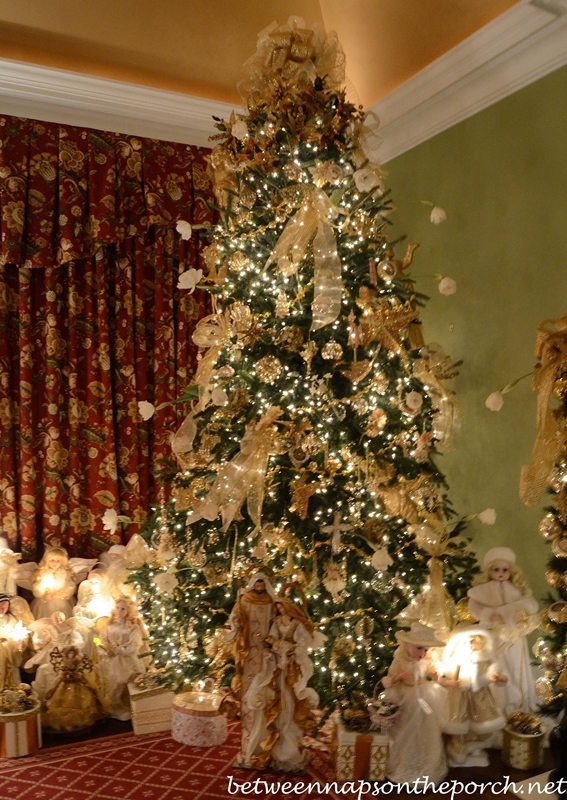 Here's a photo from a local Atlanta paper showing the rest of this room.
The fireplace is directly across from the bed and though my pic came out a little blurry, I had to share it with you. It was really beautiful!
I only have one picture from the master bath but this area was too beautiful to not share. I think if I were Marie, I'd have to leave those lights there all year long. Both vanity/sinks were decorated this way. Isn't it beautiful?!
Okay, let's go upstairs…can't wait to share the upstairs bedrooms with you!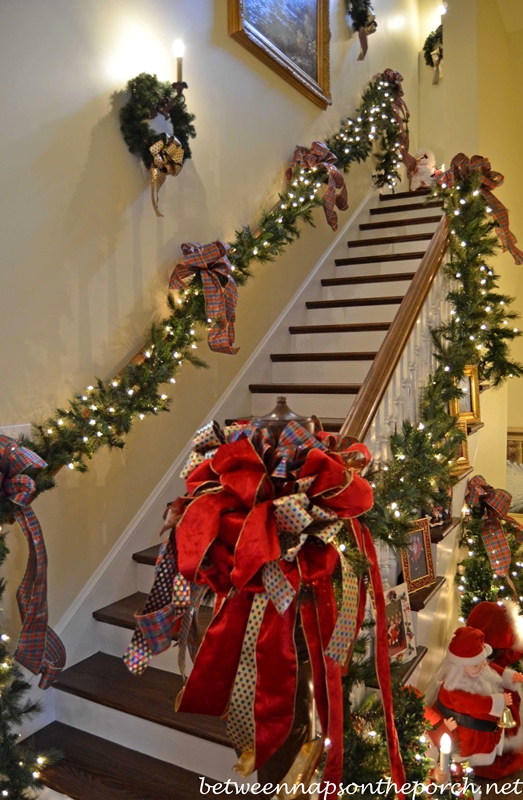 At the top of the stairs, I found another beautiful tree. This tree was in a large area just outside the bedrooms where the grandchildren stay when they are visiting.
Before we tour the grandchildren's bedrooms, let's check out the guest room down the hall. It was decorated in a whimsical winter/snowman theme. This room was originally going to be left unfinished for storage but the Barnes decided to go ahead and finish it in. The trunk at the foot of the bed was passed down to Marie by her grandmother and is filled with handmade quilts. There's a beautiful secretary in this room but unfortunately I missed getting a picture of it.
The guest room tree is decorated in icy silvers and blues and is surround by lots of adorable snowmen. Marie puts a lot of thought into coordinating the trees with the rooms and I love it!
The Barnes have six grandchildren and two are boys. One of their grandsons is a huge UGA fan so Marie decorated their room in a University of Georgia theme and it is amazing! She only painted two of the walls in the room, red, so that kept the red from feeling too overwhelming.
The tree is absolutely delightful! Don't you know their grandsons love sleeping in this room with the tree lit at night. I have especially loved seeing how Marie has surrounded the base of each tree. The winter tree had snowmen and this Georgia Bulldog tree is surrounded with cute doggies. So creative!
One of the things I've learned from seeing how Marie decorates is how versatile and beautiful a white tree can be. I never really considered buying one of those but seeing this one in the boy's room and her tree in the kitchen in THIS post, I'm really loving how the ornaments pop against the white tree.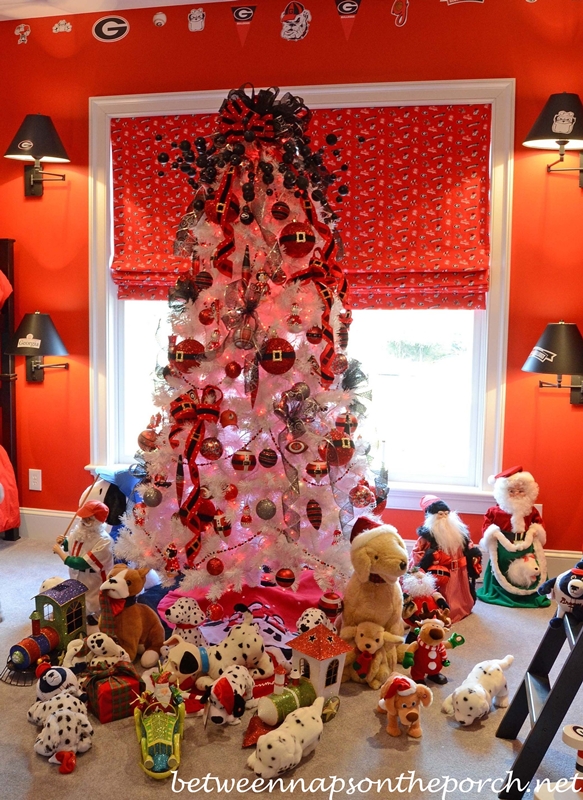 The foot of the beds were decorated for Christmas…again keeping in the UGA color scheme. Notice the bulldog lamps. I missed a lot of things during the tour that I've noticed looking back at the pictures. I absolutely love all the little details Marie has included. Sooo whimsical and so much fun! Is that a little dog in Santa's bag? 🙂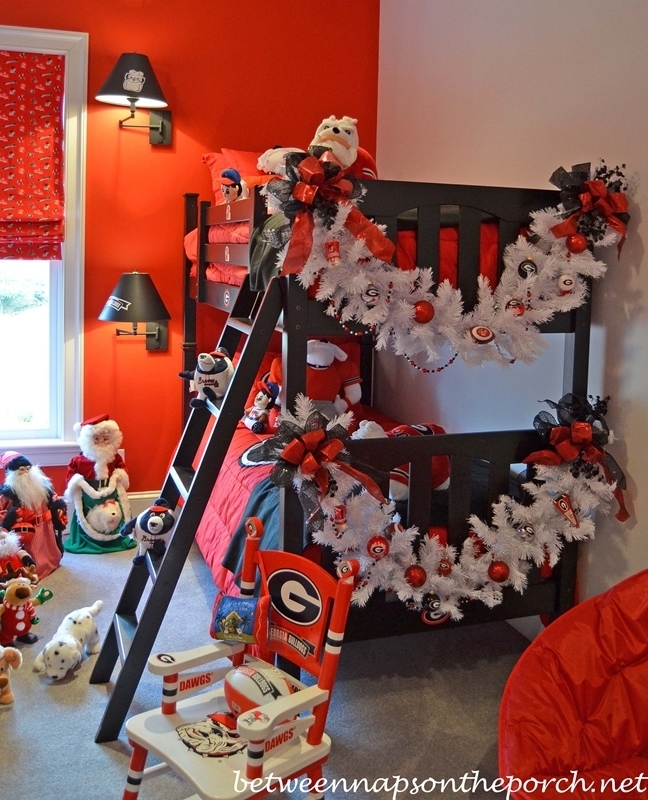 We're all big UGA fans here too, since that's where our son graduated from, so I loved this room!
The UGA theme continued into the adjoining bath. Love those bulldog knobs! The tile Marie found/installed even looks like doggy footprints! Love all the wonderful details!
I'm dying, aboslutely dying to show you the bedroom the Barnes' four granddaughters share when visiting, but I loved that room so much I took way too many pics to add into this post. It will have to get a post of its own. I'll save it for our next and final post.
But I couldn't leave you today without sharing this wonderful staircase that leads to the attic where Marie stores all the Christmas wonderfulness you've been seeing.
At the top of the stairs leading to the attic, you'll find a whimsical "upside-down" Christmas tree. I've always seen these trees but could never think of a good spot to use one. This is perfect! You see it from the foot of the stairs leading to the attic and it is completely enchanting! It draws you up the stairs….
It appears to be decorated in a Mardi Gras theme…soooo whimsical! Don't you love the mask staring down at you as you ascend the attic stairs. lol Love it!
As mentioned, I'm saving one of the most amazing rooms for last…the bedroom Marie created for her granddaughters. I have another post planned for Metamorphosis Monday that you will not want to miss, as well. It's an amazing Before and After. Then, on either Tuesday or Wednesday, I'll share the last post of this wonderful home tour.
If you've enjoyed this series, please be sure to leave a comment for Marie letting her know. She is so generous to open her home up each year and share all this magic with us. So many folks just don't do that these days.
You'll find my previous posts in this series at the links below:
You'll find additional posts/tours of the Barnes beautiful Victorian Home here:
Tour a Beautiful Victorian Home Decorated for Christmas, Part I (Exterior, Entry, Powder Room)
Tour a Beautiful Victorian Home Decorated for Christmas, Part II (Library, Study and Beautiful Dining Room)
Tour a Beautiful Victorian Home Decorated for Christmas, Part III (Gourmet Kitchen, Breakfast Room with Peppermint and Gingerbread Theme)
Tour a Beautiful Victorian Home Decorated for Christmas, Part IV (Great Room and Outdoor Entertaining Spaces)
Tour a Beautiful Victorian Home Decorated for Christmas, Part IV: Whimsical Pink Bedroom for Granddaughters
3 Party Table Settings with Coca-Cola Dishware and Memorabilia
Four Beautiful Christmas Table Settings, One Gorgeous Victorian Home
*If a post is sponsored or a product was provided at no charge, it will be stated in post. Some links may be affiliate links and as an Amazon Associate, I may earn from qualifying purchases. *