If you've been reading Between Naps On The Porch for a while, you know I'm a crazy lamp lady. I don't remember when my love of lamps started, but at some point many years ago, I discovered how much prettier, cozier and better the rooms in my home looked by lamplight–the more lamplight, the better!
Overhead lighting can make a beautiful room feel cold and sterile–pretty much the opposite of cozy. For everyday use, lamps are definitely my favorite lighting option. In my living room, I have seven lamps. Four are visible in the photo below.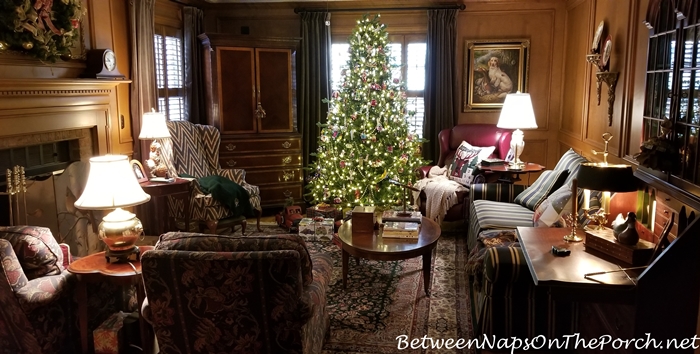 When it's not Christmastime, there's a 5th lamp on the table in front of the window.
In this ancient, blurry photo of the other side of the room, you'll see a tall lamp in the corner of the bookshelves and a small lamp tucked into the bookcase.
When I added on the porch, I purchased ceiling fans without lights and had my builder add a lot of outlets around the porch for all the lamps I had planned.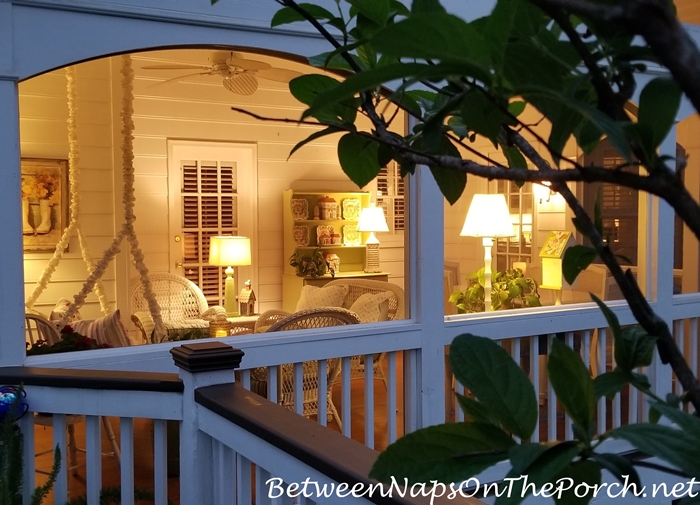 You may remember a few years back when I added this floor lamp to the corner over behind the swing. This lamp has worked out really well here since it's an outdoor lamp and rainproof. (It's still available here: Outdoor Floor Lamp.)
Floor lamps are perfect for those areas where you would like a bit of lamp-light, but there's no available surface space for a table lamp.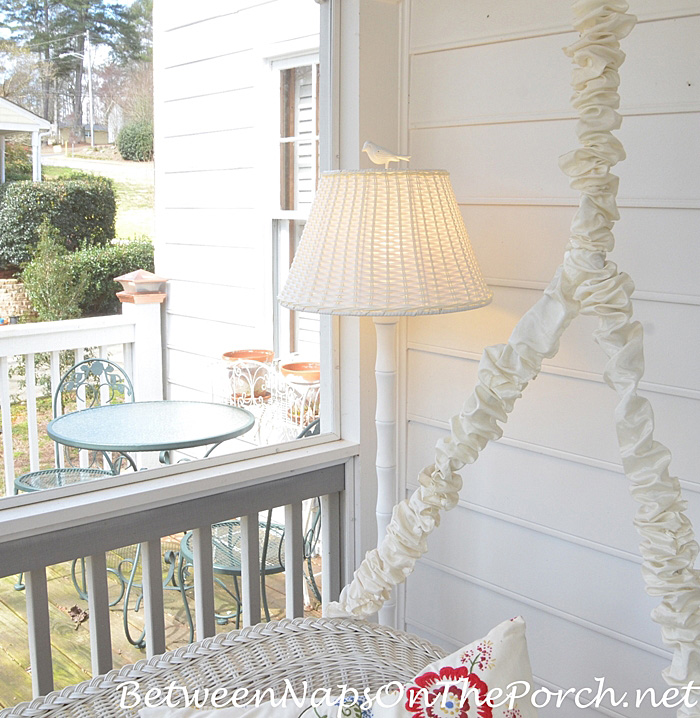 In this older Valentine's Day photo of the guest room (before I added hardwood flooring) three of the four lamps in this room are visible: one on the round table beside the bed, one on the secretary and another in the corner beside the chair.
There's also a small lamp on the dresser in this room.
A floor lamp works great in this corner here by the chair. When possible, I like to place floor lamps where the whole stem of the lamp isn't visible, but enough is visible to be pretty. Are you a fan of floor lamps, too?
I have one more floor lamp in my home, it's here in the upstairs family room.
This floor lamp works great here at the end of the sofa where there's not enough space for an end table and a table lamp. It gives much need light to this end of the sofa.
A floor lamp is really the only kind of lamp that will fit in that spot since there's a closet door in that corner.
In my home office I have lamps spaced out all around the room…see arrows below.
You may remember when I added lit houses to the bookshelves in this room a year or two back to add some light to this side of the room in the evening.
A few months back I was thinking about the lighting in my master bedroom.
I have a small lamp on the secretary in this room, as well as table lamps on either side of the bed, but recently I realized I could really use a floor lamp in the corner behind the fan I use when riding my Peloton bike. A lamp there would give some much-needed light to that area of the room and create a cozy reading spot. Hold that thought.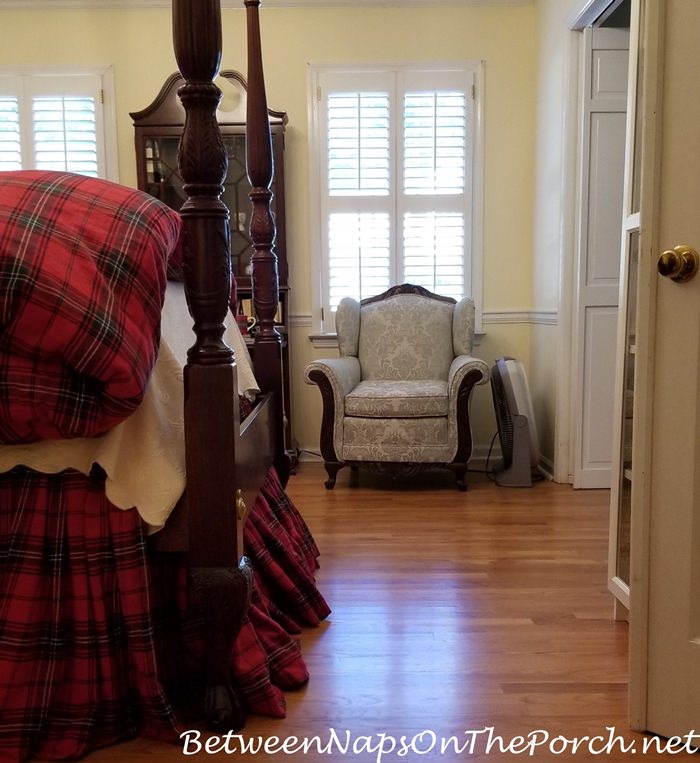 A few weeks back I shared the little mini-office area I recently created in the guest room of my son's home. I've been thinking how nice it would be to have a lamp in this corner, but there's really no space for a lamp on the desk. A floor lamp would be the perfect solution. I started Googling for floor lamps and found a bunch, but most were really plain with skinny unattractive posts/bases.
Then I spotted this one below and knew I had found my lamp! ♥
When it arrived, I couldn't wait to see it in place. The height is perfect for the desk. When sitting at my desk, I can't see the mechanics of the light–the socket. If you can see the light socket thingy when sitting near a lamp, I think it ruins the aesthetics of the lamp and often you end up with a glaring bulb in your view.
This lamp is prettier than it's appearing in the photo below. I didn't want to turn it on and freak out my camera, so the photo is a bit dark. When my daughter-in-law saw this lamp, she jokingly threatened to steal it for her living room.
I love its mercury glass style! The reviews were great when I ordered it and it def didn't disappoint. It's so hard to find nice lamps these days that aren't super expensive. This one is very reasonably priced, especially for how heavy and well made it is. I honestly can't believe you can get a lamp of this quality for what I paid.
I loved this lamp so much after it arrived, I tried to order a second one to take back home for the reading corner in my bedroom but it was sold out everywhere I checked. It's a popular style, apparently. I've been stalking it online and it just came back in stock yesterday.
If you have a corner in your home that could use some extra light, I can very much recommend this pretty lamp. It was super easy to assemble, only took me about 2 minutes, if that long.
You'll find it available for the best price I've found here: Mercury Glass Floor Lamp. It's also available here: Mercury Glass Floor Lamp.
Are you a fan of floor lamps? Do you use them in areas of your home where a side table isn't practical?
*If a post is sponsored or a product was provided at no charge, it will be stated in post. Some links may be affiliate links and as an Amazon Associate, I may earn from qualifying purchases. *