Yesterday I was stapling some papers together when my stapler up and died. The spring inside broke and after several frustrating moments trying to reconnect it, I gave up. Normally I would have persisted but I've been ready to ditch that stapler for a long time since it has always jammed about every other time I used it.
In searching for a new stapler I came across one I knew I had to get. Do you remember Milton and his infamous red stapler? The movie, Office Space, is an all-time favorite in our family, so when I discovered Swingline now produces the iconic stapler made famous in the movie, I had to get it.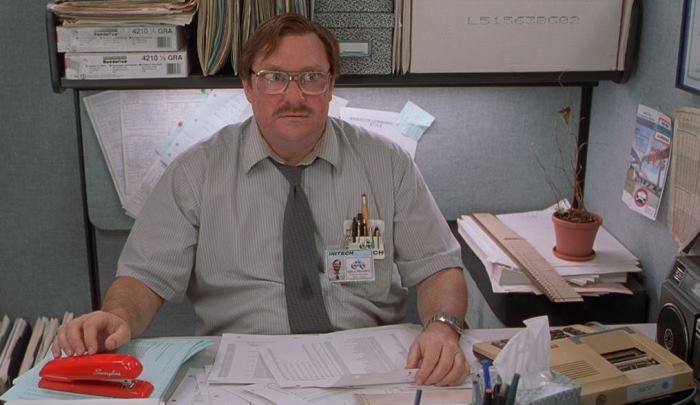 I came across an article online this morning with some fun facts about how the red stapler came to be. Mike Judge, the director of Office Space, was looking for a special stapler for the stapler scenes in the movie. Apparently, he approached Boston Stapler Company and they declined to be a sponsor for that product placement. He next approached Swingline and they agreed to let him use their stapler, but declined to pay for the sponsorship/product placement, as well.
Mike decided to go ahead and use the Swingline stapler, but he wanted it to really stand out in the movie. So he took it to an auto body shop and had it painted red since Swingline didn't have a red stapler at the time.
After the movie became a cult hit, replicas of the iconic stapler began appearing on the market. They were selling so well, Swingline began producing their own red stapler in 2002. It is one of their best selling staplers today. If you need a giggle this morning, here are two funny scenes from the movie: Scene 1 and Scene 2.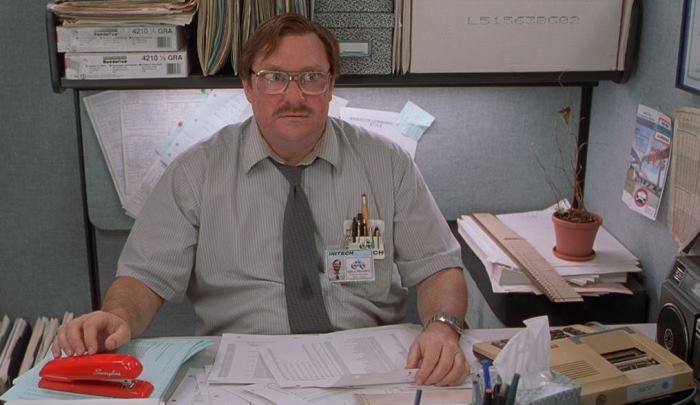 I purchased my own red "Milton" stapler this morning here: Red Stapler. If you have a few moments, take time to read some of the reviews at that link–they had me laughing out loud this morning! If you've ever worked in an office setting, or for a big company but haven't seen the movie, you've gotta watch it! It's hysterical! Any Office Space fans out there?
Another Tool to Help with Denim Transfer
One other item I purchased recently and have been very pleased with is this Super Cleaner below that has a 4.7 rating after 618 reviews. You may remember the post I wrote recently about issues I was having with denim transfer. If you missed that post, you'll find it here: Denim Transfer, The Bane of Handbag Lovers Everywhere.
I ended up using a Magic Eraser to remove the majority of the bluish transfer that had appeared on my leather car seat, but it didn't get down into the creases that naturally occur in leather seats over time. Magic Eraser can be a bit abrasive, so I knew I didn't want to keep using it over and over if the denim stain returned. Also, the Magic Eraser couldn't get down into the creases in the leather, and this stuff did! It removed the last traces of the blueish coloring I was seeing on my leather car seat.
Apparently, it's good for a lot more than just leather seats. It's an all-purpose cleaner that works on plastic, rubber, vinyl, upholstery and carpet, as well. I haven't tried it on any of those other surfaces yet, but it did a great job at removing the last of the denim transfer stains from my leather car seat. You'll find it available here where I purchased it: Super Cleaner.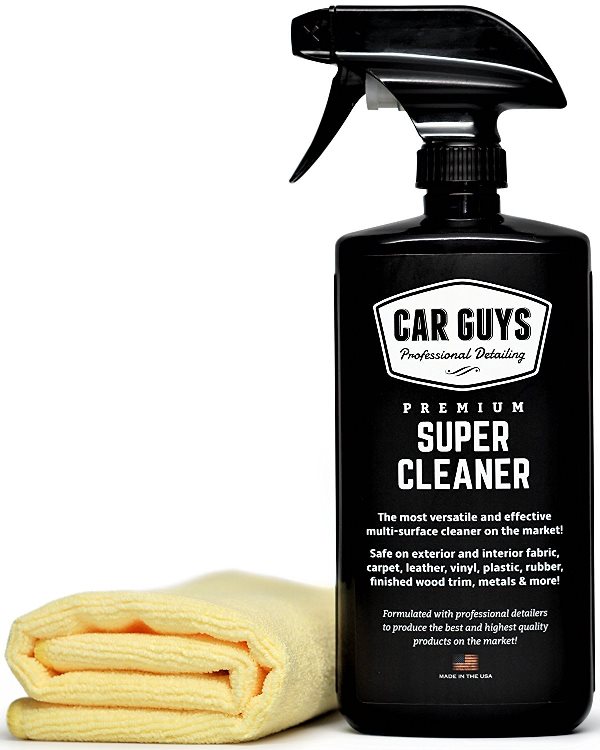 See you tomorrow for Tablescape Thursday! In the meantime, please refrain from setting any buildings on fire! 😉
*If a post is sponsored or a product was provided at no charge, it will be stated in post. Some links may be affiliate links and as an Amazon Associate, I may earn from qualifying purchases. *