Welcome to the 188th Tablescape Thurday!
Happy Spring and welcome to Tablescape Thursday, a party where we celebrate our love for entertaining and creating pretty table settings for our friends and loved ones. A beautiful table setting is really just an expression of caring and love for those who'll gather there. It not only offers substance for the tummy, but for the soul, as well. And, did I mention that it's just plain fun?
Tulips make such a wonderful centerpiece for a spring or Easter table setting.
You'll find the tutorial for creating this double vase, vase-within-a-vase centerpiece, HERE.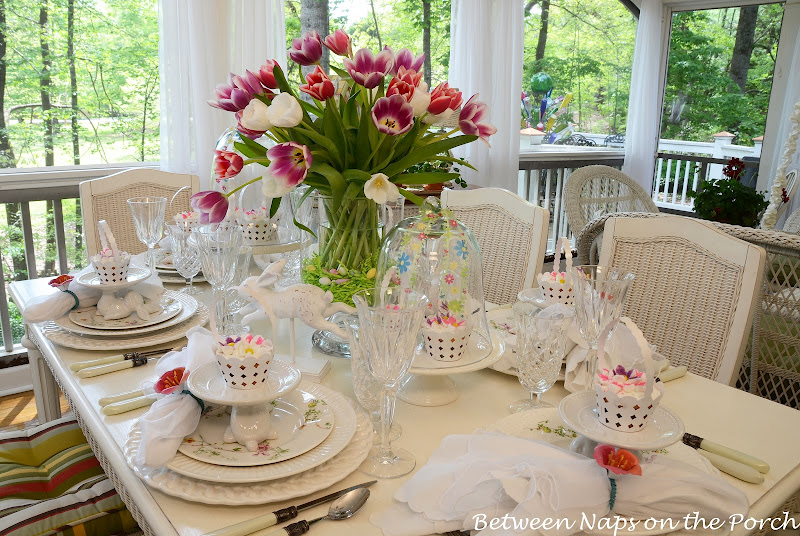 The tulips really steal the show in this table setting, don't they?
The Easter bunny brought us cupcakes for this week's Tablescape Thursday.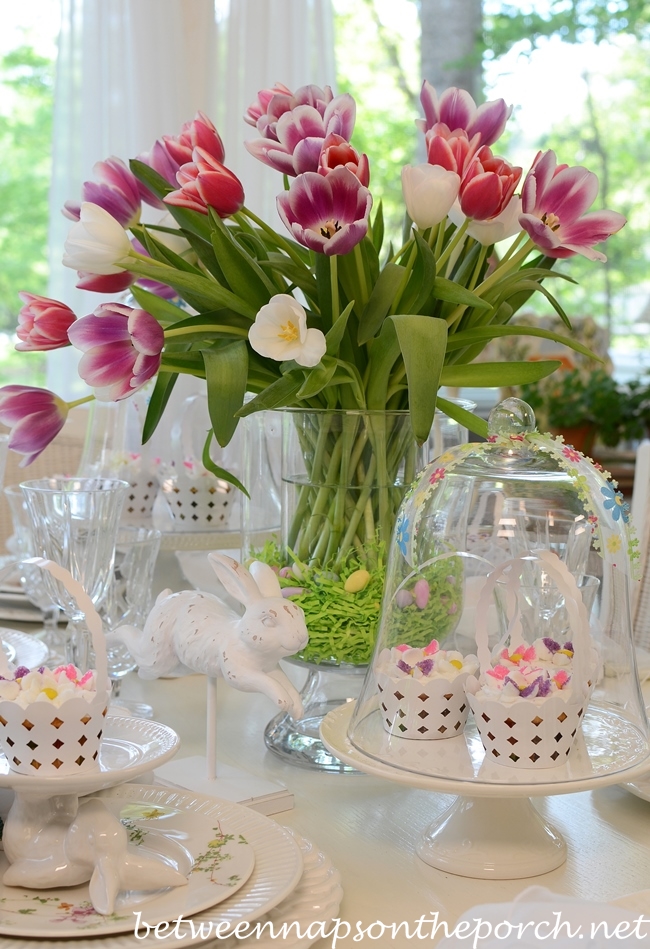 Beautiful Tulips!
I've been experimenting around a little with DOF (depth of field) lately. I love photos where the subject is the star of the photo with the background fading away into a nice blur.
I was so surprised to find these little basket cupcake wrappers in Michael's. They worked really well for an Easter inspired table setting.
Salad plate is Sketch Floral by Mikasa, You may remember it from this spring table setting.
A friend recently told me about an easy way to decorate cupcakes using miniature marshmallows and colored sugar.
You'll find the easy directions for decorating cupcakes with marshmallow floweres here: Decorate Cupcakes with Marshmallow Flowers for Spring or Easter.
I had never shopped in Pottery Barn until I created a home office/craft room last year. I mistakenly thought they only carried very modern furniture…not sure where I got that idea. A friend (thanks, C!) emailed and suggested I check out their spring tabletop goodies this year. You may remember the Pottery Barn bunny plates in this Easter spring table setting.
Their cupcake stands also reeled me in. I bought six right after they first appeared in the stores. I live dangerously close to a Pottery Barn…only about 5 minutes away.
Apparently these cupcake stands stole the heart of a lot of folks because they sold out quickly and have been selling for insane prices on eBay. So basically, if you see something you really like in PB, buy it before the eBay sellers do!
Part of this line also included a large bunny cake stand.
I placed a cloche I already had atop mine since it didn't come with a lid. I lucked out having a cloche that fit, although the shape of the cloche limits how many cupcakes it will hold. I found this ribbon last spring and I've been waiting for an excuse to use it. Finally found one. 😉
I found the smaller stand on the right a year or so ago at HomeGoods. It normally sports a short, wide glass dome. Again, I just used a cloche I already had to accommodate the height of the cupcakes.
I liked the mix of using two different size stands/cloches as part of the centerpiece for this spring table setting. The different heights and styles add more interest than if they had matched exactly.
Happy Spring and Happy Easter to you and your family! Pssst: You'll find step-by-step directions for this double-bowl centerpiece here:
Double-Bowl Centerpiece for Spring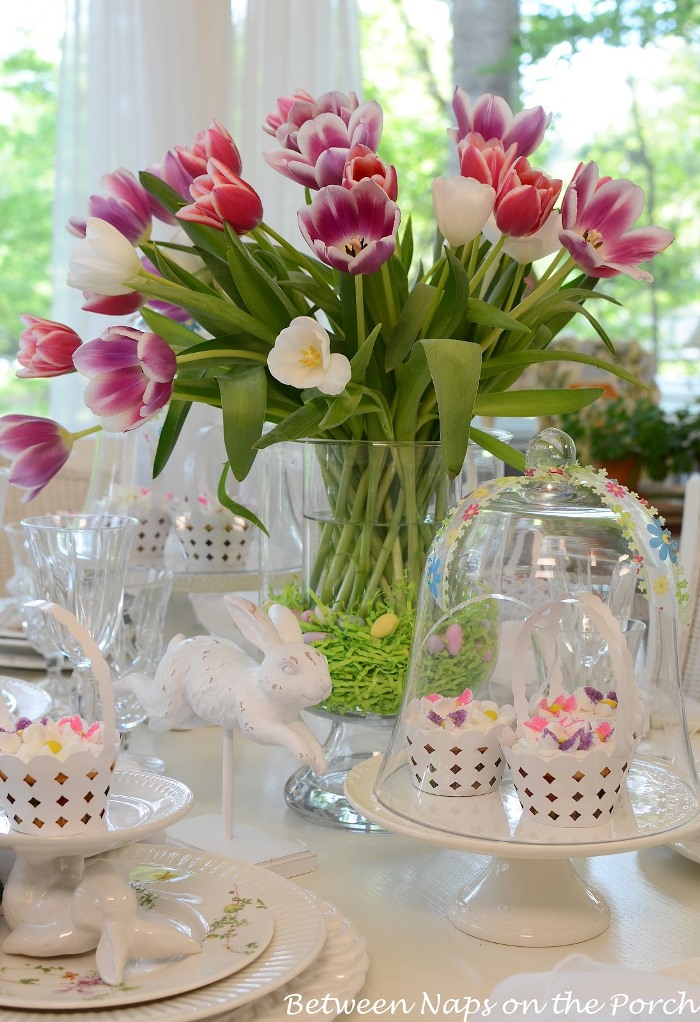 Looking forward to viewing all the beautiful table settings for this Tablescape Thursday!
Resources:
Chargers: Horchow, 4-5 years ago
Dinner Plate: Big Lots
Salad Plate: Mikasa, 2+ years ago
Bunny Cupcake Stand: Pottery Barn, this season
Flatware: Tuesday Morning (I think) Neiman Marcus/Horchow carries it)
Iced Beverage Glass: Waterford, Araglin
Wine Glass: Vendome Clear, Provided by Noritake
Napkins: Found antiquing
Napkin Sheaths/Covers: The Magnolia Room
Napkin Rings: Can't remember, possibly Pier 1
Large Bunny Cake Stand: Pottery Barn, this season (cloche on top doesn't come with it)
Small Pedestal Stand: HomeGoods, 2-3 years ago
Small Running Bunny Decoration: Target, this season
Cupcake Basket Wrappers: Michael's
Centerpiece: Tutorial for tulip centerpiece
Cupcakes: Tutorial for decorating cupcakes
Receive BNOTP updates right in your Inbox:
To receive the latest posts, as well as updates about blog parties, subscribe To BNOTP posts via an RSS Reader. Or, have BNOTP delivered right to your Inbox. You'll find links to subscribe via RSS and/or e-mail at the top of this page on the right side. Thanks for reading; so glad you are here!
Reading this post via e-mail or RSS feed?
*If you are reading this via email or RSS feed, to view all the tablescapes linked for Tablescape Thursday, click HERE.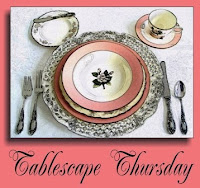 Please Read:
If you are participating in Tablescape Thursday, please be sure to add your permalink below, and not your general blog address. To get your permalink, click on your post name, then just copy and paste the address that shows up in the address bar, into the "url" box when you link up.
You'll need to include a link in your post back to the party in order to link up and participate. That's so visitors to your blog will be able to find the party and the other Tablescape Thursday participants.
If you would like to use the Tablescape Thursday logo button in your post, just copy and paste it to your computer and upload it to your post as you would any photo. Or, grab the html code you'll find under the "Parties" heading at the top of this blog.
Please, don't add your post name/blog name ALL IN CAPS…it tends to create big spaces between the rows of links. Thanks!
Let's try something fun today! Please visit the person who linked before you and after you…that way everyone will get some visits. Hope you'll visit more, of course.




Welcome! Thanks for coming to the party!
*If a post is sponsored or a product was provided at no charge, it will be stated in post. Some links may be affiliate links and as an Amazon Associate, I may earn from qualifying purchases. *