I almost forgot to share a book from my decor library this evening. Painters are coming tomorrow to get started on pressure washing the house, decks and porch, all in preparation of painting them (the porch and decks) as well as repairing some damage done to the chimney by a mischievous woodpecker. I've been outside this evening, removing string lighting and other stuff that will be in the way when work begins. Going to be a crazy day tomorrow!
I've been meaning to share this book for a while now. It's by the Queen of all "Good Things" when it comes to the home. I bet you know who I'm talking about! 🙂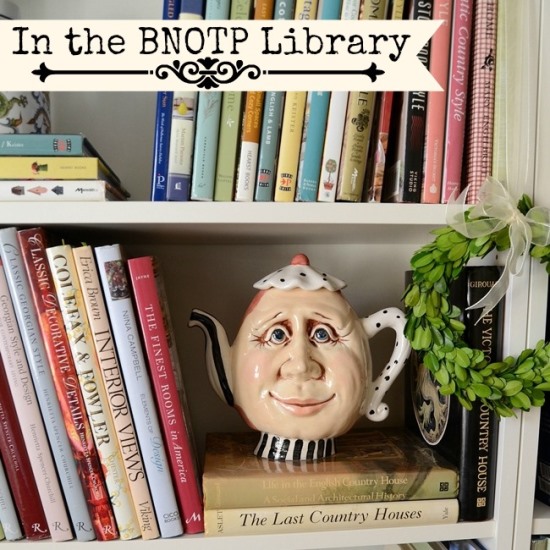 In the BNOTP Library: Martha's Entertaining: A Year of Celebrations

Author: Martha Stewart
Hardcover: 432 pages
Book Size: 10 x 11.5 x 1.5
3 Things I Like About This Book:
This book is humongous! It's 10 inches x 11 1/2 inches and it's 1-1/2 inches thick! As the title implies, this beautiful tome is all about entertaining with a capital E and it's packed with gorgeous photos and recipes. It covers 4 years worth of parties Martha has given in her various home(s) and in other locations, too. No one does entertaining like Martha!
The book is divided up in the most unusual way. Instead of being done by seasons or holidays or the usual layout, it is divided up into three sections, according to the time of day. So pages 1-69 are all about Morning events or gatherings. Pages 70-195 covers Afternoon events and pages 196-322 are dedicated to Evenings. Under each time of day, there are ideas, recipes and inspiration for all kinds of different types of parties from special holidays and celebrations to one-of-a-kind events. The final 100+ pages are filled with all the to-die-for recipes that correspond to all the gorgeous displays of food seen throughout the book. So much inspiration in one book!
It's by Martha. I'm an unabashed Martha fan. Love her no-nonsense way of explaining how to do things and have always been in awe of how much she knows. She's like the Einstein of all things Home. Sorry, I have Einstein on the brain right now since I'm currently listening to a book about him on Audible. 🙂
You can read more about this book, Martha's Entertaining: A Year of Celebrations
at Amazon where I normally buy my books, via the picture link below.
You'll find previously featured books from the BNTOP library here: In The BNOTP Library or just click on the collage below.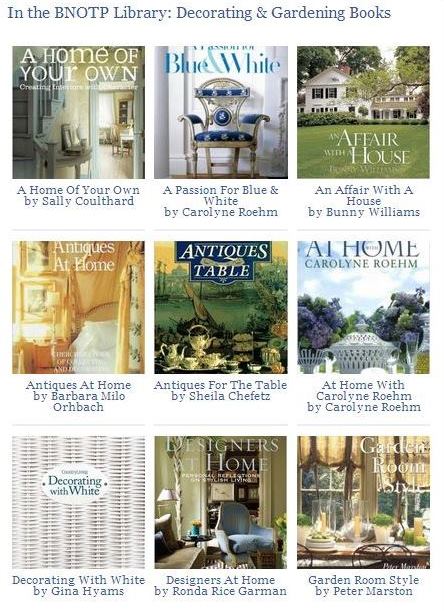 *If a post is sponsored or a product was provided at no charge, it will be stated in post. Some links may be affiliate links and as an Amazon Associate, I may earn from qualifying purchases. *