I always have a running list in my head of things I want to share with you. Today I'm finally sitting down to share them all in one place. They run the gamut in price, some are super affordable while others are pricey but just too good to not share.
This morning I purchased a pair of these L.L. Bean Sport Shoes for myself and my daughter-in-love. I think they will be great for the hiking trips we go on whenever I visit. I should probably buy another pair to just leave there–and at this price I could!
Originally, $69, They are currently on sale for $19.95, available in two colors. This may be a "today sale only" since it's part of their daily markdown sale. You'll find them available here: Shoes.
Thanks to Susan for telling me about the sale!
Love a beautiful Dolce and Gabanna dress? Yeah, me too.
Look what happens when Dolce & Gabanna and Smeg conspire to design kitchen appliances! Oh. My. Gosh! They've created some of the most beautiful toasters, juicers, kettles and mixers. They even made refrigerators in the beautiful D & G designs! And since they're Smeg, you know they are going to last. I wouldn't want a whole kitchen of these appliances but would be pretty to have one on the counter.
They are outside my budget, but if you're interested you can see them all here: Dolce & Gabanna Appliances.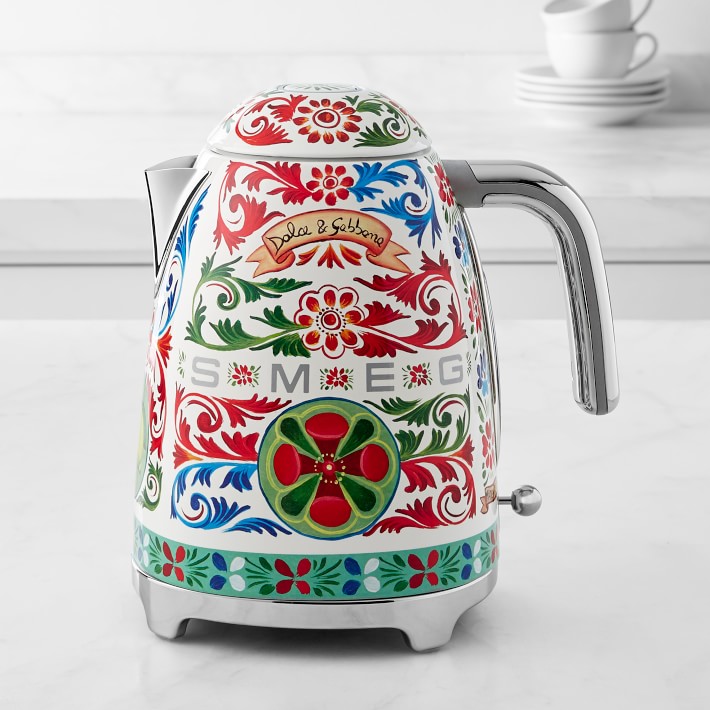 Unfortunately, the stand mixer has sold out. I would have been tempted to bust the budget and go for the mixer if I had come across it before it was gone. Sooo cute! You can read more about it here: Stand Mixer. I would love to see more collabs like this done with designers—love this idea!
Speaking of appliances, if you have stainless steel appliances, you can't beat this for keeping them clean: Awesome Stainless Steel Appliance Cleaner. It's my favorite and the reviews speak for themselves! It's excellent!
Recently I purchased a gold bracelet that I wear full-time. Since I want it to stay nice and shiny, I purchased these to keep it that way: Gold Cloths. So far, so good! Very happy with how these are working.
Still loving and using my favorite tool for mopping. It's super efficient and fast and available here: Best Way to Mop. Read more about it in THIS post.
I had an issue this past winter with Denim Transfer on my leather car seats. 🙁 The product that did the best job of removing the dark blue stain (other than Magic Eraser which can be hard on leather) was this: Super Cleaner. My seats look great now! Very pleased!
I live in sandals during the summer and these are my favorites: Sandals. They have great arch support and are the most comfortable sandals I have ever owned. Plus, they last forever! I finally bought a new pair after wearing the first pair for many, many years. So now I have two pairs and I have no doubt they will both outlast me! Recently, I purchased the men's version for my son and he LOVES them, too! You'll find the men's sandals here: Sandals.
Still loving and using this for styling my hair. Tool Perfector. Absolutely love it, couldn't live without it!
The sun is out here today and I'm so enjoying it after all this rain! I think I'll head the porch with a good book and a glass of tea. Gotta enjoy these last days of summer before they are all gone! Happy summer, dear Friends!
*If a post is sponsored or a product was provided at no charge, it will be stated in post. Some links may be affiliate links and as an Amazon Associate, I may earn from qualifying purchases. *