Welcome to the 80th Metamorphosis Monday!
I love monogrammed silver. I suppose I could attribute it to having been "raised" here in the south where monogramming has long been a standing tradition.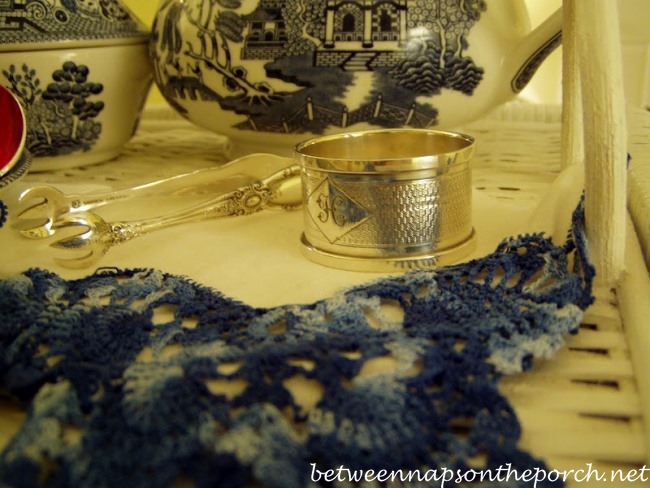 Actually, I've never known anyone who had monogrammed silver, or if they did I don't remember seeing it.
But for me, it's a reminder that family is important, family traditions are important and those traditions can be passed on to the next generation.
Today while viewing so many beautiful tablecapes, my mind wandered back to 1978 when as a bride-to-be, I chose a sterling flatware pattern. I went with a Towle pattern named, King Richard.
In 1978, we found ourselves in a strange place. Newly engaged couples were still registering a sterling pattern once they became engaged, but it was becoming rarer and rarer to actually receive sterling "anything" as a gift. Silver prices had really shot up while formal entertaining was becoming much less common.
Who was it that decided we can only use our sterling for formal entertaining anyway? As they say, this life is not a dress rehearsal. If you have sterling flatware, get it out and use it. Daily use will only make it more beautiful and speed up that lovely process called, patina. I love the look of sterling when it has a gorgeous patina. If you're not quite sure what patina is or how it looks, check out this past post: Patina on Sterling Flatware
When we chose our sterling flatware, I fully planned to have it engraved with our last initial one day. Over the last 30 years as I have gradually collected additional pieces, I've never gotten around to having it done. As I sat viewing the pics I took for the 100th Tablescape Thursday, I found myself staring at that large, oval spot where I had long pictured an "H" monogram in beautiful script.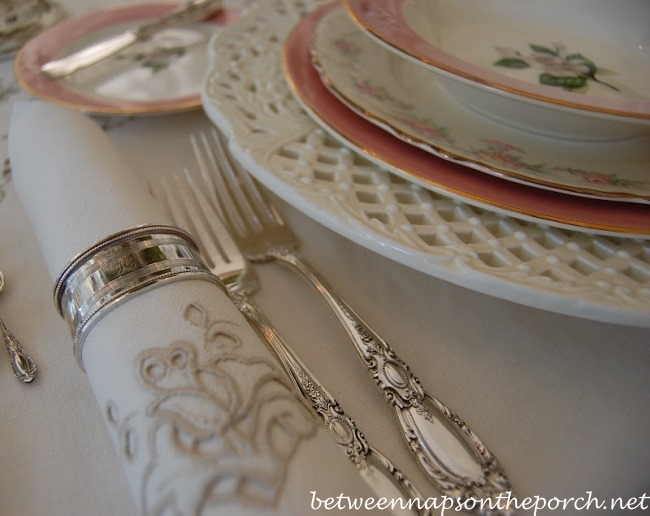 Now, that I'm older and hopefully a bit wiser, I find I am reluctant to have it monogrammed. Why?
1. eHow online says:
"Monogrammed silverware is worth significantly less than a set that has not been monogrammed. Patterns also affect the value, depending on their popularity."
2. About.comonline says:
"Monograms — Many collectors view old, elaborate monograms as a lost art form and historically important. It does not detract from the desirability or value of a piece when a monogram is present. Most pieces, however, are even more valuable without a monogram. As you become more familiar with silver, you will be able to detect monogram removal. Monogram removal can damage a piece of silver and significantly reduce its value."
3. An eBay Guide I found online said: "Monograms are the bane of an eBay sterling flatware collector's existence it sometimes seems. Extensive experience on eBay shows that a monogram on a piece of flatware cuts its value about in half, though there are so many sellers who learn this the hard way."
4. Another eBay guide said: "A monogram on sterling flatware reduces it's value by 25-35%."
See my dilemma? One part of me thinks I should monogram it since it will be passed down to my son one day, so the monogram will still work. But, the practical side of me says, No, don't do it, don't hurt the value of the flatware. Usually, my practical side wins out, so I will most likely not monogram it. I am guessing it would be very expensive to have it monogrammed, anyway. Seems silly to pay someone money to reduce the value of an object, doesn't it? ~~~sigh~~~ Do you sometimes wish you weren't practical?
Guess I'll just stick to monogrammed napkin rings. (Tablescape can be found here: Christmas Table Setting with Silver Tiered Centerpiece)
…and monogrammed linens. No regrets there, just pure enjoyment. (Tablescape can be viewed here: A Garden Table Setting)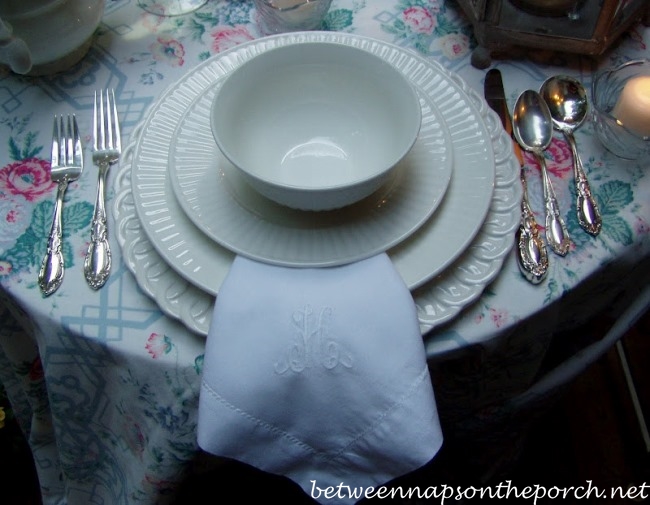 So, I want to know…where do you stand on monograms? Is your flatware monogrammed? Would you have it monogrammed? Would you buy flatware with a monogram that didn't match your last name?
Metamorphosis Monday:
If you are participating in Metamorphosis Monday:
Please be sure to add your permalink below, and not your general blog address. To get your permalink, click on your post name, then just copy and paste the address that shows up in the address bar at the top, into the "url" box for the picture linky.
Please include a link in your MM post back to the host blog, Between Naps on the Porch, so your regular visitors to your blog will find the other blogs linked for today's party.
*If a post is sponsored or a product was provided at no charge, it will be stated in post. Some links may be affiliate links and as an Amazon Associate, I may earn from qualifying purchases. *