Welcome to the 541st Tablescape Thursday!
Never seems to matter what time of the morning/day I begin putting a table together for Tablescape Thursday, I never seem to complete it until after nightfall. Candlelight pictures are nice, right? 🙂
But I would still like to share some daytime photos with you, so you'll find those further down in this post. These were taken last night and the daylight pictures were taken this morning. Hope you enjoy this Valentine's Day table and have a wonderful, wonderful Valentine's Day!
Candlelight dining is by far my favorite! This is how every meal should be enjoyed, don't you think?
Let's pass a law that all dining must be done by candlelight, even if it's in the middle of the day. We'll just close all the curtains, shutters and blinds and light all the candles! Sound good? 😉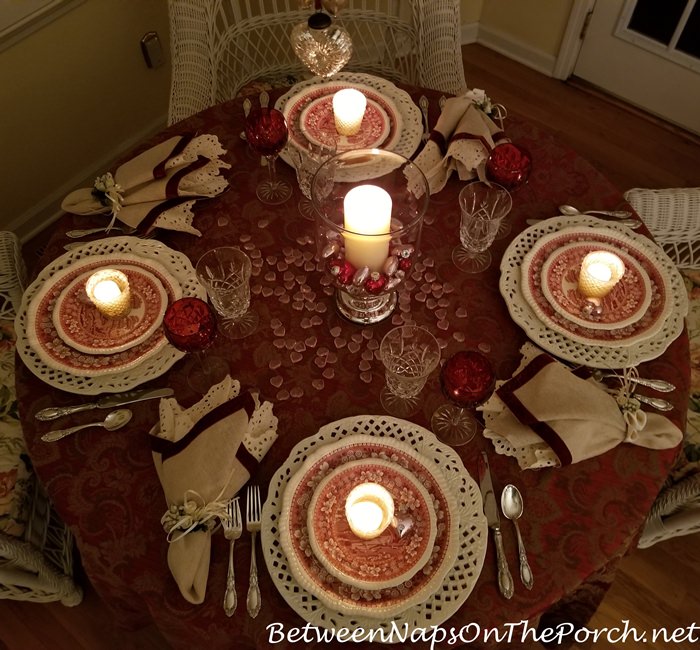 Happy Valentine's Day to you! If you don't have a special Valentine to celebrate with today, be your own Valentine! Do something special today, just for you. ♥
The candle in our centerpiece is surround by pink and red mercury-glass hearts. Can't remember where I found those since I've had them for several years…may have been Marshalls since I often find mercury-glass pieces there.
A few more photos taken early this morning…do you see the little mercury glass hearts I hung from the chandelier last night?
The sun was shining in through the bay window in the breakfast room this morning. I love the way it picks and chooses what it will highlight on the table.
The flatware is by Towle in the pattern, King Richard.
The stemware is Waterford. The water/tea glass is in the pattern Araglin. I'm not sure about the Ruby Hock glassware, it may be Lismore. Both were purchased in Macy's many, many years ago.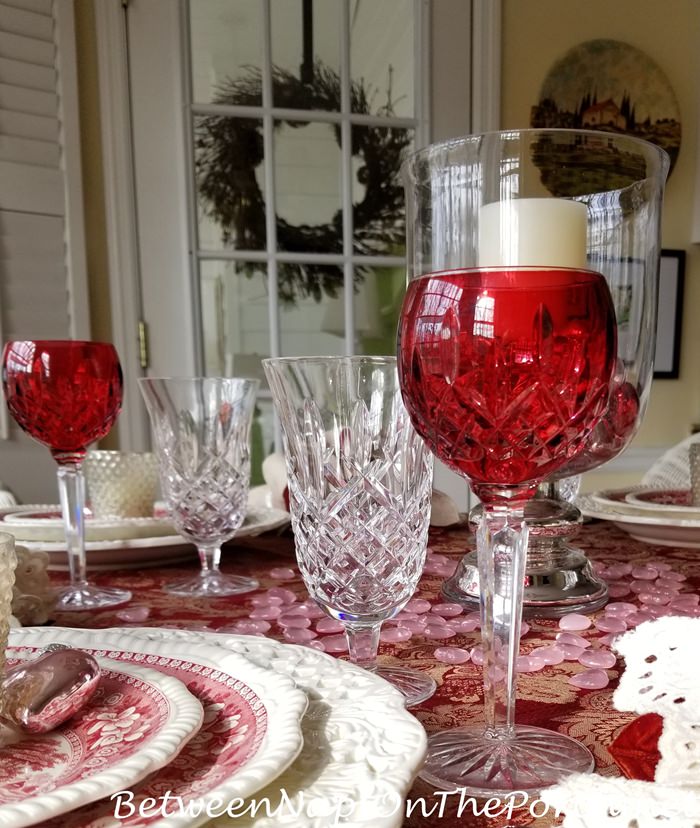 The dinnerware is vintage Spode Copeland, Tower, dating back to the 1920's, I believe. The chargers are from Horchow back in 2008, before I ever knew about this thing called a blog. I was entertaining a lot back then and purchased these along with some white swirl chargers thinking cream chargers and white chargers would cover all my needs and work with all almost any dinnerware.
I should have moved the candle for this photo. I'll take another one and add it to this post so you can better see the beautiful Tower pattern.
Update: Here's a photo, minus the candle. Love this Spode pattern!
A little closer…
Velvet edged napkins seemed perfect for a Valentine's Day table setting. I layered them over eyelet edged napkins. I love using eyelet napkins with these pierced chargers, they work so well together.
Both napkins are from Pier 1 several years ago. They always carry the best napkins! I wonder what they are getting in for spring. I think I'll visit soon to see, haven't been there in a while.
Happy Valentine's Day to you, dear Friend! ♥♥♥
Tablescape Thursday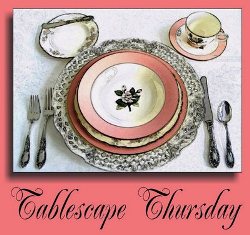 If you are participating in Tablescape Thursday, please be sure to add your permalink below, and not your general blog address. To get your permalink, click on your post name, then copy and paste the address showing in the address bar, into the "url" box when you link up.
You'll need to include a link in your post back to the party to link up and participate. That's so visitors to your blog will be able to find the party and the other Tablescape Thursday participants. Requiring a link back also prevents businesses and scammers from linking up to sell their products. (Yup, that really happens, unfortunately.)
*If a post is sponsored or a product was provided at no charge, it will be stated in post. Some links may be affiliate links and as an Amazon Associate, I may earn from qualifying purchases. *